Are Paddle Boards Considered Watercraft? (Beginners Guide)
Paddleboards or Stand Up Paddle (SUPs) are flat boards floating on the water, on which a paddle boarder can stand.
Paddleboarding is becoming an increasingly popular sport in the U.S. Paddle boards or SUPs (Stand Up Paddleboards) are large boards that float on the water's surface while a person stands and paddles using an oar. But are paddle boards considered watercraft in the eyes of boating authorities?
A paddleboard is considered a watercraft or "vessel" according to the United States Coast Guard once it is operating apart from a swimming or surfing area. Being considered an official watercraft, a paddleboarder must follow all boating safety rules including wearing a life jacket.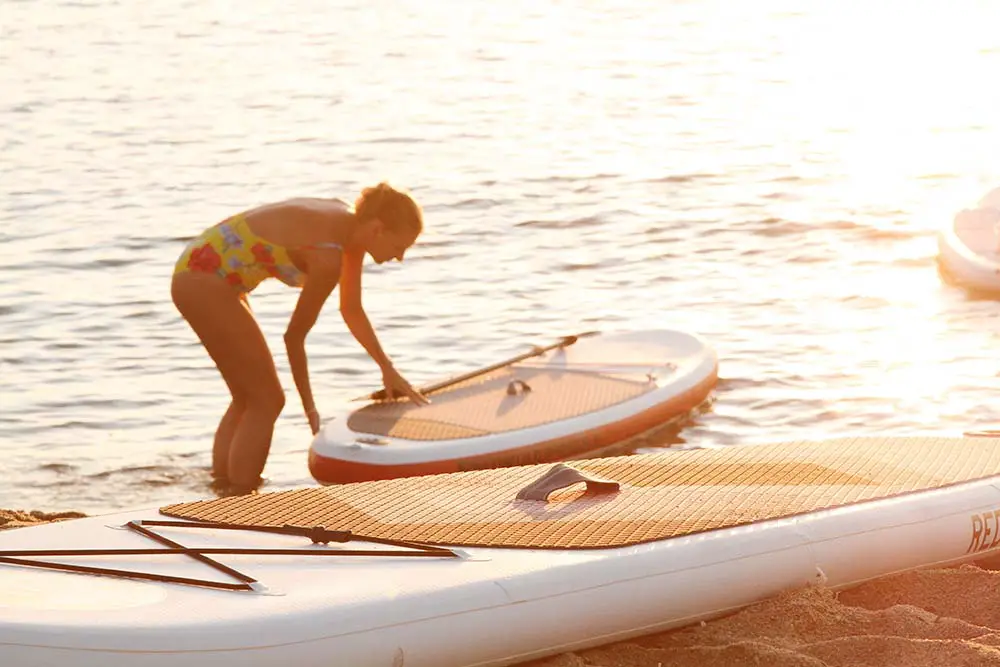 Is Paddle Boarding Difficult?
If you're a beginner paddleboarder, you'll no doubt want to know if paddle boarding is difficult or hard to learn?
Paddleboarding is not hard. To get started, ensure using a beginner's paddleboard designed to deliver excellent stability. Learning to balance and a few basic strokes will help you gain paddling experience at the earliest stages of use.
If you're a beginner SUP enthusiast, you've reached the right place. This article is a condensed mini-guide for paddleboarding beginners, which has everything you need to know as a novice. So keep reading until the end for lots of information.
Determining The Right Board
In this section, we'll help you choose the right board as per your needs. Newcomers should start with a broad, thick, and soft-top paddleboard. Take a look at the table we've created to help you determine the best board for you based on weight.
Board Selection Based On Your Weight
Before getting started, make sure to choose the board of the right size. Generally, a beginner's board is somewhat broader, offering much-required stability to a novice. Based on your weight, here's the board size recommendation.
| | |
| --- | --- |
| Rider's weight (in lbs.) | Board Dimensions (in feet and inches) |
| 120- 150 | Length: 10'6" – 11' Width: 27" – 27½" Thickness: 3⅞" – 4¼" |
| 160- 190 | Length: 11′ Width: 28" – 29" Thickness: 4⅜" – 4⅝" |
| 200- 230 | Length: 11′ – 11'6" Width: 29½" – 30½" Thickness: 4¾" |
| 240- 270 | Length: 11'6" – 12′ Width: 32" – 33" Thickness: 4⅞" – 5" |
| 280+ | Length: 12′ Width: 33" Thickness: 5" |
Board Selection Based On Usage
Paddleboards vary based on their use. For instance, different types of boards include all-around SUP, yoga SUP, surf SUP, and so on. It's a wise idea to get the proper paddleboard based on not only your weight but also for the correct purpose.
1.    Surf SUP
These boards deliver top-notch stability and speed since you'll be gliding it over water waves.
2.    All-around SUP
The design of these paddleboards is to perform in all types of situations and water bodies. It's a multi-purpose board, which you can consider even as a newbie. They offer fantastic stability and are durable.
3.    Yoga SUP
The Yoga SUP design is for yoga enthusiasts who're looking forward to doing yoga on a board, surrounded by water. They're larger boards, offering enough room to stretch your body without losing your balance, hence highly stable.
They house a deck pad, which covers around 75% of the board's top, and a separate room for storing dry bags, water bottles, and other small items.
4.    Race SUP
As the name suggests, race SUP is designed for speed. You can glide fast on water and accelerate on ocean water. A race SUP's structure has a narrow outline, rails (straight and raised), thick profile, and straight and flat tail angles. These all together aid speed.
5.    Downwind SUP
The design of these paddleboards is for paddling with the wind. You can dodge choppy water and move fast since its design lets you accelerate through moving wind. Their structure is very similar to race SUP. These boards can become highly unstable at times, making it difficult even for masters to stay balanced.
6.    Touring SUP
These boards let you paddle for long distances and offer excellent stability. As the name suggests, they're meant for touring, which means you'll be spending a lot of time on these boards.
So Which Board Do I Choose?
Now that you've learned the board's basics, you might be thinking about which board you should get. We'll help!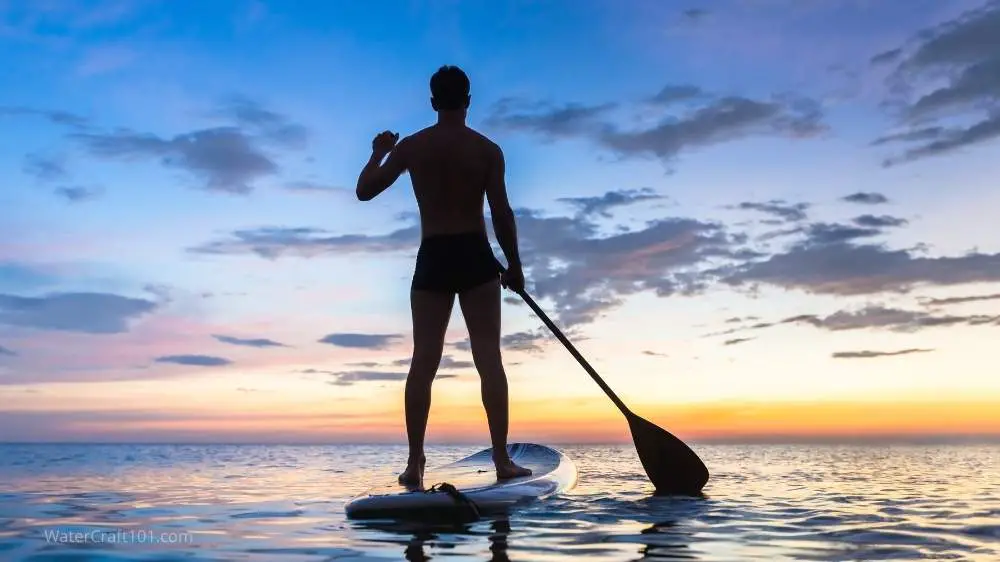 First, filter the right board size based on the weight. A yoga board will be the best choice for a novice, followed by a touring board and an all-around board. It is because all three boards offer incredible stability, which a beginner should be able to appreciate.
We'll now cover even more stand-up paddleboard basics in the next sections. So keep reading!
Getting Started With Paddle Boards
In this section, we'll cover some paddling techniques. Learning them will help you advance to the next level of stand up paddling.
SUP Paddling Basics
Let's learn a few techniques which will help you become a beginner paddler. Ideally, there are three basic paddling techniques, which include:
Standing Up
Balancing
Falling and getting up
Let's discuss them briefly.
1.    Standing Up
First of all, as a beginner, take your board in the water but don't go too deep (knee-deep water is the perfect depth). Stand alongside your board, put your hands on the edges (to maintain balance), and make your way to the board. Always land in a kneeling position on the center of the board.
After confirming that you're in the center, slowly try standing up. If you need some support, keep your hands on the edge. Don't try to stand up in one go. Break your stand-up process into pieces like this- start by raising your chest while keeping the knees bent a little. Once the chest is vertical, stand on your legs, and voila!
2.    Balancing
You might manage to get on the board in a few tries (maybe in a few minutes), but make sure to spend a lot of time balancing yourself on the board. This step's objective is to stay on the board without losing your balance, even in furious water (such as surfing).
It would help if you kept your feet parallel and hip-wide apart. Once you're comfortable in this position, try different positions. For instance, move a little forward and backward on the board (not too much, you may fall due to imbalance). Moving on the edges and still maintaining your balance will help you advance to the next paddling level.
3.    Falling & Getting Up
If you mastered balancing to some extent without falling, that's beyond excellence. However, you're going to fall at some point in your life, so practice falling and getting up. The best way to master this step is to move towards the board's edge. Upon reaching closer to the edge, you're going to lose balance and fall.
Now get back on the board and move towards the edge to fall again. Keep repeating this until you're comfortable with falling and getting up. Why is this stuff important?
It's because when you fall from your paddleboard in the future, you'll be clueless about what to do. At that time, you'll panic so bad, which might put your life at serious risk. In the worst-case, there might not be anyone to save you. So, instead of depending on others to save you, learn to fall and get back on the board. This step still might sound crazy right now, but it is worth learning.
Conclusion
By the end of this article, you have learned to choose the right paddle board size and how to get on it. There's still a long way to go as a beginner. Additionally, remember that safety comes first, so equip yourself with all the necessary safety gear. The US coast guard recognizes paddleboards as vessels, just like kayaks and canoes. So, it's mandatory to wear a PFD (Personal Floating Device).
Top Image Source: Tatiana