Do All Pedal Boats Have a Weight Limit? (Find Out Here)
Whether you are purchasing a pedal boat or simply renting one for the day, you might be wondering if this type of boat has a weight limit. Most boats do have a weight and capacity limit for safe operation, but what about pedal boats?
All pedal boats have a weight limit. The general weight limit on a pedal boat is around 500 pounds (226 kg). This number includes all the passengers, plus any gear, and coolers that you carry. The passenger and weight limits influence whether the boat will stay afloat in the water. 
Keep reading to learn the passenger and weight limits of various pedal boats, the different ways to use pedal boats, and why one should choose a pedal boat over other boats.
Remember that a primary consideration when choosing a pedal boat is the weight limit, as it determines the usability for your personal needs.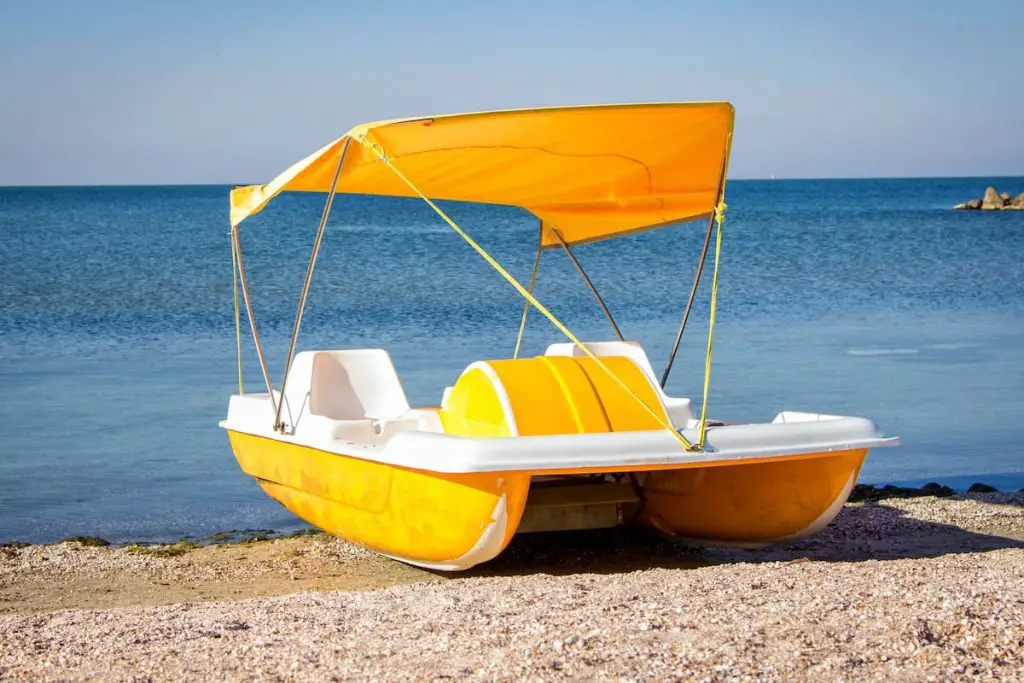 Passenger Weight Limits for Pedal Boats
A pedal boat is a great way to enjoy the water for a day. You get exercise, time with friends and family, and fun memories while scooting around the water on a gorgeous afternoon. While the weight limit is a vital consideration, the passenger limits are also a driving factor in how many people can be on the pedal boat at one time.
Whether a pedal boat holds one person or five, the passenger limits for pedal boats fall in the following general range.
One-passenger pedal boats estimate one person at 200-250 pounds (90-113 kg).
Four-passenger pedal boats estimate four people at 800 pounds (362 kg).
Five-passenger pedal boats estimate five people will max at 1000 pounds (453 kg).
Remember to factor in the weight of a cooler that holds your food and drinks, fishing tackle boxes, and anything else you might carry on the boat to make tooling around on the water that much better.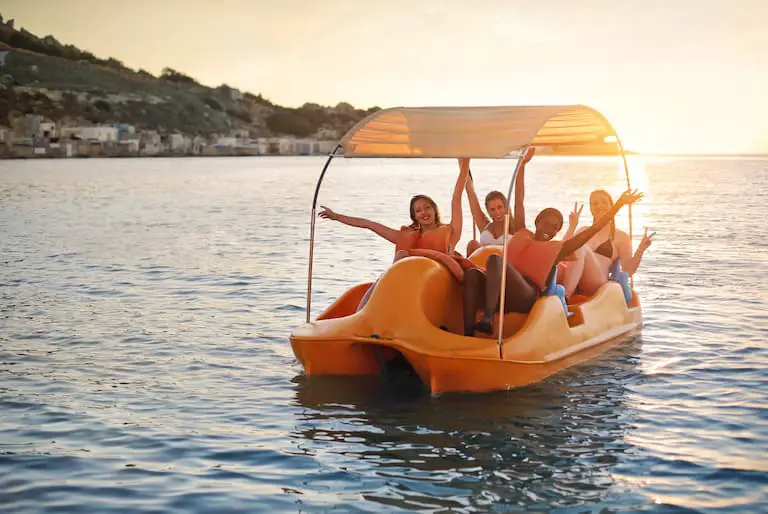 How To Choose a Pedal Boat
A pedal boat is a person-powered boat that moves around the water when the passengers pedal. The pedals turn the paddles underneath to go anywhere you want in calm water. The steering lever attaches to a rudder that lets you guide the boat.
Whether you grew up riding pedal boats every summer or are new to pedal boats, finding the right boat for your needs can be confusing. A pedal boat is family-friendly and lets all ages enjoy outdoor time together, so here are some guidelines for choosing the pedal boat for you.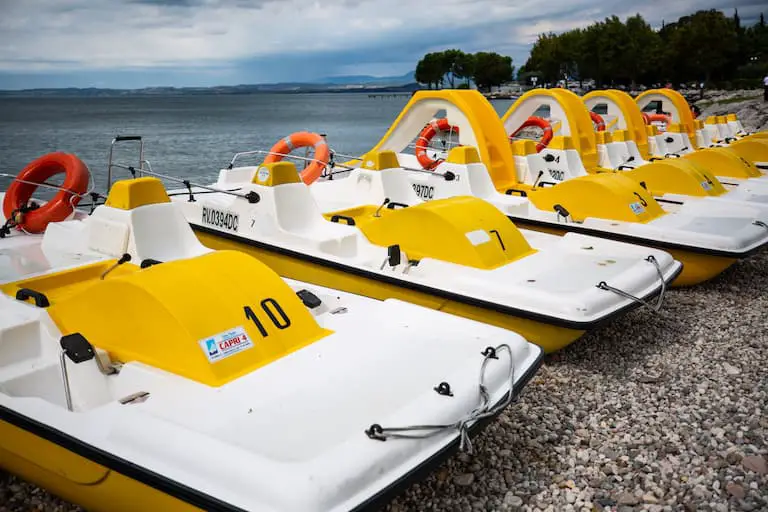 Intended Purpose for a Pedal Boat
How you plan to use a pedal boat is crucial to finding the right boat. 
Pedal boat for swimming: If you plan to use the pedal boat for swimming, choose a boat with a ladder to make getting back into it easy. You also need a canopy as the sun gets hot on the lake, making pedaling uncomfortable.
Pedal boat for fishing: Many fishermen swear by a pedal boat for fishing. They can access small spaces in the water and are compact, making maneuvering easier. 
This Youtube video shows how fantastic pedal boats are for fishing: 
Pedal boat for exploring: If you just want to ride around, a pedal boat is ideal for spending lazy days exploring the water. You will still need shade as the sun gets quite hot. 
Electric Pedal Boats Are a Newer Option
While pedal boats originally began as only operational by pedaling with your feet, now you can flip a switch to turn on an electric motor when you tire of pedaling. Having the electric motor backup will help when you get tired, or if there are older people helping pedal. It can also come in handy when you and a child are pedaling and need a break.
An electric motor provides up to four hours of cruising before needing time for recharging. There is a battery compartment, but you have to purchase the battery separately. When not in operation, you can lock the motor out of the way.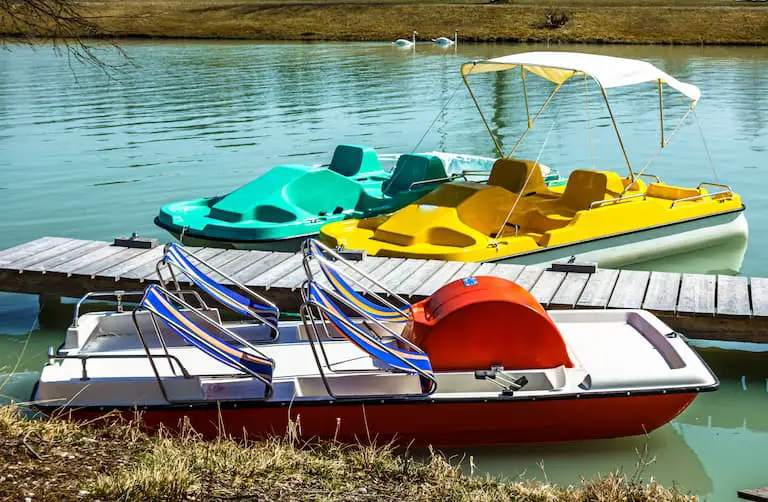 Why Choose a Pedal Boat Over Other Boats
While cost is the first advantage that comes to mind, multiple factors make choosing a pedal boat over a motorboat or another boat logical. Although motorboats have their place, the benefits of pedal boating are substantial.
Exercise: There is no question that pedal boats offer great exercise opportunities. While pedaling the boat with your feet, many boaters find their abdominal and leg muscles tone and strengthen. Pedal boating also improves your heart and lungs with a cardiovascular workout. 
Family-friendly: Pedal boats are exceptionally family-friendly, especially for families with small children, as they can enjoy the water and laughter while making memories. Many pedal boaters recall this type of boating at a young age and all the great memories associated with family on the water.
Easily transported: While a motorboat is no doubt fun and offers many hours of water activities, this boat type must be loaded onto a custom trailer and driven by an experienced driver to another location. On the other hand, a pedal boat can often be strapped onto a vehicle's roof or placed in the bed of a truck and moved to another location with relative ease. 
Versatile: A pedal boat can go places many other boats cannot. You can ride in marshes, coves, narrow waterways, and other tight spaces that can be tough to navigate when you have a bigger boat.
Like a swim and jump platform: When you anchor the pedal boat out in the water, the kids can use the boat as a jumping platform where they can swim back to jump again. 
Do Pedal Boats Have a Weight Limit – Summary
All pedal boats have a weight limit which determines how you can use the boat. Most pedal boat enthusiasts recommend a pedal boat for five people that will comfortably fit two adults and two children, a cooler, and any gear you take. Keep in mind that there are also electric motors that you can attach if you tire too quickly. 
Pedal boating is a great way to enjoy time on the water fishing, swimming, and enjoying time with family. Versatile, affordable, and fun, pedal boats are ideal for the water when you choose the right one.