The Best Prop For A 50hp Mercury 4 Stroke (Explained)
You never want your prop to underwhelm the performance of your boat. So, you always want to have the best parts that optimize your boat's performance. If you have a 50HP Mercury 4 Stroke, here's the best prop for your 50HP Mercury 4 Stroke.
The best props for your 50hp Mercury 4 Stroke engine are the 3-blade Black Max, 4-blade Spit Fire, 4-blade Trophy Sport, and 3-blade Vengeance. These props will boost the overall performance of your Mercury 4 Stroke 50hp motor.
Disclaimer: These results are generalized and may not suit your specific engine. (source)
Choosing an excellent prop for a 50 HP Mercury 4 Stroke involves many factors. Because of those factors, you cannot clearly define the best prop for your engine. Without further ado, let's help you understand these factors and how you can get the best results for your machine.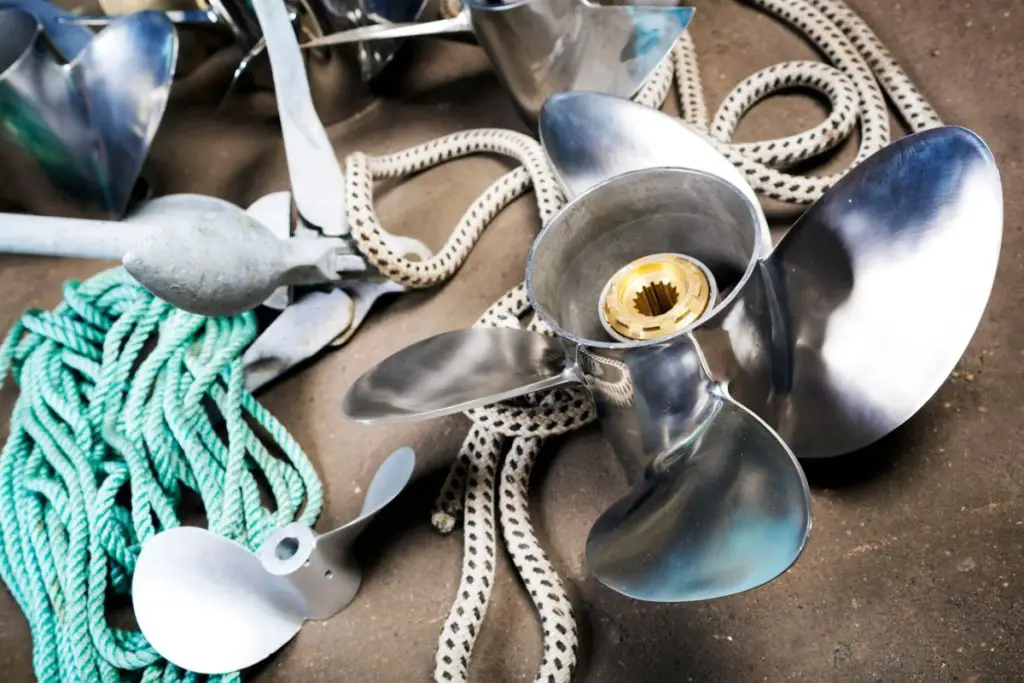 Best Prop For 50HP Mercury 4 Stroke
As shared earlier, there's no direct answer to the best prop for your Mercury 4 Stroke engine. It's unfortunate for the boat owners who wanted a clear-cut answer, but it's a blessing because you will have several prop options. 
Fortunately, manufacturers like Mercury Marine provide boat owners with online tools that they can utilize to narrow down on the best prop for their engines. We used these tools to showcase a general result for your engine. 
However, it would be best to use the tools yourself to narrow down on the best prop for your engine. Nevertheless, here's a candid explanation of the prop selection process. You can always come back here to reassess the five-step process. 
Five Factors To Help Identify Your Ideal Prop
If you've turned to a prop selector, you will notice they follow the same process. The process is efficient and honestly makes sense to even the less experienced boat owner. The steps in this process give rise to the five factors you need to identify your prop. 
Boat Type
Usage
Engine Information
Family Results
Pitch
Let's take a deeper look into these factors. 
1. Boat Type
The National Marine Manufacturer's Association reported that over 300,000 boat units were sold in 2021. Furthermore, reports showed that retailers sold 1.1 million pre-owned boats in the same year. (source)
With these figures in mind, you can assume that there are millions of boats on the water. Not only that, but they vary in type, size, and functionality. While using the prop selector tool, you will come across around a dozen boat types. 
The types range from aluminum fishing boats to cruisers. So you have your choices cut out for you. For the purpose of this article, we used aluminum fishing boats seeing as they held general popularity among boat owners. 
2. Usage
Since we used the Mercury Marine prop selector, the usage portion of the process involved the boat owner's goals, which posed the question: what results would you like to see from your prop? 
In our case, we focused on an overall good performance. You can only choose one goal, which makes the decision process more straightforward, and you can easily redo the process to get the results you may want. 
However, this check-point begs the question of trade-offs? Are you willing to compromise top speed over general performance or handling over top speed?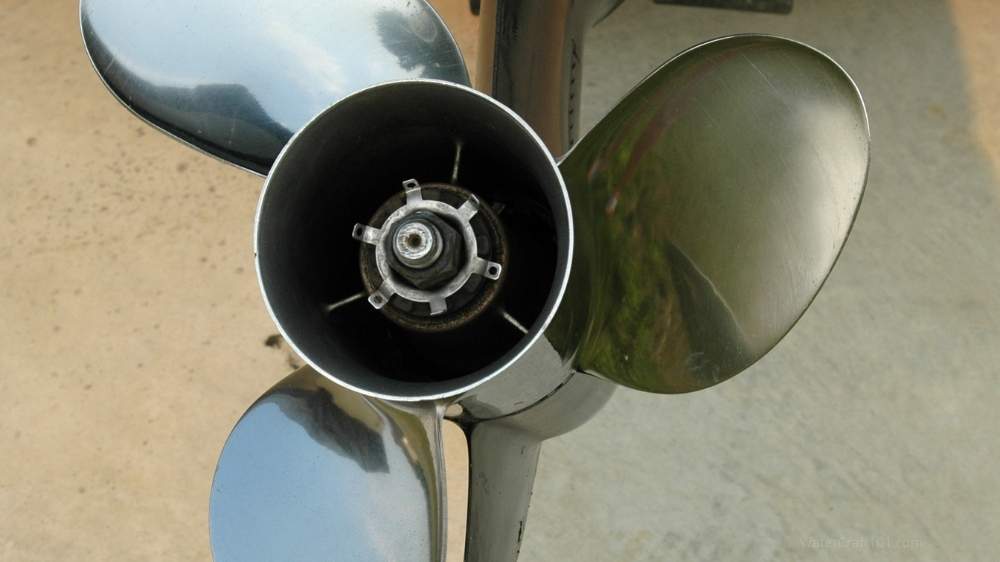 3. Engine Information
Next up is engine information. You will provide the online tool with the engine information at this point in the process. So you're looking at the engine family, the engine year, the type of the engine, and other elements present in your engine. What if you're unsure about the engine specifications? 
It would be best to visit a Mercury supplier in your local area to get the correct specifications for your engine. 
4. Math Results
Remember that we are looking for a prop for the 50 EFI 4cl 995cc engine. It's time to prepare for the math portion of this process. The method of calculating your pitch (which will be the last factor for this discussion) involves three ways:
By performance
By weight
By length
According to Mercury Marine's prop selector tool, calculating by performance garners the best results. However, the engine is yours, and you can calculate the pitch according to your preferences and desired results. Regardless, you will get to choose from various options that will suit your engine. 
5. Pitch
Last and certainly not least is the propellor pitch. Diameter and pitch are the essential considerations when you're in the market for a new prop. The prop or propeller pitch is the distance a propeller moves in one revolution if moved through a soft solid, something similar to a screw moving through wood. For example, a 21-pitch prop moves 21 inches forward in one revolution. (source)
So how do you calculate pitch based on performance? 
How To Calculate Propellor Pitch
For you to calculate pitch based on performance, there are three factors to consider:
The Current Propellor Pitch
The Wide Open Throttle (RPM)
The Current Top Speed
With these elements in place, you can now calculate pitch based on performance. Pitch based on weight and length requires different attributes to determine the best prop for your engine. However, a performance-based pitch is the best option. 
How Do I Know What Prop To Use On My Boat?
We highly recommend using the Mercury Marine prop selection tool. It's a free online tool that you can use globally. You need to know your goals for the prop and your engine's current specifications. You use the tool to determine an agreeable prop with those details in hand. (source)
Despite all that, you can still consult an expert for additional results. There's no harm in seeking professional advice. 
Summary
Choosing a prop for a 50 HP Mercury Stroke 4 is easy but complicated at the same time. Various factors go into determining a prop for your engine. These factors make it difficult to pinpoint the ideal prop for a 50 HP Mercury 4 Stroke. Regardless, you can narrow down your choices immensely with the modern tools in hand. 
Sources:
Mercury Marine, Prop Selector, Mercury Marine, Accessed March 24th, 2022, mercurymarine.com/en/us/propellers/selector/#!/step-one. 
NMMA, NMMA Reports Boat Sales Strong in 2021, Continued Momentum Expected in 2022, NMMA January 12th, 2022, Accessed March 24th, 2022 https://www.nmma.org/statistics/article/23889. 
IFAI, Data shows boat sales strong in 2021, continued momentum expected in 2022, Marine Fabricator Mag, January 20th, 2022, Accessed Mach 24th, 2022 https://marinefabricatormag.com/2022/01/20/data-shows-boat-sales-strong-in-2021-continued-momentum-expected-in-2022/. 
Discover Boating, Understanding a Boat's Propeller Pitch, Discover Boating, Accessed March 24th, 2022, https://www.discoverboating.com/resources/propeller-pitch. 
Altosole, Marco & Martelli, Michele & Vignolo, Stefano. (2012). A mathematical model of the propeller pitch change mechanism for the marine propulsion control design. 2. 649-656. 10.1201/b11810-98. 
Mercury Marine, Selecting The Best Prop Is Crucial But Easy With Mercury Marine, Dockline Blog, June 25th, 2019, https://www.mercurymarine.com/en/us/dockline/selecting-the-best-prop-is-crucial-but-easy/.