Sailboat vs. Powerboat: Which Is the Give-Way Vessel? Understanding Navigation Rules on the Water
Navigating the waters is an exciting adventure, whether you're at the helm of a sleek sailboat or commanding a powerful motorboat. However, along with this thrilling journey comes the responsibility of understanding and adhering to the marine navigation rules, specifically those concerning the right of way or the "give-way" vessel. This aspect is vital to maritime safety, ensuring orderly movement and preventing potential collisions on the high seas.
Under the International Regulations for Preventing Collisions at Sea (COLREGs), a powerboat is typically the give-way vessel when encountering a sailboat under sail. The powerboat should alter its course to avoid a collision. Always confirm specific situations with local and international rules.
This article will delve into the intriguing debate between sailboats and powerboats. We'll dissect the intricate navigation rules on the water, shedding light on the factors determining which boat must yield. 
This piece promises to be an enlightening read for seasoned mariners and beginners alike, providing essential information for anyone who wishes to tackle the waves responsibly. Remember, knowing these rules isn't just a matter of etiquette—it's a crucial component of maritime safety.
Introduction to Nautical Navigation Rules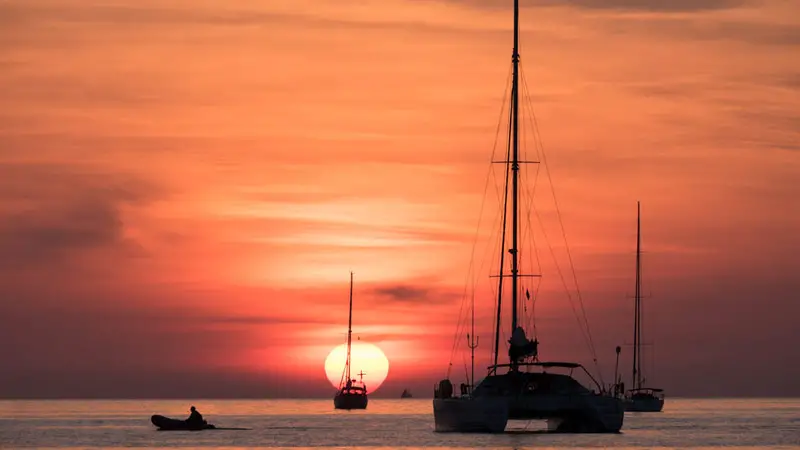 Navigating the vast expanse of our world's waters requires skill and a profound understanding of maritime movement rules. These rules, known as the International Regulations for Preventing Collisions at Sea (COLREGs), have been established by the International Maritime Organization (IMO) and are adhered to by seafarers worldwide. They provide a comprehensive framework for nautical navigation, ensuring that all vessels move in a safe and orderly manner.
Key points in understanding nautical navigation rules include:
Understanding COLREGs: COLREGs are the universal road rules for boats and ships worldwide to prevent collisions between two or more vessels.
Right of Way or Give-Way Rules: These rules determine which vessel is responsible for keeping out of the way in encounters with other vessels to avoid collisions.
Sound and Light Signals: COLREGs establish a system of sound and light signals so vessels can communicate their intentions in various scenarios, especially in poor visibility.
Navigation Lights and Shapes: Vessels must display specific lights and shapes in different situations to indicate their status to other vessels.
Steering and Sailing Rules: These rules determine vessels' actions in the sight of one another to prevent collisions.
Special Circumstances: There are also rules for special circumstances, such as vessels not under command, constrained by draft, engaged in fishing, or sailing in narrow channels.
Understanding the Concept of the Give-Way Vessel
Understanding the concept of the give-way vessel is fundamental to maritime navigation. In nautical terms, a 'give-way' vessel refers to the boat required to alter its course or speed to avoid colliding with another boat, the 'stand-on' vessel. Essentially, the give-way vessel must yield to the stand-on vessel. 
These designations help create an orderly flow of traffic on the water and significantly reduce the risk of collisions. It's important to note that these roles can change based on various factors, including the type of vessels involved, their relative positions, and the environmental conditions.
The responsibility of the give-way vessel does not absolve the stand-on vessel of all duties. If it becomes apparent that the give-way vessel is not taking appropriate action to avoid a collision, the stand-on vessel must take evasive action. 
Regardless of their designation, both vessels share a mutual obligation to avoid incidents at sea. Understanding these dynamics and responsibilities is crucial for all mariners, as it contributes to safer navigation and fosters a culture of mutual respect and cooperation on the waterways.
Sailboats vs. Powerboats: A Basic Overview
Sailboats and powerboats represent two distinct modes of marine transportation, each with unique characteristics, advantages, and challenges. Sailboats, propelled primarily by wind action on their sails, offer an eco-friendly, serene, and often sportive seafaring way. On the other hand, powerboats, driven by mechanical engines, provide speed, power, and often more control, particularly in challenging weather conditions. Each type requires different skill sets and knowledge to operate safely and efficiently.
Key characteristics of sailboats and powerboats include: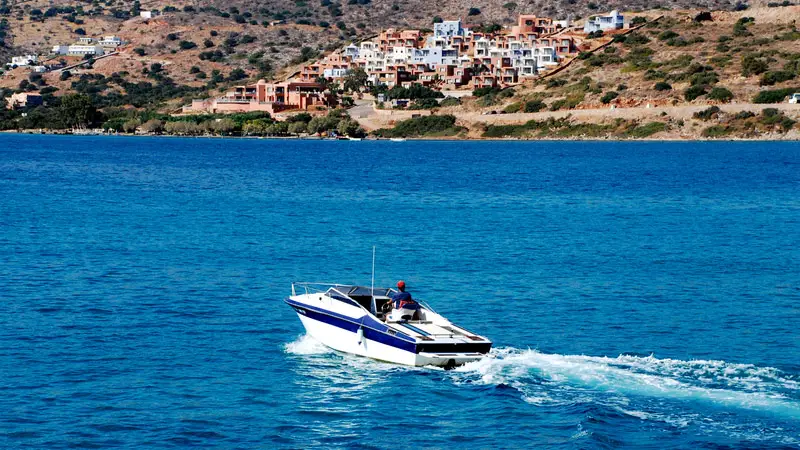 Propulsion: Sailboats rely on the wind acting on sails, rigging, and hull for propulsion. In contrast, powerboats use engines (inboard, outboard, or stern-drive) for movement.
Speed: Powerboats generally offer higher speeds than sailboats, making them suitable for water skiing, racing, or quick transportation. Sailboats, being wind-dependent, can't match the speed of a motorboat but offer a more leisurely pace.
Maneuverability: Powerboats usually have superior maneuverability due to their engines. Sailboats, reliant on wind and currents, require more skill and understanding of these elements for effective control.
Fuel efficiency and environmental impact: Sailboats are more environmentally friendly and fuel-efficient as they use wind power. Powerboats rely on fuel, which leads to emissions and potential environmental impact.
Skills and knowledge required: Operating a sailboat requires knowledge of sailing techniques and wind patterns. Powerboat operation is typically more straightforward but requires an understanding of engine operation and maintenance.
The Role of a Powerboat in Marine Traffic
Powerboats play a significant role in the vast and diverse arena of marine traffic due to their speed, maneuverability, and versatility. These vessels can range from small personal watercraft and motorboats to larger yachts and ships, all powered by engines. 
Their mechanical propulsion allows them to move independently of wind and current conditions, giving them an advantage in certain navigational situations. They can quickly respond to changes in direction, making them particularly valuable in congested waters or emergencies.
However, this power and speed come with responsibilities. Powerboats are generally considered the give-way vessel when encountering sailboats under sail, mainly because they have more control over their course and speed. They are expected to be vigilant and proactive in avoiding collisions, altering course or speed as needed. 
Also, due to their potential to create a significant wake, powerboat operators must also be mindful of their vessel's impact on other boats, wildlife, and shoreline erosion. Thus, the role of a powerboat in marine traffic extends beyond its capabilities—it includes the duty to navigate responsibly for the safety of all water users.
The Role of a Sailboat in Marine Traffic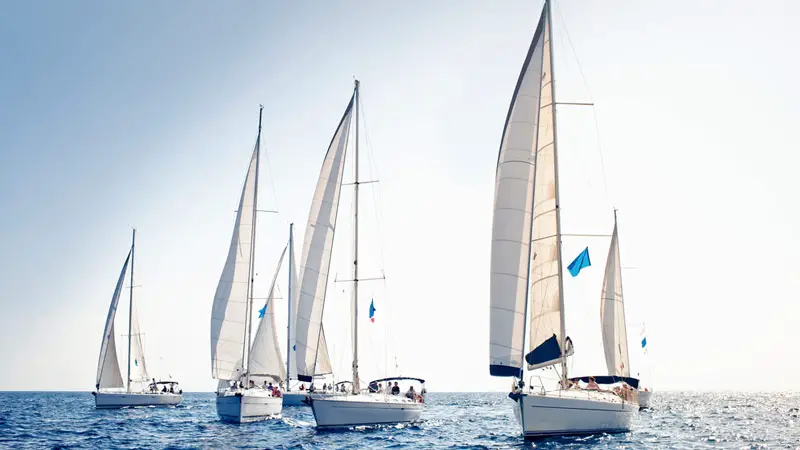 Sailboats hold a unique and enduring presence in marine traffic. They are characterized by their dependence on the wind for propulsion, using sails to catch and harness its power. These vessels, varying from small dinghies to large sailing yachts, offer a sense of tradition, adventure, and connection with nature that is often unmatched. 
Sailboats can navigate in areas with depth restrictions where larger powerboats cannot go, and their silence and absence of emissions make them an eco-friendly choice for seafaring.
Despite their slower speeds and lesser maneuverability than powerboats, sailboats generally have the right of way under the COLREGs when they are under sail and in a crossing situation with power-driven vessels. This rule recognizes the limitations of a sailboat's maneuverability due to its dependence on wind direction and strength. 
However, this privilege does not free them from the responsibility of maintaining a proper lookout and taking corrective action when it's clear that the give-way vessel isn't taking appropriate action or when both vessels are in such proximity that immediate action is necessary. Therefore, the role of a sailboat in marine traffic is not just about leveraging wind power but also about understanding and adhering to the navigation rules for everyone's safety.
The Powerboat-Sailboat Encounter: Identifying the Give-Way Vessel
Navigating encounters between powerboats and sailboats is a fundamental aspect of marine safety. In general, according to the International Regulations for Preventing Collisions at Sea (COLREGs), the powerboat is usually the give-way vessel when encountering a sailboat that is under sail. This is because a powerboat with an engine is typically more maneuverable than a sailboat that relies on the wind for propulsion.
The give-way vessel, in this case, the powerboat, has the responsibility to take early and substantial action to avoid colliding with the stand-on vessel, which in this case would be the sailboat. This may involve altering the course, reducing speed, or combining both. These rules aim to create a predictable path for both vessels to prevent a collision.
However, it's essential to understand that these rules can have exceptions based on specific scenarios. For instance, when a sailboat overtakes a powerboat, it becomes the give-way vessel, regardless of its propulsion method. Furthermore, if the sailboat is operating its engine and not clearly showing sails, it is considered a powerboat under the COLREGs.
Both powerboat and sailboat operators must know these rules to ensure safe navigation. Importantly, the ultimate rule is to avoid collision – even if this means the stand-on vessel has to give way. Knowledge, caution, and mutual respect are key to maintaining safety on the water.
Factors Influencing the Give-Way Decision For Boats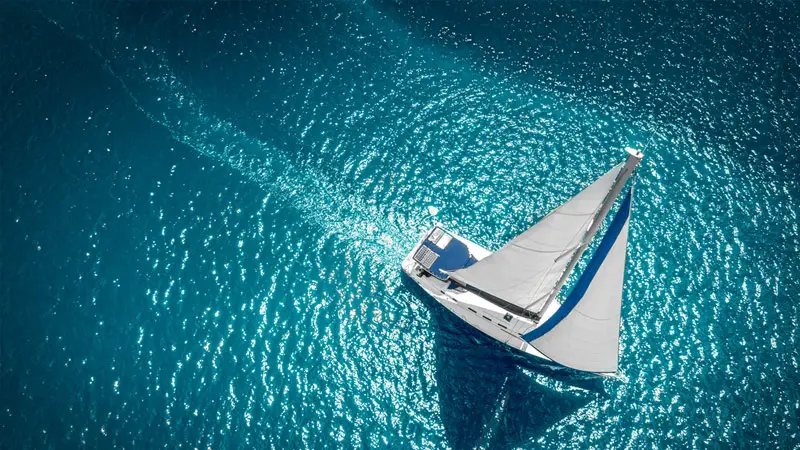 Several factors influence the decision of which vessel is the give-way vessel. These include the type of vessels involved, their relative positions, and the specific scenario they are in. While the general rule is that powerboats give way to sailboats under sail, there are exceptions and other factors that can change this rule. Understanding these factors is critical for safe navigation and collision avoidance.
Key factors influencing the give-way decision include:
Type of Vessels Involved: The type of vessels involved in an encounter greatly influences the give-way decision. For example, vessels not under command, vessels limited in their ability to maneuver, boats constrained by their draft, fishing vessels, and sailboats generally have right of way over power-driven vessels.
Relative Positions: The relative positions of the vessels also influence the giveaway decision. For example, a vessel overtaking another is generally the give-way vessel, regardless of the type of vessel involved.
Operating Conditions of Vessels: Whether a vessel is under power or sail can influence the give-way decision. A sailboat under power is considered a power-driven vessel subject to the same rules as other vessels.
Navigational Hazards: Navigational hazards may also impact the giveaway decision. A vessel in a position where it can safely navigate may be required to give way to a vessel closer to navigational hazards.
Traffic Density: In areas of high traffic density, vessels may be required to maintain a higher level of vigilance and may need to take action to avoid collisions earlier than in areas of low traffic density.
Remember, while the give-way rules provide a framework for determining who has the right of way in a given situation, the ultimate responsibility of all mariners is to take whatever action is necessary to avoid a collision.
Special Situations: Exceptions to the Rule
While the general rules of navigation provide a solid foundation for maritime safety, there are special situations where exceptions to the rule apply. These exceptions account for the complexity and unpredictability of marine conditions and ensure that the primary goal of collision avoidance is always met.
Overtaking Situations: Regardless of the type of vessel, the overtaking vessel is usually the give-way vessel. The stand-on vessel should maintain its course and speed, while the overtaking vessel should keep out of the way until it is past and clear.
Narrow Channels: In narrow channels, all vessels should keep as near the channel's outer limit on their starboard side. A boat shorter than 20 meters in length or a sailing vessel can not hinder the passage of a vessel that can navigate only in a narrow channel or fairway.
Traffic Separation Schemes: In traffic separation schemes, a vessel should join or leave a traffic lane at the smallest angle to the general direction of traffic flow. A vessel should try to avoid crossing traffic lanes and should cross on a heading as close as possible to right angles to the prevailing traffic flow direction if obliged.
Vessels Not Under Command or Restricted in their Ability to Maneuver: These vessels, due to exceptional circumstances, cannot maneuver as required by the COLREGs and are, therefore, usually given the right of way.
Vessels Engaged in Fishing: Vessels engaged in fishing, when underway, shall have the right of way over other vessels, except those not under command or restricted in their ability to maneuver.