Personal Watercraft Safety Explained (Great Tips!)
When riding a personal watercraft (PWC), it's essential to take necessary safety precautions whether you're a pro or a novice. Since you're likely to be alone on a personal watercraft, there's only a slim chance of getting help in case of an accident. 
Personal watercraft safety measures can be grouped into two parts: 
1) Equipping rider(s) with personal protective equipment (such as helmet, safety kit, life jacket, etc.).
2) Equipping safety tools on personal watercraft (such as lanyards and switches, etc.).
If you're looking for some great safety tips when it comes to riding personal watercraft, you've come to the right place. This article is an extensive list covering important safety information related to PWCs. Keep reading until the end to ensure that your next ride is a safe ride.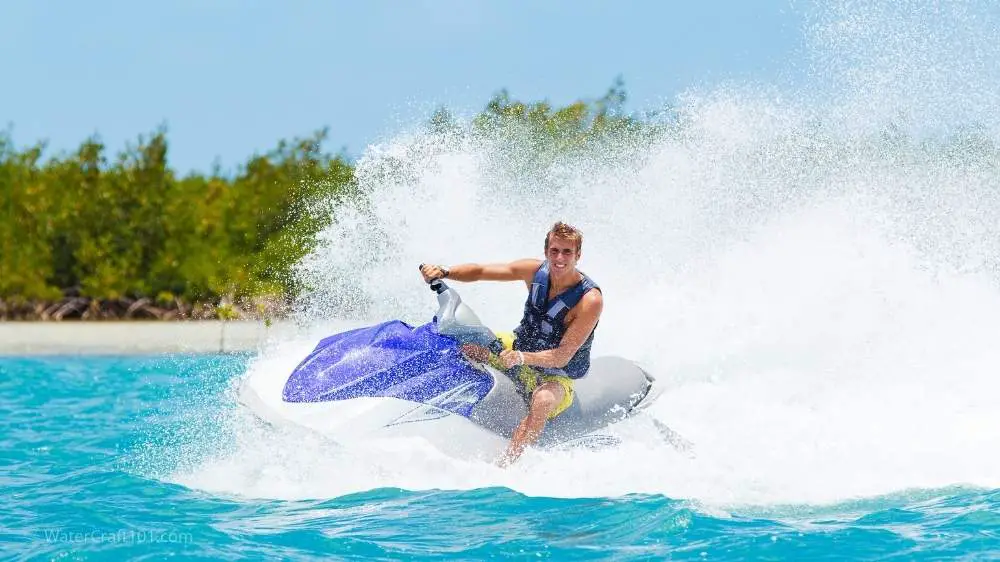 Personal Watercraft (PWC) Safety Equipment For Riders
Online sources often recommend an endless number of safety measures and equipment options for riding a PWC. But today we're going to highlight only the MOST IMPORTANT things you'll need in order to avoid a bitter PWC riding experience. But here's another question- do I need to carry all these items? If not, then what items should I carry?
Carry items based on the location. If riding in a closed water body, most items in the boat safety kit (discussed later) may be useless. However, if going to remote locations (such as rivers located in a forest, etc.), ensure utmost safety and carry all the essentials listed below.
So what are these tools, and how are they useful? Let's see!
Equipping Personal Protective Equipment
The rider(s) must equip themselves with the following tools.
Life jacket (Personal Flotation Devices)
Life jackets are intended to keep the wearer floating, but that's not all you need. Coast Guard-approved life jackets are designed to turn the person's face up. Suppose if a person is unconscious, his/her face will turn up, avoiding water entering through the mouth. Furthermore, some specially designed jackets can even protect from hypothermia.
It's mandatory to carry a USCG (United States Coast Guard) approved life jacket all the time. The rider needs to choose an appropriate life jacket based on their height and weight. Some important things to consider while buying one:
Try the jacket before purchasing. Fasten the vest. Pull your arms up, and try out the jacket as you like. Just make sure that it fits perfectly (and won't come off in an emergency).
Young or old, a life jacket is a must. Ensure the fit is snug yet comfortable. Some jackets also require regular maintenance, so take care of that if the instructions deem it necessary.
Optional. Jackets with pockets and straps (to carry tackle and supplies) are recommended when going out on a fishing trip. 
Wondering how to wear a life jacket properly? Follow this video below for step-by-step instructions.
Safety Kit
Just like a first-aid kit, there's a safety kit you must carry. It must include all the essential items, which will come in handy in emergencies. A boat safety kit may include the following:
Flashlight along with spare batteries. Ensure that it works and the batteries aren't dead. Always test before equipping.
Duct tape. It's a strong tape, which can act as a bandage temporarily. It's highly durable with several uses, hence highly recommended.
First-aid kit. No need to explain its importance. However, you must be knowledgeable enough to know how to use it efficiently.
A whistle is another critical item. If you're lost or want to attract attention, a whistle is the best. It's waterproof and doesn't break easily + highly portable.
Ropes come in handy to pull someone fallen aboard, or to dock your watercraft, etc.
A small mirror is an excellent reflective object, which you can use to signal for help.
Matchsticks, lighter, or something similar to start a fire are the best tools to keep wild animals away from you. Also, fire is essential to keep yourself warm in case you're stuck in a cold environment. (You can gather fuel such as wood, leaves, etc.)
PWC Safety Tools & Equipment
Know that we've equipped the rider, we must also equip the PWC with the following tools.
Lanyard/ Kill cord 
It would be best if you equipped your boat with a lanyard-style kill-switch. The lanyard is attached to the kill-switch (installed on the watercraft), while the other end is attached to your body (most preferably the wrist). 
Here's how it works. Suppose if you fell from your PWC, the lanyard will get pulled, triggering the kill switch. It will turn off your PWC's engine. This will keep your watercraft in nearby proximity so that it will be easy to swim over and hop on again.
You'll need to be careful, however, to make sure there's some slack on the lanyard. Otherwise, if you move far enough from the kill-switch so that the lanyard gets pulled, it'll trigger the kill-switch while you're still riding. So basically, this ensures that the rider doesn't move away while the engine is still on.
You should check out the video below which shows the purpose of a lanyard on a PWC.
Fire Extinguishers
Many people consider fire extinguishers useless on a boat since they're on the water. However, fetching the water to put out the fire is very lengthy and highly inefficient compared to a fire extinguisher. Everyone on your boat must know the location of the fire extinguisher.
Besides, it's mandatory to have a B-1 marine fire extinguisher. These are effective against fire occurring from liquids such as lubricating oil, fuels, etc.
Mirrors
These mirrors are different from the signal mirror discussed above. A rearview mirror (at least 4 inches in height and width) should be firmly installed if towing a person. That way you'll be able to keep an eye on them and any other craft that may be coming up from behind you.
Other Minor Items
There are a couple of other minor items you can consider storing in your PWC. These are:
Sound producing devices (to signal for help)
Backfire flame arrester
Exhaust water manifold
Title and registration numbers
Your own personal identification and emergency contact information.
Significant Boat & WaterCraft Safety Tips
Apart from safety measures for yourself and the PWC, we've compiled a list of great tips worth considering further.
Check The Weather
PWC rides are awesome on clear, warm, and sunny days. However, you can't predict the weather, so it's always advisable to check the weather forecast beforehand. Avoid an outing on a rainy day (that's the worst time for any type of boating).
Never Overload The PWC or Boat
Every boat has a weight or a passenger load limit. People, especially youth, ignore this fact and overload their boats for fun. It's highly recommended not to overload your boat no matter what since an overloaded boat can quickly lose balance.
Always Follow Docking Procedures
Docking is a tricky task and can become challenging in the strong wind. Bumpers must be out when nearing the shore to avoid damage to your watercraft. As you approach the shore, slow down the speed (never dock at high speed). 
If the wind direction is towards the shore, keep the boat around 2-4 feet away, and the wind will gently move it.
Take A Safety Course
Merely learning to ride a boat isn't enough. Consider taking a safety course to stay healthy in emergencies. Estimations of accident causes show that around 70% of boating accidents occur due to riders' mistakes. Always know the rules and your responsibilities when leaving the shore on a boat.
There's a free online boating safety course developed for individuals by the Boat US Foundation. Additionally, the US Coast Guard has listed online and hands-on courses targeting boating safety.
Inspect Your Boat or Craft
Riding a faulty boat is one of the biggest mistakes that you can make. The United States Coast Guard Auxiliary and the United States Power Squadrons offer free boat inspection. Apart from a free checkup, the best thing is that there are no consequences if your boat doesn't pass.
Alternatively, you can get your boat inspected by a private professional. But that could be costly, and there's a fair amount of chance that the guy might trick you into spending money on useless repairs.
Don't Drink And Ride
Just like you must avoid boating when drunk, make sure you're not drunk when enjoying or operating a boat. Furthermore, don't try to be a super cool guy to impress people. Taking unnecessary risks can put your life in danger. Avoid performing stunts (unless you're a pro or under pro supervision).
If you're not aware, falling on the calm water surface is similar to falling on a concrete floor, which can even knock you unconscious instantly.
Watch Out For The Harmful Fumes
After you've refueled the boat, open all the hatches. If you can smell the fumes, DO NOT start the engine. Carbon monoxide can spread around your boat and make everyone on board unconscious. That's why check all the places where fumes and gases can accumulate.
Even More Watercraft Safety Tips
These are a few minor safety tips, which won't consume much time to follow.
Avoid using the cell phone to call or text while driving the boat. Distraction, even for a second, is life-risking.
Always drive your PWC safely because overspeeding can cause misbalance and unnecessary load to the boat's engine. It also reduces fuel efficiency.
Keep a satellite phone and or radio with you on the boat.
Install a carbon monoxide detector on the boat, which can potentially help control fire hazards at the initial stage.
It would help if you used common sense all the time. Keep an eye on the incoming boats, passengers, etc. 
Make sure that the passengers stay safe within the railing.
Don't turn off the engine during operation as the boat can run out of control.
Stay tuned in to the local weather forecast for the latest updates.
It's safe to stay in sight of the shore and avoid riding in populated or congested areas.
You must follow the age recommendations for riding a PWC. Most manufacturers cite 16 years as the minimum age of PWC operators. However, many states have different rules.
Check for the faulty battery as it's got the potential to start a fire due to a spark.
Conclusion
Boating is enjoyable, but safety comes first. Many people, especially the youth, ignore most safety precautions, which is the first step towards trouble. Emergency doesn't come knocking on the door, so it becomes your responsibility to avoid doing anything that can attract trouble. 
By the end of this article, you must have learned the most common and essential security measures that you can follow to avoid a bitter boating experience. We've covered everything you must learn before getting aboard. Now it's your job to act wisely!
Sources: