Ultimate Guide To Jet Ski Batteries (Voltage, Price & Specs)
You'll need a healthy and fully charged battery to crank up your jet ski engine. If your jet ski battery has seen better days and you need a replacement, you'll want to know how to choose the right battery to meet the specifications of your Personal Water Craft (PWC). The first thing you may be asking yourself is: Are jet ski batteries 12 volt?
Jet ski's use a 12 volt battery as standard. It is important to not only get the voltage correct but it is also recommended to a use a specialty marine battery. Marine batteries are designed to withstand extreme conditions and moisture. A 12 volt marine battery is what you want in your jet ski.
In this article, you'll find a complete guide to choosing the best jet ski battery. We'll share the top performing marine batteries and their chargers, plus give you some tips for increasing the life of your PWC battery.
We've also included a comparison table so you can see at a glance all the specifications of the battery models we talk about. So keep reading until the end to learn everything you'll need to know about choosing the right jet ski battery.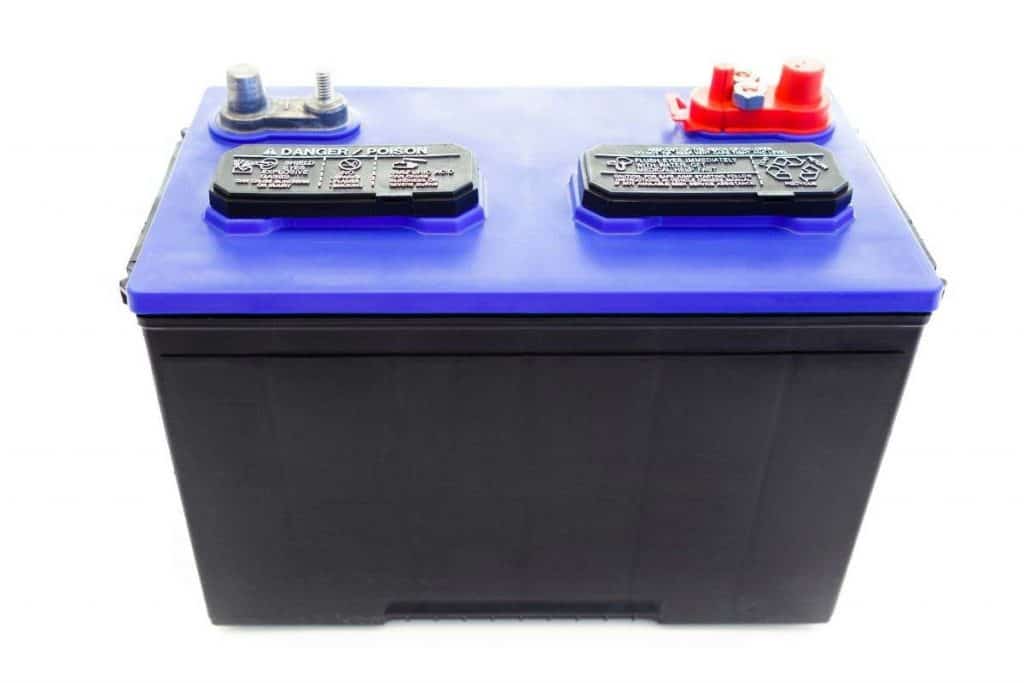 How Much is a Jet Ski Battery?
Before we get into the specs, and find you the right battery for your watercraft, I'm sure you'll be interested to know how much is a jet ski battery?
A replacement battery for a jet ski will run $100 – $150 on average. A battery in this price range will give you a good balance of price and performance. You can find jet ski batteries for less (around $60) but they will have lower power specifications and will not last as long.
Note: Jet Ski is the brand name of a PWC (Personal-Water-Craft), which is manufactured by Kawasaki. The jet ski name is an eponym (when a brand name ends up being used universally). Jet Ski is often used to refer to all PWC no matter who the manufacturer is, so please don't get confused. In this article we'll use either "jet ski" or PWC as a catch-all for this type of watercraft.
Best Jet Ski Batteries
Here are some of the best 12 volt jet ski batteries you can get to power your fun in the water! These batteries will power your Yamaha, Sea Doo, Kawasaki, Polaris, and Honda jet skis in addition to many other brands of personal watercraft.
The ODYSSEY PC625 is a 12v DC battery suited for jet skis, as well as many other water and land based recreational vehicles. It has a 70% longer life cycle than conventional deep cycle batteries (as claimed by the manufacturer), and its top feature is the ability to quickly recharge.
The recharge efficiency rate, considered to be the highest among all the sealed batteries available in the market, is second to none. It ensures minimal energy loss when recharging the battery so recharging is fast and convenient.
Users buying this battery are offered a limited 2-year full replacement warranty. Its superior design will withstand high impact shocks and extreme temperatures.
Check the price of the Odyssey PC625 at Amazon.
Manufactured by Power Source and sold under the same brand name, this is a powerful marine battery developed for jet skis and other personal watercraft. It's a maintenance-free battery, which doesn't require acid water filling. The battery comes factory activated so that you can hit the water immediately.
There's nothing fancy about this battery, but it'll do the job it was meant for. It ships with a full 1-year warranty. Interestingly, it has 500 cold-cranking amps, which is an important thing to look for while buying a marine battery. The 20 amp is decent, and you can expect a fair amount of backup when using it in your jet ski.
It's an ideal replacement battery for Yamaha, Kawasaki, Sea Doo, BRP, Polaris brand jet skis
It replaces the following batteries:
YTX20HL-BS-PW
YTX20HL-PW
GTX20HL-BS-PW
CYTX20HL-BS-PW
YB16CL-B
FAYTX20HL-BS-PW
ES16CLB
CB16CL-B
GT16L-BS
and more
Check the price of the PowerSource WPX20L-LS at Amazon.
BatteryJack Inc. manufactures this battery and sells it under the brand name POWERSTAR. It has a smooth exterior to offer an impressive finish. Perfectly compatible with jet skis and other vehicles such as motorcycles, UTVs, snowmobiles, etc. Users buying this battery are entitled to a 3-year, free replacement warranty.
Its other unique feature is that it is "spill-proof," hence safe to use for marine purposes. Low self-discharge ensures minimal power loss for extended fun. The 30 amps battery backup is very impressive, which further adds to the fun on your jet ski per full charge.
It replaces the following batteries:
ZYI-YGIX30
YB30L-B
YIX30L
PIX30L-BS
M7230L
KTX30L
66010-97C
CTX30L-BS
30L-B
UB30L-B
CB30L-B
YB30L-B
C30L-B M22H30
GTX30L-12B
and many more
Check the price of the PowerStar PM30L-BS-HD at Amazon.
The CB CHROMEBATTERY is manufactured by Chrome Battery, and is especially made for jet skis, ATV's, UTV's, and snowmobile's. It's a rechargeable battery with a versatile fit, making it perfect for multiple applications. It's low-maintenance and is completely spill-proof. Best of all, the company's patented sealed post makes sure that the battery is always free from corrosion.
The battery offers an extended life and comes fully charged, so you're ready to get started once you receive it. It also comes with an 18-month manufacturer warranty, and buyers are also entitled to a 30-day refund window, just in case!
It replaces the following batteries:
CB16CL-B
AB16CLB
ATX16CLBBS
ADX16CLBBS
…more
Check the price of the Chrome Battery 16CL-BS at Amazon.
Yet another pick from the same manufacturer. It offers the same basic features provided by the previous model (discussed above). It ships fully charged, is factory activated, and is completely sealed so it's ready to go when you are.
The package includes nuts and bolts, so you don't have to spend extra to buy them separately. Unfortunately, if purchased online and the battery needs to return, you'll have to pack and ship it back to the seller all by yourself. It is highly resistant to vibration, which proves its tough.
It replaces the following batteries:
CB16CL-B
AB16CLB
YUAM2S6CL
ATX16CLBBS
ADX16CLBBS
and more
Check the price of the Chrome Battery YB16CL-BS at Amazon.
Let's Compare The Specs of These Jet Ski Batteries
The table below compares the specifications for our top jet ski battery choices.
What To Look For When Buying A Battery For Your Jet Ski
Don't just look for the prices or the battery brand. That could be the biggest mistake you could make when buying a marine battery, as there's a lot more than that to look for in one of these batteries. Even if the engine isn't running in jet skis, you may still need to power up your lights, radio, or other electrical equipment. So, the purpose of a battery in a jet ski IS NOT limited to just cranking up the engine.
Deep cycle batteries are perfect for such situations. They can be discharged more than 50% without causing any damage. You can recharge them frequently without harming their longevity.
Here are the things you should look for when buying a marine battery.
1.  Capacity
The amperage of a battery decides how long it can power up electrical equipment. Higher amperage means more fun. Ideally, a 30 amp battery is considered pretty impressive to power up your jet ski. However, with the repeated use, the backup capacity will hurt severely. After some use, you'll have to change the battery if you feel that it has lost its charge holding capacity.
2.  Warranty
A warranty ensures that you don't have to buy another power source until the warranty period ends. Manufacturers offer a warranty ranging from 1 year to 3 years. Of course, if a company provides a more extended warranty period, it is confident about the product. Their confidence backs the product's quality, so a more extended warranty period for a battery is preferred, but generally the battery will cost more upfront.
3.  Absorbed Glass Mat (AGM) Batteries
You can get marine batteries in the old-school form of traditional lead-acid batteries, but "Absorbed Glass Mat" or "AGM" batteries are preferred because the electrolyte of the battery resides inside the fiberglass mat between the plates. This allows more lead and glass mats to be placed inside the same sized battery. This in turn equals more power.
The AGM batteries are maintenance-free and don't require regular topping up, unlike in a lead-acid battery. Interestingly, AGM batteries don't leak even if physically damaged.
The bottom line here is that AGM batteries not only provide a strong cold cranking amp spec for starting your jet ski, they also provide a lot of long-lasting power to run your electronics.
What Battery Features Can I Ignore?
There are some features that manufacturers add just to sound good in the sales brochures. Many of these "features" you can ignore which makes comparing jet ski batteries less confusing. Here's a quick list of the features to ignore.
Body material – You can ignore what material makes the battery body.
Weight – The weight doesn't play much of an important role during the battery selection.
You can also ignore vibration resistance, temperature tolerance, and other similar things.
Useful Battery Accessories For Jet Skis
Besides purchasing a marine battery, you may find you need a couple of useful accessories as well. They're not mandatory, but it's always a good idea to have them by your side, just in case!
PWC Battery Chargers
Although the engine will charge up your PWC battery, if you drained the charge while the engine was off, then you'll need a separate charger to charge it first before you can start up your jet ski engine.
Since most marine batteries operate on a 12v DC charge, look for the chargers that give the same level of output. You may come across some chargers with higher or lower outputs. A lower charging output will cause your battery to charge very slowly, and too high of an output could be dangerous.
It's not just a charger but an all-in-one battery solution. This charger combines a battery charger's awesomeness, battery maintainer, trickle charger, and battery desulfator all into one piece of equipment.
Its outputs are 12v DC and 6v DC. The manufacturer has designed it for lead-acid automotive, marine, and deep-cycle battery uses.
Wonderfully, it can charge batteries as low as 1v. This charger definetly offers more than many others.
Check the price of the NOCO Genius1 at Amazon.
This charger is impressive from a safety viewpoint. It's a 12v 8 amp 2 bank on-board battery charger. It's got reverse polarity, over-current, over-voltage, over-temperature, and ignition protection included as safety features. It's completely waterproof and has an IP67 rating. Well-suited for use in fresh and saltwater. Best of all, it comes with a 2-year warranty.
Check the price of the Guest 2707A at Amazon.
Battery Box
When buying a marine battery box, make sure to check its compatibility with your battery—compatibility in terms of dimensions. The purpose of a battery box is to keep the battery safe from vibrations, moisture, and other external environmental factors that can damage the battery.
If you have an AGM battery, we suggest not investing too much in the battery box as most AGM batteries are well-sealed. On the other hand, if you have a traditional marine battery, make sure to encapsulate it in a rigid battery box for protection from the elements.
It's a group 27 battery box best suited for 12v marine batteries. It can withstand temperatures of up to minus 20 degrees Fahrenheit and stands unaffected by acid, gas, oil, and UV exposure. Best of all, this battery box is certified and tested to comply with several US government specifications.
Check the price of the NOCO HM327BKS Box at Amazon.
This battery box fits group size 24 batteries. There's nothing fancy about it. Let's say that it's a heavy-duty box with corrosion resistance. This box meets USCG CFR 183.420 and ABYC E 10.7 specifications, so pretty safe to store your marine battery. You can't ask for more in this price range.
Check the price of the Camco 55363 Box at Amazon.
Essential Steps to Maintain a Jet Ski Battery
Let's quickly take a look at a few general steps that can help you keep your marine battery healthy.
Disconnect the battery (when stored)
Recharge the battery immediately (after using)
You should disconnect your battery when the jet ski is not in use. You might have turned off the engine and motor and must be thinking that the battery won't drain, but there can be small electronic equipment draining it. To stay on the safe side, you can disconnect it when not in use. If leaving the jet ski unused for a long time, then battery disconnection becomes mandatory.
If you've severely drained the battery (no issues with that), try to recharge it immediately after use. Leaving the battery discharged can hinder its longevity. It happens because the discharged state causes sulfide damage, ultimately reducing the backup capacity.
Furthermore, over-discharging the battery isn't recommended either. Bringing a battery back from a dead (severely discharged) state reduces its charge holding capacity, and the battery will grow weaker.
The bottom line is that if you keep up on the battery maintenance of your personal watercraft your battery will last much longer, and that saves you money.
Frequently Asked Questions (FAQs)
Which is the best battery for a jet ski?
After carefully examining all the jet ski marine batteries taken into account in this guide, we recommend going with PowerStar PM30L-BS-HD. It has the highest amperage and cold crank amperage out of all the batteries. On top of everything, it's very inexpensive and easily available online.
Which jet ski battery is the best value for the money?
The Chrome Battery 16CL-BS (Amazon) Jet Ski Battery and Chrome Battery YB16CL-BS Jet Ski Battery are the two cheapest and best budget batteries you can decide to purchase. However, they may fail to impress you with their charge holding capacity, but they will be decent in the long run.
How long can a battery hold the charge?
Ideally, different batteries have different charge holding capacities if measured in terms of time. For instance:
Automotive batteries can hold a charge for 3- 12 months.
Marine batteries can store a charge for up to 5 years.
AGM deep cycle batteries stay charged for up to 6- 7 years
The charge holding capacity depends on how well you've maintained the battery and in what climatic conditions the battery stores. These times also assume that the battery is stored disconnected.
Can you put a car battery in a jet ski?
Yes, you can put a car battery in a jet ski, but it is NOT recommended. Car batteries are not resistant to the extreme conditions, that marine batteries can easily withstand.
If you decide to go with a car battery, make sure to lock it in a rigid battery box and be ready to change it once every year or two. In many cases, a car battery will be the wrong dimensions to fit in your PWC.
Can you overcharge a marine battery?
Yes, you can overcharge a marine battery. Overcharging a marine battery (or any battery) is very dangerous. Charging a marine battery for too long causes the acid inside the case to boil, causing a potential explosion.
Be very careful. You could be risking your life as well as endangering other nearby people. Fortunately, most of the battery chargers have a in-built feature to avoid overcharging. Also, a battery won't overcharge through runing the jet ski's engine. But if charging manually, make sure you're not overdoing it.
Conclusion
You've learned about some of the best 12 volt marine batteries for your jet ski and you've gotten some ideas about maintaining the battery and prolonging its life, as well as some accessories you may need to go with your jet ski's battery.
We've offered lots of relevant information; now it's your turn to take some action and get out on the water!
Sources: