Are Fishing Boats Fast? (We Find Out)
The faster the fishing boat, the quicker you can get to your lucky spot. And the sooner you get to your destination, the more time you get to spend fishing! There are a lot of different kinds of boats out there, and they can all be used to fish. But for the serious fisherman a boat specially designed for the needs of fishing is always going to be the better choice. But are fishing boats fast?
A fishing boat can be surprisingly fast. A multi-purpose fishing boat, such as a Bowrider, can have a top speed of 84 mph. While not all styles of fishing boats can reach this level of speed, there are many types of dedicated fishing boats that have topmost speeds ranging between 41-72 mph.
In this article, we'll talk about the different types of commercial and recreational fishing boats and the maximum speeds they can reach. You may be surprised to learn just how fast some of these fishing boats can go!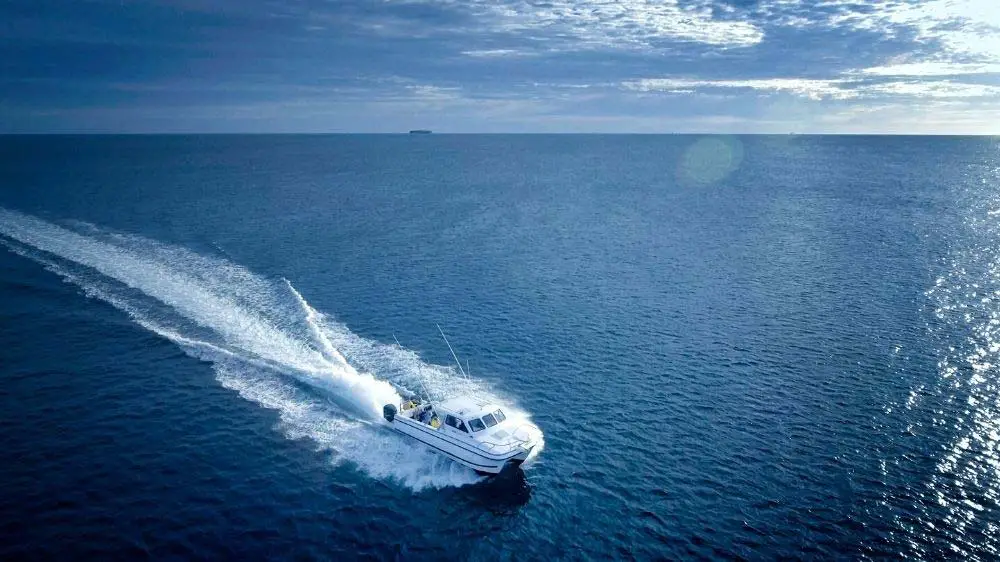 Different Types Of Boats
There are, of course, many types of boats available, and a dedicated fishing boat will be in a category all its own. Although you can fish from any style of boat, a fast fishing boat, dedicated to the task at hand, will be your best choice if you love to fish. Let's take a quick look at some of the different boat types available. When it comes to fishing, some are better than others.
Deck Boat
Dinghy Boat
Fishing Boat
Bowrider
Catamaran
Cuddy Cabin
Centre Console Boat
Houseboat
Trawler Boat
Cabin Cruiser
Pontoon Boat
How Are Fishing Boats Different?
Several factors make a fishing boat different from other boats. As the name suggests, fishing boats are made specifically for fishing, perfectly suited to sail on freshwater or saltwater. But how are they different?
Fishing boats possess incredible stability, strength, and durability to endure in the most challenging situations. They also have a front bow, rod lockers, a trolling motor system, an outboard power system and more.
Most of the larger fishing boats make use of diesel engines, which offer pretty impressive power. Ideally, the modern diesel engine can generate up to 2,600 hp. Now, the speed at which this engine can move the vessel depends on the size, weight, shape and conditions.
Why Does Speed Matter in A Fishing Boat?
For a commercial fisherman, time is money. The speed and efficiency with which you can do your job, means more money in your pocket at the end of the day. A fast fishing boat will get you to your destination asap, so you can get to business. It'll also get you home quicker too, hopefully with several tons of fish!
As a recreational fisherman, a fast boat will also get you to your fishing spot quicker giving you the most time to fish. This is important so you can make the most of your precious free time. And, well let's face it, a fast boat is fun!
How Fast Are Fishing Boats (Types And Speeds)
Now that we know why a fast fishing boat is desirable, let's take a look at some of the different styles of recreational and commercial fishing boats and tell you how fast each of these boats can go.
Recreational Fishing Boats
Recreational fishing boats are multi-purpose boats, which means that you can use them on a dedicated fishing trip as well as a day out with your friends and family. The cost of a recreational fishing boat can vary, but expect that you can find a decent one on a medium budget.
(Please note that boats suited for saltwater are also typically suitable for freshwater. But, the ships designed for freshwater should not sail in saltwater).
First, let's take a look at a few recreational fishing boats suited for freshwater along with their top speeds.
Bass Boat
These boats range from 14' to 23' and are ideal for freshwater fishing. They house a V-shaped hull and lower freeboard (the distance from the top deck to the waterline). You can take this style of boat on a fishing trip in lakes and rivers. The chart below will give you an idea their maximum top speeds based on the horsepower of the engine.
| Horsepower | Top speed (in mph) |
| --- | --- |
| 115 | 41-45 |
| 150 | 45-50 |
| 200 | 55-65 |
| 250 | 65-72 |
Flat Boats
Flatboats can be 10′ to 18′ long or more and are best suited for shallow and calm water. These boats MUST NOT be taken into open water. As the name suggests, flatboats have a flat bottom, which can turn upside down or lose balance quickly in rough water or waves. Also known as Jon boats, many flat bottom boats can sail at a decent speed of up to around 40 mph, but it isn't advised to go too fast on these boats due to the less stable hull type.
---
Let's now take a look at some recreational fishing boats designed for saltwater. They're different because most of these crafts use fiberglass in their composition, which helps the ship withstand the harsh saltwater.
Bay Boat
Bay Boats are low profile boats, so they're best suited for calm and shallow waters. A bay boat is a great choice to catch fish near the shore. The length ranges from 18′ to 24′ and is generally made of fiberglass to stay strong even in saltwater. These boats are not meant for choppy or open water.
| Boat Model | Top speed (in mph) |
| --- | --- |
| Scout 251 XSS | 56 |
| Scout 231 XS | 60 |
Center Console Boats
These are great for fishing in both saltwater and freshwater. Ideally, however, center console boats are perfect to use for offshore fishing. Their length ranges from 13′ to 45′. The helm location is in the center of the ship, hence the name "center console" boat. A typical center console boat's top speed can vary from 60 mph to 85 mph. These fast speeds are due to the vessel being powered by between two and four large outboard motors.
Bowrider
Bowrider is a fantastic choice if looking to head out for a day of fishing. A Bowrider is relatively inexpensive, reliable and does its job well. It has an open area where you can install extra seats. They generally range from 17′ to 30′ in length. This boat is trendy among those new to the boating world. Best of all, it's a multi-purpose boat, and you can enjoy outings with your friends and family.
| Bowrider Model | Top speed (in mph) |
| --- | --- |
| Checkmate Pulsare 2400 | 84 |
| REGAL 2700 BOWRIDER | 60.1 |
| CHAPARRAL 280 OSX | 59.5 |
| CARAVELLE INTERCEPTOR 232 | 58.6 |
| REGAL 3300 | 58.5 |
Convertible Fishing Boat
Convertible fishing boats are generally 35′ in length and designed to fulfill the need for overnight offshore fishing trips. These ships have big cabins, galleys, and berths, making them suitable for extended fishing and family trips. You can expect it to sail at speeds of up to 46 mph.
Commercial Fishing Boats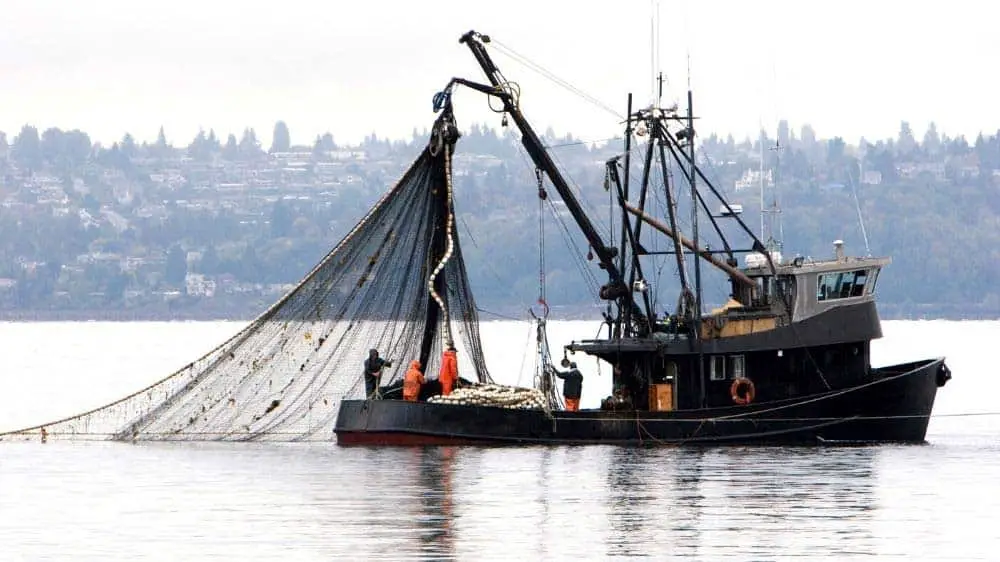 Commercial fishing boats offer ample storage, sufficient enough to deliver fish for an entire city. The intent with this type of watercraft is to sail far away from shore. Unfortunately, the speed of a commercial fishing ship isn't as high as compared to recreational vessels. The primary purpose of the commercial fishing vessel is to catch and bring in high volumes of edible fish. Let's take a look at a few such ships, along with their top speeds.
Trawlers
These ships are very industrial in appearance, and have suspended trawler nets to catch the fish underwater. The nets can reach deep below the surface to catch types of fish that naturally live at deeper levels. When talking about their top speeds, they can barely sail at a rate of 4.6 mph to 10 mph.
Seiners
Very similar to trawlers, except that they don't have any nets suspended from the boat. Instead, the net spreads out over the water surface. The intention is to catch pelagic (open sea) types of species, which generally hang out near the water surface. You can expect their top speed to be similar to the trawlers, which is 5 to 11 mph.
Longliners
As the name suggests, longliners have long fishing lines, each connected with hundreds of baited hooks. So, with just one fishing line, You can catch thousands of fish without any issues. Talking about their speed- you can expect these vessels to move at speed ranging from 9 mph to 12 mph.
Drifters
A drifter makes use of special drift fishing nets to make their catch. These drift fishing nets look like a curtain used to drag and drift the fish through the water, hence the name drifters. Ideally, a drifter can sail at the top speed of up to 17 mph.
Artisanal Fishing Boats
Artisanal fishing boats are generally small boats owned by individuals who aim at catching fish. They are used for both personal and commercial purposes. Typically, commercial fishers who can't afford high-end boats tend to own and operate such vessels.
They're small in size, smaller than recreational vessels, mostly row with an oar or a pole. However, many individuals do attach a motor and a generator as well. Even though they're small boats, You can safely bring artisanal crafts into the open waters (but must not be taken too far away from the shore).
Best suited for low-scale fishing, artisanal fishing boats can be rafts, reed boats, coracle, canoes, catamarans and outriggers, propulsion, etc. After bringing a classic Jon boat into this equation, we can say that artisanal ships can achieve a top speed of up to 10 mph to 15 mph without much issues (achievable through boat motors).
Comparing Sport Fishing Boat Models
We've discussed some small to medium-sized fishing boats, some with pretty impressive top speeds. But now, let's consider some higher-end ships (think yacht-like), which can be used for sport fishing but just might be out of the budget range for most average folks.
The table compares the fastest sports fishing boats on multiple bases.
| Boat Model | Length Overall (LOA) | Top speed (in mph) | Horsepower | Engine(s) |
| --- | --- | --- | --- | --- |
| Albemarle 360 Express Fisherman | 38'8" | 43.15 | 1,430 | Twin Cummins QSM11 |
| American Custom Yachts c'est la vie | 90′ | 50.63 | 9,200 | Twin MTU 16V 4000 M93L |
| Bayliss Hull 12 65′ Lights Out | 65′ | 52.36 | 3,850 | Twin C32 ACERT |
| F&S Full Throttle Hard Top Express | 64'4″ | 59.49 | 5,200 | Twin MTU 16V 2000 |
| G&S Mollie | 65′ | 49.48 | 3,600 | Twin MTU 12V 2000 M94 |
| Game Fisherman Bawana Sport Fisherman Day Boat | 46′ | 45.68 | 1,430 | Twin Cummins QSM11 |
| Garlington Miss Behavin Sport Fish | 61′ | 49.48 | 2,300 | Caterpillar C18 |
| Hatteras GT70 Convertible Sportfish | 70′ 6." | 48.33 | 5,200 | Twin MTU 16V 2000 |
| Henriques Dr. Bones | 50′ | 41.42 | 2,030 | Twin Caterpillar C18 |
| Jarrett Bay Ravaganza Jarrett Bay Hull | 70′ 2." | 55.23 | 4,800 | Twin MTU 16V 2000 |
Factors Affecting Boat Speed
Apart from weight, there are a couple factors that can determine a fishing boat's top speed.
Hull Type
Broadly, there are three types of hulls:
Displacement – A V-shaped hull that pushes its way through the water
Planing – Which skims along over the water's surface
Semi-displacement – This is a cross between a displacement hull and a planing hull
A planing hull best aids the speed as it uses a hydrodynamic lift for skimming near the water surface. But for a planing hull to do its work, the boat has to travel at speed high enough for the hull to generate lift, or else it's useless.
A planing hull is fast but it's not the type of hull you'll find on your average fishing boat, which means most boats built for fishing have a displacement hull, and they have to push their way through the water. This is where the size of the engine comes in when it comes to determining the overall top speed of these boats.
Engine Size and Horsepower
The size and power of a boat's engine is referred to in terms of horsepower (HP). The more a boat weighs, the higher horsepower the engine needs to be to move it through the water.
A general rule of thumb says that for every 25 – 40 pounds of weight, you'll need 1HP to power the boat. What that means, of course, is the less your boat weighs, and the most horsepower you have, the faster your boat is going to move, regardless of any other factors.
Final Thoughts
We've given you a lot of information about the various types and top speeds of different fishing boats. Now you know that fishing boats come in all shapes, sizes and configurations. You also know that while some fishing boats can be very fast, reaching speeds up to 84 mph, others can be pretty darn slow.
The speed a fishing boat needs to be really depends on the particular use of that craft.
Sources: