Are Jet Ski Trailers Universal? (A Guide to PWC Trailers
If you have or are thinking about getting a jet ski, be prepared to have the time of your life! But before you can hit the water, you'll need to get your personal watercraft (PWC) to the lake, river, or ocean. For that you'll need a jet ski trailer. Before you start looking to get a trailer for your PWC you'll probably want to know: Are jet ski trailers universal?
Jet ski trailers are not universal. While trailers for jet skis can often be used to hold many different brands of personal watercraft, the trailer needs to be matched to the weight and overall length of your particular jet ski. Not every PWC will work well with every trailer.
In this article, we'll take a look at everything related to jet ski trailers, including what to look for when buying. We also added a few critical points for maintaining and towing a trailer safely.
While a jet ski may fit on several different brands of trailers, not all jet skis will work with every trailer. As we'll discover later in the article, there are different types of trailers, so considering them all as universal would be a stretch. So, if these trailers aren't all the same, how do you transport a PWC like a jet ski? Let's find out.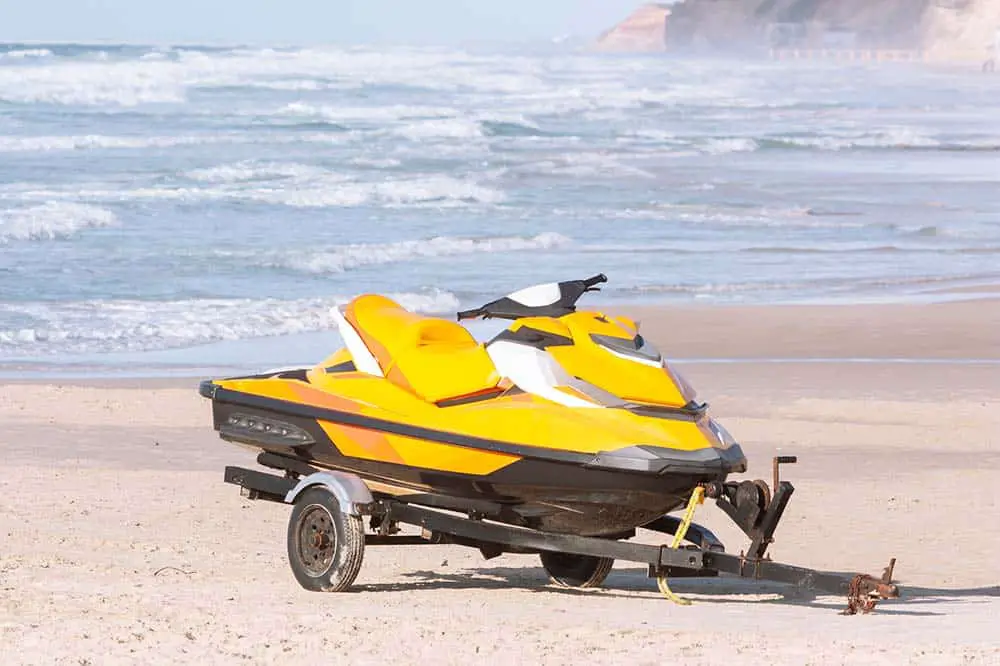 How To Transport a Jet Ski?
To make full use of a jet ski you'll need an excellent trailer to transport it on. It is an essential item you will need in order to use your PWC. Luckily for you, the options are many because when Sea-Doo first put out the Spark back in 2013, one of its top features besides affordability, and the overall fun factor, was its lightweight body. Because of the Sea Doo's success, many other manufacturers took note and have since built their own lightweight jet skis.
It might not seem important, but a light PWC means you don't need a colossal tow vehicle – actually, you can tow a small Jet-Ski or Sea-Doo with nearly any vehicle; no need for an SUV or a big four-wheel-drive truck.
When buying your first PWC, you'll want to make sure you have the right vehicle to pull a trailer for its size and weight, as many buyers forget about this when getting excited about the idea of their new jet ski.
Before getting a PWC, you'll want to check your vehicle's owner's manual. It will tell you how much your car can tow. The good news is that usually the high-end towing limit for a standard car is at least 1,000 pounds, which should be sufficient to tow many brands of jet ski and small trailer combos. 
Check the Weight on Your PWC
Having determined towing capacity, find your PWC weight (found printed in the owners manual) and factor in a few more things like gas, oil, safety gear, tools, and accessories: Which, when added up, may account for an additional 100 pounds or so.
The trailer you get must be rated to carry your PWC (plus any additional gear). With all this information, your local dealer can help you find a trailer that meets your needs. Since most jet skis don't come with a trailer, you'll want to start by doing some PWC trailer research before purchasing (so keep reading).
Buying A Jet Ski Trailer
Before you run out and purchase a trailer, there are a few more things to consider first when shopping for a quality PWC trailer:
1.  Steel Or Aluminum Trailer?
Steel:
PWC trailers come in two main types; steel or aluminum. There are also many variations in between, and buyers will find pros and cons for each type. Cost is a significant factor when deciding which material to go for, and with the average PWC now going for upwards of $10,000, your options for trailer-types may come down to price. 
Steel is cheaper, and there are some painted-steel trailers and powder-coated steel varieties that will help you save a few bucks – that is until the elements kick in and your trailer starts to rust.
It is not to say that you can't find good trailers for cheap. For example, if you plan on using your PWC very often, another option is galvanized steel. It is steel or iron with a zinc coating to keep it from rusting. Manufacturers also like to add in a coat of paint for different looks, which also helps prevent corrosion.
If the overall weight is an issue, a steel trailer is going to weigh a lot more and may require a vehicle with a higher towing capacity.
Aluminum:
Aluminum trailers will cost more, but they do have the advantage of being lighter than steel or iron, which is always beneficial when hauling your PWC. The other important feature is that they don't rust from being in water or moisture the way that steel does.
We should point out that aluminum does react to alkaline, so when coming out of saltwater, it's always a good idea to clean it off with fresh water. Ignoring this can lead to damage and, eventually, breakage.
Trailer Material
Pros
Cons
Steel
– inexpensive
– heavy
– rusts
Aluminum
– lightweight
– doesn't rust
– more expensive
2.  Single or Double Jet Ski Trailer
Do you plan on transporting just one PWC, or are there plans to buy a second one? It is an important point because a double trailer presents slightly different dynamics on the road. While double trailers do have space to carry two PWCs, it can be a problem when transporting just one craft without any extra weight on the opposite side to even things out.
So unless you have two PWCs, opt for the single trailer. If, however, you want a larger one, discuss the different options with the sales rep to make sure that you get a trailer that sits comfortably on the road, even at higher speeds. The other option is to carry something else, on the other side, to help balance the weight.
3.  Open or Enclosed Trailer
When towing two PWCs, it makes sense to get an enclosed trailer for added safety. A closed trailer also keeps the PWCs operational for a long time by shielding them from weather and other potential damage.
It is also convenient when you need a place to keep all the tools and accessories that go with your PWC. Finally, it's more secure. Theives are less interested in stealing or messing with what they can't see.
4.  Single or Tandem Axle
Generally speaking, lighter trailers have a single axle, and they tend to be easier to move around. These are some of the cheaper trailers and are used to transport lightweight PWCs. On the other hand, a tandem axle costs more but provides better stability on the road and is used on heavier trailers to transport larger PWCs.
5.  Suspension
Many trailers use leaf spring suspension as it's cheap and relatively easy to install. It takes some of the pressure off when the axle moves; and makes transportation smoother, especially on rough roads. However, for a higher quality suspension, the torsion beam suspension works better at absorbing shock and doesn't require any maintenance.
6.  Brakes
Single trailers don't usually have brakes as they haul a small load; however, extended trailers such as double or 3-place trailers have their own brakes. Generally, the larger the trailer, the more likely it will need supplemental brakes to transport multiple PWC and other equipment safely.
7.  Tires
Ideally, you should rotate trailer tires after every 5,000 miles to keep the tread wear even. Make sure to keep the tire pressure at recommended manufacturer standards, and check tire treads from time to time; based on how often you use the trailer.
The trailer's bearings need to be lubricated, plus the lug nuts require tightening from time to time, as well. Remember that trailer tires are like the tires on your car – they have a life expectancy of about five years. Once you start seeing dry cracking, the rubber is no longer good, and you should look at finding replacements.
8.  Trailer Length And Width
Single PWC trailers typically measure around 60 inches in length, which means they're small enough that when backing up from your tow vehicle, side mirrors won't be of any help. Length is usually only 140-180 inches. Some of the more extended trailer models are equipped with things like a storage unit and a gas rack as well.
9.  Weight
Single PWC trailers weigh in at between 180 – 250 pounds.  Aluminum models are generally lighter and can hold anywhere from 800-2,000 pounds of weight. But usually, the carrying limit for most single PWC trailers falls at around 1,000 – 1,500 pounds. In theory, a double PWC trailer can handle twice that load. 
What Kind of Accessories Do I Need for My PWC Trailer?
There are a few items you'll most likely need for use with your personal watercraft trailer (links to Amazon).
If possible, go for a trailer with some visual aid that will prevent jackknifing; as a general rule, the trailer should also match your PWC in terms of size. Some trailers are more prolonged and bulkier than others and should only be used to transport larger vessels. Look for a trailer that sits within the correct range for your craft, and feel free to ask questions before purchasing.
What Do I Look For in a PWC Trailer Model?
Ideally, you want to find out if the specs on the trailer match well with your vehicle and PWC. Things like weight and length are major factors, so as soon as you decide between single or double place trailers, start checking the specs. We've provided a table below to give you some idea of the kind of specs to look for when shopping:
Jet Ski Trailer Specs (Material, Weight & Dimensions)
| Model | Material | PWC | GVWR/ Pounds | Capacity | Length/ Inches | Width/ Inches | Axle |
| --- | --- | --- | --- | --- | --- | --- | --- |
| Karavan S1 | Aluminum |        1 | 1500 | 1250 | 172 | 60 | 1 |
| Shad 2 | Painted Steel |        1 | 3500 | 2000 | 180 | 100 | 1 |
| Triton Wave | Aluminum |        1 | 920 | 750 | 148 | 55 | 1 |
| ComFab 1000G | Galvanized Steel |        1 | 1500 | 1250 | 178 | 57 | 1 |
[GVWR= Gross Vehicle Weight Rating]
It's important to remember that factory trailers are not necessarily the best suited (or least expensive) for your PWC. You can get a perfectly decent trailer from other dealers or have them customize one for you. The two main specs you need to know are the material used and the full carrying capacity. Now, dimensions matter, too, as it has to work well with your tow vehicle, so always keep the length and width in mind when purchasing a trailer.
How Much Does a Jet Ski Trailer Cost?
One of the main benefits of going to a water sport dealership for a trailer is that they purchase them in bulk (at a lower price), and pass on that price range to the buyer. On average, we can break down the prices into three categories:
Single PWC Trailer Cost: $750 – $1,500
Double PWC Trailer Cost: $2,000 – $3,500
4-Place PWC Trailer Cost: $ 7,000 – $9,000
Prices go up and down regularly, but the core technologies behind most PWC trailers remains the same, so you might want to grab one when prices seem fair rather than wait for later. There are other costs as well, such as registration tag and tax, based on your state laws.
Do Jet Skis Come With Trailers (PWC with Free Trailer?)
It isn't likely. If they offer a trailer for free, there's a good chance they're making up the difference somewhere else. Trailers are not customarily sold together with PWCs and it's unlikely that the dealership will throw in a trailer to go with your watercraft. You may, however, be able to negotiate a slight discount if you're purchasing both together.
Used Jet Ski Trailers
Sometimes you can get a good deal on a used jet ski trailer, but again since all PWC trailers are not completely universal, you'll want to make sure that everything fits, and that your vehicle is able to tow the combined weight.
When looking at used trailers be sure to check for signs of wear and dry rot, and bear in mind that some trailer tires cost more than car tires. It's because a trailer tire is sold with the rims. What seems like a good deal on a used jet skit trailer can head south pretty fast if the tires need to be immediately replaced. Also, make sure the trailer frame is free of rust or extreme wear and tear, and that the bolts are of quality.
Final Thoughts
Now you know that while jet ski trailers aren't completely universal, you can mix and match trailers as long as they meet your overall towing, weight, and size specifications. Have fun in the water!