Boat Ownership Costs And Expenses (Read This Before You Buy!)
Are you a new boat owner, or plan to be one soon? If yes, then great! First things first though, there will be some significant boat ownership costs involved and you'll need to know what to expect. Not to freak you out, but the last thing you want is for you to be that guy who leaves his boat docked for months on end just wearing away because you didn't anticipate the ongoing costs of owning and operating your boat.
So, how much does owning a boat really cost?
You can expect that a $20,000 boat will cost between $2,656 – $3,000 dollars a year or more in ongoing expenses. These boat ownership costs include maintenance, insurance, registration fees, docking fees, and gear necessary for the operation and safety of the vessel and its passengers.
Anticipating boat costs is a smart way to avoid a sinking debt driven ship (pun intended!). Do not become boat poor. It's not a good look. 
This article will provide information about boating expenses and the so-called hidden costs of boat ownership. It tries to assist mainly first-time buyers in preparing for and reducing financial burdens where possible.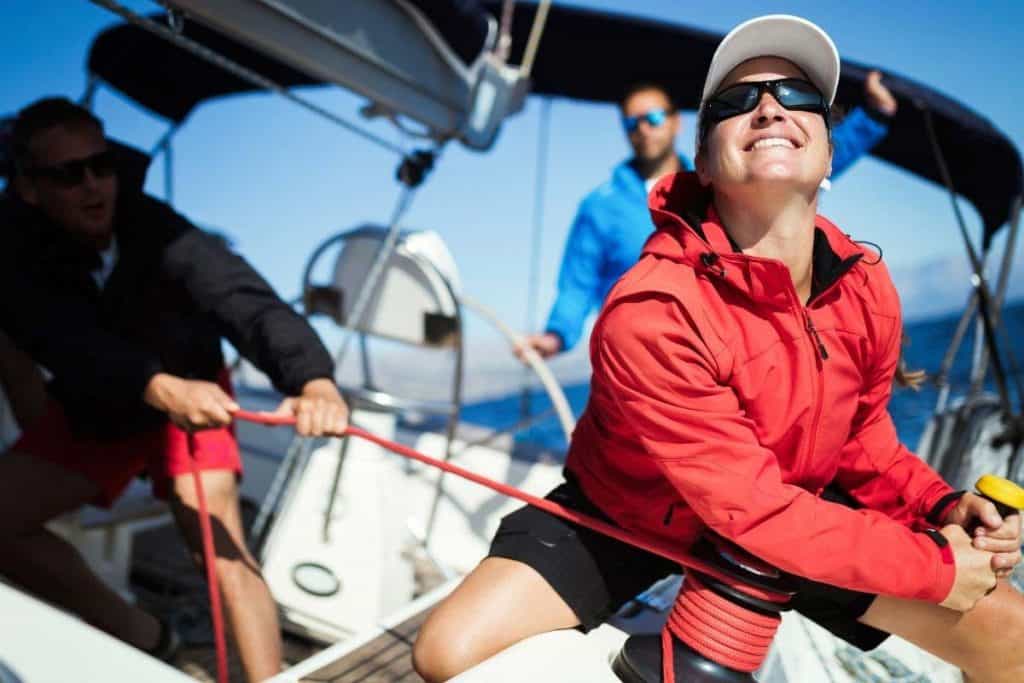 The average age of boat owners is 60 for sailors and slightly younger (55) for power boaters. Younger boat users haven't always been keen on buying, and this is something organizations such as the National Marine Manufacturers Organization (NMMA) are working desperately to change.
But not many organizations are successfully promoting recreational boating, especially in this economy, and the boating lifestyle still appears out of reach for many people. But is boating that expensive, or is it just our perception of it?
Discover Boating published their findings from a recent study where they indicated that first-time buyers had significant concerns over what they called "hidden boating fees," which tend to show up right at the end of the purchasing process. It shows how seriously the industry needs to take the issue of transparency.
Comprehensive List of Boat Ownership Expenses
Here's some straight talk about the expenses you can expect to pay for once you purchase a boat. Later we'll see how these expenses compare between a sailboat and a motorboat.
1.  The Purchase Price
On average, a mid-sized boat measuring around 25ft in length will set you back about $40,000. Of course, you could compromise a little on the size or go for a used boat, and in that case, the purchase price reduces significantly. Check out Bloomberg or NadaGuides to get a clear picture of how these boats are priced.
So for our example, let's set the buying price at a lower range of $20,000. That way we can base our expenses off this initial purchase price, and it will make it easier for you to calculate your expenses if your boat costs more or less than this amount.
2.  Boat Insurance
Most insurers will offer boat insurance at the rate of 1.5 – 2.0% of the boat's value (also known as hull value) per year. So if your ship is valued at $20,000, then insurance would be around $400 a year on the higher side. Remember that insurance rates differ based on location, so prices will typically be higher in hurricane-prone regions for instance. 
Insurance prices also vary greatly depending on whose operating the boat, whether you are occasionally using it for fishing or if you're a regular water skier / wakeborder. Boating insurance also has a direct correlation with your driving record. Better drivers get better boat insurance rates.
Average Annual Insurance Cost: $400
3.  Boat Registration
Your boat requires registration, much like any other vehicle. The boat registration process is managed at the state level so expect some variations in cost. We'll set the average registration cost at $225 per year.
Licensing for the Boating Safety Education Certificate may also apply here. Still, the good news is once you get certified, which can cost anywhere from $150 to $300, it's good for life (but again, check state licensing rules to be sure).
This certificate licenses you to operate a personal watercraft (PWC), powered by a 25hp motor or higher. The National Association of State Boating Law Administrators (NASBLA) is an excellent place to find more information.   
Average Registration Cost: $225
4.  Property Taxes For a Boat
Some states like Florida and California require a personal property boat tax. This tax is different from sales tax or use tax. Boat property taxes (if any) vary wildly depending on the state and county you live.
You'll need to check with your local county offices to see if this tax will apply to you or not. If it does, your boat's value will be assessed as tangible property (just like a house) and you will pay annual property taxes on the assessed value.
Taxes Cost: Varies
5.  Mooring (Keeping Your Boat in The Water)
Mooring costs fluctuate fundamentally based on geographic location, the size of your boat, specialized boat care, proximity to restaurants and other facilities, etc. If you want a premium marina with round the clock security and incredible scenery, then you're going to pay something in the range of $1,000 to $2,000 annually for a larger boat.
But you don't always have to pay for a mooring: A decent boat yard can serve as a mooring for your boat when you're not sailing, and they only charge a flat seasonal fee. Alternatively, if your boat is smaller, you may just store it on its trailer at home for free in between outings.
Mooring Cost: Varies
6.  Row Boat, Dinghy
If you pay for mooring, you will potentially need to purchase a smaller boat for traveling to and from your primary vessel. Small rowboats cost about $1,000, and you can always go for a used one for half the price or find a far cheaper option online. Cheaper ones will be visibly old, but they get the job done.
Row Boat Cost: $500 to $1,000
7.  Winter Boat Storage
If you live in colder climates, there will be an annual cost of about $1000 – $2,000 for winter boat storage, which involves someone hauling your boat and placing it on a set of blocks. The charge covers this service plus a cover wrapping that is thrown over the boat all winter.
Again the other alternative here is to move your boat to your property, assuming there's plenty of space in your driveway or backyard.
Storage Cost: $1,500
8.  Trailer
Trailers vary in price based on their size and material, so if you're buying an aluminum trailer for a 20-foot boat, it may set you back anywhere from $1,000 to $2,000, with cheaper options online in the used section. There is also a DMV registration fee for boat trailers, which costs around $5 (may vary in your area).
Aluminum trailers are the preferred choice for their lighter weight and the fact that they don't wear from rust and or break easily. However, there are other models made from steel or iron that will serve the purpose. They weigh more but are generally more affordable.
Trailer Cost: $1,000
9. Routine Maintenance Cost
Most most routine maintenance estimates are around 10% of the boat value annually. So basically, the more expensive your boat, the more money it will cost to maintain. Maintenance typically involves servicing the engine, anti-fouling, sail and rig, electrical equipment, upholstery, repainting the hull, fixing hull damage, upgrades, replacements, and so on. Some owners carry out the essential maintenance themselves, but they always set aside a budget for professional maintenance.
Maintenance Cost: $2,000
10. Fuel Cost
There will be the added cost of gas, oil changes, and regular engine maintenance for anybody using a motorboat. More significant engines like 4-stroke motors will use up more gas, and also the number of times you take your boat out will determine the cost of gas.
Cost: varies
11. Must-have Safety Items/Boating Accessories
The following is a list of 15 crucial boating accessories that you must purchase and renew to stay safe out on the water. We haven't included the cost for each item; however, it is worth pointing out that these items don't come with the boat and require additional spending.
1.    First-Aid kit
You must be able to treat minor injuries or ailments, and this is possible with a range of neat medical kits that can cost as little as $10 or as much as $1,000. It depends on what medical emergencies you're planning for or how far you plan to cruise. Here's an inexpensive first aid kit (Amazon) that's got everything you'll need.
2.    Solutions for Motion Sickness   
First-timers may find that motion sickness is pretty strong, and in that case, it helps to have devices or treatments that prevent or help manage it. Motion sickness strips and unique wrist bands are everyday items used for motion sickness.
3.    Depth Finders
A depth finder from companies like Hummingbird or Faria Beede will tell you how deep the water is so that you never run the risk of damaging your hull or, worse, getting stuck somewhere out in the water. Portable ones like the Garmin Striker Plus 4 (Amazon) are cheaper and will give you the same readouts, so there are different options here.  
4.    Life jackets
A single, quality life jacket will often cost you over $50, and you need to have at least one life jacket for every person aboard. The Stearns Classic Series Vest (Amazon) will provide the right protection and save you some money in the process.
The life jacket should also have a whistle installed if it doesn't come with one. The Fox 40 whistle comes with a break away lanyard and will get the job done. It is also wise to have a small flare and pockets to store any relevant survival item in your life jacket or vest.
The cost of the life vests alone can set you back several hundred dollars in order to outfit your boat safely to carry several people. 
5.    A Beach Anchor
These are particularly useful for people with smaller boats that can dock anywhere. A beach anchor will stake into different types of ground so that your ship doesn't slowly drift away. Where there's firm ground, you can hammer one of those spike varieties into the ground. The Slide Anchor Spike (Amazon) works well in shallow water or on the shore.
6.    Dry Storage Box
You must have several of these and have them packed with spare tools, GPS, smartphones, and other electronics that may be useful. Ensure that your storage boxes can float, and don't load too much equipment into a single box. Spread out your gear among several of them, some carrying the same or similar equipment.
7.    Device Chargers
Solar-powered chargers are considered essential for larger boats. Ideally, your boat should have available USB sockets attached to solar panels; but if this isn't the case, portable solar panels also have power ports that you can use. Plus portable panels like this one at Amazon can also be used for camping or RVing.
8.    Navigation Equipment
When taking the boat out to sea or on a large lake when you are likely to cruise away from familiar routes, navigation equipment is needed. A simple marine GPS (Amazon) will suffice; however, for the more complex and sensitive GPS equipment, expect to spend thousands of dollars. 
Overall Cost of Safety Equipment
It's hard to estimate because, ultimately, the total cost fluctuates with brand and quantity, but at the very least, you should expect to end up spending at least another $1,000 on some essential items for your boat. Many of these items once purchased don't require replacement, so that's a relief.
Example Estimate of First Year Boat Ownership Costs
This table shows the expenses you will most likely incur during your first year of boat ownership. Some of these costs will be one-time-only purchases, while others will be ongoing expenses.
| Expense | Cost | Notes |
| --- | --- | --- |
| Purchase Price | ($) 20,000 | 1x cost |
| Registration | $225 | Annual cost |
| Insurance | $400 | Annual cost |
| Mooring, dock fees | Varies | May or may not be required |
| Trailer | $1000 | 1x cost |
| Winter Storage | $1500 | May not be required. |
| Dinghy | $500 | May not be required. |
| Maintenance | $2000 | Annual cost / much more or less depending on boat |
| Safety Equipment | $1000 (varies) | 1x cost |
|   |   | |
| Total | $26,625 | Total 1st year of ownership |
This is a rough outline of costs, and the intent is to give you an idea of where the money goes. Your costs may be higher or lower depending on if you have a boat loan and many other factors, but this should give you a good starting place for determining just how much a boat is going to cost to own and operate based on a $20,000 purchase price.
The first year of boat ownership will invariably cost more as you have to purchase a whole range of safety equipment – some of which you probably won't use, but it's always a good idea to have available.
If you remove all of the one-time costs, you can expect your ongoing cost for owning the boat in this example to be around $2,625 annually if you don't require long-term mooring or winter storage fees. Adding the cost of fuel and boat launch fees, it's probably safe to say you're looking around $3,000 or more in annual expenses.
Sailboats vs. Motorboats Annual Ownership Costs
The table below compares operating costs for a moderately sized sailboat and a similar-sized motorboat, estimating what the costs of owning the two different boats would cost on average. The figures are on the higher side.
Buying Price
30 – Foot Sailboat
30 Foot Motorboat
Boat and Safety Equipment
         $111,000
                     $129,000
                            Annual Running Costs for Boat Owner Per Year
Value Depreciation
           $13,000
$15,500
Fees, Mooring, Maintenance
$10,000
                     $10,500
Total Annual Cost
            $23,000
                   $26,000
As you can see, there is not much difference in ongoing costs. While the motor boat has more engine maintenance costs, the sailboat has more costs associated with the sails and rigging.
Do I Have Any Alternatives?
If these costs seem outrageous, the only other real option you have is to rent a boat or become a boat club member; this way, you can receive regular discounts on premium services. These boat clubs are beneficial for newbies who want to try out the water and learn all about sailing or boating without committing long-term to the high cost of owning.
Look for memberships that include the services you would generally pay for from owning a boat, such as mooring and maintenance, but at a fraction of the cost. You may also be able to access a broader range of vessels that you can try out to find your fit, and some clubs offer excellent training – which you will need before you take your family or friends out on the water.
If the idea of a boat club membership interests you, check out the memberships and or rental options either in your area or near the body of water you want to enjoy!
In Conclusion
These are general estimates, but they do give the reader an idea of the expenses that come with a boating lifestyle, so feel free to look for new ways to economize: And by all means, speak to experienced boat owners about some of the ways they keep costs down. Good luck!
Sources: