Why Are Bayliner Boats So Cheap? (Not What You Might Think)
Bayliner has been in the boat manufacturing business for decades, and is currently the world's largest manufacturer. They are known as a generally reliable, but inexpensive watercraft. You can find a brand new Bayliner boat starting as low as $13,999. Even better, you can find a used Bayliner for as little as $4,000. But when considering a Bayliner brand boat many people want to know: Why are Bayliner boats so cheap?
Bayliner boats are inexpensive because they have streamlined their factories to produce a large quantity of boats at scale. While Bayliners are not considered to be the high end of the market, they are popular and affordable vessels for those looking to get into boating for the first time.
In this article, we'll talk about everything Bayliner and their low priced boats. We'll explain the reasons why they sell so cheap. Keep reading this article for lots of information!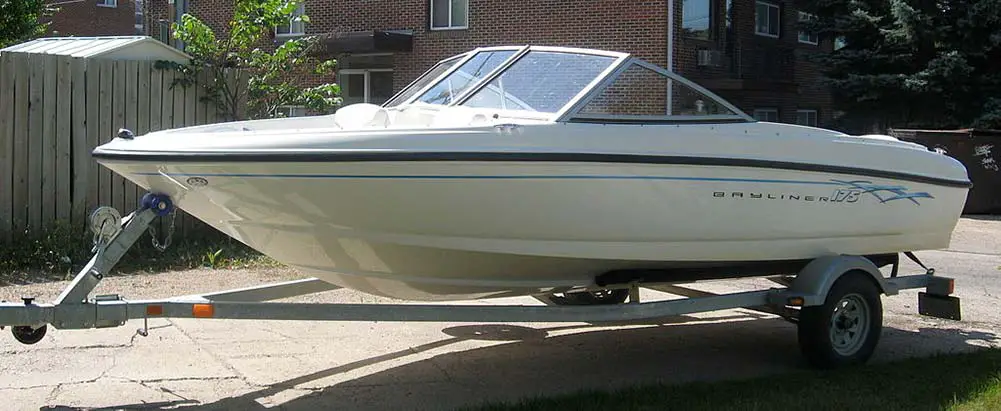 Prices For Common Bayliner New & Used Boats
During the '70s and '80s, Bayliner had a reputation for cheap, low-quality boats. But starting in the year 2000, the company regained its lost prestige and now offers decent and reliable vessels. Their 175 bowrider (pictured above) is a favorite used model among a large percentage of first-time recreational boat buyers.
Bayliner Used Model Price Comparison Table
Model
Year
Price (approx.)
'70s & '80s Models
Bayliner 33 Uniflight
1974
$22,000
Bayliner 2350 Nisqually
1977
$12,750
Bayliner Santiago
1979
$6,500
Bayliner 3270
1981
$15,000
Bayliner 3270 Motoryacht
1985
$39,000
Bayliner 2550 Cierra
1986
$9,500
2000 and later
Bayliner 242EC
2004
$25,000
Bayliner 2659 Rendezvous
2004
$19,000
Bayliner 175 Bowrider
2005
$17,100
Bayliner 185 Freeport
2008
$9,500
(source)
The table above compares the prices of the used Bayliner models sorted by year in ascending order.
Bayliner New Model Price Comparison Table
New Bayliners come in three basic models which include: Bowrider, Center Console, and Deck Boat.
| Model | Year | Price (approx.) |
| --- | --- | --- |
| Bowrider | | |
| Bayliner 160 Bowrider | 2021 | $17,573 |
| Bayliner VR4 Bowrider | 2021 | $28,582 |
| Bayliner VR6 Bowrider | 2021 | $36,561 |
| Center Console Models | | |
| Bayliner T18 Bay | 2021 | $22,573 |
| Bayliner T20CC Bay | 2021 | $35,046 |
| Bayliner T22CX | 2021 | $43,548 |
| Deck Boat Models | | |
| Bayliner Element E16 | 2021 | $15,806 |
| Bayliner Element DX2000 | 2021 | $25,754 |
| Bayliner Element XR7 | 2021 | $48,176 |
(source)
The table above compares the prices of some of the new models of Bayliner power boats.
Why Are Bayliner Boats Affordable?
Let's consider some factors, which make the Bayliner models so affordable.
1.  Entry Level Pricing and Economies of Scale
Bayliner is owned by the Brunswick Corporation, which also manufactures Boston Whaler, Sea Ray, Princecraft, Crestliner, Rayglass, Lowe, and many other brands. In addition to that, they manufacture engines and other boat parts, as well.
Manufacturing so many different products gives the company a considerable cost advantage over their competitors due to their large economies of scale. So Brunswick have decided to sell the Bayliner models at a thin profit margin while earning their bigger profits from the other products they sell.
That way, Bayliner fans and newcomers get a cheap and reliable boat brand while getting to know and love the larger Brunswick company of products.
2.  Quality of Bayliner Materials
The quality of Bayliner isn't as good as compared to the other brands offered by Brunswick Corporation. So, buyers who are on a budget often go for Bayliners due to their attractive selling prices. Lower quality materials makes the Bayliner boats more affordable.
Having said that, Bayliner buyers can expect good quality materials, they're just not top-of-the-line when compared to some of the higher end boat lines.
3.  Low Resale Value
The boat market has regularly flourished, with countless used Bayliners available for sale at a low price. When buyers can find a good quality used boat, they drop the idea of buying a new vessel. Hence, this becomes a significant reason why Bayliner boats are so cheap.
Because there are plenty of boats available from this brand, it increases the competition between sellers for used models and drives down the prices. Furthermore, the same model might be available with different sellers at different prices which creates a buyers market, further suppressing the price.
4.  Complaints
Many users have complained about issues with the Bayliner boats in the past (the 70's & 80's) and the brand got a poor reputation. For instance, instead of protecting the wood with high quality sealants, the company used a gray primer on the surface. Also, many of their ships used steel staples. If the water happened to get into the boat, these staples could easily rust out. Furthermore, many models had some serious issues with their engines, and as a result, the company had recalls on several boats.
Due to these past complaints, many buyers would choose not to purchase a Bayliner boat today, which further reduces the selling price of both new and used vessels. Having said that, the quality of Bayliners improved considerably in the early 2000s, so the impression that later model Bayliner vessels are inferior suppresses the resale value keeping prices low.
5.  Not A Good Investment
Since people can't get a high resale value on their Bayliner boats, they don't buy it from an investment point of view and aren't willing to pay a premium price. A good investment in the boating world is one in which you can get the most money back on the resale of a watercraft that you've enjoyed for years, which is not possible in the case of a Bayliner. This is due to the rapid depreciation of boats in general and Bayliners in particular (more on depreciation below).
6.  Watercraft Depreciation
A new boat generally depreciates (looses most of its value) in the first 7 to 10 years on average. So basically, after ten years, it hardly holds any real value. The same model manufactured earlier will become much cheaper than the one made later.
This is due to depreciation. After the ten year mark, the boat's estimated value is $100 per foot. This is why it's advisable to go for a ten year or older model when buying a used Bayliner boat, as the vessel has already lost most of it's value.
It's like driving a new car off the sales lot. Everyone knows that a brand new car that's been driven for even a little while is worth far less than when it was first purchased.
Should I Consider Buying A Bayliner Boat?
Now that you've learned that Bayliner boats are fairly inexpensive and the newer models (2000 and up) are reliable, you'll want to start thinking about whether you should consider purchasing one of these boats. Let's dig a bit deeper into whether or not Bayliner boat ownership is the right option for you.
Is a Bayliner A Good Boat For You?
Without a doubt, Bayliners are one of the best boats to kick-start your marine adventures. If you've never been into boating before, getting started with a Bayliner is the best thing you can do! The Bayliner brand is responsible for taking lots of would-be boaters onto the water for the first time. Furthermore, before you get too deep into an expensive boating hobby, starting with a Bayliner helps you answer two very important questions.
Does boating suit you? Is it your thing?
Are you really into boating?
Once you gain enough boating experience, you'll be ready to advance to the more expensive boat models (probably that of other brands). So you can say that Bayliner watercraft are the first boating experience for many new boat owners, making the brand a perfect option for newbies.
Even though the boat quality isn't top of the line, the company has managed to produce decent quality boats for a long long time. It's proof that the boats aren't that bad. So, there's no harm in going with a Bayliner boat as your first marine vessel.
Here's another fact: Bayliner has received the National Marine Manufacturers Association's Customer Satisfaction award for seven years in a row, and that should certainly give you some confidence in the brand.
If you're looking for a used boat, make sure that the seller took good care of the ship. Since the boats are already of lower quality, buying a poorly maintained boat could prove to be troublesome for you. Remember to look for rusted-out staples and fasteners!
So, it's safe to conclude that YES, you should consider buying a Bayliner boat if you're a newbie or if you are good at fixing up old boats. There's no primary reason you should NOT buy a Bayliner unless the vessel in question is severely damaged or abused.
Essential Steps When Buying A Used Bayliner Boat
So if you've decided to go for a used Bayliner model, here are a few steps/measures you can take to avoid a bad deal.
1.  Inspecting The Boat
Inspect the boat thoroughly, and check for any damages, cracks, or holes in the boat's hull or surfaces. It will help you get an idea of how much extra (if any) you'll have to spend on repairs after the purchase. Check whether or not the boat is in good running condition. See how many hours the ship has on the engine. 
If possible, ask the seller for a service history. Service history will help you know how many times the boat owner has taken the vessel into a service center, and it will tell you how well the previous owner took care of their ship. An infrequently serviced boat can indicate low quality.
You can also get the help of a professional to inspect the boat for you. You should be able to find a boat inspector at a reasonable price. A professional boat inspection will give you some peace of mind about what it is you're getting into and can help you avoid purchasing a poorly maintained boat.
Minor issues are acceptable. But significant problems such as a broken deck or big holes can be troublesome as you might end up paying a hefty amount for the repairs. Make sure to thoroughly check the bottom of the vessel, as that's one spot most people surprisingly forget to inspect.
2.  Any Freebies?
Ask the seller what else you'll be getting with the boat. For example, there are many sellers out there who will include the trailer as well. If the seller isn't offering anything else with the boat, then make sure you're not overpaying. A boat without a trailer should be much cheaper, as you'll probably have to purchase one separately, and trailers can get expensive.
3.  Don't Rush (Take Your Time)
It's great if you found your desired boat at a reasonable price! However, you may find another seller offering the same model at a lower price. Also, it's suggested to deal with a trusted source, for instance, eBay, Boat Trader, or any other respected e-commerce company.
Just make sure not to rush things in your excitement. We call that an impulse buy and it is to be avoided at all costs. A boat should never be an impulse buy! Take your time and find the right boat for you. Fortunately, there are plenty of used Bayliners available, so there is no need to jump on the first one you find.
4.  Delivering The Boat
To avoid any conflicts with the seller, discuss every minute detail. For instance, talk about who'll ship the boat to your destination. Will the seller be able to do it for you? If yes, then how much will he charge you for this?
Talking through everything ahead of time with the seller is the best way to avoid any problems. If you're buying from a used boat dealer or even better, a Bayliner dealer, make sure to get any repairs or conditions you agreed upon in writing.
The Last Word On Bayliner Boats
Now you know why Bayliner boats sell so cheap. After considering the vast price difference between these and other boat models, it's safe to conclude that Bayliner is typically more affordable, making it a perfect entry-level choice. If you still find a new boat expensive, there are plenty of deals available where you can purchase a decent used boat at a fair price. Happy boat hunting!
Sources: