Why Does My Boat Beep When I Turn the Key? (Boat Beeping Troubleshooting Tips)
Experiencing beeping noises when turning the key on your boat can be bewildering and concerning. As a boat owner, it's essential to know the possible reasons behind these beeps to address potential issues before they escalate. The beeping could be a signal of various problems, and understanding them can help you maintain your boat's optimal performance and safety.
Some common reasons for the beeping noises include fuel restriction due to a clogged filter, a faulty ignition switch, oil pressure issues, or even overheating. Each issue requires different steps to address it, so it's crucial to identify the root cause. The beeping might also be coming from a specific alarm or warning system, such as the fuel level alarm.
Being aware of these potential causes and their corresponding symptoms will help you diagnose the issue and take the appropriate action. Armed with this knowledge, you can ensure that your boat remains in excellent condition and ready for your next nautical adventure.
(Note: My boat makes a single beep every time I turn the key. This is just an indication that all systems are working and is nothing to worry about. It's like in your car when all of your check engine lights briefly come on when starting the engine. This article is about troubleshooting continuous and intermittent beeping, which indicates a problem.)
Understanding Boat Beep Sounds When Turning Key (Inboard and Outboard Motors)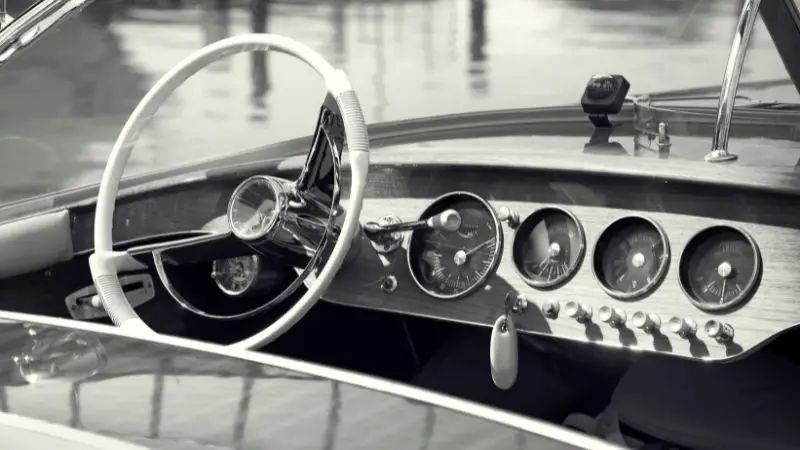 When you hear a beep sound coming from your boat's motor, it is often a signal that there is an issue somewhere within the boat's system. Understanding the different types of beeps and what they mean can help you identify and address the problem more effectively.
Continuous Beeping
Continuous beeping sounds typically indicate a critical issue that requires immediate attention. Some common causes for continuous beeps may include:
Faulty ignition switch: If the beeping sound persists even after you've turned the key, it could be due to a malfunctioning ignition switch.
Low oil pressure: Continuous beeping can also indicate low oil pressure, which is crucial for the proper functioning and longevity of your boat's motor.
Overheating: An overheating motor can cause continuous beeping sounds, signaling that immediate action is needed to prevent potential damage to the engine and other components.
To address these issues, check the various systems and components for signs of damage or malfunction, such as a broken or worn belt, clogged filters, or loose connections. Be sure to consult your boat's manual or seek professional help if you're unsure how to proceed.
Intermittent Beeps
Intermittent beeps, on the other hand, are usually an indication of non-critical issues within the boat's system. Some common reasons for intermittent beeps include:
Low oil reservoir level: If you hear intermittent beeping, check the oil reservoir level and top it off if necessary. Ensure the blue wire from the cap is connected correctly.
Clogged fuel filter: A fuel filter that is clogged can limit the flow of gas to the motor, causing intermittent beeps. It's essential to clean or replace the filter to maintain optimal performance.
Loose battery cable: Ensure all the connections between the battery and the motor are secure. A loose cable can trigger intermittent beeping sounds.
In summary, paying attention to the boat beep sounds coming from your boat's inboard or outboard motor can help you catch potential issues before they become more severe.
Understanding the difference between continuous and intermittent beeping allows you to act accordingly and keep your boat running smoothly.
Common Causes of Boat Beeps
Engine Overheating
If your boat is beeping when you turn key, it might be due to engine overheating. This can occur if there's not enough water flow caused by a blockage or a clog in the cooling passages. To prevent further damage and issues, you should:
Check for any clogs in the cooling system, such as debris or scale buildup.
Ensure the impeller is functioning properly.
Keep an eye on the temperature gauge to promptly address any anomalies like a faulty thermostat.
Low Oil Pressure
Another reason for the beeping is low oil pressure. Your boat engine requires adequate oil pressure to operate smoothly, and beeping might indicate insufficient levels. To address this issue, you should:
Check the oil level and top up if necessary.
Inspect the engine for any leaks.
Ensure proper maintenance of the oil filter.
Impeller Issues
Impeller issues can also cause boat beeping. The impeller is responsible for pumping water through the engine to cool it down. If there's a problem with the impeller, your boat's engine might get too hot and trigger the beeping sound. What you can do in this situation:
Inspect the impeller for damage or wear and replace it if necessary.
Keep a spare impeller on hand to avoid being stranded due to a malfunction.
Ensure regular maintenance of the impeller and cooling system.
Throttle Position Sensor Malfunction
Lastly, a throttle position sensor malfunction can cause your boat to beep when you turn the key. This sensor's role is to monitor the throttle's position and send the data to the engine control module. A malfunction tends to cause irregular acceleration or deceleration. To tackle this, you should:
Check the throttle position sensor for damage or lose connections.
Replace the faulty sensor if needed.
Regularly inspect the throttle and sensor for signs of wear to prevent any issues while you're out on the water.
Electrical Issues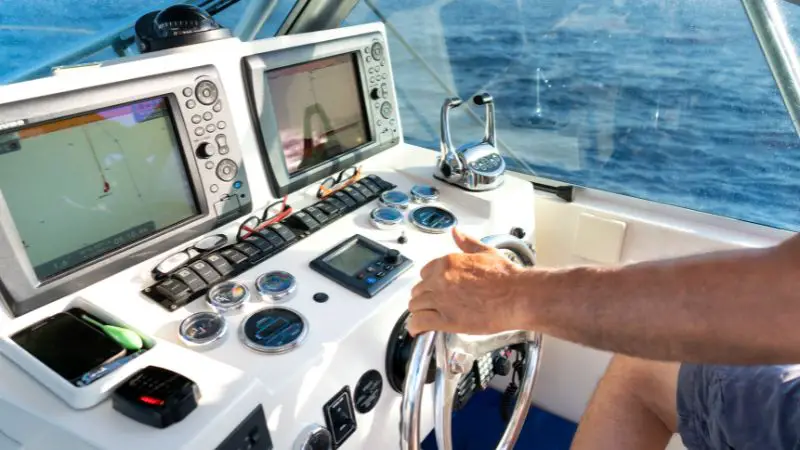 Alternator and Voltage Drop
An issue that might be causing your vessel to beep when you turn the key could be related to the alternator. The alternator is responsible for recharging the battery and maintaining the electrical system.
If the alternator is worn or has a broken belt, it can cause a voltage drop, resulting in beeping. Check your alternator and its belts for any signs of wear or breakage, and replace them if necessary to prevent potential electrical issues.
Battery Problems
Low battery voltage can also result in beeping when you turn your boat's key. Inspect your boat's battery and its connections to ensure that everything is properly connected. Loose or corroded battery terminals may cause power fluctuations, leading to beeping.
If your battery is older or failing to hold a charge, consider replacing it with a new one to eliminate possible beeping issues.
Faulty Ignition Switch
Another potential cause for beeping when the key is turned, may be a faulty ignition switch. Your ignition switch has three modes: Start, Run, and Off. If any of these components are malfunctioning, it can trigger the boat's alarm system, leading to beeping.
Examine your ignition switch, and if necessary, replace it to resolve the issue.
Malfunctioning Starters
Lastly, malfunctioning starters can lead to beeping noises when you turn your boat's key. Starters can develop issues over time due to wear or loose wiring connections. Inspect the wiring and connections to the starter, and if they appear loose or frayed, address these issues.
If the starter itself is worn or damaged, consider replacing it to eliminate the beeping caused by turning the key.
Other Potential Causes
Oil Passage Blockages
Sometimes, oil passage blockages can cause beeping when you turn your boat's key. Metal fragments or debris can obstruct the flow of oil, which may lead to issues such as low oil pressure.
In this case, you should inspect your boat's oil reservoir level and oil passage areas to ensure that the oil is flowing smoothly. If you notice any blockages, it's essential to clear them as soon as possible to prevent engine damage.
Clogged or Damaged Fuel Filters
A clogged or damaged fuel filter can also cause a beep when turning the ignition key. Regularly inspect your boat's fuel filters and replace them if you find any signs of damage or excessive dirt. Additionally, maintain a clean fuel system by using quality fuel and additives.
A diagnostic checker can help you identify any problems with the fuel lines, pumps, and filters.
Damaged Water Pump Impeller
As mentioned previously, another potential cause of beeping when turning the key is a damaged water pump impeller. This part is responsible for circulating the water that cools your engine, and if it's damaged or broken, water flow can be disrupted, causing the engine to overheat.
An overheating engine can trigger a safety switch that alerts you with a beep. Keep an eye on your boat's engine temperature and inspect the water pump impeller for any signs of damage or wear.
Faulty Alarms or Sensors
Lastly, faulty alarms or sensors such as the oil level sensor, throttle position sensor, bilge pump sensor, or idle air control valve can cause beeping when you turn the key. These sensors are responsible for critical engine measurements and functions.
If any of them fail, they can trigger false alarms or affect your boat's performance. Regularly check these sensors and replace them if necessary. Using a diagnostic checker to assess sensor accuracy and function can help prevent misinformation and ensure that your boat stays in optimal working order.