Why Does My Boat Battery Keep Dying? (Boating Batteries Explained)
Experiencing a dying boat battery can be both frustrating and perplexing, especially when it happens repeatedly. There are various reasons why your boat battery might keep dying, and understanding these causes is the first step in solving the issue and ensuring smooth sailing.
The most common reason a boat battery keeps dying is due to its age. Over time, boat batteries lose their ability to hold a charge and may need to be replaced. Another possible issue leading to battery failure is a charging problem with the engine, often stemming from a malfunctioning rectifier. Lastly, a parasitic draw could be draining the battery even when it's turned off.
By considering these potential causes of battery failure, you can better diagnose the issue and take appropriate action to resolve it.
Boat Battery Died: Common Reasons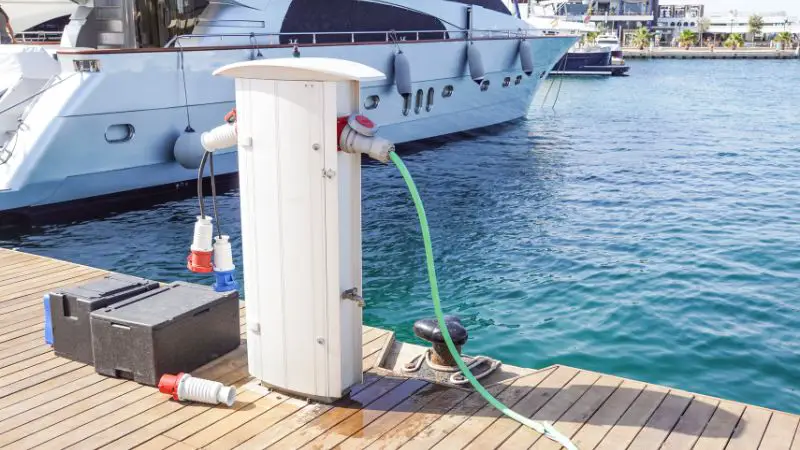 Age and Maintenance
One crucial factor that affects your boat battery's life is its age and maintenance. A dead battery often results from a lack of routine maintenance, which includes checking the electrolyte levels and charging the battery properly.
A marine battery typically lasts for 3-5 years, depending on its usage and care. Keep up with your battery's maintenance schedule and consider replacing it once it reaches its expected lifespan.
Parasitic Draw From Bilge Pump or Other Devices
Parasitic draw occurs when electrical devices continue to consume power even when the boat is not in use. Some devices, like a bilge pump or CO detector, must run at all times to ensure your boat's safety.
However, other devices, such as radios or GPS systems, should be shut off when the boat is not in use to prevent unnecessary battery drain. To identify a parasitic draw, use a digital multimeter to measure current flow from the boat's electrical system.
Sulfation (Lead Acid Batteries)
Sulfation is a chemical process that occurs in lead-acid batteries when lead sulfate crystals build upon the battery plates. If a battery remains in a discharged state, the lead sulfate will harden, reducing the capacity to hold a charge.
Regular charging and usage of your boat battery can prevent sulfation, but if it occurs, you may need to replace the battery.
Corrosion and Wiring Issues
Corrosion affects boat batteries because of exposure to moisture and saltwater. Check regularly for signs of corrosion on the battery terminals, and clean them using a wire brush and a baking soda solution to maintain proper electrical connectivity.
Inspect the wiring and cables leading from the battery to the engine and other electrical systems. Loose, damaged, or corroded connections can cause energy loss and prevent the battery from being charged.
Check for blown fuses and replace them if needed. To prevent further issues, ensure proper battery cable connections between the positive cable and the battery's positive terminal, and between the negative cable and the battery's negative terminal.
Remember, maintaining your boat battery, addressing parasitic draws, preventing sulfation, and addressing corrosion and wiring issues will mitigate the risk of a dead boat battery. Regular inspection and proper charging will help prolong your marine battery's life and keep your boat ready for the water.
Types of Boat Batteries and Their Roles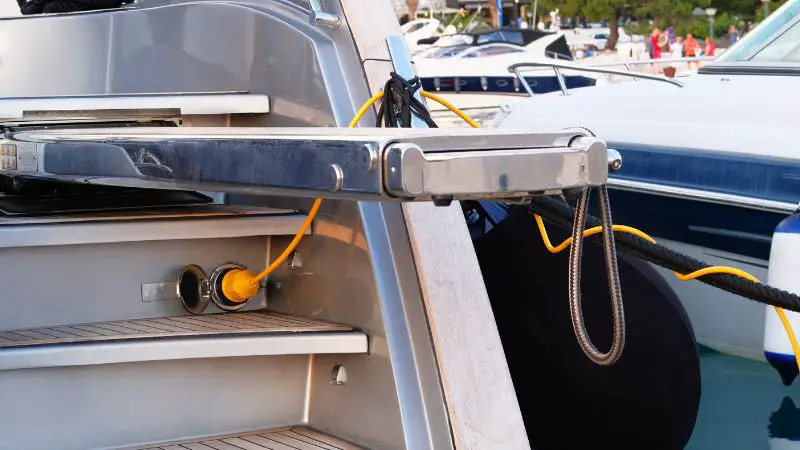 There are various boat battery types to fit your boat's different needs. Understanding the difference between them helps you choose the right one for your usage. This section will cover three types of boat batteries: Starting Batteries, Deep Cycle Batteries, and Dual-Purpose Batteries.
Starting Batteries
Starting batteries are designed to provide a quick and powerful burst of energy to start your boat's engine. They have more, thinner lead plates which enables them to deliver higher current in a short time. However, they are not meant for long-term discharge, as they can lose their ability to hold a charge if drained continuously.
Highlights:
Provides quick and powerful energy
Designed for starting engines
Not meant for long-term discharge
Deep Cycle Batteries
Deep cycle batteries are designed to provide a steady current over a longer period. They have fewer, thicker lead plates, making them more suitable for continuous discharge. These batteries are commonly used to power accessories such as lights, electronics, or trolling motors.
Although deep cycle batteries can start an engine in a pinch, it is generally not recommended due to their specialization in providing steady power.
Highlights:
Provides steady current over a longer period
Designed for continuous discharge
Ideal for powering accessories
Dual-Purpose Batteries
Dual-purpose batteries attempt to offer the best of both worlds, combining the high current capability of starting batteries with the continuous discharge characteristics of deep cycle batteries. Although they serve the roles of both types reasonably well, they may not perform as optimally as dedicated starting or deep cycle batteries in specific situations.
Highlights:
Combines characteristics of starting and deep cycle batteries
Versatile, serving both roles
May not perform as optimally as dedicated batteries in specific applications
Remember, it is essential to choose the right type of boat battery for your needs, consider the roles you need it to perform, and maintain it properly to ensure its longevity.
Battery Charging and Monitoring For Boating
Alternator
Your boat's alternator is responsible for charging the battery while the engine is running. A faulty alternator can result in a poor charge or a complete failure to charge your battery. Be sure to regularly inspect and maintain your alternator to prevent battery-related issues.
Battery Charger
A battery charger is an essential tool for maintaining your boat's battery health. Opt for a smart marine battery charger with a three-stage charging process:
Bulk stage: The charger provides a constant current to the battery until it reaches about 80% of its capacity.
Absorption stage: The charger gradually reduces the current and maintains a constant voltage to avoid overcharging.
Float stage: The charger maintains the battery at full charge without overcharging it.
A marine battery charger like the ProMariner Waterproof Marine Battery Charger (Amazon) will do the trick. Not only will it protect your battery as it's charging, it will charge your battery fairly quickly if it has been drained.
Using a cheap automotive charger may lead to shortened battery life in the long run.
Trickle Charger
A trickle charger is a low-current charger designed to maintain the charge level of your boat's battery during periods of inactivity. It supplies a small, consistent amount of current, preventing the battery from discharging or becoming damaged due to long-term disuse.
They are typically connected to an AC power source and convert the power to DC for charging the battery.
The Foval Automatic Trickle Battery Charger 12V at Amazon is an example of a low-cost quality option for trickle charging batteries.
Switches and Fuses
Switches and fuses play a crucial role in protecting your boat's battery from short circuits and overloads. When you're not using your boat, be sure to isolate the batteries with a quality battery switch to prevent any potential parasitic draw.
Fuses should be present in the circuitry connecting various electrical components to the battery. Regularly inspect and, if needed, replace damaged or corroded fuses to ensure proper battery function.
In conclusion, for optimal boat battery performance, you should regularly monitor and maintain your charging system, including the alternator, battery charger, trickle charger, switches, and fuses. This will help prevent your boat battery from dying frequently and ensure a longer battery life.
On-Board Electronic Devices and Their Impact on Batteries
Trolling Motor
Trolling motors can have a significant impact on your boat's battery life. They require a steady supply of power to operate effectively. As you use your trolling motor, it's essential to monitor your battery voltage and ensure that it stays within the recommended range.
If your trolling motor constantly drains your battery, consider investing in a separate, dedicated battery for it. This will help balance the power load between your various on-board devices.
Fish Finder
Fish finders are another electronic device that can drain your boat battery. Most fish finders use relatively little power, but they can still contribute to battery drain if left running for long periods.
To minimize battery drain from your fish finder, turn it off when not actively in use and check for any appropriate power-saving settings within the device. Additionally, regularly reviewing device's battery usage can help identify any potential issues early on.
Radio and Other Entertainment Devices
Boat radios, CB radios, CD players, and other entertainment devices are also potential sources of battery drain. Leaving these devices on or in standby mode when not in use can lead to power being consumed, even if they are not actively being used.
Be sure to turn them off completely when not needed. Consider using portable, battery-powered options for these devices, as they won't draw power from your boat's primary battery.
Navigational Instruments and Gauges
Navigational instruments, such as GPS devices, and gauges for monitoring boat performance also rely on your boat's battery. While these devices typically have lower power consumption, they can still contribute to battery drain if not managed properly. To extend battery life, be mindful of the following:
Turn off navigational devices when not in use
Regularly calibrate and maintain your gauges to ensure accurate readings
Consider installing a battery monitor to track battery usage and identify potential issues
By taking the time to manage your on-board electronic devices, you can help prevent unnecessary battery drain and extend the life of your boat battery.
Troubleshooting and Reviving a Dead Boat Battery
Jump-Starting (Safety)
If your boat battery is dead, one of the quickest solutions is to jump-start it. To do this, you will need a spare battery or another boat's battery. Follow these steps:
Turn off all electrical equipment on your boat.
Connect the positive (+) terminal of the dead battery to the positive (+) terminal of the good battery using jumper cables.
Connect the negative (-) terminal of the good battery to the negative (-) terminal of the dead battery using another jumper cable.
Start the boat with the good battery, and then start the boat with the dead battery.
Disconnect the jumper cables in the reverse order in which they were connected.
Always exercise caution and follow safety guidelines when jump-starting batteries.
Battery Load Testing
A battery load tester can help determine your battery's health. Follow these steps to test your battery:
Turn off all electrical equipment and disconnect the battery cables.
Connect the battery load tester to the battery terminals according to the instructions provided.
Perform a load test, and check the voltage reading. See the following table for the ideal voltage readings:
| Battery State of Charge | Voltage Range |
| --- | --- |
| 100% Charge | 12.65 – 12.77V |
| 75% Charge | 12.45 – 12.54V |
| 50% Charge | 12.24 – 12.29V |
| 25% Charge | 11.99 – 12.06V |
| Dead Battery | 11.75 – 11.89V |
If the battery's voltage is within the dead battery range, consider replacing it. If the voltage is low but not dead, recharge the battery and retest.
Replacing the Battery
If your battery is consistently dying or tests show it's no longer able to hold a charge, it's time to replace it. Here's how:
Purchase a new battery that is compatible with your boat's specifications.
Disconnect the negative (-) cable from the dead battery first, followed by the positive (+) cable.
Remove the dead battery and securely install the new battery in its place.
Reconnect the battery cables, connecting the positive (+) terminal first, followed by the negative (-) terminal.
Regularly maintain your new battery by monitoring its state of charge, checking for corrosion, and ensuring it's properly charged to prolong its life.
Boat Battery Care and Longevity Tips
Regular Maintenance
To ensure your boat battery lasts as long as possible, it's crucial to perform regular maintenance. Inspect the battery terminals and remove any corrosion using a wire brush. To prevent further corrosion, apply a thin layer of dielectric grease to the terminals.
Check the electrolyte levels in your battery monthly, especially during the boating season. If the levels are low, top them off with distilled water, but never overfill. Overfilling can cause the battery to lose electrolytes and generate excessive heat, ultimately shortening its lifespan.
Follow the manufacturer's recommendations for charging and testing your battery, and make sure to use a marine-specific, three-stage charger, as these provide a more sophisticated charging regime than cheaper alternatives. Your battery should be fully charged and tested at least once a season.
Proper Storage
Proper storage is essential for battery longevity when your boat sits unused. Store your battery in a cool and dry environment away from direct sunlight, heat sources, or flammable materials. Ensure the battery is stored off the ground on a shelf or platform to prevent it from discharging through the floor.
When storing the battery, disconnect it from the boat's electrical system to avoid any potential parasitic drains. This also helps meet the requirements of the Coast Guard – disconnecting the battery while the boat is not in use can help deter issues like fires or battery failure.
Winterization
As the boating season ends, you should also prepare your battery for winter storage. Fully charge the battery before storage, and use a trickle charger or a smart charger with a maintenance mode to maintain the charge over the winter months.
It's essential to protect your battery from extreme cold, as freezing temperatures can affect a battery's performance and lifespan.
Keep your battery in a well-ventilated area and ensure the electrolyte levels are adequate before winter storage. Monitoring its state of charge and maintaining proper electrolyte levels throughout the winter months will help ensure your battery is ready to go when the next boating season begins.
By following these tips on regular maintenance, proper storage, and winterization, you can help extend the life of your boat battery and avoid potential issues with battery failure, ensuring a smooth and enjoyable boating experience.
Preparing for Emergencies in Case of Battery Failure
In the event your boat battery dies while you're out on the open water, having an emergency plan and the appropriate gear is crucial. Here are some items that you should have on board and know how to use in case of a battery failure.
Emergency Whistle
An emergency whistle is an essential signaling tool to have on hand. It can help you:
Grab the attention of nearby boats
Alert rescuers to your location if you're in distress
Signal for help in situations where visual communication is difficult
Keep the whistle readily available, and ensure everyone on board knows how to use it.
Oars
Don't forget to have oars on your boat. When your battery fails, oars can be a reliable and effective means of propelling your boat, especially in situations where:
Wind or current aren't favorable
Your boat engine isn't functional
You need to reach the shore or another boat for assistance
Ensure your boat has a suitable set of oars and that you're familiar with how to use them efficiently.
Flare Gun
A flare gun is another critical component of your emergency gear. It allows you to send a visual signal for help, both during daytime and in darker conditions. Having a flare gun available is essential, especially if you're in a:
Remote location
Busy waterway with limited visibility
Situation where your boat's lights or other signaling devices aren't operational due to battery failure
Be sure to understand how to operate a flare gun safely and store it in a readily accessible location on your boat.
As an added measure of protection when out boating, we always carry a small jump starter battery like the NOCO Boost Plus Lithium Jump Starter Box (Amazon) just in case we accidentally run our boat battery down too far to start the outboard. It adds greatly to my piece of mind.
Understanding Boat Battery Warranties
When purchasing a boat battery, it's essential to be aware of the warranty that comes with it. A warranty can provide you with peace of mind and protection in case you encounter issues with your battery.
Manufacturers usually offer warranties for their boat batteries, typically ranging from one to three years. The warranty period depends on the battery type and the manufacturer's policy. Make sure to read the warranty terms and conditions carefully to understand the coverage offered.
Battery coverage: The warranty should specify the types of issues that are covered, such as manufacturing defects or poor workmanship. It may also cover the battery's capacity or performance, ensuring that it meets the manufacturer's specifications.
Exclusions: It is crucial to understand what is not covered by the warranty. Some common exclusions may include damage caused by improper installation, mishandling, or external factors such as accidents or environmental damage.
Claim process: Familiarize yourself with the process of making a warranty claim. This could involve contacting the manufacturer or the retailer from whom you bought the battery. Ensure you have the necessary documents like proof of purchase, warranty certificate, or any other relevant paperwork.
It's essential to follow proper battery maintenance procedures to avoid voiding your warranty. Failure to maintain your battery might lead to premature failure or reduced performance, which may not be covered by the warranty. Some preventive measures include:
Regularly checking and topping up the water levels in the battery.
Keeping the battery terminals clean and free of corrosion.
Ensuring your battery is adequately charged before use.
In conclusion, understanding your boat battery's warranty can save you time and money when dealing with battery issues. So, always read the warranty terms and conditions and ensure you maintain your battery accordingly.