When is a Lookout on a Vessel Required: Essential Maritime Safety Guidelines
Navigating open water can be challenging, and maintaining your vessel's and crew's safety should always be a priority. One of the essential requirements for ensuring safety in any open body of water is the presence of a lookout, who plays a vital role in identifying potential hazards and obstacles that may not be detected by onboard equipment. In certain situations, having a lookout on your vessel is not just helpful, but also required.
The International Regulations for Preventing Collisions at Sea (COLREGS) mandate that a "proper lookout" be continually maintained on every vessel to assess the risk of collision, stranding, and other potential dangers.
This means that a vigilant lookout should always be present whether you are traversing the high seas or navigating coastal waters.
In some instances, conditions such as poor visibility or congested waters may necessitate having multiple lookouts onboard. Factors such as the size of your vessel, the complexity of surrounding waters, and the nature of your journey all determine the optimal number of lookouts required. Ultimately, ensuring proper lookouts will contribute to your maritime expedition's overall safety and success.
When Is a Lookout Required
International Regulations for Preventing Collisions at Sea
Under the International Regulations for Preventing Collisions at Sea (COLREGS), your responsibility as a vessel operator is to ensure that a proper lookout is always maintained. This is to ensure that you can assess any potential risk of collision and identify any navigational hazards or other vessels in the vicinity.
Rule 5
Rule 5 explicitly states that every vessel must have a proper lookout aboard. This lookout should be performed by sight and hearing, as well as by all available means appropriate to the prevailing circumstances and conditions. This may include radar, if available, or any other relevant technology that can help to maintain effective situational awareness.
The lookout's primary responsibilities are to:
Continuously scan the surroundings for any potential hazards or obstacles
Monitor any changes in the weather and sea conditions
Report observations to the person in charge of vessel navigation
Remain vigilant and ready to respond to any situations or emergencies as they arise
Inland Rules
While the COLREGS apply primarily to international waters, the Inland Rules are a set of navigational regulations that you need to follow when operating a vessel on the inland waters of a specific country. In many cases, the Inland Rules closely resemble the COLREGS, but there might be differences that you need to be aware of when navigating in these waters.
Just as with the COLREGS, the Inland Rules also require you to maintain a proper lookout any time your vessel is in motion. This is to ensure the safety of not only your vessel, but also those around you and the wider environment.
Maintaining a proper lookout on your vessel is not only a regulatory requirement but also an essential aspect of safe navigation. Whether you are following the International Regulations for Preventing Collisions at Sea or the specific Inland Rules for the country you are in, be sure to always prioritize the safety of your vessel and everyone on board.
Proper Lookout and Navigation
Sight and Hearing
To maintain a proper lookout on a vessel, you should utilize both your sight and hearing. Your eyes are essential for spotting potential hazards, such as other vessels, navigational aids, or obstructions in the water. Your ears can help you detect sounds that might indicate danger, such as foghorns or engine noises. Remember to scan the water around you regularly and listen attentively to stay aware of your surroundings.
Role of the Captain and Crew
As the captain, you have the ultimate responsibility for the safety of your vessel and crew. This includes ensuring a proper lookout is maintained at all times. It's essential to delegate this responsibility to a competent crew member if you're unable to fulfill it yourself. Your crew should be trained in lookout duties and understand the importance of this role in promoting safe navigation.
Helm and Equipment
Your vessel's helm plays a crucial part in maintaining a proper lookout. Keep the helm area free of distractions, so you or your designated lookout can focus on navigation. Ensure all equipment, such as binoculars, radar, and ship navigation systems, are operational and readily available for use. Be familiar with their functions and limitations, as well as how to interpret the information they provide.
Operating a Boat (Safety Tips)
When operating a boat, it's essential to maintain a proper lookout at all times. This involves being vigilant in observing your surroundings and using all available means to assess potential risks. Here are some safety tips to help you maintain a proper lookout while operating your boat:
Be aware of environmental factors, such as weather, visibility, and water conditions.
Keep track of your vessel's position and confirm it using visual landmarks, charts, and electronic devices.
Know the rules of the road for your boating area and stay alert for other boat traffic.
Adjust your speed to match conditions and remain prepared to take evasive action if necessary.
Watch for signals from other vessels and communicate clearly with your crew.
Continuously monitor the performance of your boat's systems, including the engine, steering, and navigation equipment.
By following these guidelines, you'll be better equipped to maintain a proper lookout and navigate your vessel with confidence and safety.
Factors Affecting Lookout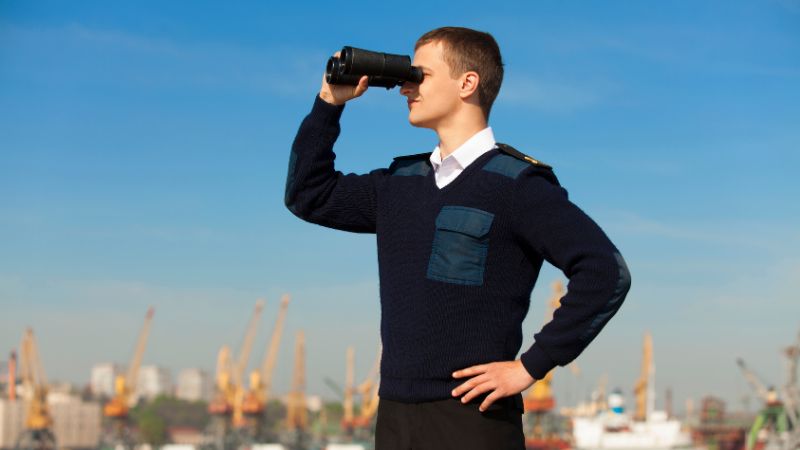 When determining the need for a lookout on a vessel, several factors must be considered in order to ensure safe navigation. In this section, we examine some of the primary factors that play a role in requiring a lookout.
Visibility and Weather
Visibility is a significant aspect in determining the need for a lookout. Poor visibility conditions, such as fog, heavy rain, snow, or glare from the sun can make it challenging to spot other vessels or navigational hazards. In these circumstances, you need to strengthen or sharpen your lookout to mitigate the risk of collision or a navigational accident.
Keep in mind that certain weather conditions can also affect water conditions of the vessel's route. High winds and strong currents might create choppy waters, making it difficult to maintain a clear field of vision. Therefore, it's essential to consider the weather's impact on visibility and water conditions when determining the need for a lookout.
Traffic Density
Another factor to consider is traffic density in the area where your vessel is operating. In areas with higher traffic density, such as busy harbors, shipping lanes, and popular fishing grounds, it's crucial to have a dedicated lookout to monitor and anticipate the movements of other vessels.
Increased traffic density raises the likelihood of potential collisions or incidents, so be sure to stay vigilant and maintain constant communication with your crew.
Navigational Hazards
Navigational hazards pose significant risks to vessels, especially in unfamiliar or congested waters. Some common navigational hazards you might encounter include shallow waters, underwater obstructions, wrecks, or floating debris.
To safely navigate through these hazardous areas, ensure you have a lookout to monitor the vessel's path, keep a close eye on the chartplotter and sounder, and make necessary adjustments to your course and speed.
By keeping the specific factors of visibility, weather, traffic density, and navigational hazards in mind, you can determine the appropriate level of lookout necessary for your vessel's safe operation.
Types of Vessels and Lookout Responsibilities
Power Driven Vessel
As a person operating a power driven vessel, it is your responsibility to maintain a constant and vigilant lookout. This includes using your eyes, ears, radar, and any other devices that can help you detect obstacles and other vessels. Be aware of the waterway and all its nuances, such as currents, visibility, and any potential hazards.
Sailing Vessel
When you're in charge of a sailing vessel, your lookout responsibilities are similar to those of power driven vessels. Keep a sharp eye on the sea, sky, and other vessels, using all available means to identify potential dangers. It is crucial for you to assess the situation and ensure right-of-way rules are followed.
Vessels Engaged in Fishing
Operating a vessel engaged in fishing means your focus may not solely be on navigation. However, you are still required to maintain a proper lookout to avoid collisions and stay safe. Familiarize yourself with the area where you are fishing, and be respectful of other vessels around you.
Seaplanes
Operating a seaplane on water is a unique situation, as you must act both as a pilot and vessel operator. In this case, you need to pay close attention to the surrounding environment while taxiing, taking off, and landing upon the water. Be cautious of other vessels and obstacles, and always maintain a proper lookout.
Vessels Not Under Command
If you find your vessel not under command, which means you are unable to control your boat's movement, your lookout responsibilities become even more critical. Make every effort to alert nearby vessels of your situation by displaying appropriate signals and closely monitoring the water conditions, obstacles, and other vessels to prevent any potential accidents.
Avoiding Collisions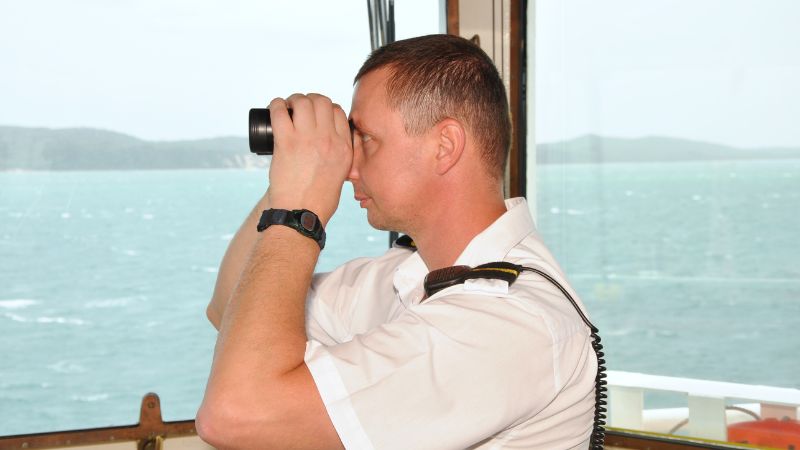 Safe Speed and Right-of-Way
To avoid collisions, it's crucial for you to maintain a safe speed while navigating your vessel. Safe speed means going at a pace that allows you to take prompt action and avoid colliding with other vessels or obstacles, considering factors such as visibility, traffic density, and water conditions. Remember, you should always respect the right-of-way of other vessels in accordance with navigation rules.
Crossing Situation
When approaching a crossing situation, remember to assess the potential collision risk early to avoid last-minute reactions. Determine if the other vessel is on your starboard or port side, and act accordingly:
If the vessel is on your starboard side, you must give way and avoid crossing its path.
If the vessel is on your port side, maintain your course and speed, as you have the right-of-way.
In both cases, it's best to communicate your intentions through proper signals to the other vessel.
Narrow Channels and Bends
Navigating through narrow channels and bends requires extra caution. To reduce the risk of collision:
Keep to the right side of the channel.
Slow down your speed.
Look out for vessel traffic coming from the opposite direction, especially around blind bends.
Restricted Visibility
Limited visibility due to fog, rain, or darkness poses a higher risk of collision. To ensure safety during times of restricted visibility:
Reduce your speed to enhance reaction time.
Turn on navigation lights and use sound signals to make yourself known to other vessels.
Utilize radar, if available, to monitor the movement of surrounding vessels.
Stay vigilant and maintain a proper lookout at all times.
Following these guidelines will help you navigate safely and avoid collisions, ensuring that both you and other vessels can enjoy a secure journey on the water.
Safety Measures and Equipment
Radar and AIS
As a lookout on a vessel, you should be familiar with the use of Radar and AIS (Automatic Identification System). These systems allow you to monitor the position, speed, and course of nearby vessels. When operating radar, ensure it is functioning correctly and remember to continually monitor the screen for updates. With AIS, ensure your transponder is turned on and transmitting your vessel's information accurately.
Radio and Signals
Communication is vital for the safety of your vessel. Familiarize yourself with radio procedures and be prepared to send and receive messages using your vessel's radio system. Understand the different types of signals, such as distress signals and navigational warnings, as these can indicate potential hazards.
Lights and Buoyage
At night or in low visibility conditions, you must rely on lights and buoyage systems to keep your vessel safe. Know the different types of navigational lights on your vessel and what they signify. Ensure all lights are functioning properly and are visible from the appropriate distances. Additionally, familiarize yourself with buoyage systems and their meanings to help you navigate safely.
Life Jacket and Emergency Procedures
Lastly, always wear your life jacket while on duty as a lookout. Make sure it is properly fitted and in good condition. Learn your vessel's emergency procedures, including man overboard, fire, and abandoning ship protocols. Regularly practice these procedures so you are prepared in case of an emergency.
By following these guidelines and using the necessary equipment, you can contribute to the safety of your vessel and crew as a lookout.
Legal Implications and Consequences
Negligence and Duty of Care
When you are operating a vessel, be aware that a lookout is crucial to ensuring the safety of your passengers and crew. The failure to have a proper lookout could result in accidents and create unnecessary hazards. If an accident occurs due to the lack of a lookout, you could be found negligent, which may have legal implications.
As a vessel operator, you have a duty to care for those on board and must take responsibility for reducing the risk of collisions, navigating through fog, and avoiding obstacles like debris. By neglecting this duty, you risk not only legal consequences but also put your crew and passengers in danger.
Damages and Liability
In the event that your negligence results in an accident, you may face damages and liability for any injuries or losses sustained by your passengers, crew, or other parties. These legal claims can lead to significant financial consequences for you and your operation.
To address these potential hazards and avoid liability, ensure that your vessel has a reliable lookout system in place. This includes having adequately trained personnel, proper communication channels, and appropriate equipment such as radar and binoculars.
By adhering to these responsibilities, you can help prevent accidents and protect your passengers, crew, and other individuals involved in maritime activities. This proactive approach not only decreases the likelihood of negative legal consequences but also provides a safer experience for all.