Is a 14ft Boat Too Small? Key Factors and Considerations for Small Boat Boating
When considering the purchase of a boat, one question that might cross your mind is whether a 14-foot boat is too small. The answer to this question depends on several factors, such as your intended purpose for the boat, the number of people you plan on accommodating, and the body of water you will be navigating.
For solo fishing or a small group of two or three people, a 14-foot boat may be an ideal choice, offering sufficient space and maneuverability. However, when planning to regularly have four or more people on board, a larger boat may be more suitable to ensure everyone has enough room to move around comfortably.
It is also important to consider the specific body of water you will be using your boat in, as a deeper-v hull with a 20-inch transom may be more appropriate for navigating larger lakes or choppy waters.
Ultimately, the decision of whether a 14-foot boat is too small depends on your personal needs and preferences. Assessing your intended use and the size of your typical group will help you determine if this boat size is the right fit for your boating adventures.
Understanding the 14ft Boat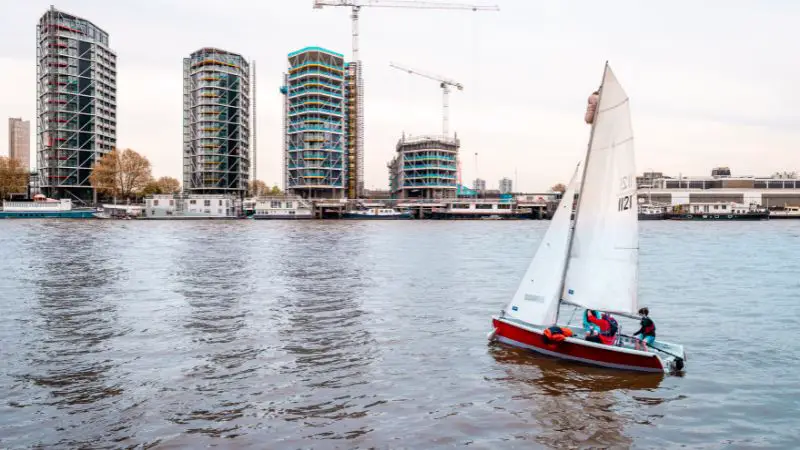 When considering a 14-foot boat, there are several factors to analyze to ensure you make the best decision for your specific needs and purposes.
Boat Length & Deck Layout
A 14-foot boat falls within the range of small boats, often defined as any vessel between 14-16 feet in length.
A 14ft boat typically from the front of the bow to the stern, which is the pointed front and back of the boat. The deck layout of a 14ft boat can vary depending on the type of boat and its intended use.
Some 14ft boats may have an open deck layout, which means there is no cabin or enclosed area, and the deck is open to the elements. Other 14ft boats may have a closed deck layout, which means there is a cabin or enclosed area on the boat.
In terms of specific boat layout, some 14ft boats may have a center console layout, which means the steering wheel and other controls are located in the center of the boat. Other 14ft boats may have a side console layout, which means the steering wheel and other controls are located on one side of the boat.
Additionally, some 14ft boats may have a bowrider layout, which means there are seats and/or a sun pad in the bow.
Overall, the deck layout of a 14ft boat can vary greatly depending on the specific make and model of the boat and its intended use.
Small boats like these are ideal for solo fishing, small water bodies, and relatively calmer conditions.
Weight Capacity
The carrying capacity of a 14ft boat varies depending on its specific model and design. Generally, it's suitable for up to 3 people, with 4 people making it feel crowded. To ensure you stay within the weight capacity of your boat, always consider the combined weight of your passengers, gear, fuel, and any accessories you plan to bring on board.
Overloading a boat can compromise its stability and safety while on the water.
Check the maximum weight capacity rating on the boat's plate to ensure it can handle the number of people and weight you plan to carry. While some 14-foot boats can accommodate up to four people, it may feel crowded.
Choosing a boat that can comfortably fit everyone and their gear is essential.
Hull Shapes and Sizes (Jon Boat VS V Hull)
The shape and size of your boat's hull directly impact stability and performance. Jon boats, with their flat bottom, provide greater stability in calm water but may struggle in rough conditions. On the other hand, a V-hull boat offers better performance in choppy water but may feel less stable when stationary.
Materials: Aluminum and Fiberglass
The material of your boat will also affect its performance, weight, and durability. Aluminum boats are generally lighter, making them easier to tow and handle. They are also suited for shallow water. Fiberglass boats are more substantial but offer better performance in rough water.
Stability and Speed Expectations
Stability and speed may differ among 14-foot boats based on their design and features. Generally, aluminum hull boats are lighter and faster, whereas fiberglass boats offer better stability and are less impacted by wind and waves.
Remember, choosing the right 14-foot boat depends on how you plan to use it. Consider factors such as hull design, materials, and weight capacity to ensure your boat meets your unique needs and expectations.
Examining the Key Features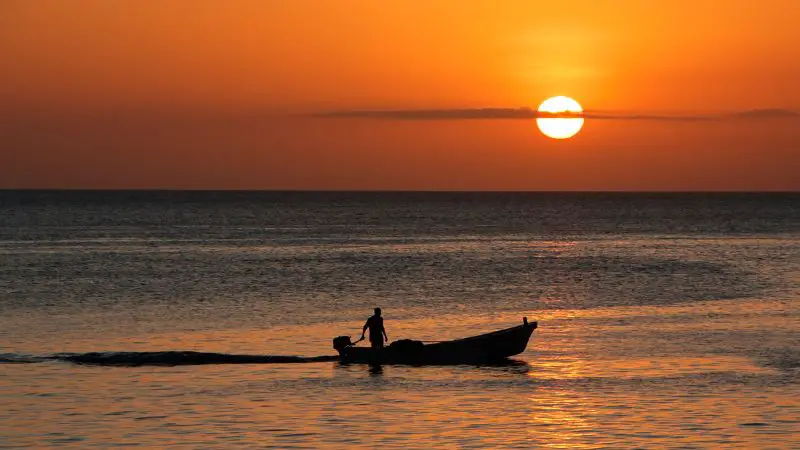 Outboard Motor
When considering a 14-foot boat, it's essential to evaluate the outboard motor for its performance and efficiency. In most cases, 14-foot boats can run efficiently with lower horsepower, leading to lower fuel consumption.
A 14ft boat will typically have a maximum horsepower rating between 15-20hp, with some models able to handle up to 25hp. A 20hp motor can comfortably reach speeds of 20mph, with the potential to reach 25mph depending on factors such as extra weight and weather conditions.
Remember to factor in the number of passengers and any additional weight that will be on the boat when choosing the right motor.
Horsepower and Top Speed
In addition to requiring a lower horsepower engine, a 14-foot boat is generally easier to get on plane in the water. That said, a smaller boat also means having a lower top speed. Depending on your intended usage, the top speed of your boat may or may not be crucial to you.
Trolling Motor
Trolling motors are usually important for anglers looking for precise boat control. An electric motor is suitable for a 14-foot boat because it allows for smooth, quiet operation and is easy to handle. When selecting a trolling motor, keep in mind that the size and weight of your boat will require the right trolling motor size.
Boat Console
The console on a 14-foot boat is typically compact and includes essential features such as controls, gauges, and a steering wheel. With a smaller boat, the console might not have as many built-in accessories, but it should still provide a functional experience. Keep an eye on the available space to ensure that the console fits comfortably in the boat.
Storage
Storage options on a 14-foot boat are generally more limited due to the size of the vessel. However, there should still be ample space for stowing gear, tackle, and personal items. When choosing a 14-foot boat, make sure to talk a look at the available storage compartments and assess if they will meet your needs.
Live Well
If you plan on fishing, a live well is a key feature to look for in a 14-foot boat. Although the live well might be smaller compared to one on a larger boat, it should still be well-equipped to keep bait and catches fresh during your time on the water. Make sure to inquire about the live well size and features to ensure it will fit your needs.
Floor
The floor of a 14-foot boat is likely to be more compact, but it should still provide a stable surface for you to stand and move around. Look for non-skid or textured surfaces to improve safety, especially in wet conditions. Also, check for any spaces that might make it difficult to maneuver or access key areas of the boat.
Assessing Usability for Various Activities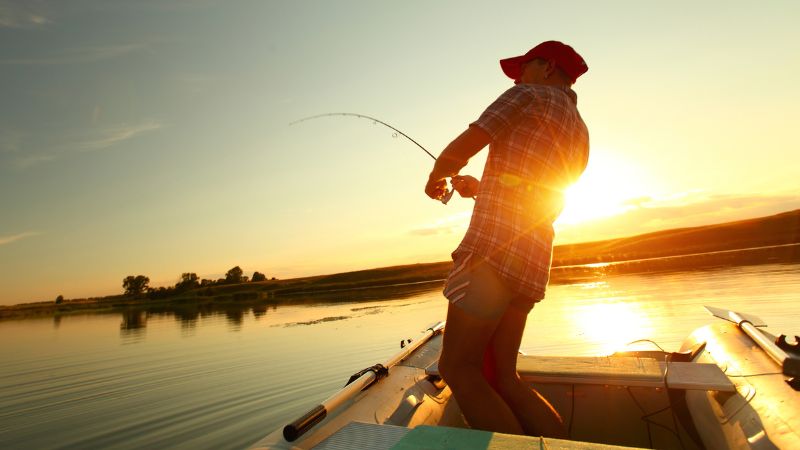 Fishing and Bass Tournaments
In a 14ft boat, you can engage in casual fishing activities. However, for bass fishing tournaments, a larger boat (usually 18 – 21ft range) is recommended to ensure better stability, storage for gear, and ample space for maneuvering. A 14ft boat may not be ideal for competitive fishing scenarios due to its size limitations.
Duck Hunting
A 14ft boat is suitable for duck hunting in shallow waters and marshy environments. Its smaller size allows for better maneuverability and stealth, allowing you to get closer to your target without disturbing the surroundings. Nevertheless, be cautious of overloading the boat with hunting gear and crew, as it might lead to instability.
River Exploration
For river exploration, a 14ft boat can be a viable option, especially in narrower and shallow rivers. However, if you plan on exploring large rivers with strong currents and possible obstructions, it is advisable to opt for a larger boat with more stability and durability to ensure your safety.
Advantages of using a 14ft boat for river exploration:

Easier to maneuver in narrow passages
Suitable for shallow water environments
Lower maintenance costs

Limitations of a 14ft boat in river exploration:

Restricted space for passengers, gear, and storage
Potentially less stable in strong currents
Family Pond and Leisure
A 14ft boat can be a perfect choice for leisurely use on family ponds. Its little size makes it easy to maneuver, store, and maintain. You can enjoy activities like leisure fishing, sunbathing, or simply cruising around the tranquil waters. Ensure not to overcrowd the boat and make adjustments for additional passengers or equipment to maintain safety and stability.
Evaluating Safety and Comfort
Chop and Choppy Water
When you're out on the water in a 14-foot boat, it's essential to understand that chop and choppy water conditions can greatly affect your safety. Although such a small boat is generally stable on calm waters, in rough conditions, it can be unstable and challenging to navigate, potentially causing you and your passengers to feel uncomfortable.
Riding and Stability in Different Conditions
Equally important is understanding how your 14ft boat rides and maintains its stability in various conditions. You'll need to consider whether the boat is well-suited for the kind of water activities you have planned.
In calm lakes and rivers, a 14ft boat can be stable and safe for you and your passengers. However, in rough water conditions or more significant waves, safety might be compromised, and you may want to look for a boat with a deeper v-hull or more considerable length to ensure a safer and more enjoyable experience.
Two or More People?
The number of passengers you bring on board can also affect the safety and comfort of your 14ft boat. While the boat may be suitable for two people, accommodating more full-sized adults may result in a cramped and potentially unsafe environment.
So, assess the boat's weight capacity and seating arrangement, and always keep in mind to prioritize safety and comfort.
Navigating Large Lakes and Coves
Finally, consider the location where you plan to use your 14ft boat. If you mostly navigate large lakes or expansive coves, your priority should be to choose a boat with a deeper v-hull and a 20″ transom for added safety.
A small boat like this may be more challenging in these environments and require extra caution while operating. However, for smaller bodies of water or calm rivers, a 14ft boat can prove to be a suitable and enjoyable choice to boat with.
To summarize, evaluating safety and comfort while choosing a 14ft boat involves considering the water conditions, the number of passengers, and your intended use in specific locations. By thoroughly considering all these aspects, you can confidently determine whether a 14ft boat is the right choice for you.
Trailers and Tow Vehicles
When it comes to transporting your 14ft boat, you have a few options available. The most common method is to use a boat trailer. A lightweight, single-axle trailer is usually suitable for a boat of this size and can be easily towed by a variety of vehicles.
Ensure that your towing vehicle has the appropriate towing capacity and is equipped with a hitch that matches the trailer's hitch system. Always follow the manufacturer's guidelines for securing your boat and ensure it is properly balanced on the trailer.
If you don't have a trailer or prefer not to use one, another option is to transport your boat in the bed of a pickup truck. However, this may require additional time and effort at the boat ramp, as you'll need to unload your gear and winch the boat in and out of the water, potentially causing delays for other boat users.
Conclusion
A 14ft boat can be sufficient for a small group of people for recreational activities such as fishing and cruising. Ultimately, it is important to consider your specific needs and intended use of the boat before deciding on its size.
Whether a 14ft boat is too small depends on its intended use and the number of passengers it will carry.