How to Protect Boat from Rock Chips: Essential Towing Tips and Techniques (Boating Protection)
Protecting your boat from rock chips is crucial to maintain its appearance and longevity. When towing your boat, the risk of rocks and debris damaging the hull increases, so it's essential to be proactive and take measures to shield your investment. This article will provide useful tips and product recommendations, ensuring you enjoy smooth sailing with a well-preserved vessel for years to come.
One of the critical steps to safeguard your boat from rock chips is to invest in a reliable rock guard, like the Bow Buddy Trailer Shield or the RockGARD. These devices are designed to withstand harsh gravel road conditions and shield your boat from potential rock damage during transportation. They're easy to install on your trailer hitch and provide a barrier against flying rocks, preserving that showroom shine on your boat.
In addition to investing in a quality rock guard, practicing good driving habits while towing your boat is another essential aspect of protecting it from potential damage. By following the tips discussed in this article, you can minimize the risk of rock chips and keep your boat in pristine condition, ensuring countless hours of enjoyment on the water.
Understanding Rock Chips and Boat Damage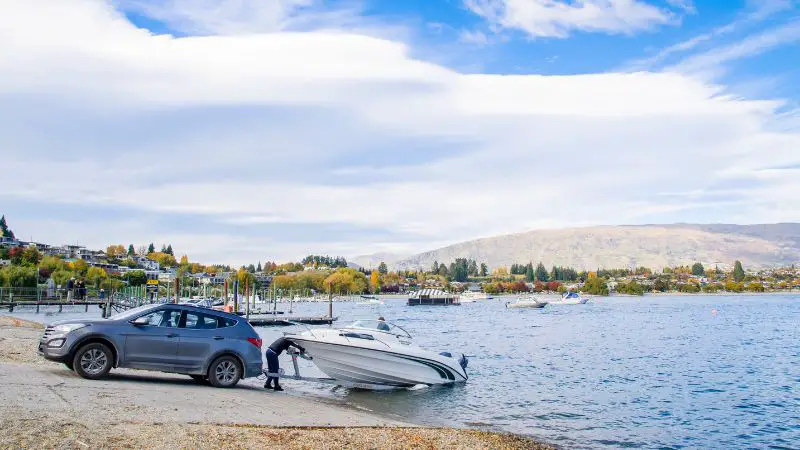 What Are Rock Chips?
Rock chips are small fragments or splinters of rocks that can be thrown up into the air by fast-moving wheels, such as those on your tow vehicle or boat trailer. They can strike your boat's surface with enough force to cause damage, such as scratches, chips, or even small dents.
Protecting your boat from this small but hazardous debris as you tow is essential to maintaining its appearance and preventing extensive damage in the long run.
Common Causes of Rock Damage
There are several factors that can contribute to rock chip damage on your boat. Some of the most common causes include:
Towing speed: Driving too fast on a road with many rocks or debris increases the likelihood of rock chips hitting your boat. Obeying speed limits and taking things slowly while towing your boat will significantly reduce the risk of rock chip damage.
Weather conditions: Wet or stormy weather can make roads more prone to rocks and debris, which in turn increases the chances of rock chips striking your boat. It's a good idea to check weather conditions before you hit the road to take appropriate precautions.
Road conditions: Unpaved or poorly maintained roads can be a major source of rock chips. Whenever possible, stick to paved and well-maintained roads to protect your boat from unnecessary damage.
Effects of Flying Rocks on Boats
Rock chips can affect boats in various ways depending on the impact and the boat's materials. Some of the most common consequences include:
Scratches: Rock chips can leave superficial scratches on your boat's gel coat or paint, diminishing its aesthetic appeal. While small scratches may be repairable, deeper ones may require professional attention.
Dents: More substantial impacts from rock chips can result in dents, which can affect your boat's structural integrity, depending on their size and location. Repairing dents can be costly and time-consuming.
Corrosion: When rock chips damage a boat's protective coating, it exposes the underlying material to water and other elements, leading to an increased risk of corrosion. This could lead to more severe structural issues over time if left untreated.
Understanding the causes and effects of rock chips allows you to take appropriate measures to protect your boat and prevent long-term damage.
Types of Boat Protection from Rock Chips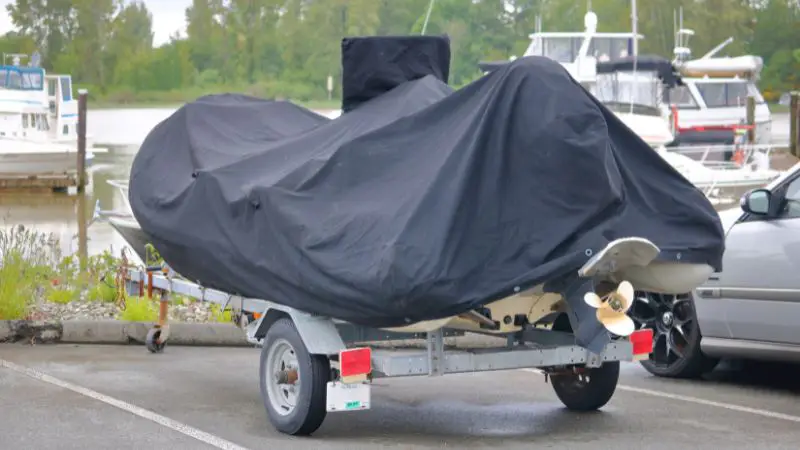 Rock Guards
Rock guards can be highly effective for protecting your boat from rock chips. These devices are typically installed on the boat trailer, preventing rocks and other debris from hitting your boat during transportation.
One of the popular options is the RockGARD, a patented trailer rock guard designed to reduce road-tar and damage caused by rocks and road debris. Keep in mind that not all rock guards may work equally well, and it's important to research and read user reviews before making a purchase decision.
Mud Flaps
Mud flaps are another solution to consider in your quest to shield your boat from rock chips. Attaching these behind your tow vehicle's tires can help block rocks and debris from being kicked up toward your boat.
Investing in high-quality mud flaps like these Denco flaps on Amazon can minimize the risk of damage to your boat's finish and protect your investment. Be sure to choose mud flaps that are specifically designed for your tow vehicle to ensure a proper fit and maximum protection.
Rock Shield
Trailer shields, such as the Bow Buddy Trailer Shield, offer a comprehensive solution for boat protection. These accessories are designed to attach directly to your trailer hitch and provide a barrier between your boat and potential sources of damage.
Made to withstand tough gravel road conditions, a trailer rock shield can effectively prevent costly rock chips and help maintain your boat's showroom shine. As with any protective measure, reviewing product specifications and user feedback is essential to select the best option for your specific needs.
By considering options such as rock guards, mud flaps, and trailer shields, you can find the ideal solution for your boat and trailer setup.
Selecting the Right Boat Protection
Size and Compatibility
When choosing a boat protection device to prevent rock chips, ensure that it is compatible with your boat and trailer setup. Factors such as the size of your boat, the shape of the bow, and trailer dimensions are important in finding the right protection.
For example, the Bow Buddy Trailer Shield offers a compact and lightweight solution, with the screen unit designed in two sections to accommodate various trailer designs. Make sure to measure your boat and trailer dimensions before purchasing any protection system to avoid any compatibility issues.
Material and Construction
The effectiveness of a boat protection system heavily depends on its material and construction. Aim for something durable, like stainless steel or heavy-duty rubber, which can withstand the impact of flying rocks and gravel. One option to consider is a boat shield, such as the Surfinity boat shield, which is a custom-fitted protective cover for the bow of your boat.
Another option is a truck-mounted rock guard like the Towtector, known for its effectiveness in preventing rock chips. Bristle-style rock guards are more effective than rubber-made ones, as they catch rocks better and minimize the risk of chips. Whatever option you choose, ensure it is made of high-quality materials that guarantee durability and effectiveness.
Price and Affordability
To balance the need for effective boat protection with your budget, compare the prices of various available products. While some protection systems may seem expensive upfront, the investment in a high-quality product can save you money in the long run by minimizing damage to your boat from rock chips.
Spend time researching both the product specifications and customer feedback to determine if the protection system is worth the price. The Towtector system mentioned above, for instance, will provide quality rock protection starting at around $350 and is far less expensive than a custom bow cover boat shield.
So, as with any purchase, make sure to consider your financial constraints and needs before finalizing your decision.
Maintenance of Boat Protection
Removability and Storage
Each of the protective shields mentioned in this article (with the exception of mud flaps) is designed to be easily removable, allowing you to conveniently store them when not in use. To remove the shield:
Detach any straps or bungee cords holding the shield in place.
Carefully lift the shield off your boat or trailer, taking care not to damage the surface beneath.
Store the shield in a safe and dry location to maintain its condition for future use.
Maintenance and Cleaning Tips
Proper maintenance of your boat protection shield is essential to ensure its effectiveness over time. Here are some tips to keep your shield in pristine condition:
Clean the shield regularly: Wipe it down with a soft cloth and mild soap to remove any dirt or debris. Rinse with clean water and let it air dry completely before reinstalling.
Inspect for damage: Check the shield for any cracks, tears, or wear and replace it as needed to maintain its protective qualities.
Reinstall correctly: Always make sure the shield is properly installed and secured to your boat after cleaning or storage.
By following these steps and guidelines, you can keep your boat shield effective, ensuring the protection of your boat from rock chips and road debris.
Protect Your Boat's Windshield From Rocks
While using one of the rock guards or shields previously mentioned will go a long way toward protecting a boat windshield from rock damage, you can provide even more protection by using a fitted windshield cover.
For example, check out this Truxedo windshield cover at Bass Pro Shops. It's designed to securely fasten to your boat's windshield for towing.
Using a fitted windshield cover on a boat while towing is an effective way to protect the windshield from damage caused by rocks, bugs, and other debris. The cover is custom-fitted to the windshield and is made of a durable material that can withstand the rigors of towing.
It is easy to install and remove and can be used on a variety of boat models. A fitted windshield cover is a cost-effective solution to help protect your boat's windshield from damage and can help extend the life of your boat's windshield.
Additional Tips for Protecting Your Boat When Towing
Towing Safely (Trailer Hitch)
When towing your boat, it's essential to use the proper trailer hitch that can handle the weight of your boat and trailer. Ensure that the hitch is securely attached to your tow vehicle, and always double-check the safety chains and electrical connections before you hit the road.
Additionally, remember to adjust your driving style to accommodate the extra weight and length of your boat and trailer. Give yourself extra room when passing or stopping, and avoid sudden changes in direction to prevent accidents.
Selecting the Right Trailer Tires
The right tires have a significant impact on the safety of your boat while towing. Choose trailer tires designed specifically for the job, with the correct load-carrying capacity. Keep an eye on the tire pressure, and adjust it according to the manufacturer's recommendations.
Proper tire pressure helps maintain even weight distribution, reduce wear on the tires, and minimize the risk of damage from-road debris like rocks.
Being Mindful of Road Conditions
Being aware of the road conditions you'll be traveling on can help you avoid potential rock chips and other damage to your boat. Here are some tips for various road terrain:
Highways: Be cautious around large trucks, as they can kick up debris. Keep a safe distance from them, and avoid driving alongside or directly behind them for extended periods.
Gravel roads: Drive slowly to minimize the risk of rock chips. If you must drive on gravel roads, try to stick to well-maintained ones with fewer loose rocks.
Construction zones: Be extra cautious when driving through construction zones, as they often have loose debris like rocks and dirt. Observe posted speed limits and be prepared for sudden road changes.
By paying attention to the road conditions and adjusting your driving practices accordingly, you'll significantly reduce the risk of rock chips and other damage to your boat during transportation.
Conclusion
In conclusion, protecting your boat from rock chips is crucial to maintaining its appearance and ensuring its longevity. By following the tips outlined in this article, you can significantly reduce the risk of damage from rocks and other debris.
From investing in high-quality bow covers or rock guards to being mindful of your speed and surroundings, there are many steps you can take to keep your boat looking and performing its best.
Remember, prevention is always better than cure, so take the necessary precautions to protect your boat and enjoy your time on the water with peace of mind.