The 12 Safest Types of Boats Revealed (with Examples)
The safety of a boat is tested when it hits rough water. If you can steer it straight without bow steering when you hit the waves, then you can be confident you are using a safe boat. Not all boats come with this capability, so you need to choose one that's specially designed to withstand rough waters to enjoy extra safety. 
Here are the 12 safest types of boats:
Intrepid 400 Cuddy
XSV20 Thunder Child II
Everglades 435 Center Console (435cc)
Outrage 420 Anniversary edition
Edgewater 230CX
Flying fifteen sailboat
Edgewater 280CX
Kraken 50
Life Proof 31′ & 33′ Full cabin boats
Everglades 340 DC 
ETAP 32s
Sprint 15 Catamaran
The boat's safety is determined by its size, material, and features that affect its stability. This article will further discuss the above list in greater detail to shed more light on their unique features, what makes them safe, and more.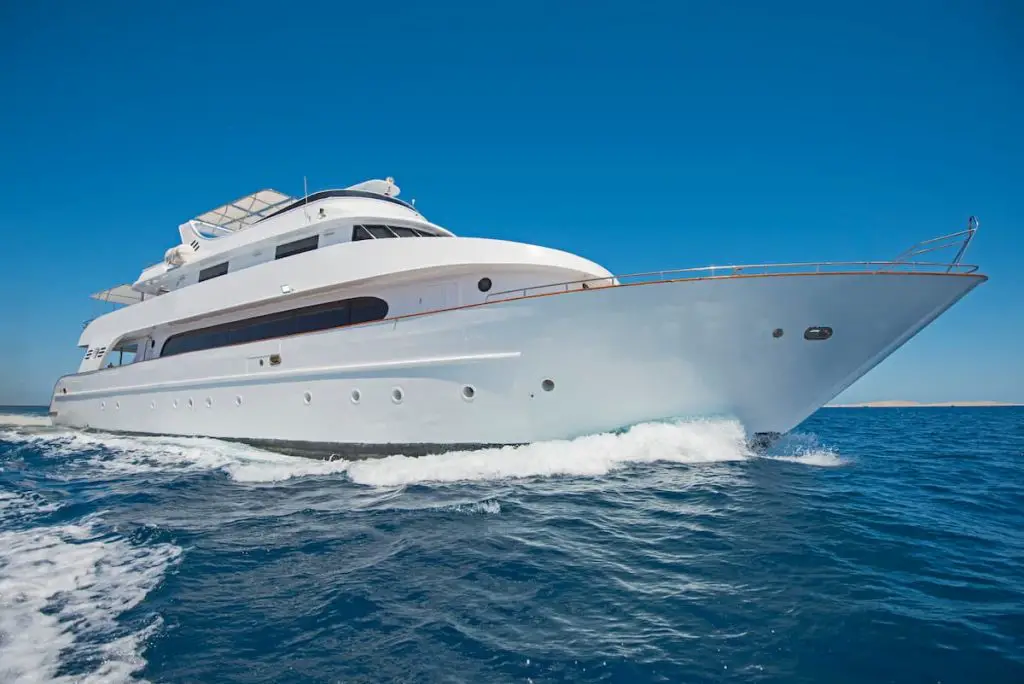 1. Intrepid 400 Cuddy
The Intrepid 400 Cuddy is one of the safest boats. It is a highly customizable 40-footer that you can use for a day leisure trip, a fishing excursion, or a weekend trip. 
The 400 Cuddy is balanced, solid, fast, and light. It is fitted with triple 350hp Yamaha F-350s that allow it to hit 65mph easily with a 300-mile range.
This model is one of the best, not only for its performance but also as a cruiser. It has a stepped hull for powerful outboards. The hull reduces the water surface contact and lowers drag to increase the speed with less horsepower (in other words, to improve fuel efficiency using the same horsepower). 
Also among the impressive features of the 400 Cuddy is that the dive door is located on the hillside, making going in and out of the boat easy.
This video gives a detailed review of Intrepid 400 Cuddy, with emphasis on the features that make it an incredibly safe boat.
The only potential drawback to this boat is limited accommodation space. To make up for this, it comes with a massive cockpit with sufficient space for fishing, diving, or entertainment equipment.
2. XSV20 Thunder Child II
The XSV20 Thunder Child II was developed in 2018-2019 as a high-speed offshore cruise that can also serve as a patrol boat.
Its molded length is 21.5meters (70.65ft), while the overall length is 23meters &75ft). It weighs 24,000kg (52,910.94lbs) and has 865 miles (1,392.08km) range. 
Safehaven Marine, the designers of this boat, chose a hull design that they have sought to patent. The company claims that the hybrid design, where the hull fuses with an asymmetrical catamaran hull to form a piercing monohull, makes this boat extremely fast and unsinkable. 
The initial tests were carried out in rough waters. The boat reached 54 knots. When tested along the Atlantic coast (where waves are greater than 5 meters (16.49ft) tall), the boat still showed great resilience. 
The bow cuts waves like a blade. At the stern, the XSV20 Thunder Child II splits into two hulls, improving stability. Its top speed is 62mph, thanks to the four Caterpillar C8.7 engines with 650Hp. 
Speaking of the engine, the Thunder Child has an 8,000 liter (2,113.38 gallons) fuel capacity. A full tank can cover a range of 800nm+, at cruise speeds of 40 knots. It also has a 2000 liter (528.34 gallons) f/wd reserve tank that you can use to further boost the range.
The newer model of the XSV20 has water jets and Caterpillar C18 engines of 1,150Hp, achieving up to 45knots. 
This video illustrates the majestic power of Thunder Child II against rough waters.
3. Everglades 435 Center Console (435cc)
The Everglades 435cc is a big fishing machine that's been touted as one of the best and safest boats for family excursions and fishing. The center console has been in the market for a few years now, and every new model comes with additional features and improved performance.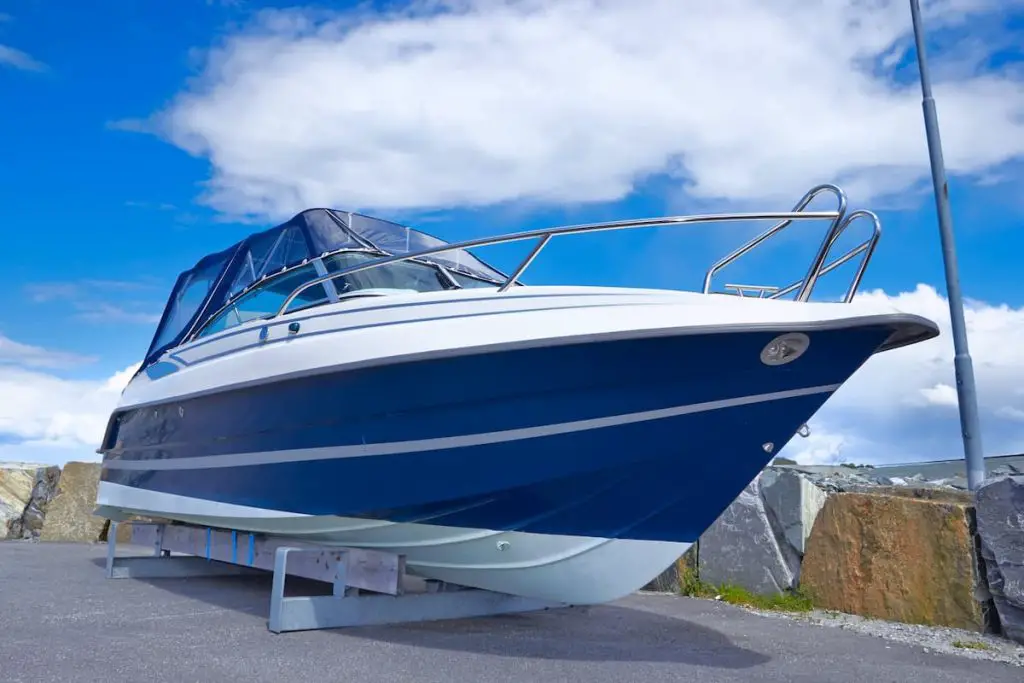 The Everglades 435cc stands out for its;
Luxurious amenities
High fishability
Seaworthy hulls
Spaciousness and versatility to accommodate family and friends.
The first model of the 435cc was introduced in 2015, but the 2019 model may be the best one yet. It is 43ft (13.11meters) and noticeably quiet, despite the four Yamaha outboard engines.
Key Features
Unsinkable
A large bed that can be converted to a couch.
Variable deep V-hull for a smooth, safe, and comfortable ride.
Holders for 40 fishing rods.
Fuel capacity 2,309 liters (610 gallons).
Total weight 20, 898lbs (9,479kg)
4 Yamaha V8 5.6 435Hp engines. 
Top speed 60mph.
45 gallon (170.34 liters) freezer.
The 435cc is not intimidated by rough waters. You can comfortably hit the waters on the worst day without worrying about this boat failing you. If you wish to burn less fuel, you can always opt for quad Yamaha 300s or have the boat configured with triple 425s. 
Six people can comfortably sit on the three seats under the helm. Folding the second-row seat may create more walking space, and other seating places may be created in the twin chaise lounges. You can use an awning extension to provide more shade on the cockpit. 
This video showcases the beauty and stability of Everglades 435CC
4. Outrage 420 Anniversary Edition
If you are interested in a top mid-range boat for a weekend on the water or a fishing trip, the Boston Whaler may be what you need. It is fairly priced, durable, and safe. There are more than 20 models of Boston Whaler boats. Most are center consoles, but there are also some dual consoles. The Outrage 420 Anniversary Edition is one of the safest Boston Whalers.  
Key Features
Higher gunwales
A deep V-hull design
Front-facing console seats
Rod holders
Mercury engine
Aluminum/chrome finished handles
Rear transom seating
Triple outboard Mercury 600Hp 
Top speed 64mph
More modern exterior upholstery
Multiple interior color options for upholstery, countertops, and flooring.
The space in the 420 Outrage can comfortably seat 20 people. Like other Boston Whaler models, this model is designed to last more than five decades.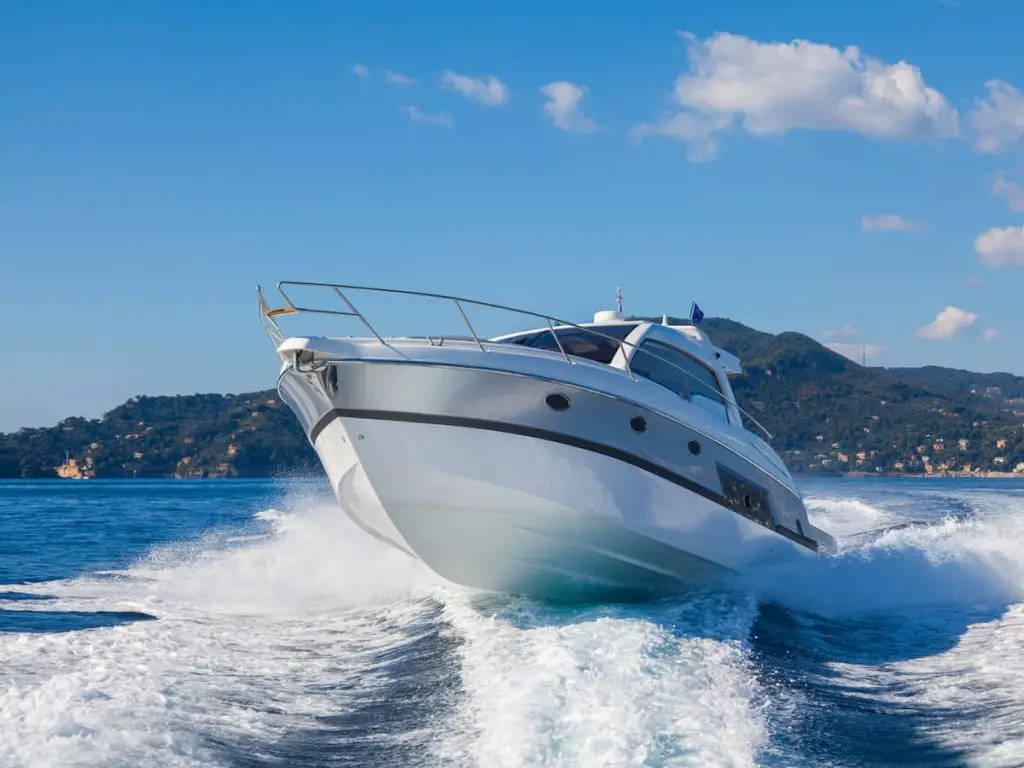 5. Edgewater 230CX
The 22.8ft (6.9meters) long dual-console Edgewater 230X can easily be referred to as the SUV of saltwater. It has a Single-Piece Infusion, high composite Transom, Non-skid decks, and a maximum 300Hp. 
None of the parts are made of wood. Instead, the entire boat is made from fiberglass, making all the Edgewater boats unsinkable. 
Other notable features of the Edgewater 230CX include;
A retractable ski pylon
Underwater lights.
Rod racks
Freshwater sink with sliding cooler storage. 
Transom boarding ladder.
Integrated stern seat with storage.
Multiple hull color options.
6. Flying Fifteen Sailboat
The Flying Fifteen Sailboat is a mid-sized two-person sailboat that's recognized as one of the safest water vessels in rough conditions. It can withstand rough seas and high winds, thanks to the solid iron at the bottom of the hull. Besides making the boat more stable, the iron protects the boat from damage in case of a crash. 
Fortunately, the iron does not interfere with the speed of the boat. This sailboat is excellent for racing. Besides the stability, the flying fifteen sailboat offers great quality at a great price.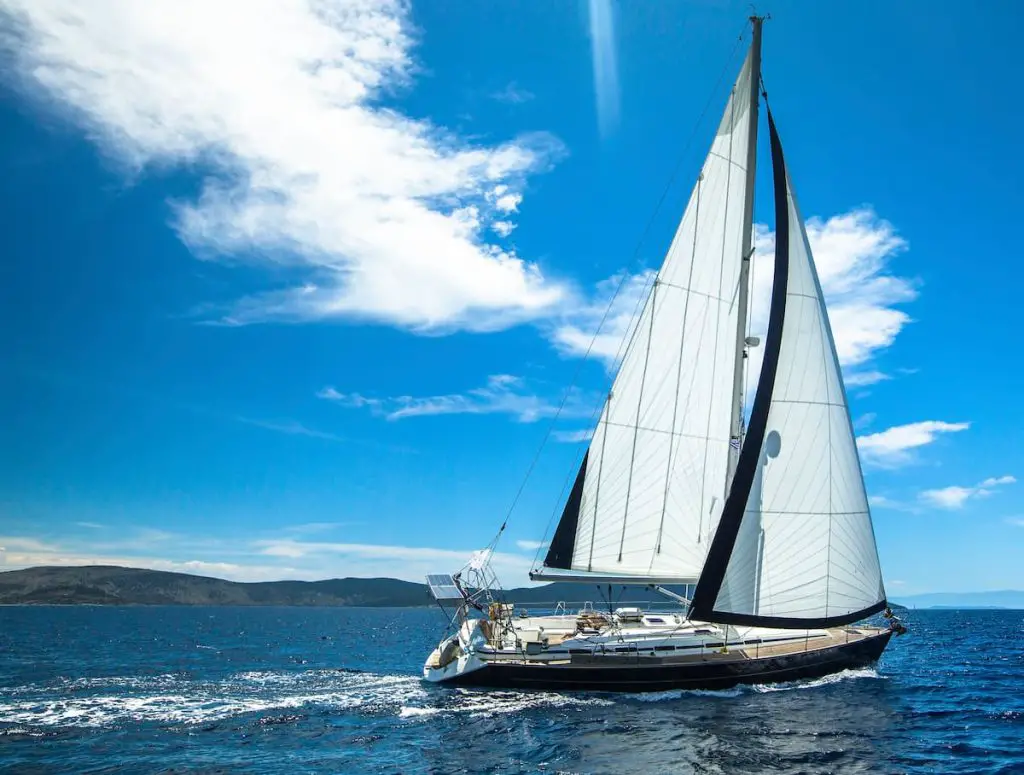 7. Edgewater 280CX
The Edgewater 280CX is a crossover, the largest Edgewaters lineup of dual consoles. It has sufficient space for at least ten people and has some of the best features for a safe and enjoyable cruise. 
Features
Unsinkable deep V-hull
Built using the Single Piece Infusion process.
Rod holders on the transom
Bait prep station
Icebox
65ft (19.81meters) cockpit space. 
Fuel capacity 200 gallons (757.02 liters)
Weighs 6500lbs (2,948.35kg)
Top speed 50mph
You can choose between twin Yamaha 250hp or 300hp engines. The 280CX is excellent for fishing, cruising, wakeboarding, and diving. The boat has great handling and can easily transition between different activities. 
8. Kraken 50
Kraken 50 is possibly the safest blue water yacht ever built. This boat was built for cruising away from civilization. It's designed to weather severe storms and rough waters. What's more, rocks and reefs are no more than a minor inconvenience to the Krake 50. 
Kraken 50s stability is attributed to its all-in-one hull and keel. The strongest features of this boat are the integral keel reinforcements, 20mm layup, and the skeg-hung rudder. These give Kraken 50 protection against rough waters and strong winds. 
The low center of gravity and slim keel allow this boat to carry a wide sail for better movement against gentle breezes and storms. The boat can also sail faster to overcome getting stuck in rough waters. 
The lower deck offers sufficient living and storage space. This boat's specifications include;
Engine capacity 80hp
Water capacity 147 gallons (670 liters)
Fuel capacity 187 gallons (850 liters)
Displacement ratio 19.2
Weight 14,330lbs (6,500kg)
Hull length 50ft (15.24 meters)
Zero keel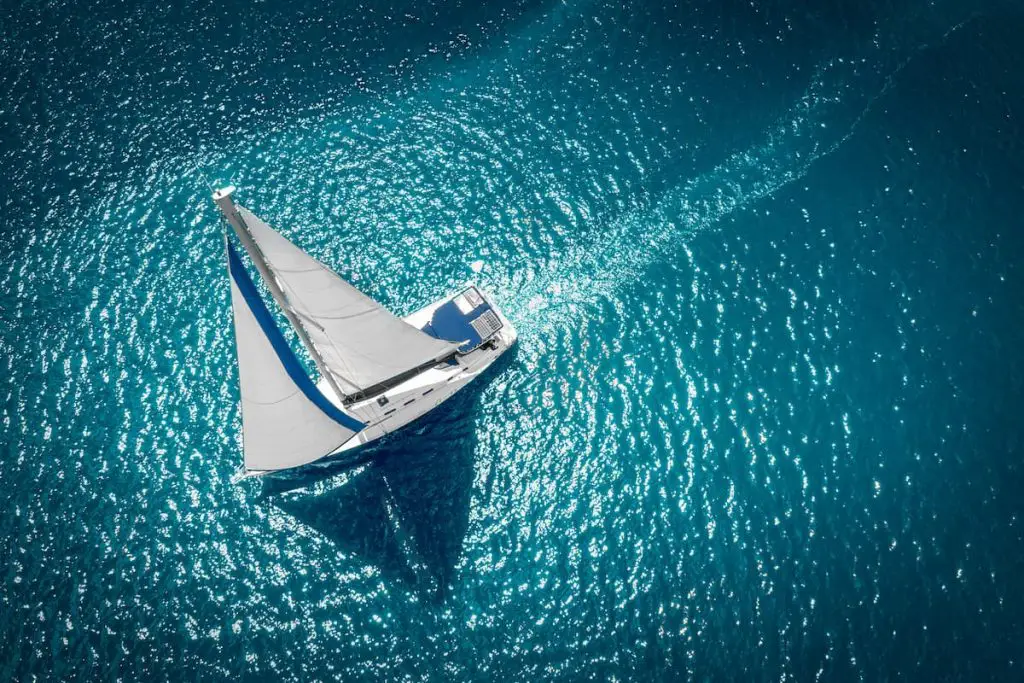 9. Life Proof 31′ & 33′ Full Cabin Boats
The Lifeproof Full Cabin 31′ & 33′ models are hardy and resistant to anything they come across. They are rugged aluminum boats known for safety, performance, and control. The deep v-hull and specification enhancements allow these boats to get to 60mph when using triple 300hp engines. With twin 300hp engines, the maximum speed is 50mph. 
Life Proof boats can be used for port security or personal use. Their speed and safety offer the best of all worlds; you will not be forced to sacrifice one for the other. 
Key Features
Maximum speed 53knots
Fuel capacity 757.1 liters (200 gallons)
Water capacity 75.7 liters (20 gallons)
Overall length 10.06meters (65.97 inches)
10. Everglades 340 DC
The Everglades 340 DC is a dual console boat that offers a balance between luxury and fishability. Compared to other Everglades boats, it has higher stability, reliability, richer amenities, and a wider beam.
The features that stand out in the 340 DC include;
A spacious cockpit.
A wide seating area at the starboard helm.
A port companion seat that you can convert into a chaise lounge.
Storage space underneath the companion seat. 
Refined upholstery with exposed stitches.
.Fuel capacity 300 gallons (1.135.62 liters)
Maximum hp capacity 850hp
Weight 13,000lbs (5,896.70kg)
Water capacity 38 gallons (172.75 liters)
No wood construction.
Fiberglass hardtop 
The perfect mix of offshore capabilities and comfort makes the 340 DC shine as one of the safest and best Everglades boats. 
Here is a test video of the Everglades 340 DC and its response when it encounters harsh weather.
https://www.youtube.com/watch?v=lVQGQv8TR4s
11. ETAP 32S    
The ETAP 32S was introduced in 2002 and has since won many awards as a leading-edge boat. It appears traditional at first glance, but it's modern. It has a near-perfect design, sails well, and is unsinkable. It is a Class A-rated offshore yacht that's ideal for cruising with family or entertaining friends on board. 
Besides features aimed to improve its safety, this boat is built to withstand flooding. Water only rises to the settee bunk. So, even in distress the crew can prepare hot meals, dry their clothes, protect their food from contamination, and even carry out repairs. The yacht also maintains some stability and seaworthiness in floods. 
Key Features
A clean, uncluttered deck.
Anti-skin floors.
The bow and stern have a breaking strength of 5000kg (11,000lbs).
Toe rail designed to drain water instantly. 
A detachable mid-cockpit traveler.
Two private cabins with sufficient space for at least six bunks. 
Excellent lighting throughout the boat 一except the low lighting in the gallery. 
Tande keel design improves performance in deep waters. 
19hp Volvo Penta diesel engine.
Hull length 31.6ft (9.63 meters).
Overall length 32.3ft (9.84 meters).
12. Sprint 15 Catamaran    
If you are new to boating and looking for a cheap, easy-to-use, and sturdy boat, look no further than the Sprint 15 Catamaran. It has two hulls for stability, helping ensure your safety onboard. 
The hulls are made from fiberglass, so they are swift even on rough waters. This boat is popular for boaters in water sports events because of its unique combination of speed and stability.