Tips For Building Boat Trailer Bunks With Composite Decking
Nowadays, composite decks are an alternative to wooden decks. They prove to be far more valuable and efficient. One of the growing uses of composite decks is in building boat trailer bunks. So what do you need to know to help you create a boat trailer bunk with composite decks? Let me give you some helpful tips.
Composite decking functions like standard wood; the only difference is the plastic present in the material. A couple of things to consider are the framing requirements of boat trailer bunks, the different types of composite material, and the tools you'll need to work with the composite decking. 
Composite decking is an innovative, efficient, and worthwhile investment. Typical boat trailer bunks spend up to three months out in the sun (for the summer or unless you live near a coastline), which will require consistent care. Composite decking might be the long-term answer you've been looking forward to for your boat trailer bunk. (source)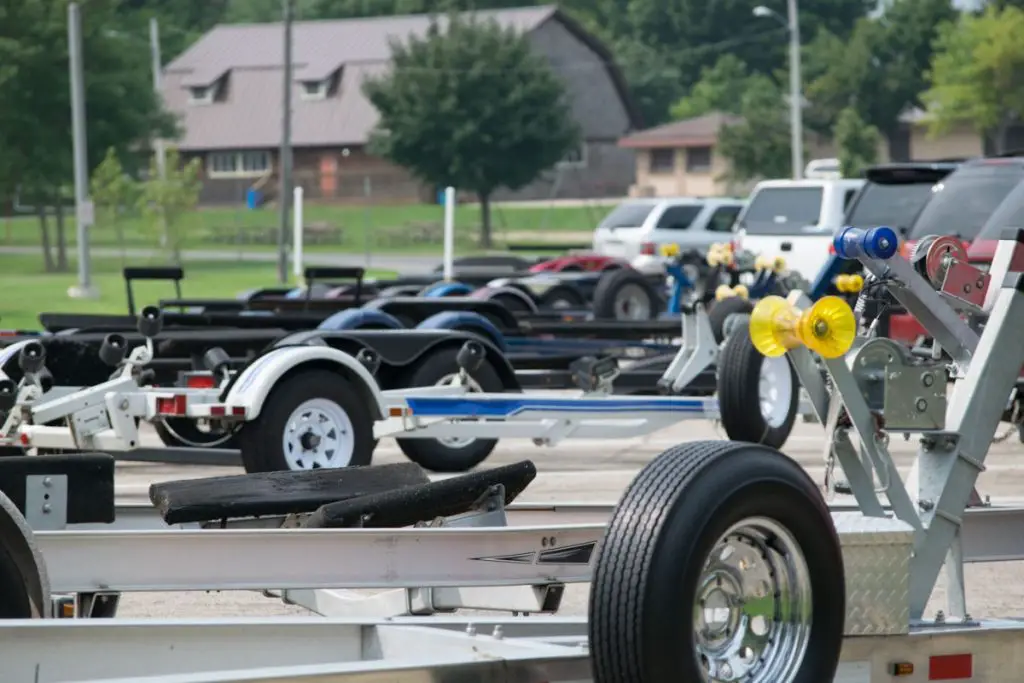 Composite Decking For Boat Trailer Bunks
For boat trailer bunks, composite decks are great material. First things first, what is composite decking? Composite decking goes by several names, such as Wood Plastic Composite (WPC) and wood-plastic decking. It's a mix of woof and plastic, so come experts refer to it as plastic wood. 
Traditionally, wooden planks were the preference of numerous boat owners, but with time and the power of innovation, composite decking is proving to be an excellent alternative. 
Here are some tips for boat owners investing in composite decking for their boat trailer bunks.
The Size Of The Composite Deck
Traditionally, boat owners would use a 2×6 pressure-treated pine (still the industry standard) for their boat bunks. What about the composite deck? Because of the material difference, some experts recommend a 2×4 to ensure its longevity over a 2×6. You can try out the different sizes and choose according to your needs and preferences. 
The Composite Decking Type
Two types of composite decking exist today: capped and uncapped. In the earlier stages, uncapped composite decking was the typical type to find in the market. Manufacturers innovated the product and introduced capped composite decking to solve the issues behind uncapped composite decking. 
So, which one should you use? We recommend capped composite decking because:
Less susceptible to water ingress
Reduced risk of warping
Reduced risk of insects
You want your boat bunk to survive against environmental factors. An excellent way to do that would be to have the decking impervious to those factors. (source)
The Tools Used For Building Composite Deck Trailer Bunks
Composite decking isn't like wood, but it functions similarly to it. When working with composite decks, you'll be working with drills, electric saws, tape measurers, nail guns, and a chalk liner. These are some of the essential tools you'll need to build your boat bunks.  
Composite Decking Brand
The composite decking used for boat bunks is the same type used on regular patios. There are several brands you can check out on the market, but here is the top composite decking you can try out for your boat bunks:
Best Plus Plastic Lumber – (source)
The Tie-Down 86170 – Check Price (Amazon)
CE Smith Bunk – Check Price (Amazon)(CE makes custom wood for your boat bunks, and according to their representatives, they consist of Southern Yellow Pine).*
You'll come across pre-made and pre-carpeted boat trailer bunks when you're in the market. Most of these boat bunks consist of pressurized pine, and many boat owners turning to composite decking will use regular composite decking brands. Some of these brands include:
Stay Safe
Since you will be building the boat trailer bunks, you will be using many power tools. It would be in your best interest to use protective wear as you cut the composite decks or while using any of the power tools mentioned. 
Replacements
Remove everything rotten if you intend to replace the wood and carpet on your boat trailer bunks. Once the materials are in a rotten state, they are unusable and will cause more harm than good to your boat in the future. 
What's In The Stores
If you choose not to build the decking from scratch, there are several options in stores. Some store-bought options come with carpets and composite decks glued onto them with an adhesive. This alternative is the last resort if all else fails. 
Composite Decking Vs. Wood Decking For Boat Trailer Bunks
As shared earlier, pressure-treated pine is the industry standard, and you'll find that most boat trailer bunks consist of this material. In some cases, you'll find oak and cypress, and the more recent alternative material is composite decking. It's the same material popular in patios. (source) 
So, what makes composite decking different from wood while looking at it from a boat bunk perspective? 
Composite decking consists of plastic and wood fiber. At the same time, wood is a fibrous material made from plants.  
Wood wears out faster than composite decking. You could say that composite decking is more durable than wood.
Composite decking is easier to maintain than wood, making it an ideal alternative material for boat trailer bunks. 
What Wood Can I Use For Boat Trailer Bunks?
It would be in your best interest to try out the industry standard of pressure-treated pine. If that's not a material you're keen on, you can try oak and cypress. These materials will do the job at the end of the day. However, composite decking is rising in popularity due to its longevity and efficiency. 
What Are The Alternatives For Trailer Bunk Carpets?
Trailer bunk carpets are necessary for boat owners; they make things easier when lifting the boat onto the trailer. Aside from carpets, some boat owners will turn to pad material. The most used padding material is the Attwood Trailer Bunk Padding (Amazon).  
Composite Decking As A Replacement For Standard Trailer Bunks?
Composite decking is great for maintenance. Where pressure-treated pine can last up to 3 years, composite decking lasts longer than three years with little maintenance. As an alternative material, composite decking is excellent for boats. 
Sources:
José S. Machado, Sara Santos, Fernando F.S. Pinho, Fábio Luís, Ana Alves, Rita Simões, José Carlos Rodrigues,Impact of high moisture conditions on the serviceability performance of wood  plastic composite decks, Materials & Design, Volume 103, 2016, Pages 122-131, ISSN 0264-1275, https://doi.org/10.1016/j.matdes.2016.04.030.
City Wide Sundecks And Railings, 12 THINGS YOU MUST KNOW BEFORE BUILDING A COMPOSITE DECK, City Wide Sundecks, And Railings, Accessed March 16, 2022. 
Composite Warehouse, What is Composite Decking, Composite Warehouse, Accessed March 16, 2022.
Boat US, Replacing Trailer Bunk Cover, Boat US, Accessed 16th March 2022