A Guide To Storing Your Kayak In An Apartment (3 Ideal Spots)
Kayaking is all fun and games until it's time to store the kayak away. If you think keeping your kayak in an apartment is mission impossible, take heart. We've got tips and tricks on the best ways to help you figure out where and how to stow your paddling companion.
To store a kayak in your living area, begin by selecting the best location and decluttering it. Utilize empty walls, the ceiling, and specialty items (hangers, hoists, cradles) to assist you with the depository. 
If you're a proud owner of a hardshell kayak, you'll want to protect it from damage. Leaving it outside for long periods has a negative effect on the hull. Rough weather conditions, exposure to U.V. rays, and high temperatures are all causes of hull deterioration. (source) 
Even though kayaks handle the cold better than the heat, don't leave your boat in subzero temperatures. If it freezes and thaws numerous times, it could lead to structure and performance issues. 
It is especially so for kayaks made out of fiberglass because this material is more sensitive to extreme temperatures. Take stock of what kind of kayak you have to allow it to get the best care possible.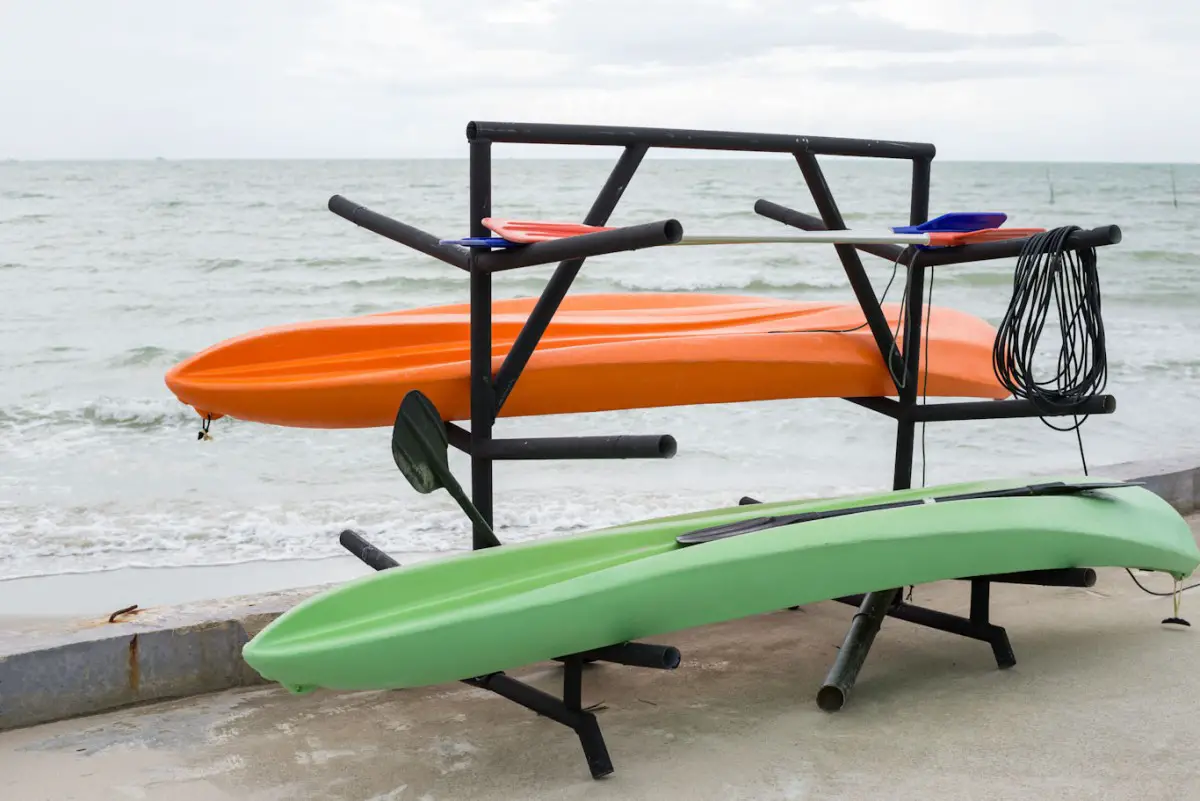 Do Different Kayak Types Store Differently?
Hardshell kayaks need more attention to their hulls than other types of kayaks. In the long run, they will require less maintenance if handled correctly. That's why it's best to hang them from the ceiling or the wall if stored indoors.
Foldable kayaks are different than hardshell ones because of their build. It's much easier to store a foldable kayak in your apartment, even if you live in a studio. Use the lightweight material to fold your kayak in a rectangle and place it on a flat, high surface. The KyPack models even come with straps so you can hang them. (source)
Inflatable kayaks shouldn't be a problem to store, either. Before deflating, make sure to give the kayak a good clean. Deflate the kayak while you're still out of your place, so you know you have enough room. Later, store it away in a dark, cool area. 
While having a kayak displayed in the middle of your living room might seem like a good design idea, it's not the best solution for the kayak itself. The kayak should be hanging at least a couple of feet away from the floor. Otherwise, you risk hull damage. 
Top 3 Locations For Storing A Kayak in an Apartment
The safest way to store a kayak in an apartment is to hang it from the wall or the ceiling. There are plenty of hanging tools to use if you've got a blank wall that could use accessorizing. Ensure there's little-to-no stuff in front of the designated kayak-hanging area to prevent having anything ruined. 
You might use a balcony to stow away your kayak there instead. Grab a kayak cover, wrap your kayak in it, then either hang it or lean it against one of the walls. If you do have enough space indoors, we recommend you store your kayak inside to minimize room for damage. 
No room in your apartment for your kayak whatsoever? Join a marina or a kayak club to keep it safe for you. Pick a spot close to your favorite body of water to enjoy all the benefits of owning a kayak. (source) 
If you're into D.I.Y., you'll want to equip yourself with your toolbox and the following items to keep your kayak hanging until the next time you want to use it. 
Six Must-Have Items For Proper Kayak Storage in an Apartment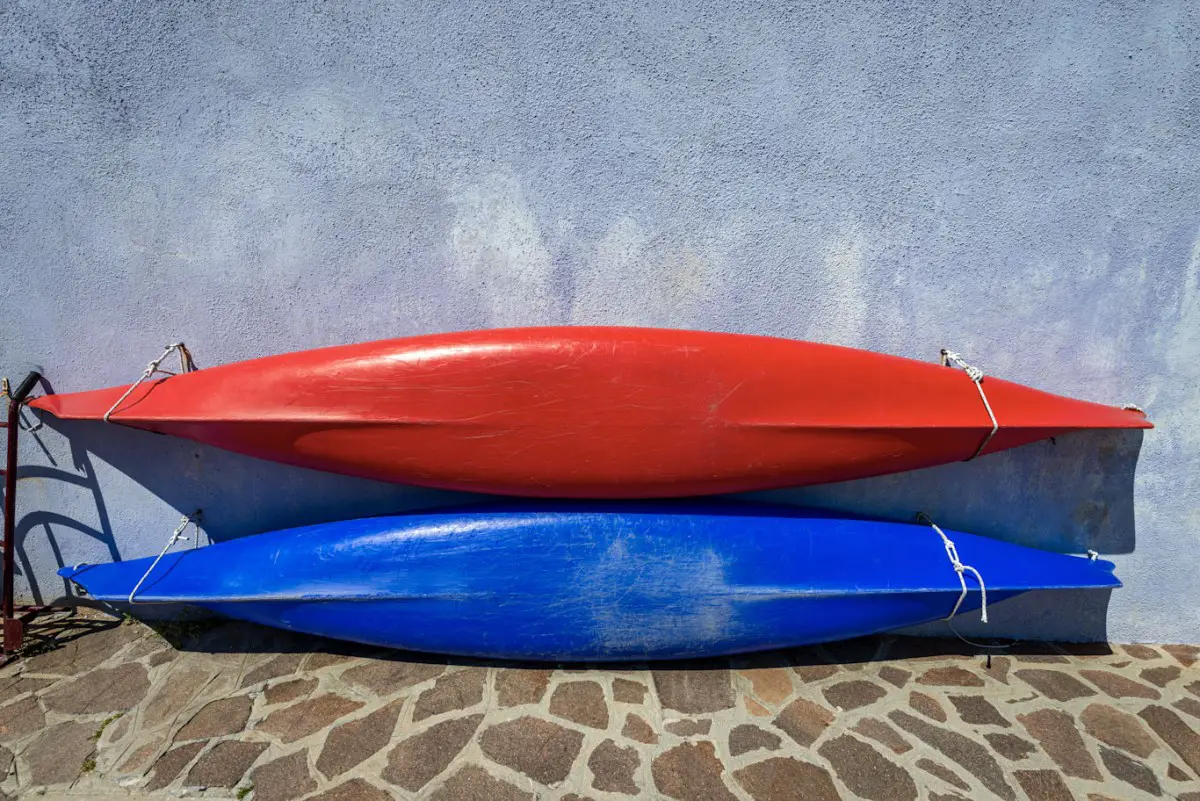 To give your kayak some much-needed T.L.C. when it's out of the water, start with a thorough clean with warm water. Avoid harsh chemicals; regular soap works fine, but don't overuse it. Give the boat some time to dry before storing it. Next, invest in one of these six storage tools: 
Freestanding racks – The easiest way to store multiple kayaks in your apartment is to buy or build a couple of freestanding racks. They're great if you've got space on your floor to spare, plus they look nice. Pre-made stands cost 200-300 dollars and come together in an hour or two. If you're crafty, build your freestanding racks using panels or pipes. (source)
Pool noodles – Grab some pool noodles if you're short on time and need to stow a kayak indoors. Toss them on the floor and let the foam do the heavy lifting. It's the cheapest option there is. Note: don't leave your kayak on pool noodles for too long, and never leave it unattended. The noodles will lose shape, leaving your kayak flat on the floor and at risk of harm.
Hoists – Got a garage space on your hands? Implement a hoist system in no time by using a couple of hoists and a sling. You can also use straps to hang your kayak but never use its grab handles. Counting on them to hold the weight causes the entire structure of the boat to bend. Hoists also work great for two-story apartments, and they give the whole space more depth. (source)
Wall cradles – To make full use of that empty wall in your place, store your kayak directly on it. Get hangers that mount to your wall to hang the kayak. Measure the balancing points on the boat and install the cradles. In some cases, you can stack two or more kayaks on top of each other. If you do so, make sure the wall will handle the weight. (source)
Wide straps – have your kayak hanging in the air supported by custom-made straps. Again, don't use the boat's grab handles. Wrap the straps around the kayak and suspend them from here. To keep the hull extra-safe, hang the kayak hull-face up. (source)
Sawhorse – Buying sawhorses is an excellent option for storing your kayak to avoid drilling and hanging. They're easy to come by, don't cost much, and do the job. If you're short on money, try using elements to build your makeshift sawhorse. This solution is more on the short-term side, but it delivers. (source). Sawhorses work well, but you'll want to pad them, so they don't harm the hull of your kayak. I've used carpeting and wrapped the sawhorses to cradle the kayak.
Best Freestanding Kayak Racks For Home or Apartment
Decided on setting your beloved kayak against a wall but are unsure which freestanding rack is the one for you? Here's a list of the best frames for storing a kayak in your apartment: 
Sparehand KC-103 "Catalina" Freestanding Kayak Storage Rack System: this rack keeps a single kayak or two (weight limit is 175 lbs). It's out of stainless steel, and it has an additional powder coat finish. Use for kayaks up to 20 feet long.
---
Malone Auto Racks FS 3 Kayak Storage Rack System can hold three kayaks at once with a maximum weight capacity of 250 pounds. You can use it both for outdoor and indoor storage. Bonus: it comes with a lifetime warranty.
---
1233 RAD Sportz Tall Stand Freestanding Heavy Duty Kayak Rack can bear an astonishing six kayaks. Altogether, it's ready to carry up to 500 pounds. If you're the designated safe keeper of your kayaking group and you've got the space, check out this stand.
---
Best Wall Racks For Storing A Kayak in an Apartment
Get a wall rack for your kayak if you want more safety or need to compromise on space. Here are some of our top picks for best wall cradles: 
Suspenz's JAY Rack uses a steel suspension system complete with adjustable straps. Eliminate any potential threats to your kayak's hull. It holds up to 150 lbs of weight and works for only a single kayak at a time.
---
Because of its strong build, Best Marine Kayak Storage Rack Wall Cradle has a maximum weight capacity of 100 pounds. It's sturdy, inexpensive, and reliable. It's also fully resistant to corrosion.
---
Ediors Heavy Duty Steel Kayak Wall Rack is our list's most affordable wall cradle. It's stainless steel with a rubber coat and carries up to 100 lbs. The best thing about it is it can fold to the side when not in use.
---
Vahodegn Kayak Steel Storage Rack is easy to use for kayaks and other items. One rack holds 100 pounds, so it's not the best option for heavier kayaks.
---
How To Store A Kayak Indoors Step-By-Step
Follow this quick guide to hold your kayak inside your apartment living space:
Clean your kayak before stowing it away. Allow it to dry completely.
Make a lot of room in your apartment to help you maneuver the boat more easily. Don't use any spaces too far out of your reach, but keep away from children and pets.
Choose how you want to store your kayak in your apartment. 
Put either hoists or straps to suspend the kayak from the ceiling.
Set wall hangers or racks in the desired location to hang the boat on your wall. 
Place the kayak with care so the hull is facing the ceiling.
If storing more kayaks, ensure you have enough space and repeat the process.
Can You Store A Kayak In A Storage Unit?
Yes, you can store a kayak in a storage unit if you've got enough room. However, be mindful of any moisture or mildew as it can ruin your kayak's hull. (source)
Don't leave your kayak in direct sunlight, even inside a storage unit. It could be responsible for the deterioration of your kayak.
The same goes for any extreme temperatures or weather conditions. Move your kayak to a more secure location if necessary. 
How Do You Store A Kayak On The Ceiling? 
The best way to keep a kayak on the ceiling is to use hoists to lift it. You can also use hanging straps to hold it in the air. 
Do not suspend your kayak from the grab loops. Instead, use a sling or store-bought or D.I.Y. wide straps.
If hanging a kayak from the ceiling, remember to turn it upside down. It will protect its structure from any harm.
Is It OK To Store A Kayak On Its Side? 
There shouldn't be any problems with storing a kayak on its side. Most freestanding kayak racks enable you to keep a kayak (or multiple ones) like this. 
Don't do this if you're planning on leaving your kayak on the floor, even if it's only temporary. You could end up with dents in the sides.
How Should I Store My Kayak Standing Up?
To store a kayak standing up, have a system that makes sure it's not in direct contact with the floor. Otherwise, you risk danger both to the kayak and others around it. 
Use a kayak rack or wall handles so your kayak has a suitable place within your apartment. Even though it might look nice to have your kayak standing up, never do so without stabilizing first.
Summary
It's essential to know how to store a kayak securely. You're bound to leave it stored away longer than you'll be kayaking. Set it inside your apartment if you can't keep your kayak outdoors. To do so, you'll want to get familiar with one of many methods of kayak storage. 
The best way to keep a kayak safe is to suspend it from your apartment's wall or the ceiling. Use hoist systems, wall brackets, or freestanding frames for the best results. Always make sure your kayak is clean and dry before you store it. Please pay close attention to the position of its hull so as not to damage it.