How Long Do Kayaks Usually Last? Factors That Affect the Lifespan of Your Kayak
Kayaking is a popular recreational activity enjoyed by many outdoor enthusiasts worldwide. Whether you prefer the calm waters of a lake or the thrill of white-water rapids, having a reliable kayak is essential to ensure a safe and enjoyable experience. However, like any other piece of equipment, kayaks have a lifespan that can be affected by various factors.
The lifespan of a kayak depends on the type of kayak, its construction material, maintenance practices, and storage methods. There is no definitive answer to how long a kayak can last, but it can last for many years with proper care and maintenance.
This article will explore how long kayaks usually last and the factors that can affect their lifespan. We will delve into the different types of kayaks, their construction materials, maintenance practices, and storage methods to understand how they contribute to the longevity of your kayak.
By the end of this article, you'll have a better idea of what you need to do to maximize the lifespan of your kayak and get the most out of your investment.
Material Matters: How the Type of Kayak Influences Its Lifespan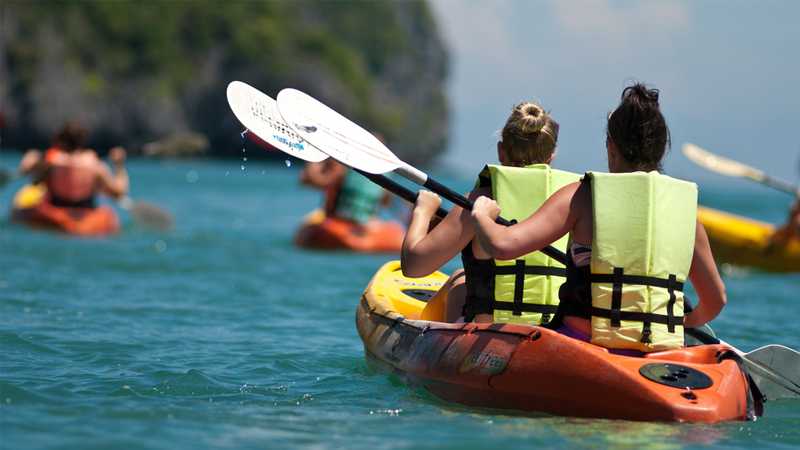 When I started my kayaking journey, I was amazed at the variety of available kayak materials. I quickly learned that the material of your kayak plays a crucial role in determining its lifespan. 
Choosing the right material can make a significant difference in how long your kayak lasts, as well as its performance in various water conditions. Let's dive into the importance of kayak materials and their impact on your kayak's life expectancy.
From my experience, I've discovered that the most common materials used in kayak manufacturing are plastic, fiberglass, and composites, such as Kevlar or carbon fiber. Each of these materials has its unique characteristics, which affect the longevity and performance of the kayak:
Plastic (Rotomolded Polyethylene): This is the most common and affordable option for recreational kayaks. It is known for its durability and resistance to impact. However, plastic kayaks are susceptible to UV damage and can become brittle. A plastic kayak can last 5 to 15 years with proper care and storage.
Fiberglass: Fiberglass kayaks are lighter and perform better than plastic kayaks. They are less impact-resistant and can crack or get damaged more easily but can be repaired. Fiberglass kayaks have a longer lifespan, ranging from 10 to 20 years, depending on usage and maintenance.
Composites (Kevlar and Carbon Fiber): These high-performance kayaks are lightweight, strong, and provide the best performance. They are more expensive than plastic and fiberglass kayaks but are known for their durability and longer lifespan. With proper care, composite kayaks can last 20 years or even longer.
Personal Anecdote: When I Learned the Hard Way about Kayak Quality
Personal Anecdote: When I Learned the Hard Way about Kayak Quality
When I was still new to kayaking, I couldn't wait to get my hands on my first kayak. Like many beginners, I was trying to save money and opted for a cheaper, second-hand kayak without considering the material or quality. Little did I know this decision would lead to a memorable and somewhat embarrassing experience.
It was a beautiful summer day for a kayaking trip with friends. Excited to show off my new-to-me kayak, I confidently hit the water. We paddled through serene waterways, marveling at the picturesque surroundings. 
Everything was going smoothly until we reached a slightly rougher patch of water. As we navigated the choppy waves, I suddenly felt a jolt and heard a loud crack beneath me. To my horror, the kayak had cracked under the pressure, and water started pouring in.
My friends rushed to help me as I struggled to stay afloat with my sinking kayak. Fortunately, they could tow me and my damaged kayak back to shore. I couldn't help but feel embarrassed, realizing that I had prioritized saving money over investing in a quality kayak. That day, I learned that skimping on quality can lead to unexpected and potentially dangerous situations.
This experience taught me the importance of researching and investing in a high-quality kayak, especially considering the type of kayaking I intended to do. Since then, I have made it a point to prioritize durability and performance when choosing a kayak, knowing that a higher-quality vessel will keep me safer and last much longer.
The Role of Proper Storage in Preserving Your Kayak's Life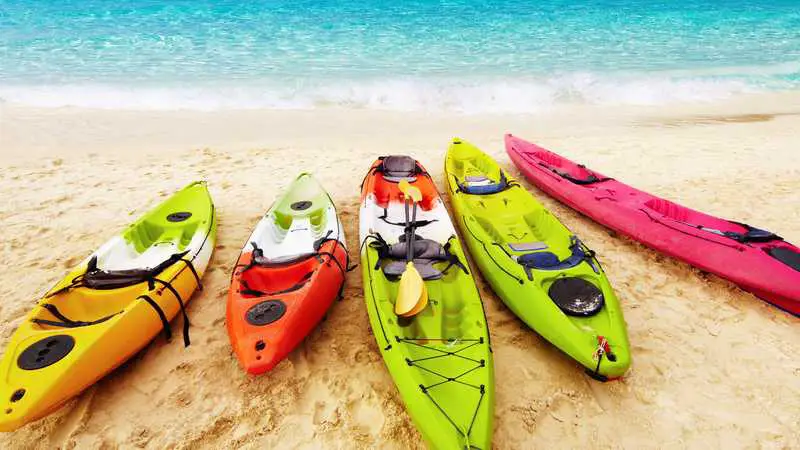 One lesson I've learned through my kayaking adventures is the importance of proper storage in preserving the lifespan of your kayak. Regardless of the material your kayak is made of, it must be stored correctly to avoid damage and prolong its life. Proper storage can protect your kayak from UV damage, warping, and other environmental factors that could deteriorate its condition over time.
To ensure that my kayak remains in top shape, I follow these storage guidelines:
Clean and dry your kayak: After each use, it's crucial to clean your kayak with fresh water and mild soap to remove dirt, sand, and debris. Dry it thoroughly before storing it to prevent mold and mildew growth.
Store it away from direct sunlight: Prolonged exposure to UV rays can cause your kayak to fade and weaken over time, particularly if it's made of plastic. Store your kayak in a shaded area or use a UV-resistant cover to shield it from the sun.
Keep it off the ground: Storing your kayak directly on the ground can lead to warping, especially in warmer temperatures. Use a kayak rack or padded supports to keep it elevated and maintain its shape.
Use straps for support: When suspending your kayak from the ceiling or wall, use wide straps that distribute the weight evenly across the hull. Avoid using ropes or thin straps, which can cause pressure points and damage your kayak.
Protect from extreme temperatures: Extreme heat or cold can cause your kayak to expand or contract, leading to cracks and other damage. If possible, store your kayak in a climate-controlled environment or insulated storage space.

Cover it up: Using a protective cover can shield your kayak from dust, dirt, and moisture when it's not in use. Choose a breathable cover that allows air circulation to prevent mold and mildew.
By storing your kayak properly, you'll maintain its appearance and extend its life, ensuring it remains a reliable companion on your kayaking adventures for years.
Kayak Maintenance: Tips from My Own Experience
Throughout my kayaking journey, I've come to appreciate the importance of regular maintenance in keeping my kayak in prime condition and extending its lifespan. Here are some of the kayak maintenance tips I've picked up from my own experiences:
Inspect your kayak after each outing: After every kayaking session, take a moment to examine your kayak for any signs of damage or wear. This includes checking for scratches, dents, or cracks in the hull and inspecting the hardware, such as hatch covers, bungee cords, and footrests.
Repair scratches and dents promptly: Minor scratches and dents are common with regular use, but addressing them promptly is essential. For plastic kayaks, use a heat gun or hairdryer to gently heat the affected area until it regains its original shape. Apply a gel coat or epoxy repair kit for fiberglass or composite kayaks to fix any superficial damage.
Lubricate moving parts: Keep your kayak's moving parts, such as rudder cables and footrests, in good working order by regularly applying a silicone-based lubricant. This will ensure smooth operation and help prevent rust and corrosion.
Tighten and replace hardware as needed: Over time, screws, nuts, and bolts can loosen or become damaged. Periodically check the hardware on your kayak and tighten or replace parts as necessary to maintain structural integrity.
Replace worn-out parts: Regularly inspect your kayak's accessories, such as seats, hatch covers, and bungee cords, for signs of wear or damage. Replace these parts as needed to ensure your kayak remains safe and comfortable.
Clean and maintain the skeg or rudder system: If your kayak has a skeg or rudder system, clean and inspect it regularly. Remove any debris that may have gotten lodged in the mechanism and apply lubricant as needed to keep it functioning smoothly.
Avoid dragging your kayak: Dragging your kayak over rough surfaces can cause premature wear and damage to the hull. Always carry or use a kayak cart to transport your kayak to and from the water.
By incorporating these maintenance tips into my routine, I've kept my kayak in excellent condition and enjoyed many safe and memorable paddling adventures. Remember, investing time in regular maintenance will pay off in the long run, helping to ensure that your kayak lasts for years.
Impact of Usage Frequency and Paddling Environment on Kayak Longevity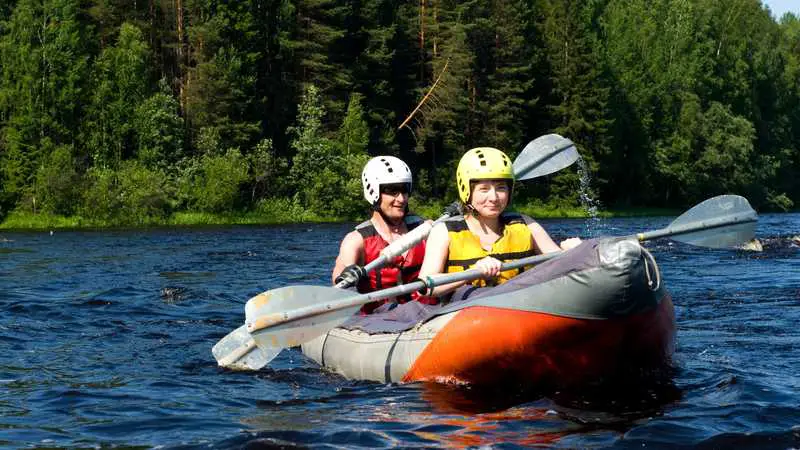 Over the years, I've come to understand that the frequency of use and the environment in which I paddle can significantly impact the lifespan of my kayak. Here's a closer look at how usage frequency and paddling conditions can affect the longevity of your kayak:
Usage Frequency
Naturally, the more frequently you use your kayak, the more wear and tear it will experience. Regularly paddling in harsh conditions or for extended periods can accelerate the aging process of your kayak. On the other hand, occasional kayaking or only paddling in calm waters can help extend its lifespan.
To counteract the wear and tear of frequent use, it's essential to perform regular maintenance and promptly address any damage or issues. Ensuring that your kayak is well-cared for will help it withstand the demands of frequent use and maintain its structural integrity for a longer time.
Paddling Environment
The environment in which you kayak can substantially impact your kayak's longevity. Different conditions pose unique challenges to your kayak's durability:
Saltwater vs. Freshwater: Saltwater can be corrosive and cause damage to your kayak's hardware and moving parts over time. If you frequently paddle in saltwater, rinse your kayak thoroughly with fresh water after each use and apply a corrosion inhibitor to metal components.
Rocky or Shallow Waters: Paddling in rocky or shallow waters increases the risk of abrasion, scratches, and dents on your kayak's hull. Be cautious when navigating these environments, and avoid dragging your kayak over rough surfaces.
Exposure to Sunlight: Prolonged exposure to UV rays can cause fading and weakening of your kayak's material, particularly for plastic kayaks. Avoid sun exposure by storing your kayak in a shaded area or using a UV-resistant cover.
Temperature Fluctuations: Extreme temperature changes can cause your kayak to expand or contract, potentially leading to cracks and other damage. Store your kayak in a climate-controlled environment or insulated storage space to protect it from temperature extremes.
When to Replace Your Kayak: Signs It's Time for an Upgrade
As a seasoned kayaker, I've learned that knowing when to replace my kayak is crucial for my safety and enjoyment on the water. While it's natural to feel attached to your kayak, there comes a time when it's necessary to consider an upgrade. Here are some signs that indicate it might be time to replace your kayak:
Significant Hull Damage: If your kayak has sustained extensive damage, such as deep gouges, cracks, or punctures in the hull, it may no longer be safe to use. In some cases, repair might be possible, but it's essential to consult a professional to determine if the damage is too severe and requires a replacement.
Compromised Structural Integrity: Over time, your kayak may experience wear and tear that impacts its structural integrity, such as warping or delamination. If the damage is beyond repair or affects the kayak's performance, it's time to consider an upgrade.
Outdated or Incompatible Design: As your kayaking skills and preferences evolve, you may find that your current kayak no longer meets your needs. If you've outgrown your kayak in terms of performance, comfort, or functionality, it's a good time to explore newer models that better suit your requirements.
Persistent Leaks or Water Intrusion: If your kayak consistently takes on the water despite attempts to repair leaks, it could be a sign of more significant issues with the hull or seams. In this case, investing in a new kayak might be the best option.
Worn or Damaged Hardware: Over time, hardware such as screws, nuts, and bolts can wear out or become damaged. While some components can be replaced, if the wear is widespread or affects the kayak's safety and performance, investing in a new kayak may be more cost-effective.
Frequent Repairs and Maintenance: If your kayak requires constant repairs and maintenance to stay functional, replacing it with a newer, more reliable model might be more economical and efficient.