How Windy Is Too Windy for Canoeing? Understanding the Risks and Limits of Windy Conditions
Canoeing is a thrilling outdoor activity that allows you to connect with nature and explore bodies of water. However, when it comes to wind, canoeing can quickly turn from a relaxing experience to a risky and potentially dangerous one. Windy conditions can pose a significant risk to canoeists, and it's essential to understand the limits and risks of canoeing in windy conditions.
It's difficult to specify how windy is "too windy" for canoeing, as it depends on various factors like wind direction, water conditions, and your skill level. Assessing the conditions and exercising caution before heading out on the water is best.
When planning a canoeing trip, it's crucial to consider the wind conditions and assess whether they fall within safe limits. This article will explore how wind speed and direction can affect canoeing, the potential risks involved, and what you should consider before hitting the water. Understanding the risks and limits of windy conditions allows you to make informed decisions and stay safe while enjoying your canoeing adventure.
The Importance of Understanding Windy Conditions for Canoeing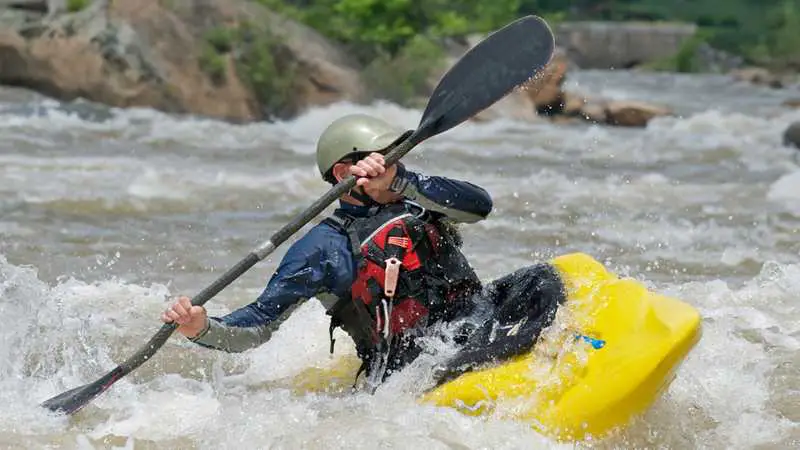 The importance of understanding windy conditions for canoeing cannot be overstated. As we embark on our canoeing adventures, we must be aware that wind can significantly impact our experience on the water. Windy conditions can make navigating, maintaining balance, and controlling our canoe more challenging. 
Moreover, strong winds can also create waves that may destabilize our canoe, putting us at risk of capsizing. By understanding how wind affects canoeing, we'll be better prepared to face various weather conditions and make informed decisions to ensure our safety on the water.
Paying attention to wind patterns and learning how to adapt to them is crucial for a successful canoeing experience. Understanding wind conditions will help us develop effective paddling strategies and techniques. 
This, in turn, will allow us to enjoy the activity while minimizing any potential risks. Moreover, by staying informed about the local weather forecasts and conditions, we can plan our canoeing trips accordingly and avoid venturing out when the wind is too strong.
How Windy is Too Windy for Canoeing? Factors to Consider
When determining how windy is too windy for canoeing, several factors must be considered. These factors can help us gauge whether the conditions are suitable for a safe and enjoyable experience on the water.
Wind Speed: Generally, wind speeds below 10 mph (16 km/h) are manageable for most recreational canoeists. Light winds can even add to the enjoyment of canoeing, creating a pleasant breeze. However, wind speeds above 15 mph (24 km/h) can make it difficult to control the canoe and pose a challenge, especially for less experienced paddlers.
Skill Level: Our skill level and experience determine whether wind conditions suit canoeing. Beginners should stick to calm conditions with light winds, while more experienced paddlers may feel comfortable navigating moderate winds. It's essential to be honest with ourselves about our abilities and venture out in conditions we can safely handle.
Body of Water: The size and nature of the body of water we plan to canoe on also influence how windy is too windy for canoeing. Large lakes and open bodies of water are more susceptible to higher waves and stronger winds, making it more challenging to control the canoe. Smaller bodies of water or sheltered areas, such as narrow rivers or coves, can offer some protection against the wind.
Wind Direction: The direction of the wind plays a crucial role in determining whether it's too windy for canoeing. If the wind is blowing in the same direction as our intended route, it might be easier to manage. However, paddling against strong headwinds can be exhausting and challenging, even for experienced canoeists.
Wave Conditions: Along with wind speed, it's essential to consider wave conditions. Strong winds can generate large waves that may be difficult to manage, particularly for inexperienced paddlers. It's crucial to assess the wave size and frequency to determine if they pose a risk to our safety.
Considering these factors will help us make an informed decision about whether the wind conditions are suitable for canoeing. Always remember to prioritize safety and only embark on a canoeing adventure when the conditions are within our skill level and experience.
Understanding Wind Speed and Its Effects on Canoeing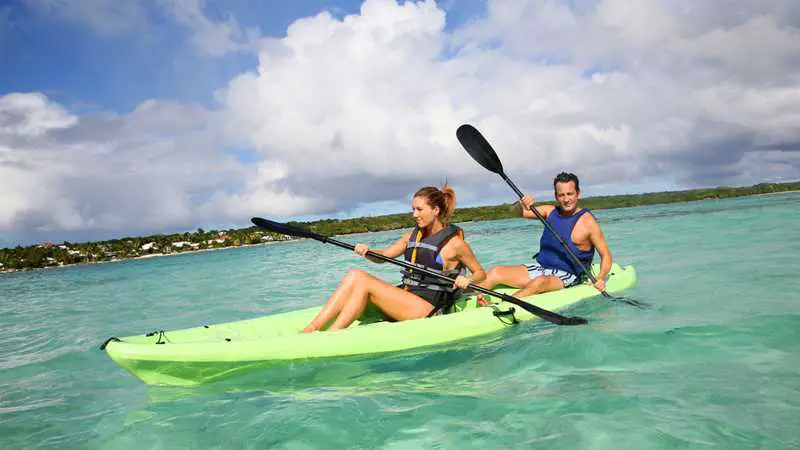 Understanding wind speed and its effects on canoeing is essential for paddlers to have a safe and enjoyable experience on the water. Wind speed can influence various aspects of canoeing, including navigation, stability, and paddling effort. Here's a closer look at how different wind speeds can affect our canoeing adventure:
Light Winds (0-10 mph / 0-16 km/h): Light winds can provide a pleasant canoeing experience. They offer a gentle breeze, which can be refreshing during a warm day and typically does not interfere significantly with our ability to paddle or steer the canoe. The water surface remains relatively calm in light winds, with small wavelets and ripples.
Moderate Winds (11-15 mph / 17-24 km/h): Moderate winds can make canoeing more challenging, especially for beginners or those with limited experience. These winds can push the canoe off course, requiring more effort to paddle and maintain control. Moderate winds can also create small waves, which can cause the canoe to rock and affect our balance. Adjusting our paddling techniques and staying vigilant will be crucial in these conditions.
Strong Winds (16-25 mph / 25-40 km/h): Strong winds can significantly impact canoeing, making it difficult to paddle, navigate, and maintain balance. These winds can generate larger waves, destabilizing the canoe and increasing the risk of capsizing. Paddling against strong winds can be exhausting, and steering the canoe in the desired direction may be challenging. In such conditions, assessing our skill level, experience, and comfort is essential before venturing out.
Very Strong Winds (25+ mph / 40+ km/h): Very strong winds are generally unsuitable for canoeing, as they can create hazardous conditions with large waves, strong currents, and the potential for capsizing. Even experienced paddlers may struggle to maintain control and balance in these conditions. It's best to avoid canoeing when winds reach this speed and consider alternative water activities or postponing the trip altogether.
Wind Direction: The Importance of Paddling with or Against the Wind
Wind direction plays a significant role in canoeing, as it can either assist or hinder our progress depending on whether we're paddling with or against the wind. Knowing the wind direction and adjusting our paddling strategies accordingly can make our canoeing experience more enjoyable and efficient.
Paddling with the Wind (Downwind)
Paddling with the wind, also known as downwind paddling, can make our canoeing experience easier and more enjoyable. The wind at our back pushes the canoe forward, reducing the effort required to paddle and helping us cover greater distances with less fatigue. In this situation, the wind essentially acts as a "tailwind," giving us a boost and making it easier to maintain a steady pace.
To make the most of downwind paddling, we can adjust our route to follow the direction of the wind as closely as possible. Using a skeg or a rudder can also help maintain the canoe's course, preventing it from being pushed off track by the wind. Additionally, we can use the wind to our advantage by employing a "sailing" technique, using a paddle or a makeshift sail to catch the wind and propel the canoe forward.
Paddling against the Wind (Upwind)
Paddling against the wind, or upwind paddling, can be challenging and exhausting, as we'll be fighting against the wind's resistance. In this situation, the wind acts as a "headwind," making it more difficult to maintain our desired speed and direction. Paddling upwind requires more energy and effort, and our progress may be slower than expected.
To minimize the impact of paddling against the wind, we can take several approaches:
Choose a sheltered route: If possible, opt for a route that offers protection from the wind, such as narrow rivers, channels, or along the lee side of islands or shorelines.
Adjust paddling techniques: Using shorter, more frequent strokes can help maintain control and momentum against the wind. Leaning slightly forward while paddling can also lower the canoe's profile, reducing wind resistance.
Use the canoe's edges: By tilting the canoe slightly on its side, we can use the edge to cut through the wind and waves, making it easier to maintain our course.
Take breaks: Paddling against the wind can be tiring, so it's essential to take breaks when needed to rest and avoid fatigue.
The Risks of Canoeing in High Winds: Safety Tips and Precautions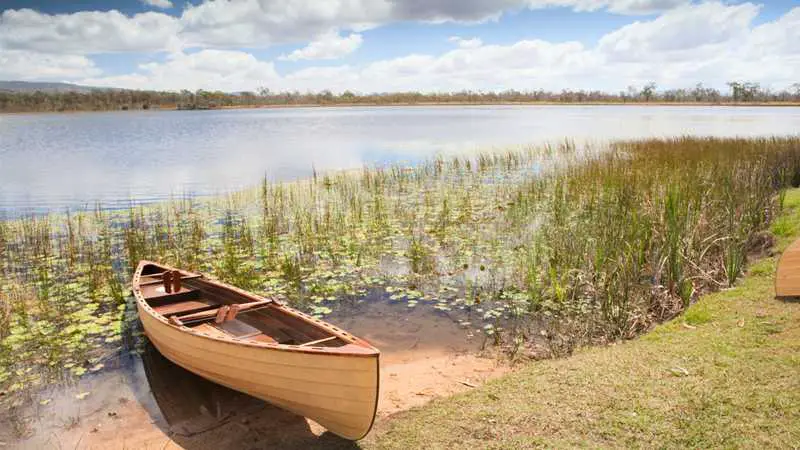 Canoeing in high winds can pose various risks and challenges, even for experienced paddlers. To ensure a safe and enjoyable experience on the water, it's crucial to be aware of these risks and take appropriate safety precautions. Here are some essential tips and precautions to consider when canoeing in high winds:
Check weather forecasts: Before setting out on a canoeing trip, always check the local weather forecasts for wind speed, direction, and any possible weather changes. This will help you decide whether to proceed or postpone the trip.
Assess your skill level: Be honest about your paddling abilities and experience. Only venture out in wind conditions that you feel confident you can handle. If you're a beginner or have limited experience, it's best to stick to calm conditions and gradually build your skills.
Wear appropriate gear: Always wear a properly fitted life jacket or personal flotation device (PFD), while canoeing, regardless of wind conditions. Consider wearing a wetsuit or drysuit to protect against cold water and wind chill and a helmet to guard against potential impacts in high winds.
Choose a sheltered route: If possible, opt for a route that offers some protection from the wind, such as narrow rivers, channels, or along the lee side of islands or shorelines. This will help reduce the impact of the wind on your canoeing experience and minimize the risk of capsizing.
Stay close to the shore: Paddling near the shoreline can provide some shelter from the wind and waves, making it easier to maintain control of the canoe. In case of an emergency or capsizing, being close to the shore will also make it easier to reach safety.
Practice self-rescue techniques: Before venturing out in high winds, ensure you're familiar with self-rescue techniques, such as re-entering a capsized canoe or performing a wet exit. These skills will help you stay calm and respond effectively in an emergency.
Use a buddy system: Canoeing with a partner or group provides an additional layer of safety in high winds. Paddling companions can help each other in difficulties and assist if needed.
Be prepared to call it a day: If the wind becomes too strong or the conditions become unsafe, be prepared to end your canoeing trip early. It's essential to prioritize safety over completing a planned route.