Canoeing vs. Rafting: Comparing Two Exciting River Sports
Embarking on a thrilling aquatic adventure is a fantastic way to connect with nature and experience the exhilarating power of rivers. Two popular river sports that offer such experiences are canoeing and rafting. Both water-based activities provide adrenaline-pumping excitement, breathtaking views, and unique challenges to those who dare to take them on.
In this article, we'll delve into the world of canoeing and rafting, comparing the two sports in terms of equipment, techniques, difficulty levels, and overall experience to help you decide which one might be the best fit for your next outdoor escapade.
Canoeing offers a more versatile experience with better control, suitable for solo or tandem paddlers. Rafting provides a thrilling, team-oriented adventure for larger groups and tackling whitewater rapids. Both are exciting river sports; the choice depends on personal preference and goals.
Canoeing and rafting, although often mentioned together, are distinct water sports with their own set of characteristics and appeals. Canoeing involves propelling a small, lightweight boat called a canoe through water using a single-bladed paddle. At the same time, rafting is typically done on an inflatable raft navigated by a team of participants using double-bladed paddles. 
Both activities can be enjoyed in serene flat water or intense whitewater rapids, depending on the individual's skill level and desired thrill. So, grab your life jacket, paddle, and sense of adventure as we embark on a journey to compare canoeing and rafting in this comprehensive guide.
A Brief History of Canoeing and Rafting
Canoeing has a long and storied history, dating back thousands of years to indigenous cultures worldwide. Native peoples in North America relied on canoes as a primary mode of transportation across lakes, rivers, and coastal waters. These early canoes were typically constructed from wood and bark, expertly crafted to be both lightweight and durable. 
As European settlers arrived in the New World, they quickly adopted canoes for exploration, trade, and travel. Over the years, the canoe evolved into a versatile recreational vessel, with modern designs incorporating materials like aluminum, fiberglass, and plastic.
On the other hand, Rafting has its roots in transporting goods and people across rivers and waterways. Early rafts were built using logs or reeds tied together to create a buoyant platform. In the early 20th century, the development of inflatable rubber rafts revolutionized the sport, opening the door to thrilling whitewater expeditions. The first documented commercial rafting trip took place on Idaho's Snake River in 1940, led by adventure enthusiast Clyde Smith. 
Since then, rafting has gained immense popularity worldwide, with people flocking to experience the adrenaline rush and camaraderie of navigating challenging rapids as a team. Today, rafting is enjoyed by millions of outdoor enthusiasts, and the industry continues to grow, offering an array of rafting experiences for all skill levels.
Equipment and Gear: Canoes vs. Rafts
When it comes to equipment and gear, canoes and rafts have their own set of requirements that cater to the specific needs of each water sport. While both demand essential safety gear such as life jackets and helmets, the vessels' and paddling equipment' design and construction differ significantly. Below, we outline the key equipment and gear used in canoeing and rafting:
Canoes:
Rigid, lightweight hull made of wood, aluminum, fiberglass, or plastic
Single-bladed paddles for propulsion
Seats or kneeling pads for paddler comfort
Optional spray decks to keep water out in rough conditions
Dy bags to protect gear and belongings from water
Rafts:
Inflatable, buoyant design made of heavy-duty materials such as PVC or Hypalon
Double-bladed paddles for increased power and control
Thwart seats or perimeter tubes for seating
Safety equipment like throw bags and rescue ropes
Wet suits, splash jackets, and river shoes for added comfort and protection
Additional gear such as navigation tools, repair kits, first aid supplies, and communication devices may also be necessary for both sports, particularly for longer or more challenging excursions.
Paddling Techniques: Mastering the Art of Propulsion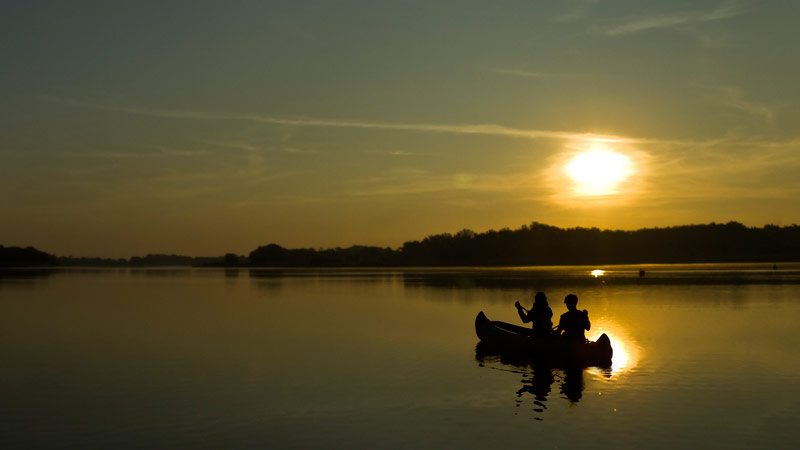 Paddling techniques are crucial in maneuvering canoes and rafts, allowing participants to efficiently navigate the waterways and maintain control in various conditions. While both sports rely on paddles as their primary means of propulsion, the specific methods and strokes differ between canoeing and rafting.
In canoeing, participants use single-bladed paddles, which require alternating strokes on either side of the boat to maintain a straight course. Some fundamental canoeing strokes include:
Forward stroke: The most basic stroke propels the canoe forward by pulling the paddle through the water alongside the boat.
Backstroke: The reverse of the forward stroke, used to slow down or move the canoe backward.
J-stroke: A variation of the forward stroke, incorporating a slight twist at the end to counteract the canoe's tendency to turn and maintain a straight course.
Draw stroke: A lateral stroke used to pull the canoe sideways towards the paddle.
Pry stroke: The opposite of the draw stroke, used to push the canoe away from the paddle.
On the other hand, Rafting typically employs double-bladed paddles, with each participant contributing to the boat's propulsion and steering. Key rafting strokes include:
Forward stroke: Similar to canoeing, this basic stroke propels the raft forward.
Backstroke: The reverse of the forward stroke, used to slow down, stop, or reverse the raft's direction.
Sweep stroke: A powerful turning stroke, performed by either the front or rear paddler, in which the paddle is swept in a wide arc away from the raft to pivot it in the desired direction.
Draw stroke: Similar to canoeing, this lateral stroke pulls the raft sideways towards the paddle.
Mastering these techniques requires practice, good communication, and teamwork regardless of the sport. Effective paddling increases efficiency and control and enhances the experience's overall enjoyment, allowing participants to tackle more challenging waterways and conditions with confidence.
Solo vs. Group Dynamics: Choosing Your Adventure
When choosing between canoeing and rafting, one of the main factors is whether you prefer a solo or group adventure. Both sports offer unique experiences that cater to different social dynamics and personal preferences.
Canoeing is highly versatile, as it can be enjoyed solo or with a partner in a tandem canoe. Solo canoeing allows for a more meditative and self-reliant experience, where the paddler can fully immerse themselves in the natural environment and enjoy the tranquility of being on the water. Tandem canoeing, on the other hand, provides an opportunity to bond with a partner, as effective communication and teamwork become essential to navigating the waterways efficiently.
Rafting, in contrast, is primarily a group-oriented sport. Rafts are designed to accommodate multiple participants, each contributing to the vessel's propulsion and control. Rafting trips often foster camaraderie and cooperation as participants work together to overcome challenging rapids and navigate obstacles. The social aspect of rafting makes it ideal for families, friends, or team-building events, where the shared experience can create lasting memories and strengthen relationships.
Ultimately, the decision between solo or group dynamics depends on individual preferences and the type of adventure you seek. Canoeing offers greater flexibility for those who enjoy solitude or a more intimate experience with a partner. At the same time, rafting provides an adrenaline-pumping, team-based experience that can bring people together in a thrilling, shared adventure.
Navigating Different Water Conditions: Flatwater to Whitewater
Both canoeing and rafting can be enjoyed across a wide range of water conditions, from tranquil flatwater to adrenaline-inducing whitewater. Each type of waterway offers unique challenges and experiences that cater to different skill levels and adventure-seeking preferences.
Flatwater condition
Flatwater conditions are characterized by calm, still water with little current. These settings are ideal for beginners or those who prefer a more serene, leisurely experience. Canoeing in flatwater allows for a relaxing paddle, often enjoyed on lakes, ponds, or gentle rivers. 
It is an excellent opportunity to hone paddling techniques, improve balance, and enjoy the surrounding scenery. Rafting can also be enjoyed in flatwater conditions, typically on larger, slow-moving rivers or in designated rafting parks. Flatwater rafting offers a laid-back experience, perfect for families or groups looking for a leisurely outing.
Whitewater condition
Whitewater conditions occur in fast-flowing rivers with rapids, waves, and obstacles, creating a more challenging and exhilarating environment. Whitewater is typically classified into six categories, from Class I (easy) to Class VI (extremely difficult). 
Both canoeing and rafting can be enjoyed in whitewater, but the choice between the two sports often depends on personal preference, skill level, and the desired level of thrill.
Whitewater canoeing
Whitewater canoeing requires more skill and experience, as the paddler must navigate the rapids and obstacles with precision and control. Whitewater canoes are often designed with a more robust construction and may include spray decks to keep water out. Paddlers seeking a more intense, skill-driven adventure may opt for whitewater canoeing.
Whitewater rafting
Whitewater rafting, in contrast, offers a more accessible entry into the world of rapids for those with less experience. Rafts are inherently more stable and buoyant, making them well-suited for navigating turbulent waters. 
Rafting trips are often led by experienced guides who provide instruction and ensure the safety of participants. The group dynamic and shared adrenaline rush make whitewater rafting popular for thrill-seekers.
Skill Levels and Learning Curves: From Beginner to Expert
Both canoeing and rafting cater to a wide range of skill levels, from beginners looking to dip their toes into the world of water sports to seasoned experts seeking to conquer challenging rapids. The learning curve for each sport varies, but both offer plenty of opportunities for personal growth, skill development, and progression.
Canoeing provides a gentle introduction to paddling, balance, and boat control fundamentals, making it accessible to beginners. Flatwater canoeing allows novices to build confidence and refine their techniques at a comfortable pace. As paddlers gain experience, they can progress to more challenging water conditions and even venture into whitewater canoeing.
The sport's versatility and gradual learning curve appeal to individuals who want to advance their skills and take on more demanding adventures over time. Canoeing also offers a range of competitive disciplines, such as sprint and slalom racing, for those looking to test their abilities against others or push their limits.
On the other hand, Rafting tends to have a steeper learning curve, particularly in whitewater conditions. However, the group dynamic and the guidance of experienced rafting guides make it possible for beginners to safely participate in rafting trips that offer a moderate level of challenge. As participants gain experience and confidence, they can tackle more difficult rapids and train to become rafting guides. 
Rafting offers a unique sense of accomplishment and camaraderie as teams work together to navigate obstacles and conquer rapids. The sport provides a thrilling, shared experience that can be enjoyed by individuals of varying skill levels, making it an attractive option for those seeking an adrenaline-packed adventure that builds teamwork and cooperation.
Safety Considerations and Precautions
Safety is paramount when participating in any water sport, and both canoeing and rafting have their own set of considerations and precautions to ensure a safe and enjoyable experience. By taking the necessary precautions and being prepared for potential hazards, participants can confidently minimize risks and navigate the water.
For both canoeing and rafting, some general safety considerations include the following:
Wear a personal flotation device (PFD): Regardless of skill level, always wear a properly fitting life jacket to stay afloat in case of capsizing or falling into the water.
Use a helmet: In whitewater conditions or when navigating areas with potential hazards, wearing a helmet can protect your head from injury.
Check weather conditions: Be aware of weather forecasts and water levels before embarking on a trip, and avoid setting out in potentially dangerous conditions.
Carry appropriate safety gear: Equip yourself with essential safety equipment such as throw bags, rescue ropes, first aid kits, and communication devices.
Learn self-rescue techniques: Understanding how to right a capsized canoe or re-enter a raft is crucial for dealing with unexpected situations.
Follow local regulations and guidelines: Adhere to the rules and regulations established by governing bodies and park authorities to ensure a safe and responsible experience.
Never paddle alone: Having a buddy or group with you is always safer, particularly in unfamiliar or challenging conditions.
Specific to canoeing, additional safety precautions include:
Practice proper paddling techniques: Good technique and boat control help to prevent capsizing and ensure a smoother experience.
Know your limits: Choose water conditions and routes that match your skill level and gradually progress as you gain experience.
For rafting, additional safety measures include:
Use a reputable rafting outfitter or guide: When venturing into whitewater rafting, opt for a professional or experienced guide to ensure a safe and well-planned experience.
Attend a safety briefing: Before embarking on a rafting trip, participate in a safety briefing to understand essential rafting techniques, communication signals, and emergency procedures.