Kayaking vs. Rafting: A Guide to Choosing Your Ideal River Adventure
Are you torn between kayaking and rafting for your next exhilarating river adventure? Both activities offer unique experiences, heart-pumping thrills, and breathtaking scenery, but deciding which is right for you can be difficult. In this comprehensive guide, we'll delve into kayaking and rafting, comparing the two sports in terms of difficulty, required skills, equipment, and overall excitement, ultimately helping you choose the perfect river journey that caters to your preferences and abilities.
The choice between kayaking and rafting depends on your preferences and skill level. If you prefer a solo adventure, have more control, and have experience, kayaking is ideal. For group outings and less technical skill requirements, rafting is a better choice. Assess your abilities and desired experience to decide.
From navigating the calm waters of serene river stretches to tackling adrenaline-fueled rapids, kayaking and rafting have distinct charm and challenges. 
Whether you're a solo adventurer or a group of thrill-seekers, understanding the fundamental differences between these two aquatic sports is crucial in making an informed decision for your next escapade. 
As we explore the intricacies of kayaking and rafting, we'll equip you with the knowledge to confidently embark on your ideal river adventure.
Kayaking and Rafting Overview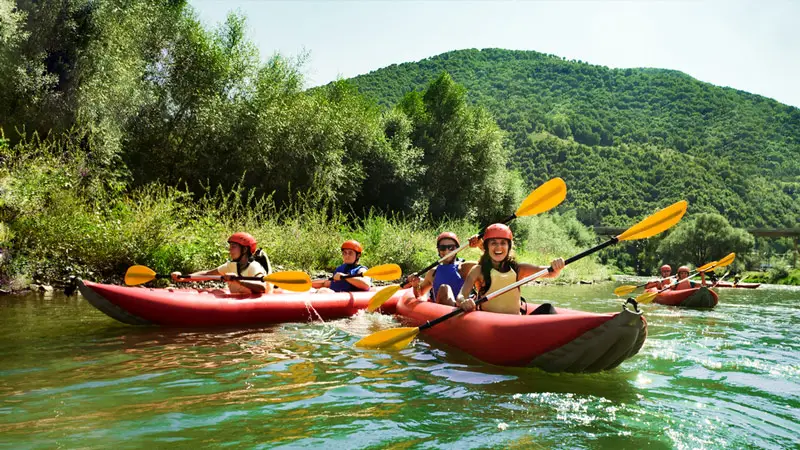 Kayaking and rafting are popular water-based recreational activities that enjoy and excite outdoor enthusiasts. Kayaking involves paddling a small, narrow watercraft called a kayak, which typically accommodates one or two passengers. 
Kayakers use a double-bladed paddle to navigate rivers, lakes, and oceans. With various kayak types and designs, this versatile activity caters to all skill levels, from serene flatwater paddling to challenging whitewater kayaking.
On the other hand, rafting takes place in larger, inflatable boats designed to carry groups of people. These boats, known as rafts, are maneuvered through rapids and calmer stretches of rivers using single-bladed paddles. 
Rafting trips often involve teamwork and coordination, as participants work together to overcome the challenges of turbulent river currents. The adrenaline rush of conquering whitewater rapids and the camaraderie of a shared experience make rafting ideal for families, friends, and team-building events.
Skill Level and Experience Requirements
Before embarking on a kayaking or rafting adventure, assessing your skill level and experience is crucial to ensure a safe and enjoyable experience. While both activities can be adapted for various skill levels, they have different learning curves and requirements. Here's a breakdown of the skill level and experience requirements for kayaking and rafting:
Kayaking:
Beginner: Flatwater kayaking, suitable for first-timers or those with limited experience.
Intermediate: Sea kayaking or mild whitewater, requiring knowledge of basic strokes, maneuvering, and self-rescue skills.
Advanced: Whitewater kayaking or surf kayaking, demanding strong paddling, bracing, and rolling skills, as well as swift water rescue training.
Rafting:
Beginner: Class I and II rapids, ideal for first-timers or those with limited experience. No specific skills are required, but basic paddling techniques and the ability to follow instructions are necessary.
Intermediate: Class III and IV rapids, suitable for those with prior rafting experience. Good physical fitness, teamwork, and the ability to respond quickly to a guide's commands are essential.
Advanced: Class V and VI rapids are recommended only for experienced rafters with high physical fitness and strong swimming skills. Prior experience navigating difficult rapids is crucial.
Regardless of your chosen activity, starting with easier conditions and gradually progressing to more challenging situations as you become more comfortable and skilled is always a smart approach.
Equipment and Gear: What You'll Need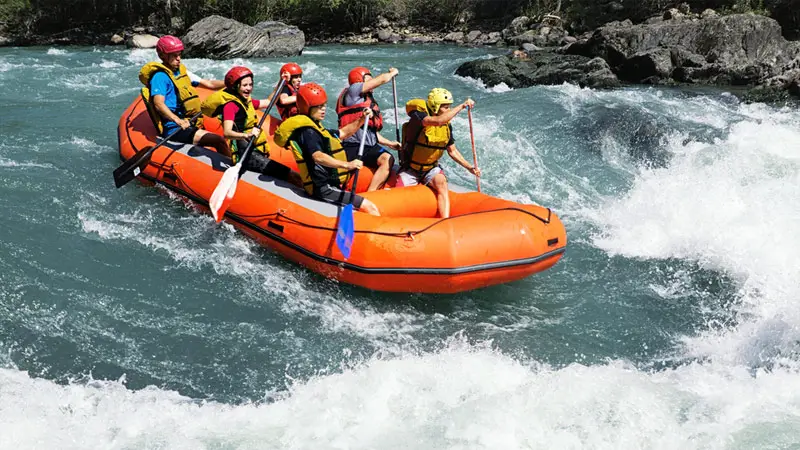 Embarking on a kayaking or rafting adventure requires the right equipment and gear to ensure a safe and enjoyable experience. While both activities share some essential items, each has specific gear tailored to its unique demands. In this section, we'll break down the equipment and gear you'll need for both kayaking and rafting:
Personal flotation device (PFD): Crucial for kayaking and rafting, PFDs help you stay afloat and reduce the risk of drowning. Choose a PFD designed specifically for your chosen activity, ensuring a comfortable and snug fit.
Helmet: Necessary for whitewater kayaking and rafting, helmets protect your head from impacts with rocks, the boat, or other debris.
Paddles: Kayakers use double-bladed paddles, while rafters use single-bladed paddles. Select a paddle suitable for your height, skill level, and the type of water you'll be navigating.
Kayak or raft: Kayakers should choose a vessel that matches their skill level, intended use, and body size. Rafters will use inflatable rafts in various sizes to accommodate different group numbers and river conditions.
Appropriate clothing: Dress for the water temperature rather than the air temperature. Opt for quick-drying, moisture-wicking materials, and avoid cotton. In colder conditions, consider wearing wetsuits or dry suits.
Footwear: Both kayakers and rafters should choose sturdy, closed-toe water shoes or sandals to protect their feet and provide traction on slippery surfaces.
Dry bags: Useful for storing personal items and keeping them dry during your adventure.
Rescue and safety gear: Depending on your trip's difficulty level and remoteness, consider carrying throw bags, rescue slings, and a first aid kit.
Solo Adventures vs. Group Excursions
Another factor to consider when planning your ideal river adventure is whether you prefer a solo experience or a group excursion. Both kayaking and rafting offer opportunities for soloists and groups, but their inherent characteristics make them better suited to different social dynamics.
Kayaking is often seen as a more solitary activity, allowing you to explore at your own pace and connect with nature more intimately. It allows for greater independence, as you have full control over your kayak and can make decisions based on your personal preferences and skill level. Solo kayaking can be a serene, meditative experience, but there are also opportunities for group kayaking, such as joining guided tours or paddling with friends.
Conversely, Rafting is more inherently social and is usually enjoyed as a group activity. The larger size of the raft means it can accommodate multiple people, making it an ideal choice for families, friends, or team-building events. Rafting requires teamwork and collaboration, as participants must coordinate their paddling efforts to successfully navigate rapids and obstacles. The shared experience of conquering challenges can foster strong bonds and create lasting memories.
Navigating Calm Waters vs. Tackling Rapids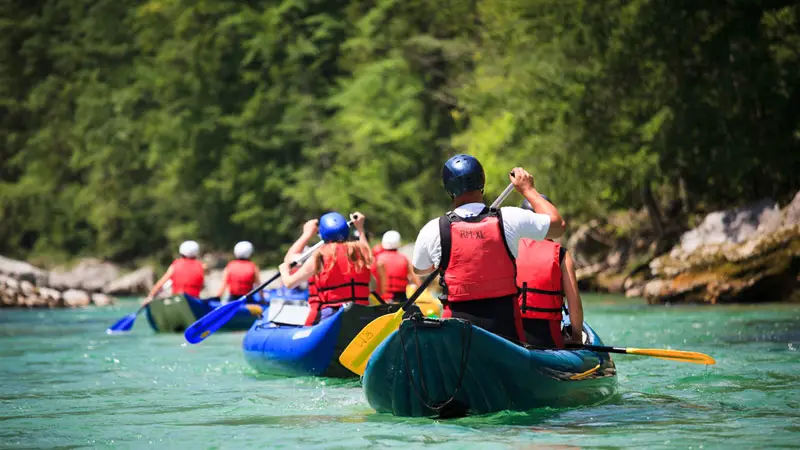 When choosing between kayaking and rafting, it's essential to consider the type of water you wish to navigate, whether it's calm, tranquil stretches or adrenaline-pumping rapids. Both sports offer unique experiences across various water conditions, so understanding the differences will help you make a more informed decision. Here's a comparison of navigating calm waters and tackling rapids in kayaking and rafting:
Calm Waters:
Kayaking: Flatwater kayaking allows for a leisurely exploration of serene lakes, rivers, and coastal areas. It's perfect for beginners, nature enthusiasts, or those seeking a relaxing, low-intensity activity.
Rafting: Although rafting is often associated with rapids, calm water stretches can be enjoyed between rapids, offering a chance to relax, take in the scenery, and connect with fellow rafters.
Rapids:
Kayaking: Whitewater kayaking involves navigating turbulent river sections with varying degrees of difficulty. It requires more advanced skills, such as bracing, rolling, and swift water rescue techniques, and is best suited for experienced paddlers.
Rafting: Whitewater rafting is a popular group activity that involves tackling rapids on an inflatable raft. Rapids are classified from Class I (easiest) to Class VI (nearly impassable), allowing for progression as skills and experience grow.
Safety Considerations and Precautions
Safety is paramount when participating in water-based activities, including kayaking and rafting. Both sports come with inherent risks, and proper safety precautions can significantly reduce the chances of accidents or injuries. Here are some essential safety considerations and precautions to keep in mind for kayaking and rafting:
Wear appropriate safety gear: Always wear a well-fitting personal flotation device (PFD) and a helmet during whitewater kayaking and rafting. Ensure your safety gear meets industry standards and is designed specifically for your chosen activity.
Take lessons or join guided trips: If you're new to kayaking or rafting, it's wise to take lessons from certified instructors or join guided trips to gain knowledge and experience in a controlled environment.
Know your limits: Choose an adventure that aligns with your skill level, physical fitness, and experience. Gradually progress to more challenging conditions as you become more comfortable and proficient.
Check weather and water conditions: Before embarking on your adventure, research the weather forecast and conditions to avoid unexpected hazards or dangerous situations.
Plan and communicate your route: Inform someone not participating in the activity about your planned route and expected return time. This ensures that someone knows your whereabouts in case of an emergency.
Bring appropriate rescue and safety gear: Depending on the difficulty and remoteness of your trip, consider carrying throw bags, rescue slings, a first aid kit, and other safety equipment.
Learn self-rescue and buddy-rescue techniques: Acquire self-rescue and buddy-rescue techniques to be prepared for emergencies, especially when navigating whitewater or remote areas.
Practice group communication: In group rafting or kayaking excursions, establish clear communication methods, such as whistle signals or hand gestures, to relay important information quickly and effectively.
Respect the river and its power: Always be aware of the potential dangers in and around rivers, including strong currents, underwater hazards, and filters. Never underestimate the power of moving water.
Costs and Budgeting for Your River Adventure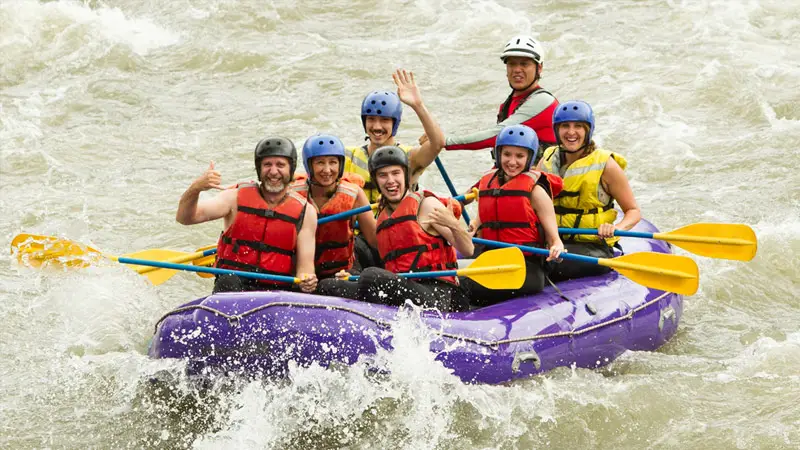 When planning a kayaking or rafting adventure, it's essential to consider the costs involved and create a budget to ensure a smooth and enjoyable experience. The expenses can vary depending on the type of activity, duration, location, and equipment. Here are some key aspects to consider when budgeting for your river adventure:
Equipment costs: Purchasing or renting kayaks, rafts, paddles, personal flotation devices (PFDs), helmets, and other essential gear can contribute significantly to the overall cost. Renting equipment is a more affordable option for occasional outings, while investing in your gear may be cost-effective if you plan to participate regularly.
Transportation: Factor in the cost of traveling to your chosen destination, whether by car, plane, or public transport. Don't forget to account for any permits or parking fees that may apply.
Accommodation: If your river adventure spans multiple days, budget for accommodation options such as hotels, motels, campsites, or cabin rentals.
Guided tours or lessons: If you're new to kayaking or rafting, or exploring an unfamiliar area, you may want to consider joining a guided tour or taking lessons. These services typically come at an additional cost.
Permits and access fees: Some locations require permits or charge access fees for kayaking or rafting. Research your chosen destination to determine if any fees apply and factor them into your budget.
Food and supplies: Budget for food and other essentials, such as sunscreen, insect repellent, and any necessary medications. If you plan to cook during your adventure, consider the cost of cooking equipment and fuel.
Emergency fund: Set aside some extra money for unexpected expenses, such as equipment repair or replacement, medical emergencies, or changes in travel plans.
Seasonal Factors and Weather Conditions
Seasonal factors and weather conditions can significantly impact your kayaking or rafting experience, affecting water levels, river flow, and overall enjoyment. It's essential to consider these factors when planning your river adventure to ensure a safe and enjoyable outing. Here are some key seasonal factors and weather conditions to consider:
Water levels and flow: Spring snowmelt and seasonal rainfall can lead to higher water levels and increased river flow, resulting in more challenging conditions for both kayaking and rafting. Conversely, during dry seasons or periods of drought, water levels may drop, creating shallow sections and exposing more rocks and obstacles.
Temperature: Warmer weather during late spring, summer, and early fall generally offers more comfortable conditions for kayaking and rafting. However, water temperatures can still be cold, especially in mountainous regions, so it's essential to dress appropriately for the water temperature, not just the air temperature.
Seasonal wildlife and scenery: Different seasons offer unique wildlife sightings and scenic beauty opportunities. Spring may bring blooming wildflowers, while fall offers vibrant foliage colors. Depending on the season and location, be aware of potential wildlife hazards, such as nesting birds or active reptiles.
Storms and extreme weather: Keep an eye on the weather forecast leading up to your adventure, and be prepared for sudden changes in conditions, especially in mountainous areas. Heavy rain can lead to flash floods, while thunderstorms pose a risk of lightning strikes. It's essential to have a plan for seeking shelter or postponing your trip if necessary.
Daylight hours: The length of daylight varies throughout the year, with longer days during the summer months and shorter days in winter. Plan your adventure accordingly to ensure enough daylight to complete your trip safely.
Crowds and availability: Some seasons may be busier than others, with increased demand for equipment rentals, guided tours, and accommodations. Consider booking in advance or exploring less popular locations to avoid overcrowding and limited availability.