Kayaks Made in the USA: Exploring American-Made Kayak Brands and Their Advantages
Kayaking is a popular recreational activity that provides a great way to explore our country's waterways and natural beauty. For those passionate about kayaking, owning a kayak made in the USA can be a great way to support American businesses while enjoying the many benefits of owning a high-quality kayak.
Some top American-made kayak brands include Jackson Kayak, Old Town, Wilderness Systems, Hobie, Perception, Bonafide, and Dagger. These brands offer a range of advantages, from high-quality craftsmanship to innovative features, making them a great choice for kayaking enthusiasts looking to support American businesses.
In recent years, there has been a surge in the popularity of American-made kayaks. These kayaks are designed and crafted by some of the best manufacturers in the country, and they offer a range of advantages that make them a great choice for both beginner and experienced kayakers. This article will explore some of the top American-made kayak brands, their unique features, and the benefits of owning a kayak made in the USA.
The Allure of American-Made Kayaks: Quality and Pride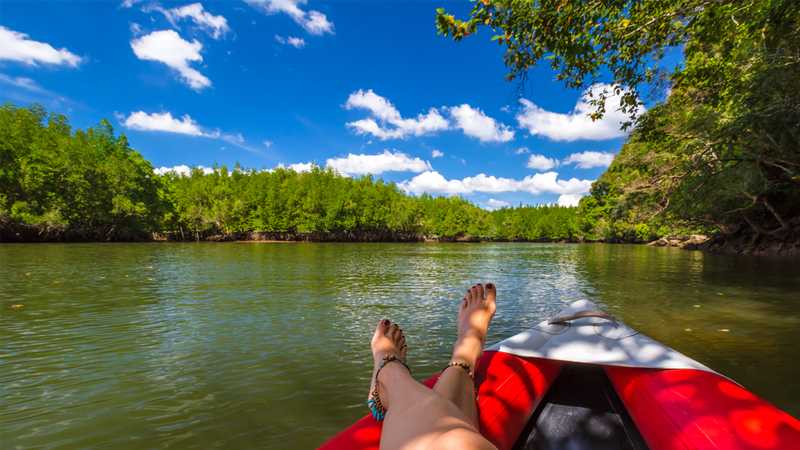 From the moment I first dipped my paddle into the tranquil waters of a serene lake, I knew I had found my passion in kayaking. As I spent more time on the water, I became increasingly aware of the quality and craftsmanship of my kayak. Then, I realized the true appeal of American-made kayaks – their unparalleled quality and the sense of pride they instill in those who use them.
American-made kayaks are a testament to the dedication and skill of local manufacturers, who take pride in creating vessels that stand the test of time. These kayaks are made with top-quality materials and constructed with an attention to detail that truly sets them apart from mass-produced alternatives. 
As I've had the opportunity to visit several American kayak manufacturers, I've seen firsthand the care and expertise that goes into every boat. The employees take great pride in their work, reflected in the outstanding performance and durability of the kayaks they produce.
Choosing an American-made kayak ensures a high-quality paddling experience and contributes to national pride. By supporting local manufacturers, we are investing in our communities and celebrating the innovation and craftsmanship that have always been a cornerstone of American industry. 
Whenever I glide through the water in my American-made kayak, I feel connected to the passionate individuals who crafted it. I am reminded of our country's incredible talent and resourcefulness.
My Top 5 Favorite American-Made Kayak Brands and Their Stories
Jackson Kayak
Jackson Kayak was founded in 2003 by world champion and Olympic kayaker Eric Jackson, along with his design partner and fellow paddler, Tony Lunt. Born out of their passion for the sport and a desire to create innovative, high-performance kayaks, the company has since become one of the most respected names in the industry. 
Based in Sparta, Tennessee, Jackson Kayak is committed to quality, cutting-edge designs, and exceptional customer service. Their extensive product range caters to paddlers of all levels and interests, from whitewater enthusiasts to recreational kayakers and anglers. 
In addition to crafting top-of-the-line boats, Jackson Kayak is dedicated to environmental conservation and supports numerous initiatives to protect our waterways. With a strong sense of community, Jackson Kayak creates amazing kayaks and fosters a love for the sport and the great outdoors.
Wilderness Systems
Founded in 1986 by a group of passionate paddlers in South Carolina, Wilderness Systems has earned a reputation for designing and manufacturing some of the most comfortable and performance-driven kayaks on the market. 
Over the years, the company has consistently pushed the boundaries of innovation, integrating advanced materials and technologies to create kayaks that deliver exceptional stability, speed, and maneuverability. Wilderness Systems offers an extensive range of kayaks for touring, fishing, and recreational use, ensuring a perfect fit for every paddler. 
The company's commitment to quality and innovation has won them numerous awards and accolades, and professional athletes and outdoor enthusiasts trust their kayaks. Wilderness Systems remains dedicated to its original mission of inspiring adventure and exploration through exceptional design and craftsmanship.
Perception Kayaks
Perception Kayaks was established in 1976, making it one of the oldest and most experienced kayak manufacturers in the United States. Headquartered in Greenville, South Carolina, 
Perception has been a pioneer in the industry, introducing several groundbreaking designs that have shaped the sport of kayaking. 
Their innovation and expertise have resulted in diverse kayaks catering to all skill levels and preferences. From their humble beginnings in a small garage to their current state-of-the-art manufacturing facility, Perception Kayaks has maintained its commitment to quality, innovation, and customer satisfaction. 
Their passion for the sport is evident in every kayak they produce, and their products have inspired countless paddlers to explore the waterways and discover the joys of kayaking. Perception's commitment to sustainability and protecting the environment is also evident in its eco-friendly manufacturing practices and support for conservation initiatives.
Old Town Canoe & Kayak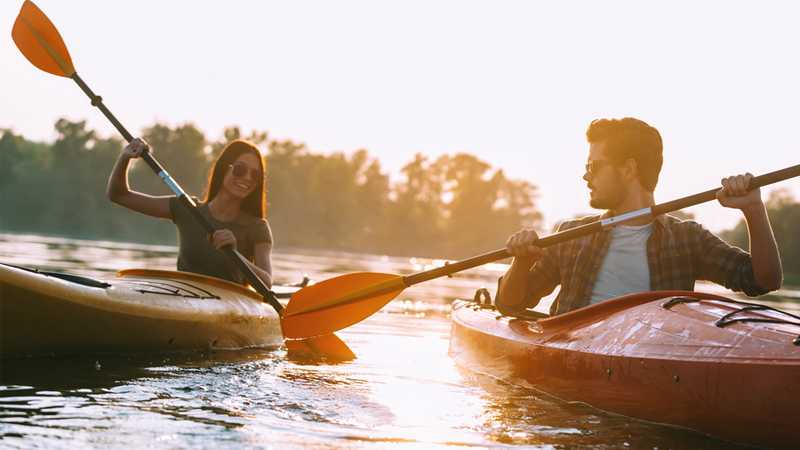 Old Town Canoe & Kayak boasts a rich heritage dating back to 1898 when it was founded by A.E. Wickett in Old Town, Maine. With over a century of experience in crafting canoes and kayaks, Old Town is one of the industry's most respected and revered names. 
The company is dedicated to preserving the traditional art of boat-building while incorporating modern materials and technologies to create high-quality, durable products. Old Town's diverse product range includes canoes and kayaks designed for fishing, recreation, and touring, all backed by a commitment to quality and customer satisfaction. 
Their kayaks are known for their excellent performance, stability, and comfort, making them popular among novices and seasoned paddlers. The company's passion for the outdoors and dedication to supporting local communities is evident in its ongoing conservation efforts and support for various outdoor recreation programs.
Eddyline Kayaks
Eddyline Kayaks was founded in 1971 by Tom Derrer and his wife, Lisa, to produce high-quality, lightweight kayaks using advanced composite materials. Based in Burlington, Washington, Eddyline has become synonymous with innovation, performance, and reliability. 
The company is known for its pioneering use of thermoformed ABS plastic, which perfectly balances durability and lightweight construction, making Eddyline kayaks easy to handle and built to last. Eddyline's product line includes kayaks for recreational, touring, and fishing purposes, designed to suit the needs of a wide range of paddlers. 
The company's commitment to quality, innovation, and sustainability is reflected in its meticulous design process, rigorous quality control standards, and ongoing efforts to minimize its environmental footprint. Eddyline's devotion to the sport of kayaking and the paddling community has helped to create a loyal following of enthusiasts who appreciate the brand's dedication to creating exceptional kayaks that enhance their paddling experience.
The Eco-Friendly Advantage: How Choosing American-Made Kayaks Supports a Greener Earth
In today's world, it's more important than ever to consider the environmental impact of our choices, and choosing American-made kayaks is one way to support a greener Earth. By purchasing locally made products, we can reduce the carbon footprint of transporting goods long distances and support manufacturers who prioritize sustainable practices and materials.
One of the primary benefits of buying American-made kayaks is the reduction in transportation-related emissions. When kayaks are manufactured overseas, they must be shipped thousands of miles to reach the US market, which results in significant greenhouse gas emissions from the transportation process. 
In contrast, kayaks made in the USA have a much shorter journey to reach consumers, considerably lowering their overall carbon footprint. By choosing an American-made kayak, you are directly contributing to reducing the emissions associated with global shipping.
Moreover, many American kayak manufacturers prioritize eco-friendly practices in their production processes, using sustainable materials and implementing environmentally responsible manufacturing methods. 
For example, some companies use recycled plastics and environmentally-friendly resins in their kayaks, while others adopt energy-efficient practices in their facilities to minimize resource consumption. By supporting these manufacturers, you are investing in a high-quality product and encouraging the continued development and use of sustainable practices within the industry.
In addition, when you purchase an American-made kayak, you support local economies and communities that often rely on the success of these industries. Many American kayak manufacturers are deeply committed to environmental conservation and partner with organizations that protect and preserve our waterways. 
By buying American-made, you are helping to ensure that these companies can continue to contribute to preserving our planet's precious natural resources.
Crafting the Perfect Kayak: Innovations and Technologies in American-Made Kayaks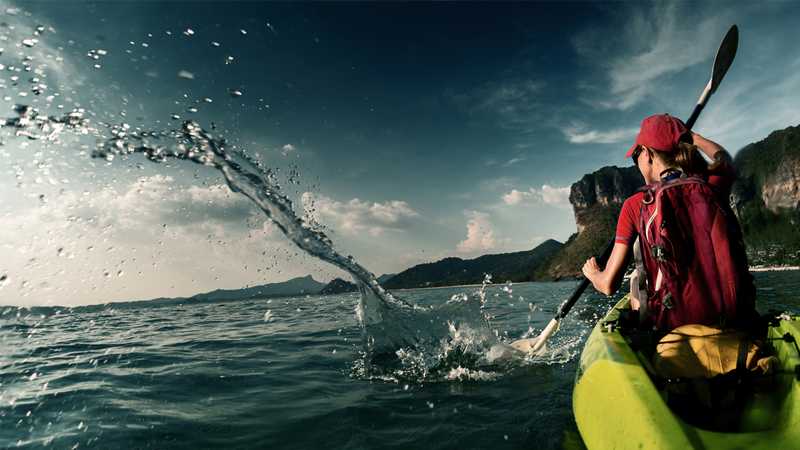 The American kayak industry has a long history of innovation and technological advancements, which have significantly improved the performance, durability, and accessibility of kayaks. From advanced materials and construction techniques to cutting-edge design and functionality, American-made kayaks offer paddlers an unparalleled experience on the water.
Advanced Materials and Construction
One of the most significant innovations in American-made kayaks is using advanced materials and construction techniques, revolutionizing how kayaks are built. 
Thermoformed ABS plastic, pioneered by Eddyline Kayaks, is an excellent example of a material that combines the durability and performance of traditional composite materials with the lightweight and affordability of plastic. 
This material allows manufacturers to create kayaks that are lighter, stronger, and more resistant to impacts and abrasions, ensuring a longer-lasting and more enjoyable paddling experience.
Roto-Molded Polyethylene
Rotomolded polyethylene is another popular material used in American-made kayaks, known for its durability, affordability, and ability to withstand harsh conditions. This manufacturing process involves melting plastic pellets and molding them into the desired kayak shape, resulting in a seamless and highly durable product. 
Many American kayak manufacturers have perfected this process, creating kayaks that are robust, reliable, and accessible to a wide range of paddlers.
Ergonomic Design and Comfort
American kayak manufacturers have also strongly emphasized ergonomic design and comfort, creating kayaks tailored to the needs of different paddlers. 
Wilderness Systems, for instance, is known for its innovative seating systems offering customizable support and cushioning, ensuring a comfortable and enjoyable paddling experience for hours. 
Other companies have introduced adjustable footrests, thigh braces, and backrests that cater to various body types and preferences, enabling paddlers to fine-tune their kayaks for maximum comfort and performance.
Modular and Transformative Kayaks
In recent years, American kayak manufacturers have also begun exploring modular and transformative kayak designs, which allow paddlers to adapt their kayaks to various purposes and conditions. 
These innovations include kayaks that can be disassembled and reassembled quickly, making transportation and storage easier, or models that can transform from a single to tandem kayak, allowing for versatile use and a customized paddling experience.
Integrated Fishing and Storage Features
Many American-made kayaks have also incorporated advanced fishing and storage features, catering to the growing market of kayak anglers. 
Rod holders, integrated tackle storage, and accessory mounting systems are just a few innovations that have transformed how to kayak anglers approach the sport, offering increased functionality and convenience on the water.
The Local Impact: How Buying American-Made Kayaks Helps Communities Thrive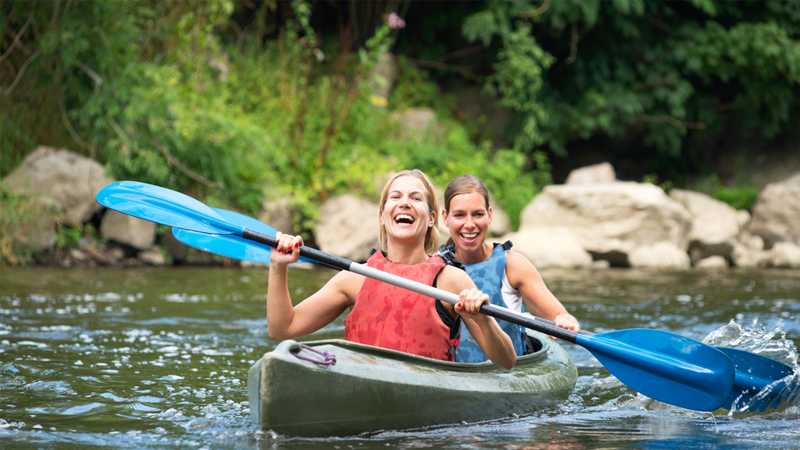 Purchasing an American-made kayak ensures a quality product and profoundly impacts local communities. By supporting domestic manufacturers, we are investing in the success of our local economies, creating jobs, and promoting a more sustainable and self-reliant future. Here are some ways in which buying American-made kayaks helps communities thrive:
Job Creation and Economic Growth
When you buy an American-made kayak, you directly support creating and retaining jobs in the United States. 
Local kayak manufacturers often employ skilled workers, designers, engineers, and other professionals from the surrounding communities, providing them with stable income and opportunities for career advancement. 
The ripple effect of these jobs extends beyond the kayak industry, as employees spend their wages on local goods and services, contributing to the community's overall economic health.
Support for Small Businesses and Local Entrepreneurs
American kayak manufacturers often source their materials and components from other local businesses, fostering a supportive network of entrepreneurs and suppliers. 
This not only helps to create additional jobs but also contributes to the growth of small businesses that may offer innovative solutions and technologies. 
By purchasing American-made kayaks, you indirectly support these local businesses and encourage further innovation within the industry.
Community Engagement and Sponsorship
Many American kayak manufacturers are deeply involved in their local communities, sponsoring events, providing resources for outdoor education, and partnering with organizations to protect and preserve waterways. 
By purchasing from these companies, you're helping ensure they have the resources to continue engaging in these vital community initiatives, ultimately benefiting everyone who enjoys the great outdoors.
Environmental Stewardship
Local kayak manufacturers often have a vested interest in preserving their surrounding environment, as clean and healthy waterways are essential for the enjoyment of the sport. 
By supporting American-made kayaks, you're helping to provide these companies with the resources to engage in environmentally sustainable practices, such as using eco-friendly materials, minimizing waste, and supporting conservation efforts. 
This contributes to our natural resources' overall health and well-being and the communities that rely on them.
Strengthening the Local Identity and Pride
Lastly, purchasing American-made kayaks helps to strengthen the local identity and pride associated with these products. 
When a community can rally around a homegrown product that represents quality, innovation, and sustainability, it creates a sense of unity and shared accomplishment. This, in turn, fosters a positive environment in which local businesses and communities can thrive.
Personal Recommendations: My Favorite American-Made Kayak Models for Different Adventures
As an avid paddler, I have tried various American-made kayaks designed for specific adventures and purposes. Here are my recommendations for some of the best American-made kayak models, perfect for various types of excursions:
Recreational Paddling: Wilderness Systems Pungo 125
The Wilderness Systems Pungo 125 is my go-to choice for recreational paddling. Its spacious cockpit, comfortable seating system, and adjustable footrests provide an enjoyable paddling experience for paddlers of all sizes. The Pungo 125 also boasts excellent stability and maneuverability, perfect for exploring calm lakes, slow-moving rivers, and sheltered coastal waters. Check price at Amazon.
Touring and Expedition: Eddyline Fathom
The Eddyline Fathom is an outstanding touring kayak for long-distance paddling and multi-day expeditions. It's sleek hull and lightweight thermoformed ABS construction make it fast and efficient on the water, while the ergonomic seating and adjustable outfitting ensure a comfortable ride for extended periods. The Fathom also features ample storage space for all your gear, making it ideal for overnight trips and extended adventures.
Whitewater: Jackson Kayak Zen 3.0
The Jackson Kayak Zen 3.0 is a high-performance whitewater kayak, perfect for tackling rapids and fast-moving rivers. Its forgiving hull design and progressive rocker profile provide excellent stability and responsiveness, while the comfortable and customizable outfitting ensures a secure fit for aggressive paddling. The Zen 3.0 suits both beginners looking to develop their whitewater skills and experienced paddlers seeking a reliable and agile boat for challenging runs.
Fishing: Old Town Topwater 120 PDL
The Old Town Topwater 120 PDL is an outstanding choice for kayak anglers. This pedal-driven kayak offers a stable platform for casting and fighting fish. At the same time, the hands-free propulsion system allows you to easily maneuver and maintain your position on the water. The Topwater 120 PDL also features multiple rod holders, ample storage for tackle and gear, and a comfortable, adjustable seating system that makes it perfect for long days on the water. Check the price at Amazon.com.
Tandem Paddling: Perception Tribe 13.5 Tandem
The Perception Tribe 13.5 Tandem is my top pick for a versatile and user-friendly tandem kayak. Its spacious, sit-on-top design accommodates two paddlers comfortably, with adjustable footrests and a center seat for solo paddling or accommodating a small child or pet. The Tribe 13.5 offers excellent stability and easy handling, making it a great option for families or friends looking to share their paddling adventures. Check price at Amazon.
These are just a few of my favorite American-made kayaks for various adventures. Each model showcases the quality, innovation, and craftsmanship that American kayak manufacturers are known for. So, whether you're a novice paddler or an experienced adventurer, you will find the perfect kayak to suit your needs and support the local economy.