Why Do Dolphins Follow Boats? Exploring the Fascinating Relationship Between Ships and Dolphins
Dolphins have captivated the hearts and minds of humans for centuries with their playful antics, intelligence, and friendly nature. One phenomenon that intrigues researchers and marine enthusiasts is the seemingly inexplicable behavior of dolphins following boats.
This fascinating relationship between these marine mammals and humans raises several questions: What drives this behavior? Are dolphins simply curious, or is there a deeper connection at play? This article delves into the captivating world of dolphins, exploring the factors contributing to this unique interaction and attempting to unravel its mystery.
Dolphins follow boats mainly due to their curiosity and playfulness. They enjoy riding the bow wave created by boats, as it provides a stimulating activity and conserves their energy. Also, they may associate boats with food, as some ships engage in fishing activities or have previously fed dolphins.
Using keywords such as cetacean intelligence, behavioral patterns, and human-dolphin interaction, we will investigate the scientific theories and research that shed light on this enigmatic behavior. 
By examining the social structure of dolphin pods, their natural curiosity, and the potential benefits or consequences of their interaction with boats, we aim to provide a comprehensive understanding of this captivating phenomenon. While no definitive answer may be reached, we hope to spark further curiosity and appreciation for these remarkable creatures and their intriguing relationship with humans.
The Playful Nature of Dolphins Cause Them to Follow Boats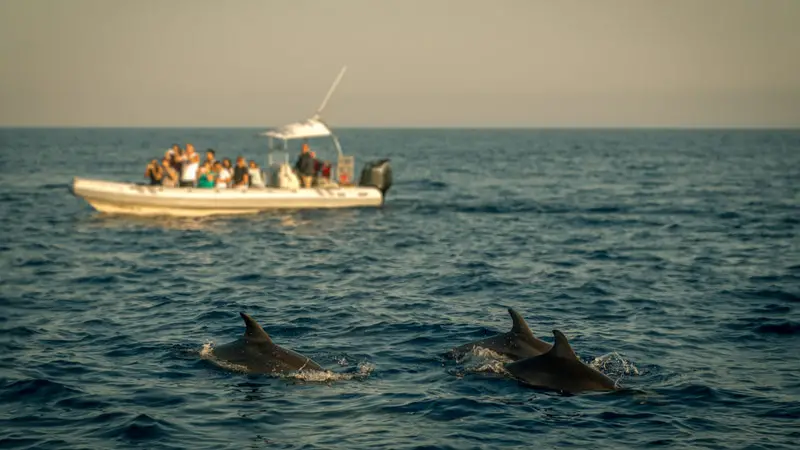 Dolphins are widely recognized for their playful and energetic nature, which sets them apart from many other marine species. These intelligent creatures exhibit a remarkable ability to engage in various activities for sheer amusement and social bonding. 
Playfulness is an essential aspect of their daily lives. It enables them to develop essential skills, such as hunting and socializing while providing an avenue for relaxation and enjoyment. The playful behaviors of dolphins exhibit include aerial acrobatics, object manipulation, and interactions with other species, such as humans and birds.
This innate sense of playfulness significantly contributes to dolphins' propensity to follow boats. The moving vessels create an irresistible opportunity for these marine mammals to engage in one of their favorite activities: bow riding. As boats traverse the water, they generate pressure waves that dolphins can effortlessly surf, allowing them to glide alongside the boat with minimal effort. 
This exhilarating activity provides a source of fun and excitement and serves as a means of social interaction and bonding within their pod. The display of such playful behavior is a testament to the intelligence, adaptability, and curious nature of these remarkable marine mammals.
Riding the Waves: Dolphins and Bow Riding (Save Energy, Bonding, & Fun)
Bow riding, a captivating behavior exhibited by dolphins, involves these marine mammals riding the pressure waves boats create as they move through the water. The bow wave forms as water is pushed to the boat's sides, creating a wake that travels forward in a V-shaped pattern. 
Dolphins are highly skilled swimmers naturally attracted to these waves, as they allow them to glide effortlessly and experience a thrilling sensation akin to surfing. As dolphins position themselves in the bow wave, they can maintain their speed and position with minimal swimming effort, conserving energy and maximizing the enjoyment of the experience. 
This activity also allows dolphins to bond socially, as they often participate in bow riding alongside their pod members, occasionally taking turns or playfully jostling for position. While bow riding is not exclusive to boat interactions and can occur naturally with large marine animals such as whales. 
The presence of boats offers a more consistent and accessible opportunity for dolphins to partake in this fun and exhilerating pastime. As a result, it is not uncommon to witness these intelligent and playful creatures gracefully accompanying boats, captivating the hearts of those fortunate enough to observe them.
Cetacean Intelligence and Curiosity
Cetacean intelligence, particularly in dolphins, is a significant factor that contributes to their interactions with boats and humans. Dolphins are known for their remarkable cognitive abilities, which include problem-solving, self-awareness, and advanced communication skills. 
These intellectual capacities enable them to adapt to various situations and explore their environment with keen curiosity. This natural curiosity drives dolphins to investigate novel stimuli, such as boats, in their surroundings. They are drawn to the sounds, movements, and vibrations boats produce and are eager to examine and understand these unusual elements. 
This curiosity not only reveals the impressive cognitive capabilities of dolphins but also underscores their inherent desire to engage with the world around them, making them one of the most fascinating marine mammals on the planet.
Observing Dolphins: Guidelines and Responsible Practices for Humans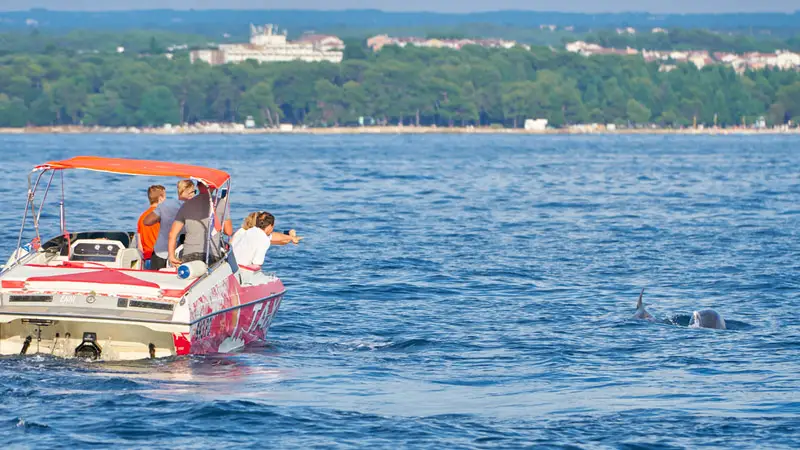 Observing dolphins in their natural habitat can be a profoundly rewarding experience. However, it's essential to do so responsibly, ensuring minimal disturbance to these intelligent marine creatures. Here are some guidelines and responsible practices for dolphin watching:
Maintain a Respectful Distance: Always keep a safe and respectful distance from the dolphins. As a general rule, stay at least 50 meters away. This distance helps reduce the risk of disturbing the dolphins or causing unintentional harm.
Limit Your Observation Time: Limit the duration of your dolphin-watching sessions to avoid causing undue stress to the animals. A recommended maximum is typically around 30 minutes.
Avoid Feeding Dolphins: Feeding wild dolphins can disrupt their natural feeding behaviors and make them reliant on human-provided food. This practice is illegal in many places due to its harmful impacts.
Never Chase or Surround Dolphins: Chasing dolphins can cause them stress and may lead to injury. Similarly, encircling a group of dolphins can cause panic and separate individuals, especially juveniles, from the pod.
Adhere to Local Regulations and Guidelines: Many regions have specific regulations for marine wildlife watching. Familiarize yourself with these and adhere to them at all times.
Support Responsible Tour Operators: If participating in a dolphin-watching tour, choose operators committed to responsible practices who follow local regulations and international guidelines for marine wildlife watching.
The Role of Boats in Dolphin Feeding Behavior
Boats can play a significant role in the feeding behavior of dolphins, particularly in areas where human activity and marine life frequently intersect. In some cases, dolphins may associate boats with food, as they often engage in fishing activities or have inadvertently provided food to dolphins. 
For instance, commercial and recreational fishing boats can inadvertently create feeding opportunities for these intelligent creatures by discarding fish or attracting schools of fish near their vessels. As a result, dolphins may be drawn to these ships in anticipation of an easy meal.
However, this association between boats and feeding can lead to unintended consequences for dolphins and humans. As dolphins become accustomed to obtaining food from boats or humans, they may develop a dependency on these sources, which can alter their natural feeding behavior and potentially impact their ability to hunt and survive in the wild. 
Moreover, such interactions can also pose risks to humans, as close encounters with wild dolphins can lead to injuries or the transmission of diseases. Consequently, understanding the role of boats in dolphin feeding behavior is essential for promoting responsible practices and ensuring the long-term well-being of these captivating marine mammals.
​​Boat-Dolphin Interactions: Potential Risks and Challenges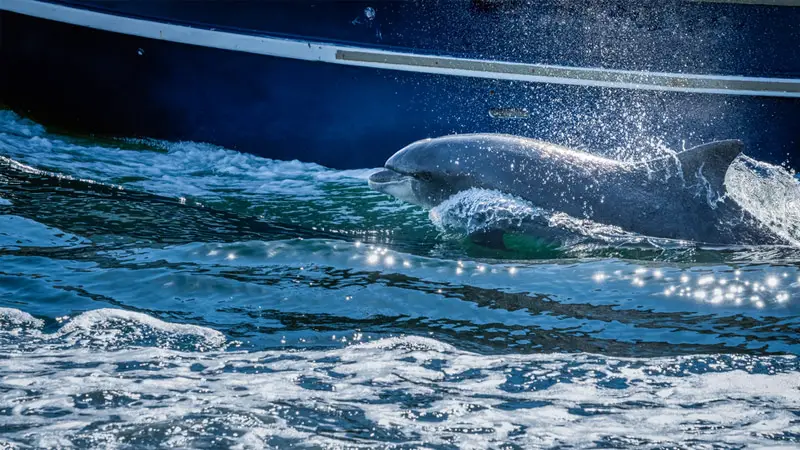 While interactions between dolphins and boats can be captivating, they also present potential risks and challenges to both parties involved. From the dolphins' perspective, the most immediate risk arises from potential physical harm due to boat strikes. 
Especially with fast-moving vessels, despite their agility, dolphins might not always avoid collisions, leading to injuries or fatalities. Furthermore, increased boat traffic can contribute to underwater noise pollution, significantly disrupting dolphins' communication and echolocation capabilities.
On the human side, close interactions with dolphins, while seemingly benign, can pose safety risks. Dolphins are powerful creatures; accidental injuries can occur during unsupervised and unregulated interactions. Additionally, there's the risk of disease transmission from wild dolphins to humans and vice versa, an issue that becomes increasingly concerning with frequent close contact.
Finally, there are significant ecological challenges. Habituation to boats can change dolphins' natural behavior, feeding, and socialization patterns. Regular feeding from ships can make dolphins dependent on human-provided food. 
Reducing their natural foraging skills increases the risk of malnutrition or ingesting inappropriate or harmful food. Thus, while boat-dolphin interactions can be a source of joy and fascination, they must be managed responsibly to mitigate potential risks and challenges.
The Impact of Boat Traffic on Dolphin Populations
Boat traffic can significantly impact dolphin populations, influencing their behaviors, habitats, and overall well-being. One of the most immediate effects is the potential for disturbance or displacement. 
The noise of boats and ships can interfere with dolphins' communication and echolocation abilities, which are essential for hunting, navigation, and social interaction. This acoustic pollution may cause stress, lead to behavioral changes, or force dolphins to relocate to less disturbed but potentially less optimal habitats.
Moreover, increased boat traffic can also lead to physical harm or even mortality through boat strikes. Dolphins, particularly young ones, may not always be able to move away quickly enough to avoid fast-moving vessels, leading to serious injuries or death. 
Furthermore, frequent boat traffic can indirectly affect dolphin populations by contributing to habitat degradation. Activities such as overfishing and pollution associated with boating can deplete food resources and degrade water quality, thus impacting dolphins' health and survival. 
As such, it's critical to manage and mitigate the impacts of boat traffic on dolphin populations to ensure their conservation and the overall health of marine ecosystems.