Pontoon vs. Speed Boat: Which Watercraft Suits Your Lifestyle and Needs?
Navigating boat ownership's vast, uncharted waters might feel like steering through a storm without a compass. In the great sea of choices, two vessels rise above the waves and beckon with a promise: a sturdy pontoon and a sleek speed boat. 
Choosing between a pontoon and a speed boat hinges on your lifestyle and needs. A pontoon would suit you if leisurely cruising, stability, and gathering space are priorities. If speed, maneuverability, and water sports are your thing, a speed boat would be better.
Yet, the lure of each is as different as still waters and whitecaps, calling to distinct sensibilities, lifestyles, and desires. As you embark on this nautical journey, we invite you to weigh anchor and explore the merits of these two watercraft types, leading you to the perfect vessel that fits your dreams and the practical needs of your aquatic adventures.
Understanding the Basics: Pontoon and Speed Boat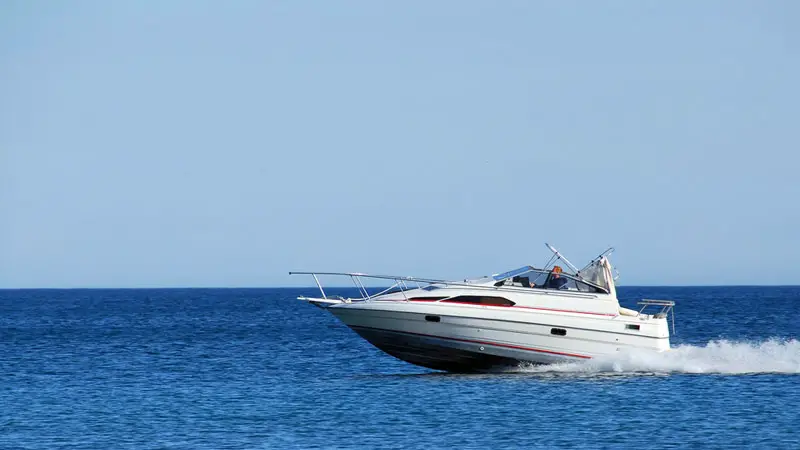 Before we dive deeper into the comparison, let's familiarize ourselves with the fundamental features of these two distinctive watercraft. A pontoon, named for the twin or triple buoyant tubes (pontoons) that keep it afloat, is synonymous with a relaxing, leisurely pace. 
Designed for comfort, these boats provide ample deck space, often furnished with seats and tables for family gatherings or parties. On the other hand, speed boats, or powerboats, are all about performance. 
With their streamlined hull designs and powerful engines, speed boats are built for slicing through the water at high velocities, making them a preferred choice for thrill-seekers and watersports enthusiasts. Both boats offer unique experiences, yet their functionalities serve very different purposes.
Slicing through the Waves: The Thrill of Speed Boats
Embodying the essence of thrill and power on the water, speed boats stand as a testament to the adrenaline-fueled side of boating. With a design that combines aerodynamics and hydrodynamics, these boats are optimized to cut through the water like a hot knife through butter. 
They possess powerful engines that translate into impressive speeds, allowing you to feel the wind in your hair and the exhilarating rush of velocity. Speed boats provide a performance-driven experience, perfect for those who yearn for the excitement of water sports, whether wakeboarding, water skiing, or simply racing across the open waters. 
Sleek in design and robust in function, speed boats encapsulate the dynamic and adventurous spirit of open water, offering a refreshing experience that is hard to match.
Floating in Tranquility: The Leisurely Pace of Pontoons
In contrast to the rush of speed boats, pontoons offer a serene and calming experience. Known for their stability and spaciousness, pontoons are often called the 'living rooms on the water.' 
Their broad, flat decks and comfortable seating provide a perfect environment for tranquil cruises, family outings, and social gatherings. Their relatively slower pace and gentle maneuverability allow a leisurely exploration of scenic waterways without pressure to keep up with breakneck speeds. 
They are ideally suited for relaxed fishing trips, sunbathing, or simply drifting with the current on a lazy afternoon. Whether it's a peaceful sunset cruise or a laid-back lakeside party, pontoons embody life's serene, unhurried essence on the water.
Deck Layouts of Pontoon Boats and Speed Boats: Comparing Space and Comfort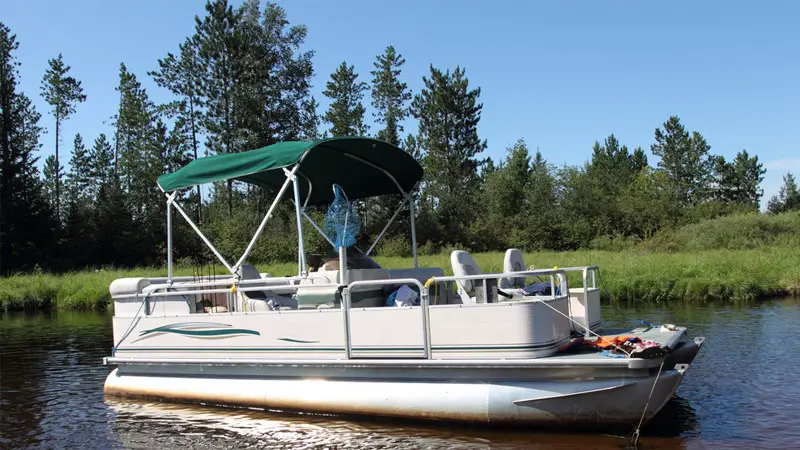 Regarding the deck's layout, pontoons and speed boats are designed with distinct purposes in mind. Pontoons are famous for their expansive, flat decks that provide space for furniture and movement, making them perfect for social activities. Speed boats, in contrast, prioritize a more streamlined and compact design for speed and maneuverability. But how does this translate into comfort and practicality? Let's delve into the specifics:
Pontoons: Pontoons usually feature large, open decks that can comfortably accommodate anywhere from 6 to 20 people, depending on the boat's size. With ample space for sofas, tables, and grills, pontoons resemble a floating patio more than a traditional boat. The setup is perfect for family outings, parties, or a relaxing afternoon of fishing.
Speed Boats: Speed boats, by design, offer less space but boast a more sporty and sleek layout. Seating is typically arranged to optimize balance and weight distribution, supporting the boat's high-speed capabilities. Though smaller, the ergonomic design often provides padded seating and sun decks, ensuring comfort during thrilling water activities or while basking under the sun.
Performance and Maneuverability: Speed Boats vs. Pontoons
Performance and maneuverability play a crucial role in choosing between a pontoon and a speed boat, each offering unique strengths. While speed boats lead in velocity and agility, pontoons shine in stability and ease of handling. Now, let's break down these characteristics in more detail:
Speed Boats: The name itself is a clue to their prowess. Equipped with powerful motors, speed boats can reach high velocities, making them perfect for thrill-seekers or those who need speed. Their slim, streamlined design enables sharp turns and quick maneuvers, ideal for water sports or navigating crowded waters.
Pontoons: While not built for speed, pontoons offer a different kind of performance. Their dual-hull design grants remarkable stability, keeping the deck steady even in choppy waters. They might not be the quickest, but pontoons are incredibly easy to handle. Their wide turning radius makes them perfect for novice boaters or those who prefer a more laid-back sailing experience.
Pontoons and Speed Boats: Evaluating the Costs
When considering the purchase of a boat, one cannot ignore the crucial aspect of cost. The financial commitment extends beyond the initial price tag to include maintenance, storage, and operational expenses. While pontoons and speed boats come in various prices, the differences in design and usage significantly impact their total cost of ownership. Let's compare these costs for a clearer picture:
Speed Boats: Initially, speed boats might carry a higher purchase price, particularly when considering models with advanced features and high-powered engines. Operational costs can also be significant, considering the fuel consumption at high speeds. Maintenance can be more demanding due to the wear and tear associated with fast and active boating, potentially leading to more frequent servicing or part replacements.
Pontoons: Pontoons can be less expensive to purchase upfront, especially when comparing basic models. They also tend to have lower fuel costs due to their slower operating speeds. However, the larger size and open deck of pontoons might lead to higher costs for storage and winterization. Maintenance, though typically less frequent than speed boats, can still be a significant consideration, especially for pontoons with more luxurious amenities.
Maintenance Considerations: Keeping Your Pontoon or Speed Boat Shipshape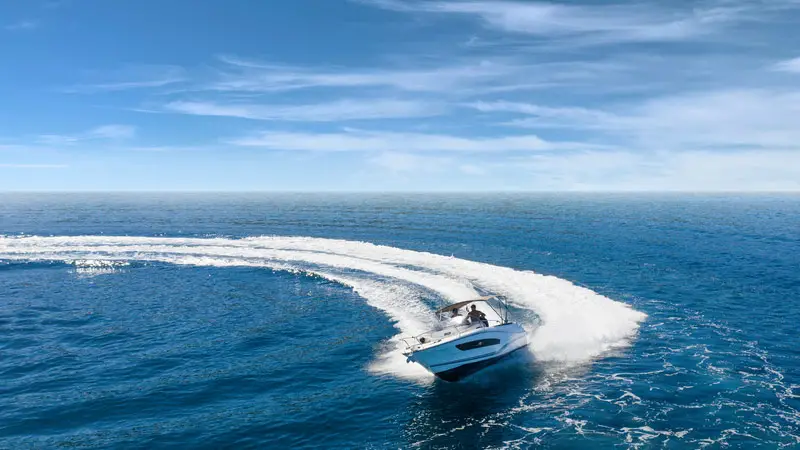 Maintaining your boat in shipshape condition is vital to ensure its longevity, safety, and optimal performance during aquatic adventures. However, the maintenance requirements for pontoons and speedboats differ significantly due to their contrasting designs and typical usage patterns.
Speed Boats: Given their design for high speeds and maneuverability, speed boats require regular checks and maintenance of their engine and hull. Their powerful engines might necessitate more frequent oil changes and engine servicing. The hull, subjected to higher stresses due to speed, needs regular inspections for any signs of wear or damage. In addition, water sports equipment and specialized features, such as wakeboard towers or trim tabs, should be checked and maintained regularly.
Pontoons: Pontoons, less focused on performance, might have less demanding engine maintenance schedules. However, their large, open deck exposes more of the boat to the elements, potentially requiring more regular cleaning and upkeep. The pontoons themselves need periodic checks for leaks or corrosion. If equipped with fabric covers or biminis, these must be cared for to prevent mildew or UV damage.
Water Activities: Matching Your Interests to Your Boat
Your preferred water activities should be a primary factor when choosing between a pontoon and a speed boat. These two types of boats cater to different pastimes, and knowing what you want to do on the water will guide you toward the right choice.
Speed Boats: If your idea of fun involves speed and adrenaline, a speed boat is likely your perfect match. They're designed for high-speed cruising, water skiing, wakeboarding, and competitive racing. Their swift maneuverability also makes them great for exploring larger bodies of water in a shorter time.
Pontoons: If a slower pace is your style, pontoons have much to offer. Their stability and ample space make them excellent for fishing, swimming, sunbathing, or cruising. The large deck is also perfect for social activities, such as parties or family gatherings, making a pontoon boat an excellent option for those who view boating as a social, relaxing activity.
Safety on the Water: Comparing Pontoons and Speed Boats
Safety is an overarching priority in boating, irrespective of the vessel you choose. Pontoons and speed boats have unique safety considerations due to their design and intended use. Understanding these can help ensure your water adventures are as safe as enjoyable.
Speed Boats: With their high speeds come increased risks. Collisions, capsizing, or passengers falling overboard can be more common, especially for high-speed water sports. Therefore, speed boat operators must have good handling skills and follow safe boating practices. Life jackets should always be worn, and all onboard should be familiar with safety procedures.
Pontoons: Pontoons are known for their stability, making them less likely to capsize than many other boats. However, their open design means passengers could fall overboard more easily. As with any boat, life jackets should always be worn, and safety railings should be considered, especially if children are often aboard. Additionally, due to their slower speed and larger size, pontoons require operators to be vigilant about their surroundings to avoid collisions.
In both cases, ensuring your boat is well-maintained and equipped with the necessary safety equipment, coupled with a responsible, trained operator, is paramount to ensure safety on the water.