7 Best Products To Protect Vinyl Boat Seats
Vinyl boat seats get exposed to UV damage and are prone to mold, mildew, and dirt build-up. So, which are the best products to protect your vinyl boat seats? 
The best product to protect vinyl boat seats is Meguiar's M5716SP Vinyl Cleaner. This product is multi-purpose and cleans, protects, and restores vinyl. It doesn't leave an oily residue, has a handy trigger nozzle, and you need very little product for it to be effective. 
This article will discuss the seven best products for protecting your vinyl boat seats and which factors to consider when choosing a product.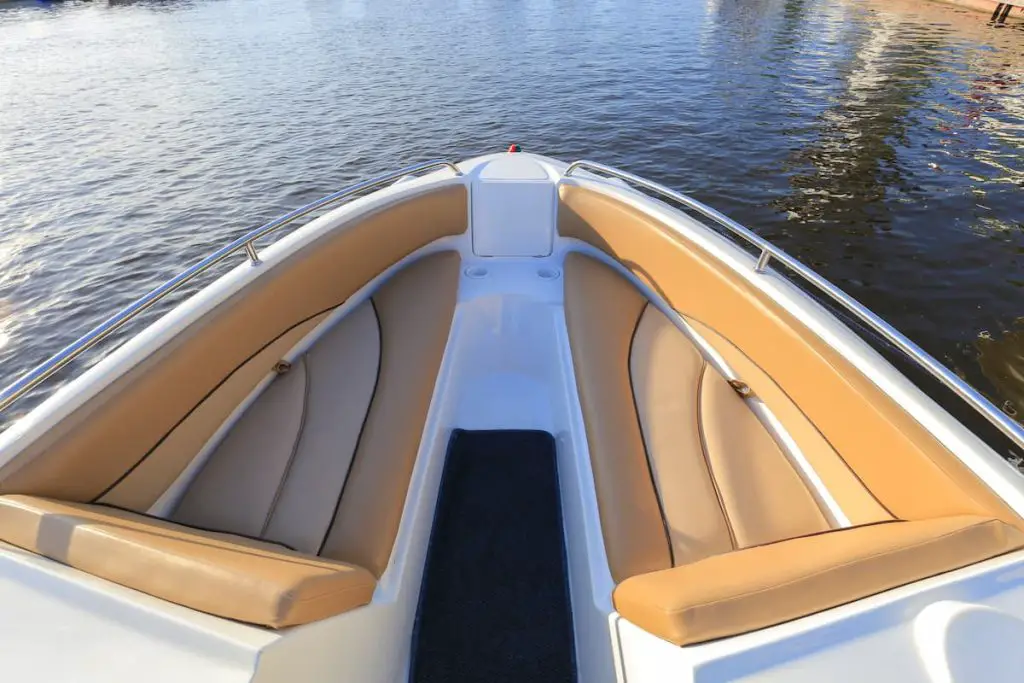 Factors To Consider When Protecting Vinyl Boat Seats
Vinyl boat seats are incredibly popular as they are hard-wearing, affordable, and easy to clean. 
When choosing a vinyl boat seat protective product, it's a good idea to consider its performance in various areas:
Dirt, mold, and mildew removal
Sun damage repair, protection, and color restoration
Ease of use
Dirt repellant ability
Let's consider each of these factors in more detail below: 
Dirt, Mold, and Mildew Removal
Vinyl boat seats are highly susceptible to dirt, mold, and mildew build-up. 
When your boat is out on the water, it's exposed to moisture and humidity, the perfect conditions in which mold and mildew thrive. Mold and mildew can negatively affect the respiratory tract, so it's essential to get rid of them as soon as you can. 
During the summer, boat owners often wear sunscreen, which can rub off onto the seats, causing a film of hard-to-remove grime. 
Regularly using a good quality vinyl product can reduce dirt, mold, and mildew build-up as it forms a barrier and makes cleaning more effortless when you're in a hurry.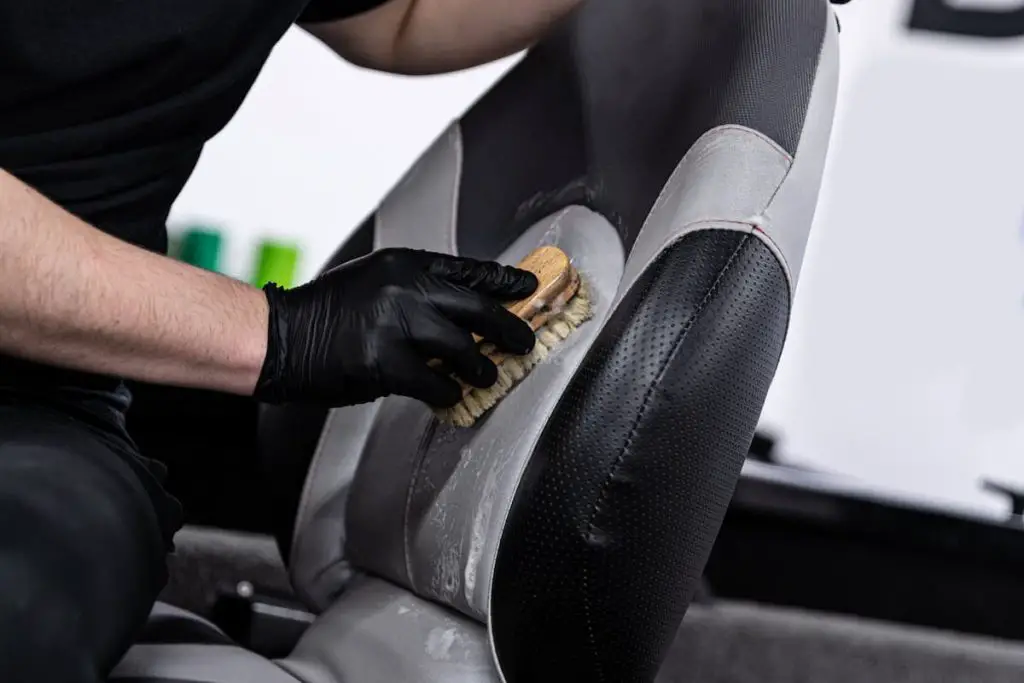 Sun Damage Repair, Protection, and Color Restoration of Vinyl Boat Seats
After continuous exposure to the sun's harmful UV rays, your boat's vinyl seats can get sun-damaged, brittle, and lose their original color. 
If you use a vinyl seat cleaner containing UV protection, you can drastically reduce damage from the sun going forward and restore your vinyl seats to their original color. 
Using a conditioning vinyl product helps moisturize the seats gently and soften them if they've been hardened due to repeated sun exposure. 
Ease of Use When Cleaning & Protecting Boat Seats
Some vinyl boat seat cleaners are easier to use than others. 
If you don't have a lot of time to clean your boat seats but still want them to look as good as new, your best bet will to choose an easy-to-use product. 
Such products have ergonomic spray triggers and allow you to apply a layer of cleaner to the seats and wipe it off without scrubbing. 
Vinyl Boat Seats and Dirt Repellant Ability
If you have vinyl boat seats, it's always a good idea to clean them as regularly as possible. However, they can quickly accumulate dirt and grime between cleans, but if you use a product with dirt-repellent ability, this can help keep the dirt off the seats in the first place. 
Meguiar from Amazon.com is one of the most highly-regarded brands of boat cleaner and offers an impressive range of boat cleaners and protectors. 
Its vinyl cleaner and protector offers many advantages. It is a two-in-one product and will effectively clean your vinyl seats while conditioning them and protecting them from the sun. 
The convenient trigger spray mechanism ensures that you use the right amount of cleaner without wastage, and the product's effectiveness means that you need very little to remove even the most stubborn stains. 
Pros
Excellent two-in-one product. This product cleans and removes stains incredibly well and conditions your vinyl seats to restore them. 
No greasy residue after cleaning. After spraying the product onto your vinyl seats and allowing it to work its magic, you wipe the remaining product off with a cloth or some paper towel, and it won't leave any greasy residue. 
Convenient trigger spray. The trigger spray makes it easy to measure the exact amount to use and eliminates product wastage if the bottle is knocked over. 
A little goes a long way. To clean your vinyl boat seats, you can mist them lightly and wait for the product to take effect. Since you use very little product for each application, you can save money. 
Versatile. Meguiar's vinyl cleaner and protectant is ideal for deep or light cleaning. Gently mist your vinyl seats for light cleaning and wipe the product off. If you need a deeper clean, leave the product on longer and gently scrub at the most stubborn stains. 
Cons
Strong scent. Take care when using this product, as it has a strong chemical smell that can irritate your respiratory tract. It's best to use it outdoors or in a well-ventilated place. The scent can linger for a few days after application but gradually disappears. 
---
Solid UV protection is vital if you want to keep your boat's vinyl seats looking as good as new for as long as possible. 
YachtGuard's vinyl cleaner and protectant from Amazon.com provides exceptional UV protection by leaving behind a clear, water-repellent coating that acts as a sunscreen. It's a great product to use before and during the summer when the sun is at its strongest. 
Pros
Excellent UV protection. After applying this leather and vinyl product, your seats will be well-protected from harmful UV rays. 
Versatile. This product can also be used to clean leather items, such as leather car seats or couches, making it versatile. 
Restores vinyl beautifully. If your vinyl boat seats' color has faded in the sun, this product can help restore it after a few applications. 
Conditioning. This vinyl protectant's moisturizing and conditioning ingredients help prevent and heal cracking and brittleness.
Cons
Less effective at removing stubborn stains and mold. Although this product is great at protecting your vinyl seats from the sun and conditioning them, it's not as good at removing stubborn dirt. If your vinyl seats are very dirty, you may need to use an additional product.
Leaves an oily residue. It's best to allow plenty of time for this treatment to work as it takes a long time to soak into the vinyl, and it can leave an oily residue.  
---
If you haven't had time to clean your vinyl boat seats for a while, they probably have extensive sunscreen, dirt, and potentially mold build-up. 
No one enjoys spending hours scrubbing to remove stains from their vinyl seats, but Spray Nine's marine cleaner from Amazon.com makes light work of removing heavy build-up from vinyl surfaces. Despite this, it has gentle ingredients that won't damage your vinyl, even if you forget to wipe the cleaner off.
Pros 
It's a hardworking product that removes stubborn stains and disinfects. Spray Nine's effective formula effortlessly lifts dirt, mold, and mildew stains, removes odors and disinfects for peace of mind. 
It has a gentle formula that won't damage vinyl if not wiped off. Some vinyl seat cleaners contain harsh chemicals that can damage the surface if you don't wipe it off. You can safely leave Spray Nine cleaner on your boat seats without worrying about it damaging them. 
Comes in handy one-gallon (3.8 liters) capacity. If your boat seats become dirty quickly, and you often clean them, you can buy this marine cleaner in a convenient, one-gallon (3.8 liters) bottle. 
Cons
Bottle is prone to leaking. You'll need to store the bottle upright as it's sometimes prone to leaking from the top. 
Strong scent. This marine cleaner has a strong but pleasant scent that might cause irritation if you use it in an unventilated space. 
---
IMAR's vinyl cleaner from Amazon.com has a high-quality spray trigger with smooth and soft contours that make product application fast and easy. 
After allowing the cleaner to work on your seats' dirt build-up for about five minutes, you can wipe it off and enjoy sparklingly clean seats. 
Pros 
Simple and fast to use. IMAR's vinyl cleaner has a soft touch handle on the nozzle, making it comfortable and quick to use. 
Gentle on vinyl. Although vinyl is a hard wearing material, cleaners with harsh ingredients can damage it. This vinyl cleaner has a gentle yet effective formula. 
Regular use improves the look of vinyl. This vinyl cleaner also gently conditions boat seats. With regular use, you may notice that your seats look brighter and in better condition. 
Cons
A lot of product comes out of the nozzle. When spraying the product, a large quantity comes out of the nozzle, leading to wastage.
---
Mold and mildew from Amazon.com are unsightly but also hazardous to your health. If you notice black spots on your boat's seats, there's a good chance that it has developed mold or mildew. 
In this case, it's essential to remove it as soon as possible. Better Boat's product works incredibly well if you're looking for an effective mold and mildew cleaner as it immediately breaks down mold and mildew compounds on contact. 
After that, its unique mold and mildew-repellent formula helps to prevent future build-up.
Pros
Helps protect against future mold and mildew. If you live in a hot and humid area, this product can help to keep mold and mildew at bay. 
Easily cuts through mold, mildew, and water stains. Better Boat's mold and mildew remover takes effect immediately and almost completely removes build-up after a few minutes. 
Cons
Contains bleach. Better Boat's mold and mildew cleaner contains a small amount of bleach, which can help brighten white vinyl but leach color from darker-colored seats if left on for too long. 
---
Although TriNova's cleaner and conditioner from Amazon.com is aimed at faux leather, it has a similar effect on vinyl. 
It's ideal if your vinyl boat seats have become slightly brittle or sun-damaged because its deep conditioning ingredients will help restore the material to its former glory. 
After spraying the product onto your seats and allowing it to absorb for a few minutes, stains are gently lifted off when you wipe the product off, and your vinyl is intensely moisturized. 
Pros 
Helps vinyl seats look new. Before considering replacing your vinyl boat seats, try this product as there's a good chance that it will restore them beautifully. 
Absorbs quickly. Most vinyl conditioners take ages to absorb, but this product seeps into the material quickly and dries fast. 
Cons
Not effective at removing water stains, mold, or mildew. This cleaner and conditioner is gentle and incredibly moisturizing, but its strength doesn't lie in dirt removal. 
Need to use a lot of product. Previous users of this product have mentioned that you need to use a lot to clean and condition effectively. 
---
As a boat owner, you probably want to spend as much time as possible enjoying it, and not cleaning it. 
303 Marine's multi-purpose cleaner from Amazon.com provides UV protection, moisturization and repels future dirt by leaving a thin coat behind, making future cleaning easier. You can also use it to clean other boat surfaces, making it versatile. 
I personally love this stuff! I use it on my boat, my RV, my patio furniture, anything that needs protecting from the sun. I buy it by the gallon as that's the best price.
Pros 
Multi-purpose product. This is a two-in-one product, allowing you to clean and protect your boat seats in one application. 
Repels dirt, mold, and mildew effectively. A transparent film is left behind after using this marine protectant and cleaner, which effectively repels dirt and other contaminants. 
Cons
Can cause skin irritation. You should be careful when using this product, as the ingredients can cause some people to experience skin irritation. 
Need elbow grease to remove stubborn dirt. Although 303's cleaner and protectant effectively repels future dirt, you need to work hard to remove current stains. 
---
Key Takeaways
Before buying a vinyl boat seat product, you need to consider which of the following elements are most important to you: 
Dirt, mold, and mildew removal
Sun damage repair, protection, and color restoration
Ease of use
Dirt repellant ability
Considering the above criteria, I've concluded that Meguiar's vinyl cleaner and protectant is the best overall cleaner. It cleans and conditions vinyl effectively, provides solid UV protection, and you only need a little bit of product for a large surface, making it cost-effective. 
The only drawback is the strong scent, but you can overcome this by using it in a well-ventilated space.