When Did Boats Stop Using Wood? A Concise Overview of Boating Material Evolution
Boating has come a long way, and many advancements have influenced the design and construction of boats throughout the years. One significant change in the boating industry is the transition from wood to composite materials in boat construction. This shift improved overall performance, decreased the chances of wood rot, and increased durability for boat owners.
You may wonder when boats stopped using wood in their construction. Though the transition from wood to composite materials happened over several years, the late 1980s and early 1990s saw many boat manufacturers phasing out the use of wooden components.
This change was gradual and varied depending on the size of the boat and the specific manufacturer. In general, manufacturers stopped using wood in transoms, stringers, thwart beams, and other structural components in small fiberglass boats under 28 feet around this time.
Understanding the history of boat construction and material advancements can help you make better-informed decisions when purchasing a boat. This shift from wood to composite materials not only impacted the way boats are built but also shaped the boating industry as a whole.
Transition from Wood to Fiberglass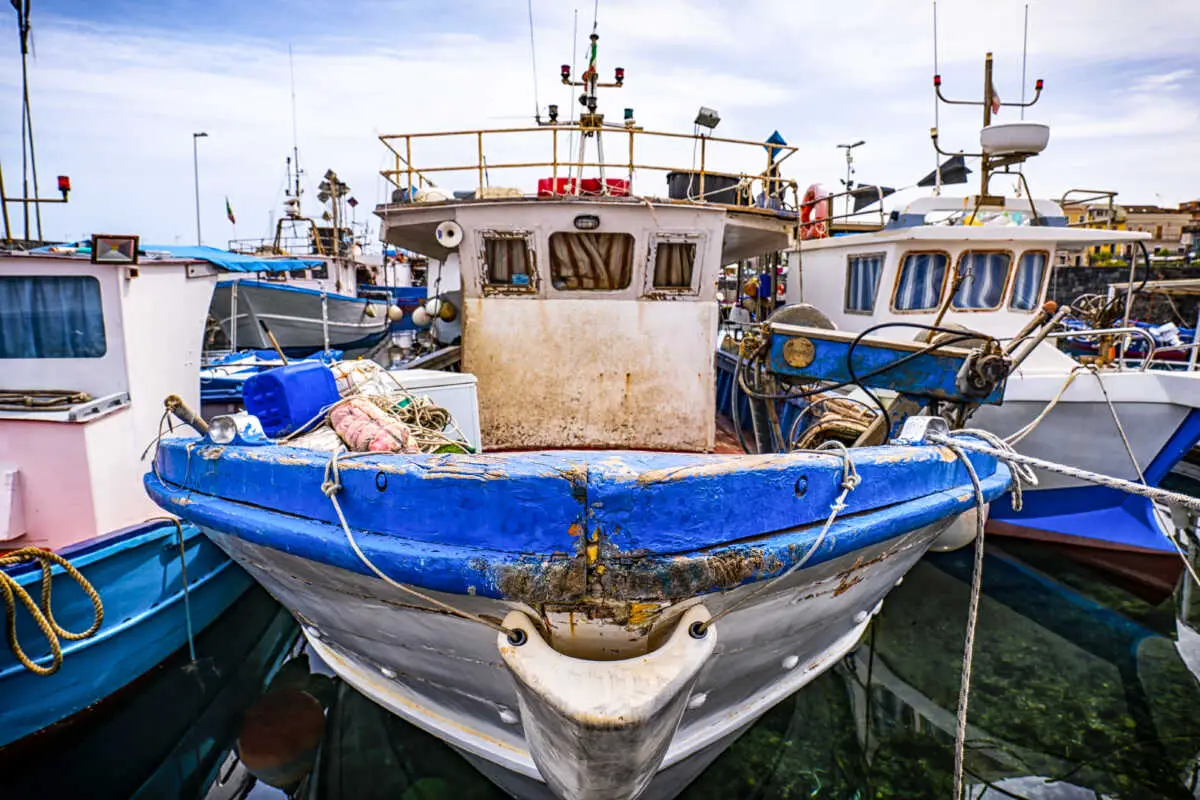 Historical Context
In the past, wood was the primary material used in boat construction. However, during the 1950's, a transition from wood to fiberglass began to take place. This shift was not immediate, and the changeover happened gradually over decades. As you explore the history of boat building, you'll find that some manufacturers made the switch earlier than others.
Reasons for Transition
The reasons for the transition from wood to fiberglass were primarily driven by the advantages that fiberglass has over wood. Fiberglass is lighter, more durable, and requires less maintenance than wood. Additionally, it is more cost-effective and easier to work with, making it an attractive option for boat builders. As a result, the adoption of fiberglass in boat construction increased over time.
Key Milestones
One significant milestone in this transition was in 1966 when Thompson Bros. Boat Mfg. Co., a leading industry company at the time, faced bankruptcy due to its resistance to the transition from wood to fiberglass. However, by 1969, the company finally made the switch and sent their last wooden vessel down the construction line.
Another milestone was in 1995 when Skeeter Boats began transitioning to all composite structural components in their boats. By 1997, Triton started producing fiberglass bass boats with fiberglass transoms, completely bypassing the use of wood transoms in their construction.
Although the transition was gradual, most boat manufacturers stopped using wood in the early 2000s. For instance, Champion, one of the last major manufacturers to continue using wood, finally phased it out by 2006.
As you can see, the transition from wood to fiberglass in boat construction has been a significant development over the past few decades. The shift in materials has led to improved durability, lower maintenance requirements, and increased efficiency in boat production – benefits that have resonated with both boat manufacturers and consumers alike.
Comparing Wood and Fiberglass Boats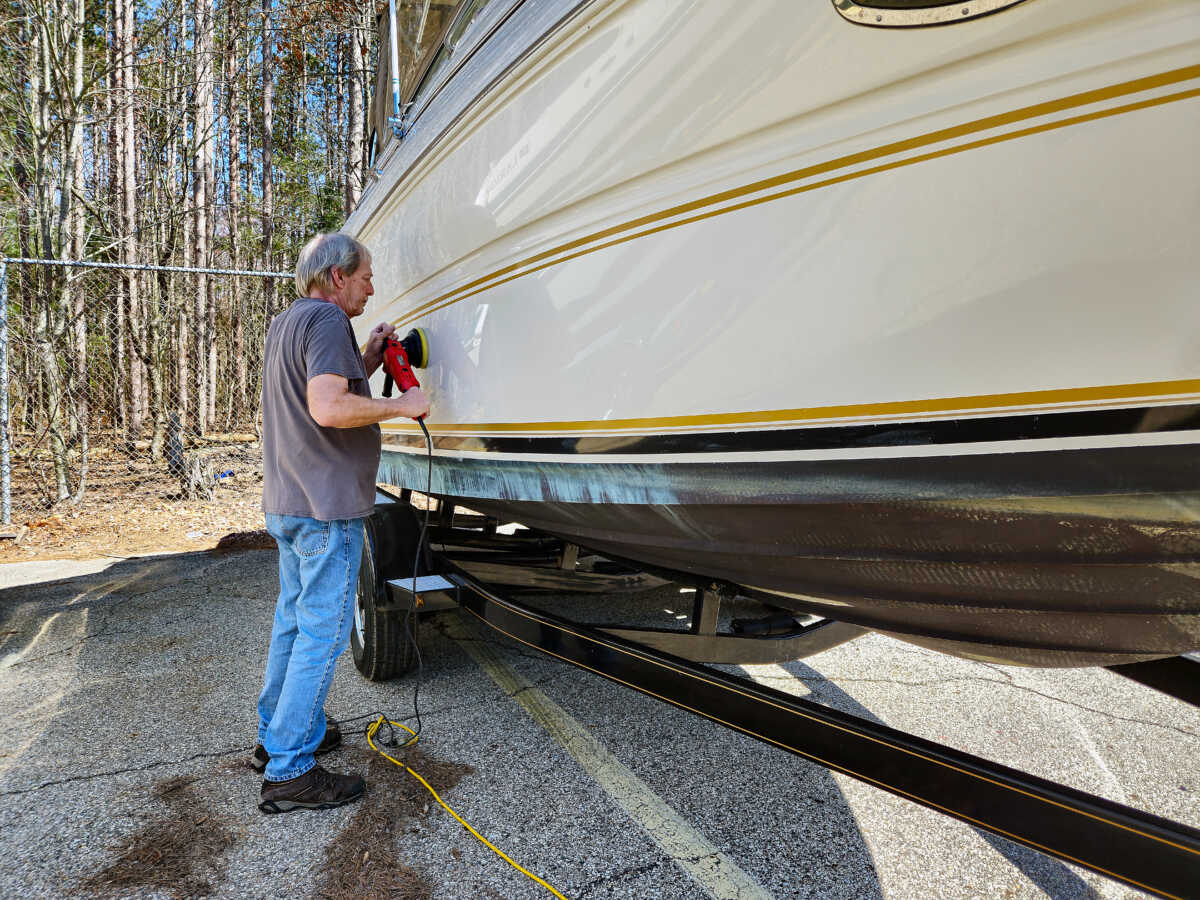 Hull and Transom Construction
When constructing boat hulls and transoms, both wood and fiberglass materials have been used. In the past, wood was the primary choice for boat construction, with various boat manufacturers using plywood and wood transoms. However, advancements in composite materials led to a shift, with fiberglass becoming the popular choice in boat construction.
As early as 1995, manufacturers like Skeeter and Ranger transitioned to fiberglass transoms, leaving wood behind. Triton joined the boat-making industry in 1997 with fiberglass bass boats, never opting for wood transoms.
Meanwhile, other manufacturers like Champion were among the last to phase out wood. Grady-White, for instance, stopped using wood in their boats in 1998 and slowly phased it out in other components as well.
Maintenance and Durability
When comparing wood and fiberglass boats, one primary factor of consideration is maintenance and durability. Wooden boats require more maintenance due to the natural wear and tear processes that impact wood, such as rot and water damage. Fiberglass boats, on the other hand, tend to be more resistant to these issues.
Wooden hulls and transoms are susceptible to problems like rotting and damage from marine borers. While treating wood with waterproofing and regular upkeep can mitigate these risks, the maintenance demands are higher than for fiberglass boats.
Composite materials like fiberglass have been developed to address these durability concerns.
Performance and Efficiency
In terms of performance and efficiency, both wood and fiberglass boats have their merits. Some enthusiasts argue that wooden boats offer a classic, nostalgic feel that can't be replicated by modern fiberglass alternatives. However, fiberglass boats tend to be lighter and require less maintenance, which can translate to improved fuel efficiency and cost savings over time.
Overall, the choice between wood and fiberglass boats comes down to personal preference and specific requirements. Wood may offer a more traditional charm and aesthetic, but fiberglass often provides greater structural integrity, lower maintenance requirements, and better long-term durability.
Ultimately, you should consider factors such as intended use, maintenance commitments, and budget when deciding on the best boat material for your needs.
Boat Manufacturers and Materials
Ranger and Champion Boats
When thinking about boats and their manufacturing, it's essential to mention brands like Ranger and Champion. Ranger made the switch from using wood to composite materials in their boats relatively early, with Triton following suit and producing fiberglass boats from its inception in 1997. On the other hand, Champion was one of the last companies to transition away from wood, eventually embracing more durable, efficient materials in their construction.
Wooden Boat Brands
In the past, companies such as Chris-Craft were known for their wooden boat construction. Although they've since moved on to other materials, some wooden boats still exist today and can fetch high prices due to their vintage appeal and craftsmanship.
These boats, however, may come with issues such as susceptibility to rot and a general lack of durability compared to modern materials.
Fiberglass Boat Brands
Today, most boat manufacturers use fiberglass and composite materials for their structural components, including decks, transoms, stringers, and lids. Renowned brands like Grady-White, Legend, and Nitro have all moved towards fiberglass due to its ability to resist rot and provide a more robust, longer-lasting structure.
The following is a list of some well-known brands that make fiberglass boats today:
Boston Whaler
Grady-White
Sea Ray
Chaparral
Four Winns
Monterey
Regal
Scout
Tiara
Please note that this is not an exhaustive list, as there are many other great fiberglass boat brands out there.
Keep this information in mind when evaluating boat manufacturers and materials for your next purchase. As you explore your options, remember to consider factors such as durability, efficiency, and long-term maintenance to ensure you find the perfect boat for your needs.
Implications and Considerations for Owning a Wooden Boat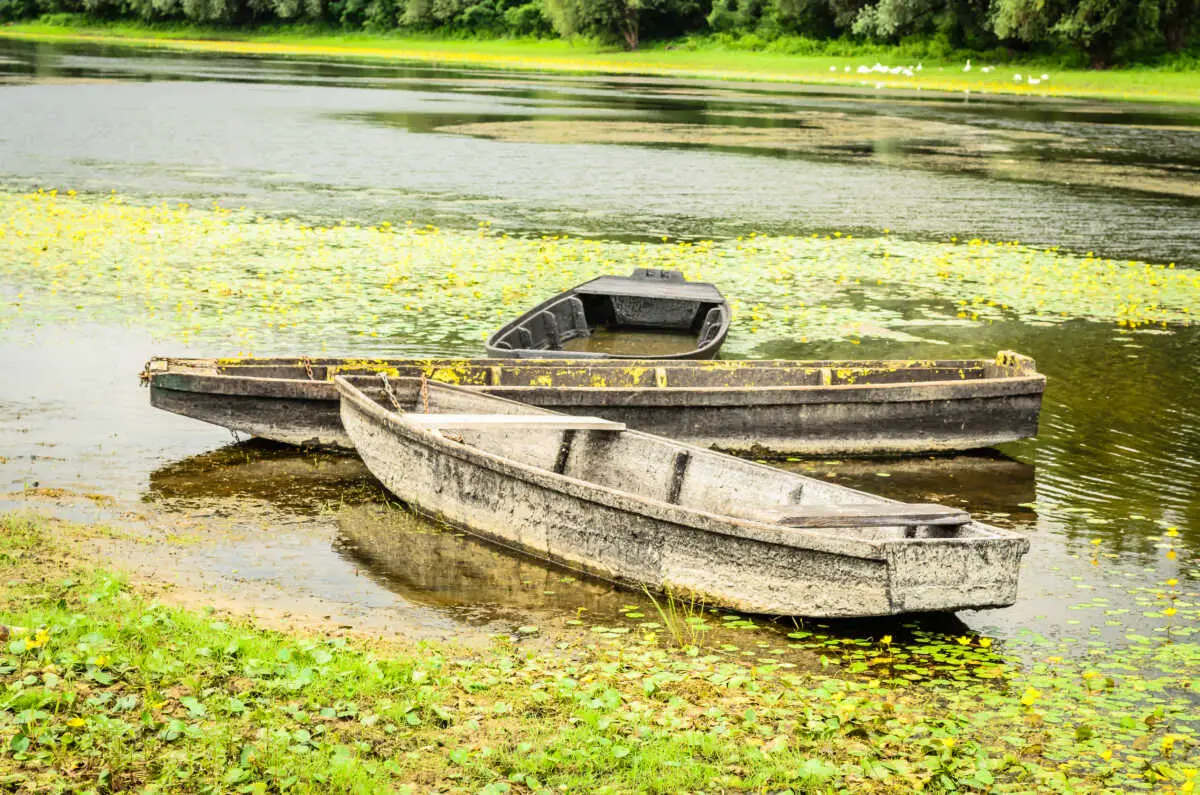 Structural Damage
As a boat owner, you should be aware of the potential structural damage that can occur with wooden boats over time. Wooden components may rot, warp, or become infested with marine borers, all of which can compromise the boat's structural integrity.
To mitigate these issues, consider monitoring the condition of the wooden parts and replacing them with newer materials such as fiberglass or composites, if necessary. This will help maintain the boat's durability and longevity.
Cost and Maintenance Factors
It's essential for you to consider the cost and maintenance factors associated with owning a wooden boat. While wooden boats can offer a unique charm and classic aesthetic, they often require more extensive and regular maintenance compared to their fiberglass and composite counterparts. This can include the need for sanding, painting, varnishing, and repairs due to rot or other issues.
Furthermore, replacing wooden components with modern alternatives can sometimes be expensive, especially if extensive modifications are required. To ensure that you make the most appropriate choices for your boat, carefully consider the financial and time investments required for maintaining a wooden boat.
Frequently Asked Questions
When did boat manufacturers switch from wood?
Boat manufacturers began transitioning from wood to composite materials and fiberglass in the 1950s. However, the switch from wood varied between manufacturers and was not universal.
When were all-fiberglass boats introduced?
All-fiberglass boats were introduced in the 1950s, gaining popularity in the 1960s and 1970s as manufacturing techniques improved and costs decreased.
Which boat brands stopped using wood first?
Some of the first companies to stop using wood in their boats' construction include early adopters like Skeeter and Ranger.
What year did wood-free boats become popular?
Wood-free boats gained popularity in the 1990s, when the transition to composite materials became more widespread, and manufacturers embraced these new construction techniques.
Are any boats still made with wood today?
Yes, some boatyards and craftsmen continue to build wooden boats using traditional methods. However, the majority of the industry has transitioned to non-wood materials.
What are some common non-wood boat materials?
Non-wood boat materials include fiberglass, aluminum, and carbon fiber composites, which offer increased strength, durability, and resistance to rot and decay.
When did Mako boats stop using wood?
Mako boats transitioned away from using wood during the 1960s and 1970s, as the company shifted towards fiberglass construction.
When did Century boats stop using wood?
Century boats moved away from wood construction after 1967, phasing it out in favor of fiberglass and other composite materials.
When did Ranger boats stop using wood?
Ranger was one of the early adopters in abandoning wood, shifting to composite materials and fiberglass in their boat construction beginning in the 1970s. Ranger stopped using wood transoms and stringers in 1987-88.
When did Champion boats stop using wood?
Champion boats were among the last to transition away from wood, fully embracing non-wood materials. They made their first completely composite boat in 2003.
When did Scout boats stop using wood?
No wood is used anywhere in a Scout boat. Scout boats are made from composite materials.
When did Cobia boats stop using wood?
Cobia boats likely stopped using wood in their construction during the 1990s, as they began to utilize more fiberglass and composite materials.