Should Boat Prop Spin Freely? To Spin or Not to Spin…
Navigating the world of boating can sometimes leave you with questions, particularly surrounding the maintenance and functionality of your vessel. One common question among boat owners is whether or not the boat prop should spin freely.
Understanding how your boat propeller operates is crucial for safety and your vessel's overall performance. Typically, when your boat is in neutral, the prop should spin freely in both directions. This indicates that there is no unnecessary friction or hindrance on the propeller system.
However, when the shifter is in forward or reverse gears, the propeller is expected to revolve in specific directions and offer varying resistance levels, ensuring proper propulsion and maneuverability.
As you familiarize yourself with your boat's propeller system and learn to identify various situations regarding its rotation, you'll become better equipped to tackle potential issues and enjoy smoother sailing. Remember, maintaining proper prop functionality is essential to preserving your boating experience and keeping your vessel in top-notch condition.
When Should a Prop Spin Freely
Significance of Freely Rotating Prop
When you're out on the water, it's important to understand how your boat's propeller works. When your boat is in neutral, the prop should rotate freely. This is because the gears inside your outboard are disengaged, allowing the prop to turn without any resistance.
A free-spinning prop ensures that your engine is operating efficiently and that there is no unnecessary stress on the drive train components, reducing the risk of damage to your vessel's motor and gearbox.
When to Expect Prop Spin
As a boat owner, you'll need to be familiar with the different situations when you should be able to turn the prop freely. When your powerboat is in neutral, and the engine is off, the propeller should spin easily without any resistance.
This is a helpful feature when you're trying to troubleshoot potential issues with your boat's prop or motor. For example, if your prop does not turn easily when it's supposed to, it could indicate a problem with your gearbox or engine alignment.
Conversely, if your prop is able to spin with the boat in gear, you might have a spun prop hub, which could cause poor performance or damage to specific drive train components.
Proper Prop Spin Direction When in Gear
To ensure optimal performance and efficiency, it's vital to make sure your boat's propeller is spinning in the correct direction. Propellers can turn either clockwise (standard or right-hand rotation) or counterclockwise (counter or left-hand rotation) – the type of rotation you need depends on your boat's engine and drive system.
Most single-engine vessels use a standard rotation, while twin-engine setups typically have one prop spinning in each direction to help balance torque and improve handling. To determine the proper direction for your prop, you can follow the guidelines on Propeller Rotation on iboats.com, which explains how to identify the prop's rotation in relation to your boat's engine setup.
By considering these factors, you'll be better equipped to understand how your boat's prop rotation affects performance and potential maintenance issues. Ultimately, being knowledgeable in this area can help you keep your boat in good working order and ensure a smooth, enjoyable ride out on the water.
Gear and Shifting Mechanisms
Shift Cable and Rod
When operating your vessel, it's important to understand how the gear and shifting mechanisms work in relation to the boat's propeller. The shift cable and rod connect the shift lever to the gear case, allowing you to control the direction of the prop. Moving the shift lever translates your input through the shift cable/rod, engaging either forward or reverse gear depending on your desired direction.
In neutral, the prop should freely spin in both directions, as it is not engaged with the gears. Properly maintaining your shift cable and rod can help ensure smooth gear changes and better control over your boat's propulsion.
Fly By Wire
The fly-by-wire system is a more recent advancement in boat shifting mechanisms. Rather than relying on mechanical cables and rods to control gear changes, fly-by-wire systems use electronic signals to communicate between the shift lever and the gear case. This provides smoother shifting and reduces the risk of damage to the mechanical components.
In this system, the propeller should still turn freely in neutral, as with the traditional shift cable/rod method. Since fly-by-wire systems don't have mechanical connections, regular maintenance of the system is essential to keep your boat running smoothly.
Clutch System
The clutch system in your boat is responsible for engaging and disengaging the gears, allowing you to control the direction of the propeller. When you put it in forward gear, the clutch engages, and the prop spins in the forward direction.
Likewise, when you shift into reverse gear, the clutch engages in the opposite direction, causing the prop to turn in reverse. In neutral, the clutch is disengaged, allowing the prop to spin freely in both directions.
Maintaining your boat's clutch system is an important aspect of ensuring smooth gear changes and optimal performance. Paying close attention to any signs of wear or slippage can help you address any potential problems before they become more serious.
Remember, understanding and maintaining your vessel's gear and shifting mechanisms is key to safe and efficient time on the water. Inspecting and caring for these components will help keep your boat running smoothly and enjoyably for years to come.
Engine and Lower Unit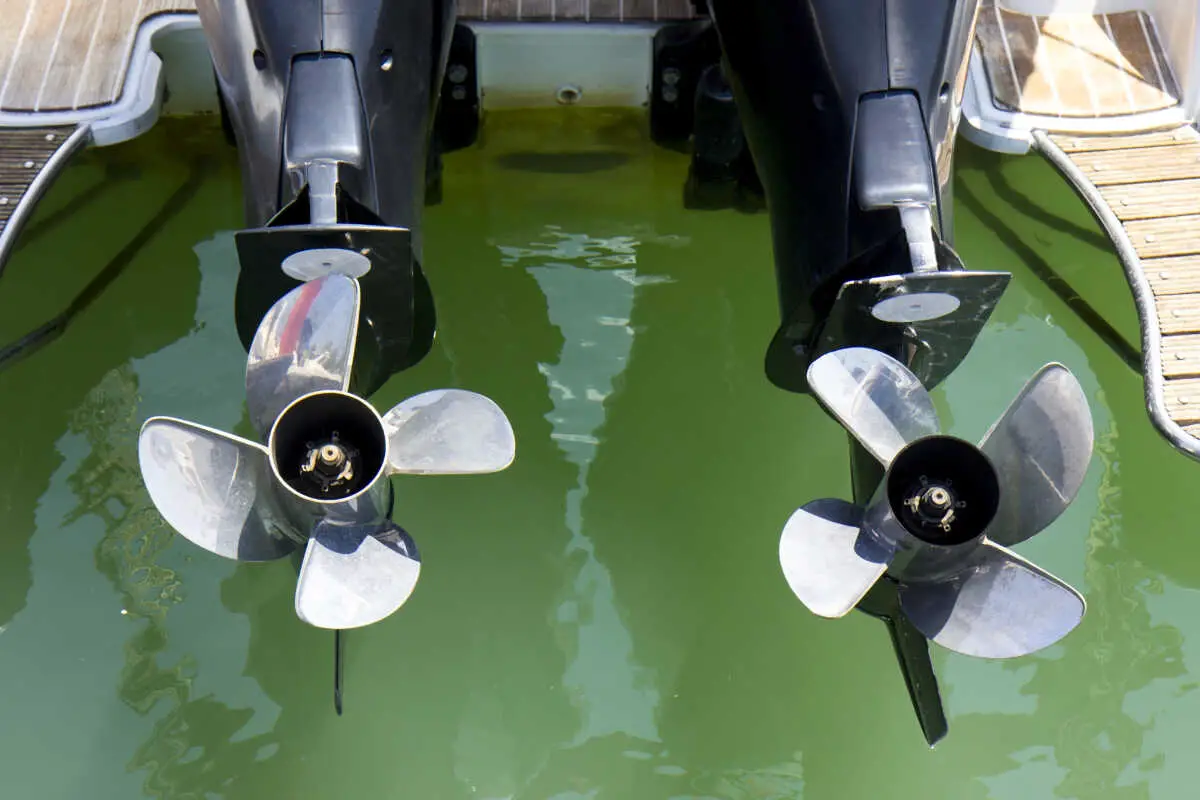 Engine Types
There are different types of marine engines, but the most common ones found on recreational vessels are outboard and sterndrive motors.
Outboard motors are self-contained units mounted at the rear of the boat and contain the motor, gearbox, and propeller in one compact package. Sterndrive engines combine an inboard motor with a drive system, and the prop is mounted on the lower unit of the drive system.
In both types of engines, the boat prop should spin freely when the transmission is in neutral. It ensures smooth operation and prevents any potential damage to the motor.
Shaft and Alignment
The shaft connects the engine to the lower unit, which houses the propeller. In the case of outboard engines, the shaft is part of the unit itself, while sterndrive motors feature a shaft that runs through the drive system.
Proper shaft alignment is essential for keeping your boat prop spinning and preventing excess wear on engine components.
To check the alignment of the shaft, inspect the engine while your boat is in the water and the transmission is in neutral. If you notice any misalignment, you may need to adjust the motor mounts or attend to a more serious issue, such as a bent or damaged shaft.
Water Pump and Lubrication
The engine's water pump and lubrication system are also crucial to ensuring the boat prop spins willingly. The water pump keeps the machine cool by circulating water around the engine components.
A failing water pump can cause overheating, which may lead to the prop not spinning or even damaging the motor.
Regular lubrication of your boat's engine and lower unit will help maintain the smooth and free spinning of the prop. Be sure to follow the manufacturer's recommendations for the appropriate type of lubricant and frequency of maintenance.
Keeping up with this routine maintenance will ensure that your craft's prop continues to revolve in both directions easily, providing a reliable and enjoyable boating experience.
Manual Prop Spinning (Spin by Hand)
How to Spin a Prop Manually
When checking if your propeller is free spinning, you can do it manually by rotating the prop by hand. Make sure your boat is in neutral, and the motor is off before you begin. With one hand, grip the propeller blade firmly and hold onto the ship with the other.
Gently spin the prop to see if it turns easily in both directions. An effortless rotation without resistance usually indicates that the prop is in good condition and properly aligned with the engine.
Safety Precautions
Always prioritize safety when turning your boat's prop by hand. Here are some precautions to consider:
Ensure the vessel is secured and stable before accessing the prop.
Turn off the engine and make sure the motor is in neutral.
Wear proper gloves to avoid injury or damage to your hands.
If your boat is in the water, be aware of your surroundings to prevent slipping or falling overboard.
Keep in mind that checking if the prop spins without constraint helps you maintain good engine performance and avoid potential issues. Just remember to follow these steps and safety precautions, and you'll be able to easily determine if your boat's prop is in tip-top shape.
Propeller Issues (Prop Does Not Spin & Other Problems)
Prop Not Rotating
Sometimes, you may encounter issues where your boat propeller does not turn at all. It could be related to the shift lever, throttle, or propeller driveshaft.
In cases like this, ensure that your boat is in neutral with the engine turned off. If the prop still doesn't spin in neutral, there may be a problem with the transmission or alignment.
Vibration and Noise
Experiencing vibrations and noise while your vessel is in motion can be a sign of propeller issues. One possible cause for this could be a damaged bushing or cutlass bearing, which supports the propeller shaft and absorbs vibrations.
When a bearing wears out, it loses its ability to absorb vibrations, increasing noise and potentially damaging your boat's components.
Damage and Maintenance
Inspecting your boat's propeller for damage regularly is crucial, as damaged blades can significantly impact your boat's efficiency, speed, and power. You should be wary of common problems like bent, cracked, or chipped blades, as these issues can worsen if left unaddressed.
If you find any issues during your inspection, ensure that you carry out proper maintenance or replace damaged parts to maintain your vessel's optimal performance.
Adjusting and Repairing Gear
Sometimes, you might find that the gear linkage is not working properly, causing issues with the propeller's ability to revolve. To fix this, access the gear linkage and examine its components. Make sure the gears are properly lubricated and tightly connected.
If you notice any signs of wear or damage, consider replacing the affected parts to ensure smooth operation.
Also, remember that a damaged hull can affect the prop's ability to spin correctly. Inspect your boat's hull for any signs of damage and repair it as necessary to provide a stable environment for the prop to function properly.
Frequently Asked Questions
How freely should a boat propeller spin?
Typically, your boat's propeller should spin freely by hand when the engine is off, and the transmission is in neutral. If the prop doesn't turn, it could indicate a problem with the boat's engine or other components. Make sure to inspect your propeller regularly to ensure optimal performance.
What causes a prop not to spin?
Several factors can cause a boat prop not to spin freely, including damage, debris, or corrosion. An object lodged in the prop can interfere with its movement. Check for any visible obstructions or corrosion if your prop is not spinning. If none is present, it may be time to consult a marine mechanic for further inspection.
How can I tell if my boat's prop is bad?
A worn or damaged prop can cause various problems, like loss of speed, poor handling, or increased fuel consumption. Some common signs of a bad prop include throbbing, excessive noise, and decreased acceleration. If you suspect your boat's prop is bad, it is essential to address the issue right away to avoid further damage to your boat or motor.
What are the signs of an unbalanced prop?
An unbalanced prop can lead to excess vibration, reduced speed, and increased wear on your boat's engine and other components. Signs of an unbalanced prop include oscillation, abnormal noise levels, and poor fuel efficiency. If you experience any of these symptoms, consider having your propeller inspected and balanced.
Do I need to adjust the prop if it locks in reverse?
If your boat's propeller locks in reverse, it could indicate a problem with the gear system or the prop itself. A marine mechanic must diagnose and resolve the issue before further damage occurs to your boat's engine or transmission.
How can I identify the standard prop rotation?
To determine your boat propeller's standard rotation, you must observe the prop's movement when the boat is put in gear. Most outboard and stern drive engines have right-hand (clockwise) prop rotation, while some motors, like counter-rotating stern drives, have a left-hand (counterclockwise) rotation.