Boat Engine Submerged in Freshwater: Steps to Salvage and Prevent Damage
There's something profoundly serene about the gentle bobbing of a boat on a tranquil freshwater lake. But the harmony is swiftly broken when the unexpected happens, such as your boat engine taking an unanticipated plunge beneath the surface. This article isn't about the peaceful afternoons spent on the deck or the exhilarating moments of catching a big fish.
If your boat engine submerges in freshwater, quickly disconnect the battery. Drain engine fluids, replacing them with fresh ones. Remove the spark plugs, and crank the engine to eject water. Dry and clean electrical components. Finally, run the engine dry. To prevent damage, maintain a tight hull and bilge pump.
This article is about the challenges that come uninvited, the moments that have the potential to transform a calm day on the water into an emergency. It's about what happens when the heart of your vessel – the engine – finds itself submerged and the necessary steps one must take to restore its function and prevent future damage.
Recognizing the Damage: Signs of a Submerged Boat Engine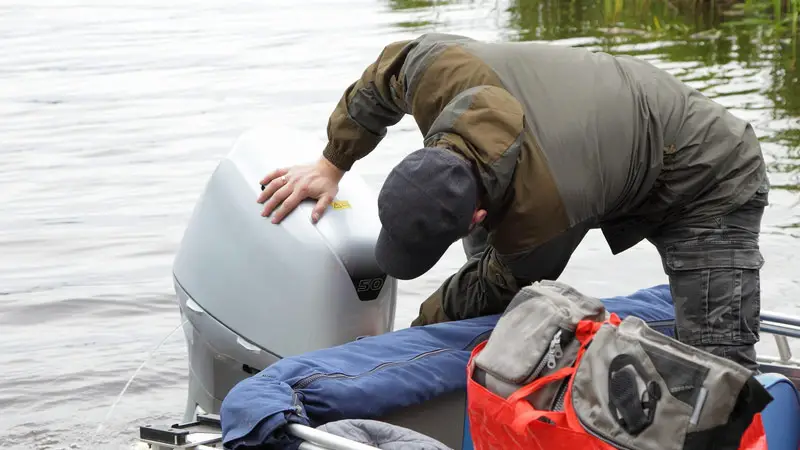 When your boat engine takes a dip in freshwater, it's not always immediately apparent that something has gone awry. However, recognizing the signs of a submerged engine is critical to initiating a timely response and mitigating potential damage. The evidence can be subtle, but with a keen eye and a basic understanding of your boat engine, you can pick up on the red flags that signal trouble under the hood.
Failure to Start: One of the most immediate signs is an engine that won't start or stalls shortly after starting. This could indicate water ingress in the engine.
Fluid Discoloration: Check your oil and transmission fluids. It could be a sign of water contamination if they appear milky or frothy.
Unusual Sounds: An engine making strange noises, such as knocking or grinding, might have suffered internal damage due to water intrusion.
Excessive Smoke: If your exhaust emits excessive white or blue smoke, this could indicate that water has entered the combustion chamber.
Performance Issues: If you notice a sudden drop in engine power, unresponsive controls, or poor fuel efficiency, these could be signs of water damage.
Remember, prompt recognition of these signs can differ between a minor inconvenience and a major, costly repair.
Immediate Response: First Actions After Engine Submersion
Acting swiftly and accurately after your boat engine submerges in freshwater is essential to minimizing damage and maximizing the chances of successful salvage. The following steps outline the immediate response needed:
Disconnect the Battery: Safety first! Disconnecting the battery prevents short circuits and additional damage. Make sure to do this as soon as it's safe.
Assess the Situation: Evaluate the extent of submersion and the potential damage. This can help determine the next steps and whether professional help is needed.
Remove the Engine (if possible): If you have the necessary tools and skills, remove the engine from the boat. This will make the following steps easier and more effective.
Drain the Engine: Remove the drain plugs and tilt the engine to drain as much water as possible. Remember to catch and properly dispose of the drained fluids.
Replace Engine Fluids: Drain and replace all engine fluids, including oil, transmission fluid, and coolant. This helps to remove any water that may have mixed with these fluids.
Remove Spark Plugs: Remove the spark plugs and turn the engine over to force out any water present in the cylinders.
Draining and Replacing Boat Engine Fluids: A Step-by-Step Guide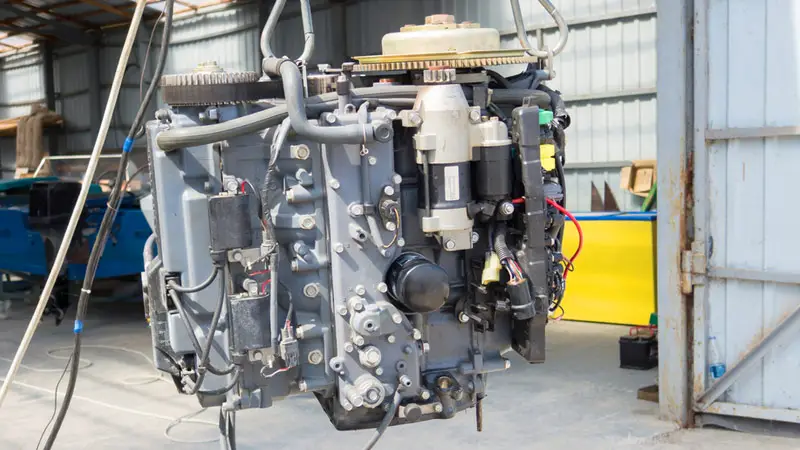 After you've removed the engine and assessed the situation, it's time to focus on draining and replacing the fluids. This process is critical to remove any water mixed with the fluids. Here's a step-by-step guide:
Locate the Drain Plugs: Most boat engines have several drain plugs. Consult your boat's manual to find their exact locations.
Drain the Engine: Remove the drain plugs and tilt the engine to allow the water and fluids to drain out. Ensure to catch and properly dispose of these fluids according to local regulations.
Flush the Engine: Flush with clean, fresh water once drained. This will help to remove any remaining contaminants.
Drain Again: After flushing, allow the engine to drain again. This ensures all water and contaminants are removed before adding fresh fluids.
Replace the Fluids: Refill the engine with fresh fluids. This includes oil, transmission fluid, and coolant. Be sure to follow your engine's manual for the correct types and quantities of fluids.
Run the Engine: After replacing the fluids, run the engine idle for a few minutes. This circulates the fresh fluids and helps to remove any remaining water. Use muffs to ensure that the engine is being water-cooled while running.
Check and Repeat: Finally, check the fluids. Repeat the process if they appear milky or contaminated until the fluids stay clear after running the engine.
Drying Out: Essential Tips for Electrical Components
When your boat engine is submerged in freshwater, the electrical components can be particularly vulnerable. Water can cause short circuits and lead to corrosion over time, both of which can result in serious damage. Here are some essential tips to properly dry out and protect the electrical components of your boat engine:
Disconnect the Battery: As a safety precaution, ensure the battery is disconnected before you begin working on the electrical components.
Inspect for Visible Damage: Carefully examine all electrical components for visible signs of damage. This includes looking for corrosion, burnt or frayed wires, and water residue.
Dry Thoroughly: Use a clean cloth or air compressor to thoroughly dry all electrical components. This includes the alternator, starter motor, sensors, and wiring harnesses.
Use a Water Displacing Spray: Apply a water-displacing spray like WD-40 on electrical components. This helps to push out any remaining water and prevent future corrosion.
Check Connectors and Terminals: Inspect all connectors and terminals for signs of corrosion or damage. Clean them with a wire brush and apply dielectric grease to protect against future moisture ingress.
Inspect the Fuses and Relays: Check all fuses and relays for signs of water damage. Replace any that appear damaged or corroded.
Remember, patience and attention to detail are key here. Never rush the drying process, as remaining moisture can cause serious issues. If you are unsure about any step, don't hesitate to seek professional assistance.
Cranking and Running: How to Eject Water From Your Boat Engine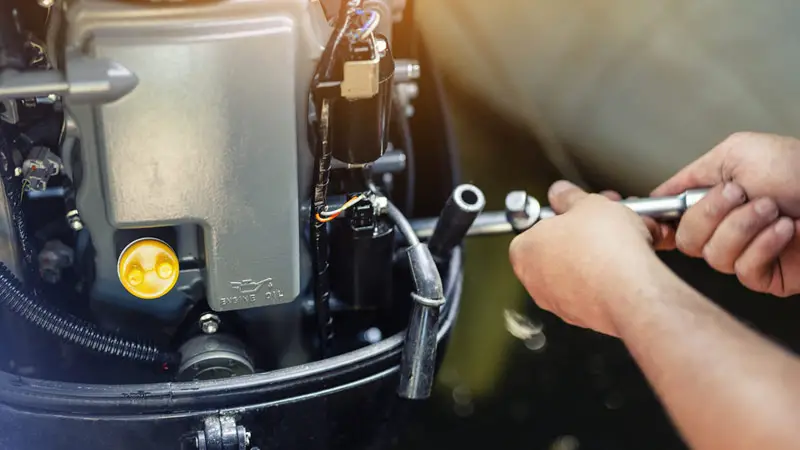 Once the electrical components are dry and the engine fluids have been replaced, it's time to get the engine running again. However, before you can safely start the engine, it's crucial to eject any remaining water from the internal components. 
This is where cranking comes into play. By removing the spark plugs and turning the engine over, the pistons can move without the resistance they would normally encounter during combustion, allowing any water in the cylinders to be forced through the spark plug holes.
After cranking the engine and ensuring no more water is being ejected, it's time to reinsert the spark plugs and start the engine. At first, it's important to let the engine run idle, allowing it to warm up and the fresh fluids to circulate. 
This also allows you to carefully monitor the engine for any signs of trouble, such as unusual noises, excessive smoke, or erratic running. If the engine runs smoothly and shows no signs of trouble, it's a good indication that your salvage efforts have been successful. 
However, it's important to remember that this is not the end of the process, and further steps will be necessary to ensure the engine's continued operation and to prevent future damage.
Post-Submersion Maintenance: Ensuring Longevity
After managing the immediate aftermath of your boat engine's submersion, the focus must shift toward its long-term health. Salvaging an engine from a freshwater dip is only half the battle; the real challenge lies in ensuring its longevity and maintaining its performance.
Regular Fluid Checks: After submersion, monitoring engine fluids closely for the next several uses is essential. Look for signs of water contamination, such as frothy or milky oil. Fluid changes may need to be more frequent initially.
Inspection of Electrical System: Continue to monitor the electrical system. Check for corrosion or any sign of intermittent faults. Regular water-displacing spray on electrical components can help prevent moisture-related issues.
Engine Performance Monitoring: Keep track of the engine's performance. Unusual noises, decreased power, increased fuel consumption, or difficulty in starting could all indicate lingering issues from the submersion incident.
Regular Professional Check-ups: Even if everything seems fine, it's advisable to have the engine checked by a professional regularly. They can spot potential problems before they become serious issues.
Remember, proper maintenance is crucial to the lifespan of your engine. Even more so after a submersion incident, your vigilance can make the difference between an engine that lasts for a few months and continues running for years.