Boat Engine Dies When Shifted into Gear: Possible Causes and Solutions
Navigating the open waters can be an exhilarating experience, that is, until your boat's engine begins to falter just as you shift into gear. Suddenly, the joy of the journey becomes riddled with confusion and anxiety. The intricate relationship between different components of the marine power system can be a complex labyrinth to comprehend, especially when faced with such unexpected issues. 
Possible causes for a boat engine dying when shifted into gear could include carburetor issues, a dirty or damaged spark plug, or a faulty ignition coil. Solutions may involve cleaning or replacing the carburetor, changing the spark plug, or repairing the ignition system. Always consult a professional for safe handling.
This article seeks to illuminate potential problems, helping boat owners better understand the factors contributing to this common yet perplexing issue and find appropriate solutions.
The Role of a Boat Engine's Carburetor: Symptoms and Solutions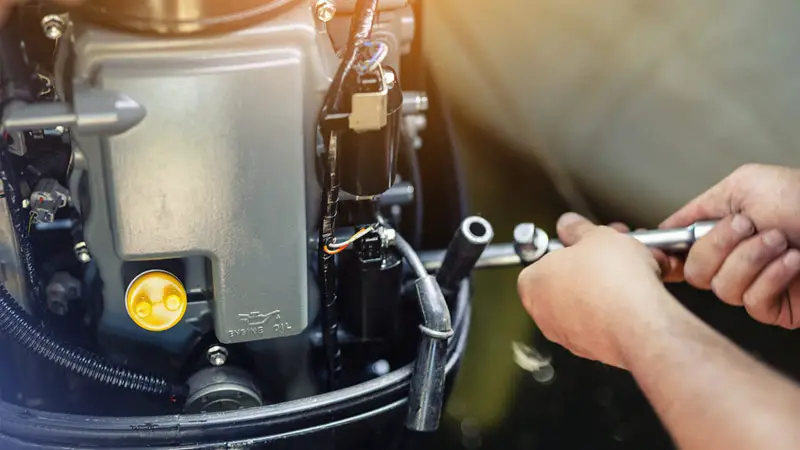 The carburetor plays a pivotal role in your boat's engine operation. Serving as the bridge between the fuel system and the engine, its responsibility lies in mixing the right quantity of gasoline with air, thus creating an explosive mixture that powers your engine. 
When it functions properly, you experience smooth sailing. However, a malfunctioning carburetor can give rise to several issues, one of them being the engine dying when shifted into gear.
The symptoms of a faulty carburetor can vary, depending on the specific issue at hand. You may observe the engine struggling to maintain power, especially when shifting gears. Difficulty starting the engine, poor fuel economy, or an overheating engine can also indicate a carburetor problem. Most critically, if the engine dies when you shift into gear, it's often a clear signal that the carburetor needs attention.
Addressing a carburetor issue typically involves cleaning or replacing it. Over time, grime and debris can accumulate within the carburetor, disrupting the optimal mixture of fuel and air. Cleaning it thoroughly can often restore its functionality. 
However, replacement may be necessary in some cases, especially if the carburetor is damaged or severely worn out. It's important to consult with a professional to accurately diagnose and safely handle carburetor problems. Regular maintenance and check-ups can also help prevent such issues in the first place.
Spark Plug Woes: Recognizing and Rectifying Issues
Although small, your boat's spark plug plays an indispensable role in ensuring your engine runs smoothly. This component ignites the engine's fuel-air mixture, initiating the power stroke. Like other parts of the engine, however, spark plugs are not immune to damage and wear, and issues with them can result in the engine dying when shifted into gear.
If your spark plug is the culprit, you may notice certain signs. These include difficulty starting the engine, misfires, or a notable decrease in your boat's fuel efficiency. It's crucial to promptly address these issues, as they can quickly escalate and cause more serious damage to your engine.
Difficulty starting the engine: A worn or dirty spark plug can fail to produce the necessary spark to ignite the fuel-air mixture. This can make it significantly more difficult to start your boat's engine.
Engine misfires: Faulty spark plugs may cause the engine to misfire, which means the engine isn't firing on all cylinders. This can lead to decreased performance and potential engine damage over time.
Decreased fuel efficiency: A spark plug that is not working optimally may cause the engine to consume more fuel than necessary, thereby decreasing the overall fuel efficiency of your boat.
Rectifying these issues usually involves either cleaning or replacing the spark plug. A thorough cleaning might do the trick if the plug is dirty. However, replacement is usually the best course of action if the spark plug is damaged or worn out. Always ensure to consult a professional for the best advice and safest handling.
Boat Motor's Ignition System Faults: Diagnosis and Remedies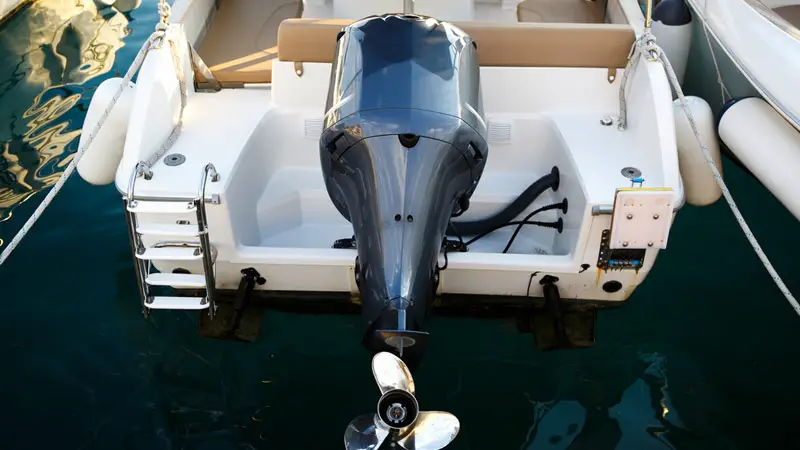 The ignition system is fundamental to your boat's engine. It sparks life into your engine by initiating the combustion process to generate power. However, faults within this system can cause issues, such as the engine dying when shifted into gear. Understanding the symptoms of an ignition system fault and potential remedies is crucial to maintaining a healthy and efficient engine.
Signs of an ignition system fault can range from intermittent power loss to the engine not starting. You might notice that the engine is harder to start, especially in cold conditions, or stalls or misfires when running. These symptoms often point toward issues within the ignition system, including problems with the ignition switch, ignition coil, or distributor.
Ignition Switch Problems: If the ignition switch is faulty, it may not send the electrical signal to the ignition system to start the engine. This can cause difficulties in starting your boat or even prevent it from starting. The remedy for this problem typically involves replacing the faulty switch with a new one.
Ignition Coil Issues: The ignition coil changes the low voltage of the battery into the large number of volts required to create a spark in the spark plugs, igniting the fuel. If it is faulty, you might experience issues such as misfires, power loss, or an engine that stalls shortly after being started. Depending on the issue's severity, the solution might involve repairing or replacing the ignition coil.
Distributor Troubles: The distributor directs the high voltage from the ignition coil to the correct cylinder at the correct time. Malfunctioning could lead to misfires, rough running, or the engine not starting. This issue usually requires either repairing the distributor or replacing it entirely.
Importance of Regular Boat Engine Maintenance
Regular maintenance of your boat's engine is not merely a recommendation—it's a necessity. It's the lifeline that ensures the longevity and efficient performance of your boat and your safety while on water. 
The intricate assembly of components in the marine engine calls for systematic upkeep, allowing you to detect any potential issues before they exacerbate into serious, costly problems. Regular maintenance also contributes to fuel efficiency, ensuring your boat performs optimally for longer periods.
Each part of your engine, from the spark plug and carburetor to the ignition system, requires specific care and attention. This may involve routine cleaning, lubrication, inspections, adjustments, or replacements. Simple tasks such as changing the engine oil, checking the fuel lines, cleaning or replacing filters, or even ensuring the engine is free from dust and dirt can greatly contribute to its overall health. 
Adhering to the manufacturer's maintenance schedule is a great practice, but remember, usage and environmental factors might necessitate additional care. Having a professional perform regular checks on your boat engine ensures any potential issues are promptly diagnosed and resolved, preventing a pleasant sail from becoming frustrating.
Professional Help With Your Boat Engine: When and Why to Seek It
No matter how much time you invest in understanding and maintaining your boat's engine, there are instances when seeking professional help is both wise and necessary. Professionals possess the depth of knowledge and practical expertise that often extends beyond the reach of even the most dedicated boat owners. They are trained to identify and rectify the common issues and those that might not be immediately obvious to the untrained eye.
When it comes to engine troubles, a simple symptom can often be the tip of an iceberg, hinting at deeper, underlying issues. What may seem like a minor nuisance could indicate a more serious problem within the engine. In such scenarios, professionals have the tools and expertise to accurately diagnose these problems, ensuring that the root cause is addressed and not just the symptoms.
Further, certain maintenance tasks and repairs require technical knowledge and specialized equipment. For instance, dealing with the ignition system or making significant adjustments to the carburetor can be quite intricate. This is where professional intervention becomes crucial for your boat's engine's well-being and safety.
Regular professional inspections, along with routine maintenance, form the cornerstone of preventive care, helping prolong the life of your boat's engine. By entrusting your boat to a skilled professional, you can enjoy the peace of mind that comes with knowing your boat is in capable hands, allowing you to focus on the joy of your journey on the water.
Troubleshooting Other Potential Causes of Boat Motor Stall
While the carburetor, spark plug, and ignition system are common culprits when your boat's engine dies when shifted into gear, it's important to remember that several other factors can contribute to this issue. A wide array of seemingly unrelated elements can cause engine problems, from the transmission system to fuel quality. Being aware of these possibilities can aid in faster diagnosis and solution implementation.
Transmission Issues: If your boat's engine dies when shifting into gear, it could be due to a problem with the transmission system. Possible issues include worn-out gears or problems with the clutch that might require professional examination.
Fuel Quality: Poor quality or old fuel can lead to engine issues. Always ensure that your boat's fuel is fresh and of high quality. Stale fuel can cause clogs and poor engine performance.
Blocked Fuel Line: A blocked or damaged fuel line can prevent the proper flow of fuel to the engine, causing it to die when you try to shift into gear. Checking and cleaning the fuel lines regularly can help prevent this issue.
Faulty Battery: A weak or faulty battery might not provide the necessary power to the ignition system for starting the engine or keeping it running. It's always good to check the battery's health and replace it if necessary.
Engine Overheating: If your engine is overheating, it may shut down as a protective measure when you try to shift into gear. Regular maintenance can help prevent overheating issues.