A Buyer's Guide To Negotiating Your First Jet Ski Purchase
When buying a jet ski, there are several things to consider before making a purchase. Whether you're buying used or new, things like engine power, warranty, modifications, and overall condition will come into play. As with most large purchases, negotiation is a skill that can serve you well.
Are jet ski prices negotiable?
Whether you are purchasing a new or used jet ski, there is always room for negotiating the price. This is especially true when buying a used jet ski from a private owner. When buying through a dealer, the price may not be as negotiable, but you still have room to arrange some free or discounted items.
In this article we'll talk about negotiating your first jet ski deal in detail. It covers the most relevant topics with a clear explanation. So keep reading until the end for a ton of useful information. Let's make your first jet ski purchase as easy as can be!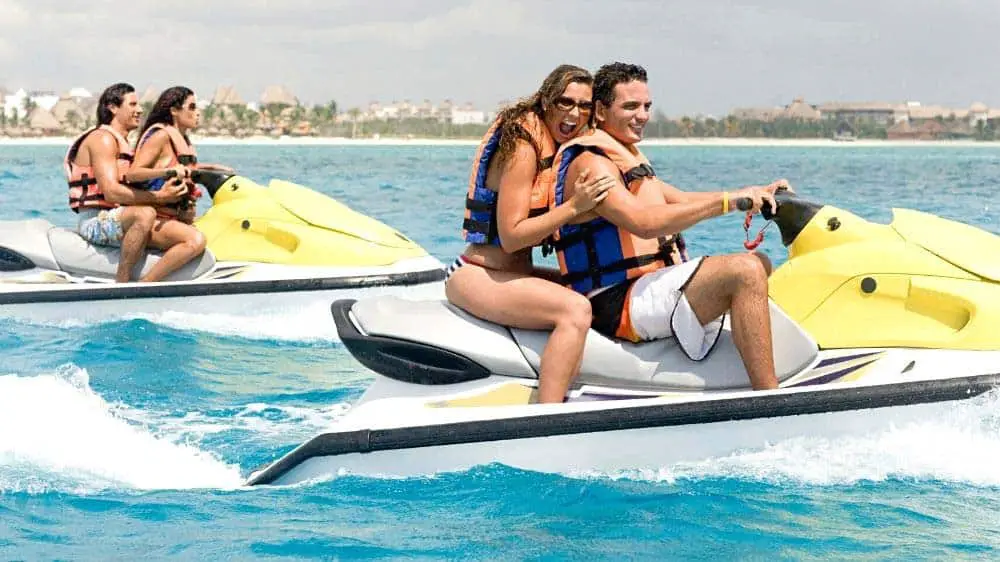 Should I Buy a Jet Ski New or Used?
You're first decision when it comes to buying a jet ski is deciding whether a new or used model is the best option for you.
A used jet ski is the most practical and cost effective way for a beginner to get started in this fun water sport. A lower cost, pre-owned jet ski will last you for at least a year or two before you decide to upgrade. This gives new riders enough time to properly assess their future jet ski wants and needs.
Of course, it's NOT AT ALL mandatory to buy a used jet ski for the first time. If money is less of an object, you may prefer a new jet ski or personal watercraft (PWC). Whether you go for a new PWC or a used one, both have pros and cons.
Used Jet Ski vs. New
Let's take a look at some of the factors that are important when buying a PWC, and then compare how these factors may differ depending on whether you're buying a new or used jet ski.
The following factors will be the basis of our jet ski comparison:
1) Engine Power
2) Warranty
3) Pricing
4) Theft Appeal
Other optional/secondary factors include:
1) Modifications
2) Condition
Now let's learn about each of these factors in detail.
Buying A New Jet Ski
1.    Updated Engine Power
Jet skis are getting better every year. So if you buy the latest/newest model, it'll be more powerful than an older used one for sure. The newer/better engine also ensures improved reliability, safety, and efficiency (especially in terms of fuel consumption).
On the other hand, a new jet ski would mean that the engine has never been started except for in-factory testing. So, there's a slim chance that you might run into problems the first time you switch ON the machine (but that's very rare).
A new machine will be difficult to negotiate the price of. It's best to look for last year's model if you want a deal on a new machine.
2.    Warranty on A New Jet Ski
Riders buying a new jet ski are typically entitled to a 12 to 24 months manufacturer warranty. It pretty much ensures that the rider doesn't have to go out-of-pocket for repairs within the warranty period.
However, you'll never find a jet ski, that comes with accidental warranty coverage. So in the case of physical or accidental damage, not only will the warranty be voided, but you'll also have to potentially spend a lot of money on its repairs. Jet ski repairs can cost a lot of money (you've been warned)!
If the dealership asks you to buy the extended warranty, don't bother. Most extended warranties are just a money grab. If they want to sell an additional warranty, you can usually count on the machine NOT breaking down until the end of the extended warranty. It can give you a good indication of the real length of time the machine should last without expecting repairs.
3.    New Jet Ski Pricing
Budget is the foremost issue when buying a new jetski. Dealers often tend to offer attractive discounts on a new jet ski to lure customers in the door. If you have the money to buy a new jet ski, you'll be amazed at the number of discounts, schemes, promos, etc., that your local dealers may have on offer.
Furthermore, there's usually some room for bargaining when buying a new PWC. Of course, they know this and inflate the price so it will look like you're getting a deal when they knock a chunk off the asking price.
In addition, paying cash rather than taking out a jet ski loan is also something to consider. Paying with cold hard cash will put you in a stronger negotiating position. Sales reps tend to bend over backwards if you're ready to buy with cash in hand.
Another way to get a potential good deal on a new machine would be to buy during one of the many boat shows that happen each year. Look for a boat show in your area and time your purchase for one of these events as discounts during shows can be substantial.
But be aware, the depreciation on jet skis is very high. Most boats lose their value within a maximum of 10 years due to depreciation. So, don't expect a high resale value. Depreciation starts from the moment you take the jet ski from the dealer.
4.    Theft Appeal Of A New PWC
You'll hardly find an identical jet ski like yours, so in case of theft, identifying your PWC could be easier than other types of vehicle theft. Additionally, since it'll be a new model, there's no chance that the personal watercraft you're buying is a stolen vessel.
Unfortunately, stolen jet skis are in considerable demand and have an excellent value on the black market. This is especially true of newer models. Furthermore, they're fewer jet ski owners, so that makes your PWC a prime target for thieves. You'll have to ensure enough security (trailer hitch lock, secure storage area, etc. ) and PWC insurance to protect you against loss.
5.   Modifications & Freebies
When opting for a new jet ski, you can always negotiate with the dealer for any custom modifications or add-ons you desire. Dealers are open to these requests to ensure a sale, especially if what you're asking for doesn't cost the dealer much money.
So if you want to equip your new jet ski with any additional accessories, or you want them to throw in a life jacket, etc., always ask the sales person before agreeing to the purchase price, and be sure to get it in writing.
As for any actual modifications to the engine, this is unlikely, as it can void the warranty. Most manufacturers don't allow for customizations to jet skis without it breaching the warranty. But that doesn't mean that you can't get them to give you some FREE merchandise to sweeten the deal!
6.    New Condition
A brand new jet ski means you can expect your ride to be in top-notch condition. You know you've just purchased first-class quality, and there's no need to worry about any possible defects or repairs. Even if a defect pops up, it'll likely be covered under the limited warranty. There's not a lot of room for bargaining or negotiating due to condition (unless you can get a floor model or find a scratch on a new machine).
Now let's take a look at these factors again and see what they look like through the lens of a used jet ski.
Buying An Old Jet Ski (Used)
1.    Engine Power Of A Used PWC
You can test the power of an old jet ski's engine, and the owner can give you the best hands-on experience and advice. That way, you know the real power and capabilities of the jet ski you're considering.
On the other hand, you never know how much the previous owner(s) might have abused the engine, which could hinder its performance and longevity. It's a smart idea to take it out for a test drive to know how well the engine performs. In case the owner doesn't allow it, there's a reasonably high chance that something is wrong with the jet ski that he/she's hiding.
You wouldn't buy a used car without test driving it, and you probably shouldn't consider buying a used PWC without taking it for a spin either. The only exception to this is if you are purchasing a used machine from a dealer and there is at least a short term warranty applied.
2.    No Warranty For A Used Jet Ski
Since most used jet skis don't come with an active warranty, you can do all the modifications you want (which might have previously breached the terms of the warranty in the case of a new model). But you'll have to pay for those customizations.
As most PWC's have up to 2 years of warranty, there's a slim chance of finding a used jet ski with an active warranty. Maybe the owner was fed up or lost interest in it and ended up selling it. There can be several similar reasons. If you're lucky enough to find such a deal, don't think for too long as it will most likely be gone fast.
If the previous owner has done any modifications, be wary of engine damage. Keep in mind that can also be a bargaining chip to bring the price down for fear of modification damage to the original equipment.
3.    Used Jet Ski Pricing
The price difference between a new and a comparable older jet ski is significant. You can procure the desired used model for a much lower price. A used jet ski is the cheapest way to get started with your marine adventures, especially if you're a beginner. Unfortunately, it's tough to get financing on a used jet ski, so prepare to buy with cash.
Furthermore, sellers often try to overcharge for a used PWC to minimize their buying and selling cost difference. A completely depreciated model will have a very low value and great care must be taken to avoid overpayment.
Many novices fall victim to overpaying. It is an example of a situation where it's a good idea to have an experienced pal by your side while negotiating for a used jet ski.
4.    Theft Appeal Of A Used PWC
Believe it or not, but when buying a used jet ski in what looks like very good condition, there's a reasonably high chance that you're unknowingly dealing with a stolen jet ski. Make sure you've researched well enough to ensure that the seller is the real owner of the jet ski and that he/she's not selling you a stolen one.
Fortunately, thieves don't generally target the used/older jet skis because of their high hours. Additionally, the poor condition further minimizes their interest in older models.
5.    Modifications & Parts
With a used jet ski you can usually find parts pretty easily to fit your model on websites such as eBay.com. It's safe to customize your jet ski to improve its performance as long as you know what you're doing.
Due to over excitement, a new or prospective buyer may end up trying to customize their jet skis, and do so improperly. This can lead to fires, a jet ski accident or blown engines in the worst-cases. So make sure to do compatible customizations, and alternatively, you can get the help of a professional to be on the safe side.
A used jet ski that has been modified might fetch a lower price for fear of improper modification.
6.    A Used Condition Gives Some Freedom
Since it's a used jet ski, you won't have to be overly cautious and over caring. You won't have to worry about putting the first scratch or ding on your machine (believe me it will happen)!
It is the best opportunity for you to learn to ride a jet ski and make any newbie mistakes without too many worries. Knock it, hit it, or even scratch it on the sand. Best of all, you won't have to say NO to your friends who'll be bugging you to take it out for a ride.
The downside, of course, is there's no way to find out how much abuse the jet ski suffered in the past. It'd be hard to find how the owner maintained the PWC. The owner might be hiding superficial damage or any previous crashes, which is very common.
To avoid these issues, you can enlist the help of a professional by having a complete inspection of the jet ski prior to purchase, if the seller is agreeable. If the current owner balks at this, take it as a sign that there may be something wrong.
Jet Ski Prices (New & Used)
In this section, we'll take a look at some new and used jet skis that have recently been for sale, along with their prices. We'll show you some things you'll want to look for in the sales listing including: top reasons to buy, some important cons (that you won't want to ignore), and seller location.
The purpose of this table is for you to get an idea of the current PWC market conditions and what machines are currently for sale on ebay (as of this writing).
While these specific jet skis may be long gone, the listing will still be available for you to check out the actual sales price and specs.
Used & New Jet Ski Recommendations- (Sorted by Price: Low To High)
Note: All the links in the table below lead to eBay.com.
Model + Make Year
Price (in USD)
Reason(s) To Buy
Con(s)
Location
YAMAHA WAVE RUNNER VX CRUISER DELUXE PWC 3 Seater Jet Ski (2007) (eBay link)
$5,000
– Low price
– Dealer inspected and certified
-Low-interest finance available
-Reliable performance
– Very old model
– Scratches and scuffs
– Pretty high hours (200 total hours)
– Additional applicable expenses such as taxes, license, and processing fees
Fenton, Michigan, United States
SEA-DOO RXT-X 260 (2010) (eBay link)
$6,500
– Excellent condition
– New engine – turbo
– OEM cover and steering cable
– Low price
– You'll be responsible for the pick-up+shipping
– Old model
Westfield, Massachusetts, United States
YAMAHA WAVE RUNNER EX DELUXE PWC 3 Seater (2017) (eBay link)
$7,500
– Low hours (only 10.3)
– Low price
– Dealer inspected and certified
– Scratches and scuffs
– You'll be responsible for the pick-up+shipping
Fenton, Michigan, United States
Yamaha VXR (2018)
(eBay link)
$10,000
– Pretty new model
– Hull in perfect condition
– Reliable performance
– Has some scratches and dings
– High hours (162 hours)
Hammonton, New Jersey, United States
Yamaha FX CRUISER (2021) (eBay link)
$14,300
– New condition
– Has an existing warranty
-Financing available
– Additional expenses applicable such as taxes, license, and processing fee, etc.
– You'll be responsible for the pick-up+shipping
South Haven, Michigan, United States
Seadoo RXPX 300 Ice Metal (2018) (eBay link)
$15,500
– Excellent condition
– Pretty new model
– Several freebies
– Pretty expensive
– High hours (113 hours)
– Damaged mat
– You'll be responsible for the pick-up+shipping
Encino, California, United States
Kawasaki Ultra 310 LX (2021) (eBay link)
$18,200
– New condition
– Finance and warranty available
– Additional expenses applicable such as taxes, license, and processing fee, etc.
– You'll be responsible for the pick-up+shipping
South Haven, Michigan, United States
Check eBay.com to see prices for all jet skis currently for sale (eBay) here.
Tips For Buying A Jet Ski
If this is your first PWC purchase, then some tips for buying a jet ski will be helpful. This section lists a few quick tips (apart from the previously discussed factors), which you MUST consider before finalizing a deal regardless if buying new or used.
1.  Budgeting For A Jet Ski
First of all, you'll want to decide how much you should spend. While you may have the money to buy an expensive new model, it still may not make much financial sense. As per the specs on the models above, you can get a used jet ski for as low as $5,000 or even lower, subject to availability.
The best way to decide your budget is to do market research. Go through the list of models that excite you and find the average selling price. You'll want to spend some time searching through an online PWC seller website (a good one is PWCtrader.com) to get to know the latest trends (we've included the quick table above as well to give you an idea of what you can expect).
The average price you come up with is probably the amount you'll need to budget for your first jet ski.
Furthermore, you might want to consider a jet ski rental. If there are any jet ski owners nearby, maybe he/she will be interested in renting it out to you at a reasonable price. But renting from a stranger or any business will be expensive (can be up to $90 or more per hour).  Once you master the skills and get comfortable jet skiing in the water, you can easily switch to a better model (perhaps a new one).
2.  Consider The Size (2, 3 or 4-Seater?)
Jet skis are available in multiple sizes:
Solo or single rider
2-seater
Up to 4-seater
A solo jet ski is not recommended for first-time buyers. It's designed to be ridden by an advanced rider. Single-seaters are fast, agile, and can attain speeds up to 65 mph. If you want to ride fast and enjoy wave jumping or tricks, then this is what you're seeking, but if you're inexperienced this type of PWC is not a good choice.
2-seater skis have a larger space for passengers and hence houses a bigger engine. They're not as fast as solo jet skis but offer a balance between stability and high-speed.  Unfortunately, these models aren't as inexpensive as you'd think they'd be, and the prices can increase dramatically depending on the model you choose. The speed and stability balance makes them suited for first-time buyers since you can have your guide/teacher with you when learning to ride the jet ski.
The next type of jet ski can accommodate 3-4 passengers at once. They're heavier and slower than the smaller models. But, the big engines still make them fast enough to enjoy the ride. Such boats (jet skis are technically boats) offer excellent stability and hence are the most suited for first-time buyers and/or families.
3.  Inspect The PWC's Safety Features
Make sure to buy a jet ski with the utmost safety in mind. Since you'll be a novice, there's a reasonably high chance that you'll make mistakes, which, in the worst-case scenario, could severely injure you. For instance, many new jet ski models come with an emergency cut-off switch. It is helpful if you fall in the water while riding.
To make it work, you'll have to attach a lanyard to the ignition switch and the other end to you. Here's how it'll work- when you fall, the lanyard will disengage from the switch, and the motor will cut-off.
It is an essential feature, so make sure it's available in the jet ski model you're looking at and, most importantly, whether or not it's working correctly. Another interesting safety feature is one called "self-circling." If you get thrown into the water, the jet ski will idle in a small circle. That way, you can always catch it and get back onboard. But to make this feature work properly, you must set the idle speed efficiently.
4.  Check To Make Sure All the Functions Are Working Properly
A typical jet ski features a blend of several functionalities, such as:
Fuel efficiency
Storage space
Boarding steps
Tow hooks
Seat straps
Lanyard attachment systems
GPS
Side mirrors
Tilt steering
Waterproof audio system
Next, ask yourself a couple of questions, your answers will put you on the right path for choosing the right jet ski with the best features and options for you.
Where will you use the jet ski? Open water (sea / ocean) or closed water bodies (lake, river, etc.)?
How many people are going to ride at once? Are you looking for a jet ski as a single, couple, or family?
Dos and Don'ts When Negotiating A Jet Ski
Many sellers try to exploit or fool the first-time buyers in the boat market. Buying from a trusted source such as a boat dealer features less risk. The real danger is when you're buying online or even offline and have no one to help you discern a good deal from a scam. So, this section will talk about some dos and don'ts to help you get a good deal.
1.  Avoid Upfront Payment
Once the seller figures out your interest in the jet ski, he/she'll try their best to make you pay and complete the deal. Full payment on the spot is the worst thing you can do. Make sure to deliver the partial or total amount only when you're completely satisfied with the jet ski.
Ensure that the model is in good working condition and that the ski matches the seller's description. Also, look for anything that the seller hasn't mentioned in the description. Generally, the sellers omit the negative aspects of their product and highlight only the positive features to attract more buyers.
You can try to negotiate to pay the full amount after a few days once you're satisfied with the jet ski. Most sellers, however, won't agree to that, so try negotiating for, say, 3-7 days. Or a 50% down and 50% after testing might be a good arrangement, especially if you personally know the seller.
2.  Look For Any Damage
Any physical damage, whether on the inside or outside, will be troublesome. Internal parts, if damaged, can even cause personal injury due to accidents. Exterior features include worn seats or grips, rusty body, chipped or peeling paint, etc. An overly heavy jet ski body indicates there may be water inside it. Don't forget to check the hull. The boat's bottom is one of the most critical parts to review; and most buyers fail to thoroughly inspect it.
3.  Ask The Seller A Lot Of Questions
Here are a couple of questions you'll want to ask the seller:
Service history – A frequently serviced boat can either indicate problems or it may show that the seller has taken good care of the PWC. You'll get a feel for this when talking to the seller. Ask him/her if the PWC has crashed at anytime?
Replaced parts – Only the owner knows this truth. Ask the seller if any parts have faced replacement in the PWC or if they are original.
Make & Model – Look for the make, year and the model of the jet ski. Check if spare parts are still readily available and whether the model is still in production.
Boat hours – Boat hours is another crucial thing to ask about. A high number of hours means higher usage. Many older models do not come with an hour meter installed, so make sure to find out before proceeding.
How many hours on a jet ski is a lot?
50 hours or less is considered to be low hours for a personal watercraft.
150 hours or more is considered to be a high number of hours.
300 hours is considered the life-span of a jet ski.
Final Thoughts
Now you've learned everything you need to know before you go out to negotiate the purchase of your first jet ski. It'll be a memorable moment, so don't hurry. Take your time and make sure you get a sweet deal.
Our goal was to offer all the necessary information, and now it's your job to go through this article (read it multiple times or bookmark it if necessary), and buy your new or used jet ski. Good Luck!
Related Posts:
---
Sources: