Boathouse vs. Houseboat: Choosing Between a Boathouse and a Houseboat for Your Waterfront Lifestyle
The choice of a waterfront lifestyle can bring about an interesting dilemma: Should you opt for a stationary dwelling on the water's edge or a floating sanctuary that moves with the ebb and flow? This fundamental question often finds individuals at a crossroads, contemplating the allure of the two distinct yet intertwined options. 
Choosing between a boathouse and a houseboat depends on your lifestyle preferences. If you desire mobility, adventure, and a close connection to the water, a houseboat may be your pick. But a boathouse could be preferable if stability, more living space, and a fixed community are important.
With the promise of serene mornings by the water and peaceful nights under the stars, each offers a unique perspective on life, bringing you closer to nature and providing a refuge from fast-paced city life. Today, we delve into this topic, discussing the pros and cons of each to help guide your decision.
Understanding the Essence of a Boathouse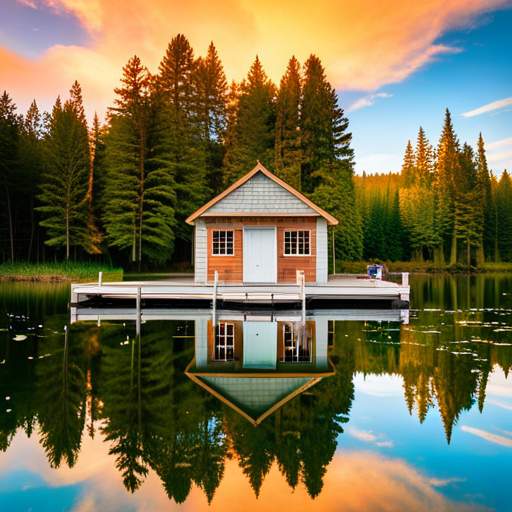 As its name suggests, a boathouse is a structure designed specifically for storing boats, typically with direct access to water bodies such as lakes, rivers, or even the ocean. However, modern boathouses often transcend this basic utility and embody the fullness of a comfortable dwelling. 
These homes, built at the water's edge, provide a sense of permanence and stability that contrasts with the transient nature of life on the water. Boathouses often offer more spacious living arrangements than their floating counterparts and may include a broader range of amenities. 
With a stunning waterfront view, the allure of a boathouse lies in its capacity to blend the tranquility of a waterside retreat with the comforts and conveniences of a traditional home.
The Intriguing Allure of Houseboat Living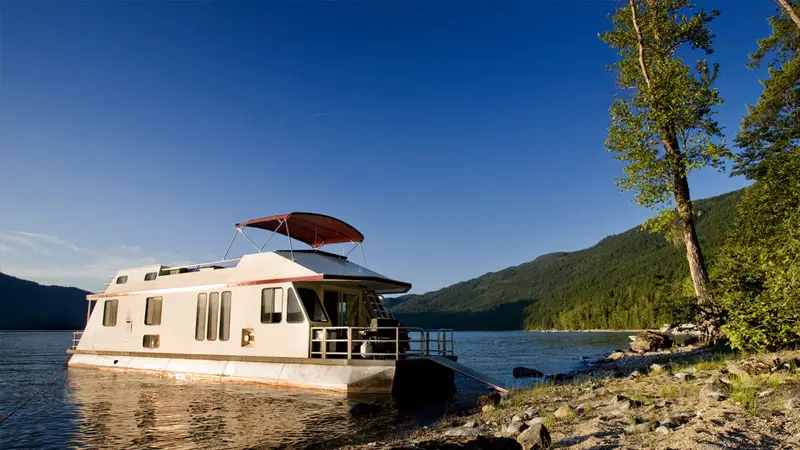 Houseboat living represents the epitome of a fluid, unhurried existence, free from the constraints of a fixed location. This lifestyle provides a unique opportunity to experience the world from a different viewpoint, literally floating atop the water's surface. 
Houseboats offer less space than traditional homes or boathouses and are ingeniously designed to maximize every inch, offering cozy and functional living quarters. They introduce a sense of adventure and mobility, allowing residents to relocate at will, exploring new locales while taking their home along for the journey. 
Living on a houseboat equates to embracing a life tethered to nature's rhythm, where the gentle rock of waves can lull you to sleep, and your morning view can change with your whims.
Comparing Costs: Boathouse and Houseboat Maintenance
When considering a waterfront lifestyle, it's essential to weigh the financial implications of your choice. Both boathouses and houseboats come with their maintenance costs that, over time, can significantly affect your budget.
Initially, a boathouse might appear more costly due to land ownership and construction costs, but the long-term upkeep of a houseboat could balance the scales. Understanding these costs is critical to making an informed decision.
Boathouse Maintenance Costs:
Construction and Renovation: Building or renovating a boathouse can be a costly venture, depending on the size, location, and desired amenities. Costs might include architectural and design services, construction labor, and building materials.
Utilities and Taxes: Unlike houseboats, boathouses often require connections to city services like water, electricity, and sewer systems. Also, land taxes apply to boathouses.
Regular Upkeep: Regular maintenance tasks include cleaning, painting, and minor repairs to keep the structure in good condition.
Houseboat Maintenance Costs:
Initial Purchase: Depending on size, design, and luxury level, houseboats can range widely in price. Older models may require refurbishment, further adding to the cost.
Docking Fees: Houseboats need a place to dock, and marinas charge fees for this, which vary widely depending on location and amenities.
Insurance: Insurance for a houseboat is typically higher than a traditional home due to the risk associated with living on the water.
Maintenance and Repairs: Like all boats, houseboats need regular maintenance to stay seaworthy. This includes hull cleaning, engine maintenance, and occasionally costly repairs.
Life on the Water: Exploring the Lifestyle Differences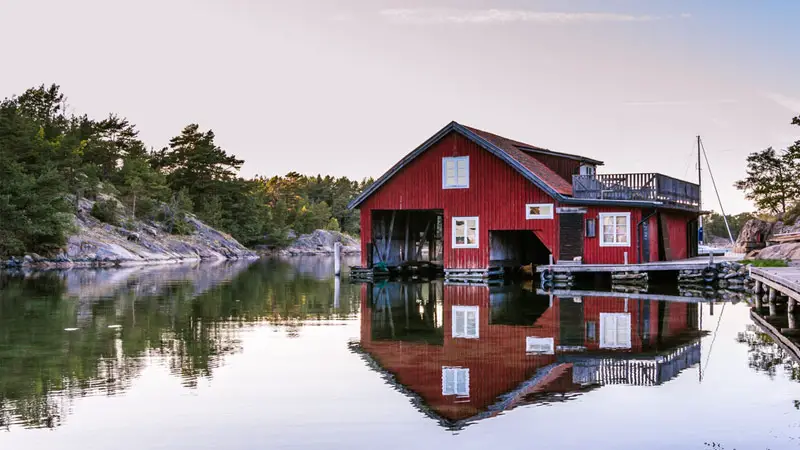 Embarking on a waterfront lifestyle is an adventure, whether you opt for a boathouse or a houseboat. The two choices offer distinctive lifestyles shaped by their unique features and inherent nature. A boathouse provides a rooted experience, being physically connected to the land, while a houseboat offers an exciting life of fluidity and change, tethered to the whims of the water. Let's explore these differences further:
Boathouse Lifestyle:
Stability: Boathouses offer the stability and familiarity of a traditional home, making it ideal for those who prefer a fixed address and a sense of permanence.
Space: Boathouses typically have more space, allowing for larger families or more belongings. It can also accommodate guests more comfortably.
Amenities: With a connection to land-based utilities, boathouses often have access to the same amenities as a regular home, such as internet and cable TV.
Community: Living in a boathouse usually means being part of a lakeside or riverside community with nearby neighbors and shared public spaces.
Houseboat Lifestyle:
Mobility: Houseboats offer the unique advantage of mobility, allowing you to change your scenery whenever you wish. You can explore different areas without leaving the comfort of your home.
Closeness to Nature: Living in a houseboat means intimately connecting with the water and its inhabitants. You might find yourself sharing your mornings with passing waterfowl or evenings with the sound of waves.
Limited Space: Space is typically more limited in a houseboat, requiring careful organization and a minimalist approach to belongings.
Different Community Feel: A houseboat community can be transient as neighbors come and go, fostering a unique camaraderie among fellow water dwellers.
Location, Location, Location: Traveling with a Houseboat vs. Living on the Dock
The allure of a houseboat lies significantly in the promise of mobility and ever-changing views. With a houseboat, you can navigate to different locations, exploring new communities, landscapes, and waterfronts. This option appeals to those with an adventurous spirit and a desire for change. 
As a houseboat dweller, you can choose to be anchored in a tranquil, secluded bay one day and docked at a bustling marina the next. Additionally, traveling to different places provides an exciting cultural and social exploration platform. However, it's worth noting that while houseboats do offer mobility, many still choose a 'home base' marina where they primarily reside, venturing out occasionally.
On the other hand, a boathouse provides a fixed location, a constant address that offers a sense of community and belonging. Located on the water's edge, boathouses provide stunning views, easy water access, and the stability of a land-based home. Although boathouses don't offer the same mobility as houseboats, they provide an established connection with a specific location and community. 
Living in a boathouse means joining the local community, participating in local events, and building long-term relationships with neighbors. Choosing between a traveling houseboat lifestyle and a dock-based boathouse lifestyle depends on your personal preferences and lifestyle goals.
The Versatility of Space: Comparing Comfort and Amenities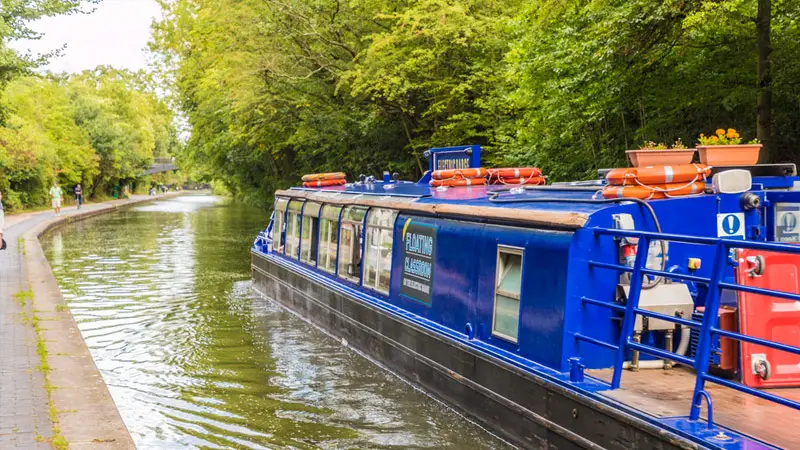 A significant factor to consider when choosing between a boathouse and a houseboat is the versatility of space and the level of comfort and amenities each provides. Generally, a boathouse, given its solid, land-based structure, can offer more spacious and diverse living arrangements. A houseboat, while compact and ingeniously designed, is typically more limited in space due to its need for mobility and buoyancy. Here's a closer look at what each option brings to the table:
Boathouse Comfort and Amenities:
Space: Boathouses, being stationary, often offer larger living spaces, which could include multiple rooms, a full-size kitchen, larger bathrooms, and outdoor areas such as patios or decks.
Amenities: As land-based homes, boathouses can have standard home utilities and appliances, such as a dishwasher, washer and dryer, full-sized refrigerator, and more.
Storage: With more space usually comes more storage, allowing for a broader range of personal belongings, furniture, and equipment.
Expansion Possibilities: Given the right permits and land availability, a boathouse could be expanded or renovated.
Houseboat Comfort and Amenities:
Compact Living: Houseboats are typically designed for compact, efficient living. This can mean cleverly designed fold-out furniture, convertible spaces, and smart storage solutions.
Mobility-Friendly Amenities: Amenities on a houseboat are tailored for life on the move, with things like marine appliances, compact furniture, and storage designed for minimal movement while in transit.
Limited Storage: Space is at a premium on a houseboat, so storage is typically limited. This can necessitate a minimalist lifestyle or creative storage solutions.
Connection to the Outdoors: While space might be limited, houseboats often have deck space for outdoor living and a more intimate connection with the surrounding water.
Safety Concerns: Houseboat and Boathouse
Safety should always be paramount when deciding on your living arrangements, and both boathouses and houseboats have their own sets of safety concerns that need to be thoroughly considered.
For boathouses, potential issues to consider include the following:
Flooding: Being located on the water's edge, boathouses can be at risk of flooding, especially during heavy rain or in areas prone to high water levels.
Access: Some boathouses, especially those in remote locations, may have limited access, making it more difficult for emergency services to reach if necessary.
Weather: Boathouses may be more exposed to harsh weather conditions, such as storms or high winds, which can lead to damage or safety issues.
For houseboats, safety concerns might include the following:
Navigation: Operating a large houseboat requires some degree of skill, and there can be risks associated with navigation, particularly in crowded or difficult waterways.
Water Safety: Living on a boat requires good water safety practices. This includes knowing how to swim, having proper safety equipment, and understanding the risks associated with water.
Maintenance: Houseboats require regular maintenance to ensure they remain seaworthy. Failure to maintain a boat can lead to critical safety issues.
Regardless of your choice, it's important to understand these potential safety concerns and take necessary precautions to mitigate risks. Ensuring that your dwelling meets all local safety codes and regulations is also essential.