Can You Put a Car Engine in a Boat? What You Need to Know Before Making the Swap
You know, there's something indescribably thrilling about the open water. That sense of adventure, the crisp breeze that carries a faint scent of salt, and the subtle rhythm of the waves collectively create an experience unlike any other. For those passionate about boating and tinkering, repurposing a car engine for a boat isn't just an idle daydream – it's a question of feasibility, a challenge that begs for exploration.
You can put a car engine in a boat, but modifications are often necessary due to the marine environment. It's important to consider factors like cooling, corrosion, load conditions, and legal regulations before proceeding.
The premise seems simple enough: you have a good car engine and a boat that could use more 'oomph.' Why not take a shot at combining the two? But as with all great questions, there's an ocean of complexity beneath the surface.
Before diving headfirst into the world of engine swaps and waterborne horsepower, there are many factors to consider. The risks, the rewards, the technical intricacies – we'll venture into all these and more as we delve into the fascinating subject of using car engines in boats. Buckle up, or should we say, 'All Aboard!'
Understanding the Basics: Car Engines Vs. Boat Engines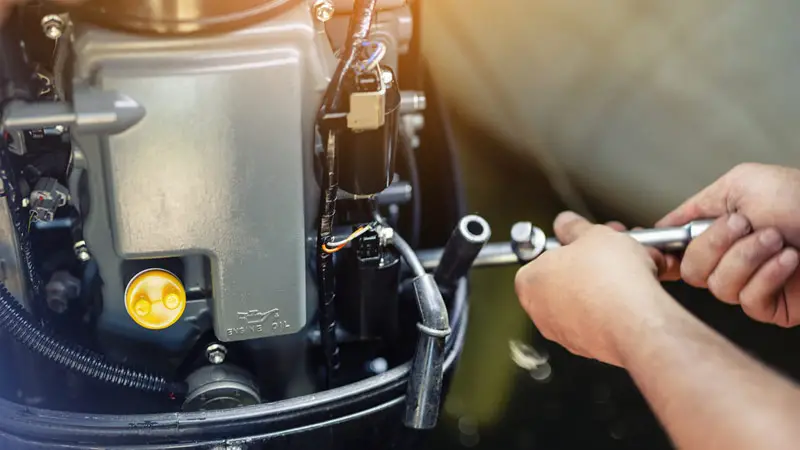 At the heart of this discussion lies a fundamental understanding of the differences between car and boat engines. While they may seem remarkably similar at first glance – both are internal combustion engines, they are designed to operate in drastically different environments and under unique conditions.
Car engines are designed for variable speed and load conditions. They are built to perform efficiently during stop-and-go city driving, highway cruising, and everything in between. Their cooling systems are designed to handle airflow, utilizing a radiator to dissipate heat. The exhaust system is designed to be lightweight and compact, directing gases away from the passenger compartment.
On the other hand, boat engines operate under almost constant load conditions. They're designed to run at full throttle for extended periods, pushing against water resistance. In terms of cooling, they use the surrounding water, either directly or via a heat exchanger, rather than air. Marine engines also need to contend with the corrosive nature of the marine environment, so they have specialized coatings and materials to resist saltwater corrosion. The exhaust system is designed to direct gases out of the boat and prevent water from backing up into the engine.
While car and boat engines share core principles, they are tailored to their specific tasks and environments. This divergence is critical to consider when contemplating the idea of an engine swap.
The Challenges of Marine Environment for Car Engines
The marine environment presents several unique challenges for car engines, which are fundamentally designed to operate on land. Understanding these challenges is key to successfully repurposing a car engine for use in a boat.
Corrosion: Corrosion is the biggest enemy of any metal component in a marine environment. Saltwater is particularly corrosive and can quickly cause significant damage to parts not adequately protected. Car engines are not designed with the same level of corrosion resistance as marine engines, which often feature specialized coatings and more corrosion-resistant materials.
Cooling: Car engines are typically cooled by air, using a radiator to dissipate heat. In contrast, marine engines often use the surrounding water for cooling. Overheating would likely be a significant issue if a car engine were simply transplanted into a boat without modification.
Load Conditions: Car engines are designed for variable load conditions, with periods of high load interspersed with low or even idle periods. On the other hand, Marine engines often run at high loads for extended periods. This constant high load can significantly stress a car engine unsuitable for such conditions.
Ventilation: A car's engine compartment is usually well-ventilated, allowing heat to escape and fresh air to enter. On a boat, engine compartments can be far less ventilated, leading to potential overheating issues.
Fuel and Exhaust Systems: The design of fuel and exhaust systems on a boat is markedly different from a car, primarily due to safety concerns. Fuel vapors can accumulate in the bilge of a boat and create a risk of explosion. Marine engines have specially designed carburetors and fuel systems to prevent such build-up. Similarly, the exhaust system must prevent water from entering the engine, a concern not typically in cars.
Making a car engine work in a boat isn't impossible, but these challenges necessitate careful planning and modification to ensure safety and longevity.
Legal Regulations: Navigating the Waters of Compliance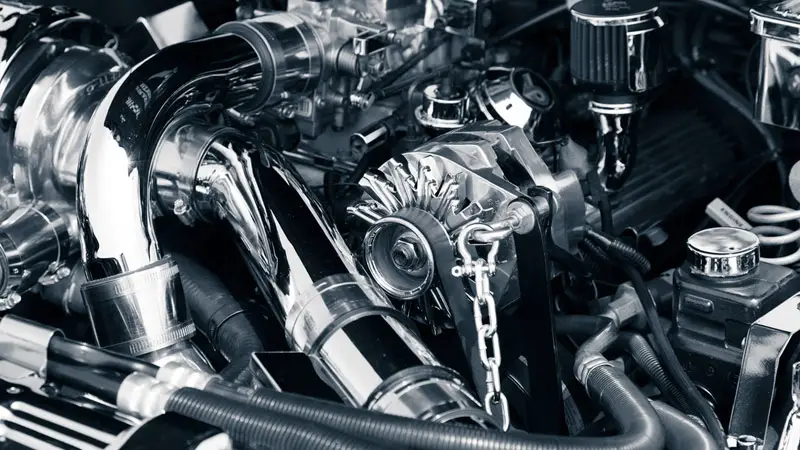 As with many areas of life, some rules and regulations govern the use of engines in boats, and these need to be considered before you embark on an engine swap project. These regulations are in place to ensure boaters' safety and protect the environment from potential harm. Here are some key areas of legal compliance you'll need to navigate.
Emissions Standards: To mitigate environmental impact, marine engines are subject to strict emissions standards set by agencies such as the U.S. Environmental Protection Agency (EPA) and the International Maritime Organization (IMO). Depending on your location, using a car engine not designed to meet these standards could be against the law.
Safety Regulations: Safety is a paramount concern in boating, and there are many rules related to engine use designed to keep boaters safe. For instance, the U.S. Coast Guard sets standards for boat fuel systems, including fuel hoses, fuel tanks, and engine installation. These standards differ from those for cars and must be met when installing any engine in a boat.
Certification: In some regions, any modifications to a boat's engine or fuel system may need to be inspected and certified by an authorized agency or inspector. This can ensure the modifications meet all relevant safety and environmental standards.
Insurance: Lastly, it's worth noting that significant modifications to your boat, like an engine swap, could impact your boat insurance. Some insurers may not cover boats with modified engines, while others may charge higher premiums. It's essential to check with your insurer before making any modifications.
Remember, failure to comply with these regulations can result in fines, penalties, and potentially dangerous situations on the water. Always do your research and consult with professionals if you're unsure about the legal implications of your engine swap project.
Potential Advantages of a Car-to-Boat Engine Swap
With the challenges and regulations in mind, you might wonder, "Why even consider a car-to-boat engine swap?" Well, a few potential advantages make it an intriguing prospect for some boat owners and mechanics.
Cost Savings: One of the most compelling reasons to consider a car-to-boat engine swap is the potential for cost savings. Car engines, especially used or rebuilt ones, can be significantly less expensive than their marine counterparts. If you're willing to put in the work to modify and install the engine, you could save a considerable amount.
Availability and Variety: Car engines are readily available and come in various makes, models, and power outputs. This availability can provide more flexibility and options when choosing an engine that suits your needs and preferences.
Power and Performance: With the right modifications and tuning, a car engine can deliver increased power and performance on the water. Car engines are often built to produce high horsepower and torque, which can translate to increased speed and better acceleration in a boat.
Opportunity for Customization: For many boat owners, the appeal of an engine swap lies in the challenge and the opportunity to create something unique. Successfully installing a car engine in a boat requires a blend of mechanical skills, problem-solving, and creativity. It can be a rewarding project for those with the skills and inclination.
Access to Aftermarket Parts and Services: Car engines generally have a wider range of aftermarket parts and services than marine engines. This availability can make maintaining and repairing the engine over time easier (and often less expensive).
Remember that these potential advantages come with their own challenges, as we've discussed earlier. The success of a car-to-boat engine swap depends on careful planning, the right modifications, and meticulous attention to detail.
Potential Risks and Downsides of Engine Swapping For a Boat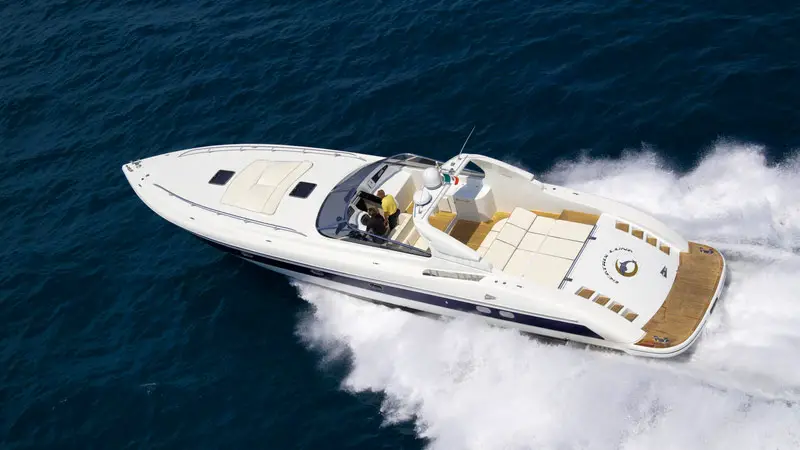 While the potential advantages of a car-to-boat engine swap can be enticing, it's also crucial to understand the potential risks and downsides associated with such a project. Here are some key points to consider:
Technical Challenges: The process of modifying a car engine to work in a marine environment is not a straightforward task. It requires a deep understanding of car and marine engines, mechanical skills, and considerable time. Even with all these, issues may arise during the process that can be difficult to resolve.
Durability and Longevity: While a car engine may work in a boat in the short term, there could be long-term durability concerns. The constant high-load conditions, the corrosive marine environment, and potential cooling issues may lead to faster wear and tear, reducing the engine's lifespan.
Safety Concerns: Safety should always be a paramount concern. Improper modifications or installations can lead to serious safety issues, such as fire hazards or catastrophic engine failure while on the water.
Legal and Insurance Issues: As discussed earlier, legal regulations surrounding marine engines and failing to comply can result in penalties. Modifications like engine swaps may also affect your boat insurance coverage or premiums.
Resale Value: While an engine swap might seem like a cool feature to you, future potential buyers might not see it the same way. Non-standard modifications can make a boat harder to sell and could potentially decrease its resale value.
Cost Overruns: While one of the potential advantages of a car-to-boat engine swap is cost savings, this can quickly be negated if unexpected issues arise during the process. Costs can escalate due to technical challenges, the need for professional assistance, or additional parts and modifications.
Before embarking on an engine swap project, weighing these potential risks and downsides against the potential benefits is crucial. It's a decision that should be made with a full understanding of the complexities involved.
Professional Vs. DIY: Weighing Your Options
When contemplating a car-to-boat engine swap, you must decide whether to tackle the project yourself or hire a professional. Both options come with their own sets of considerations.
DIY Approach
The Do-It-Yourself approach can be a tempting option, especially if you have a strong background in mechanics or a passion for tinkering. Here are some aspects to consider:
Cost: Doing the swap yourself can potentially save you labor costs. However, be prepared for unexpected expenses arising from issues during the swap.
Learning Experience: If you're mechanically inclined, undertaking an engine swap can provide a rich, hands-on learning experience.
Time: A DIY engine swap is a significant time commitment. It could take weeks or even months to complete depending on your skill level.
Risk: If something goes wrong, the responsibility falls on you. This could range from minor mechanical issues to major safety concerns.
Professional Approach
Hiring a professional to perform the engine swap is another option. Here are some points to consider:
Expertise: Professionals have the experience and knowledge to handle the complexities of an engine swap. They can foresee and mitigate potential issues, ensuring a successful swap.
Time: A professional can likely complete the job in less time than a DIY approach. They also save you the time and stress of doing it yourself.
Cost: The labor cost of hiring a professional can be high. However, they may save you money in the long run by preventing costly mistakes.
Peace of Mind: A professional will likely offer a warranty for their work, providing peace of mind in case of future issues.
The decision between a DIY and professional approach should be made based on your skills, resources, and comfort level. Regardless of your chosen approach, remember that safety should always be the top priority.